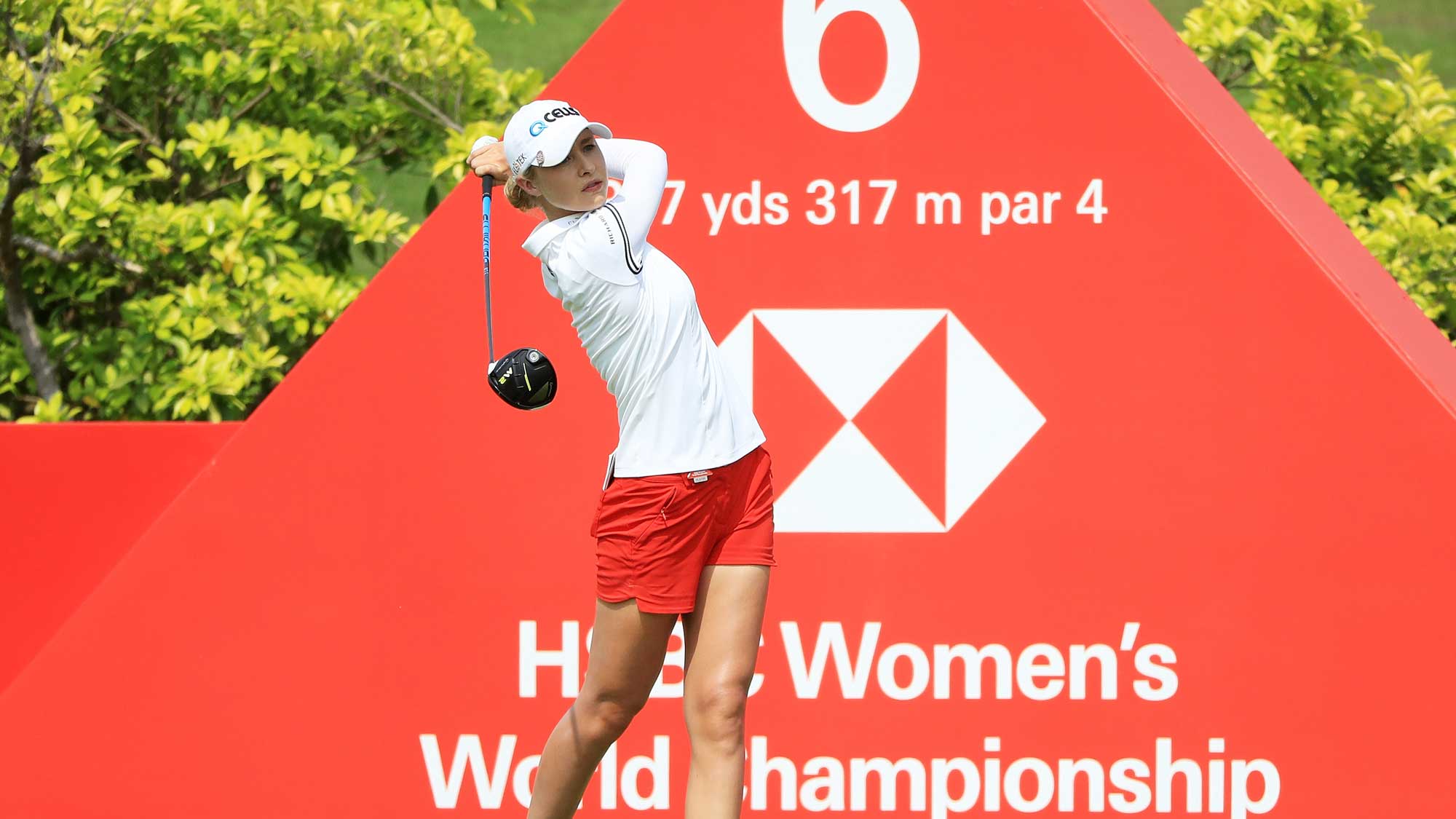 Korda's looking for history
With Jessica Korda finding the winner's circle a week ago, this week it's younger sister Nelly who is primed for the first win of her professional career.
They could become the first pair of sisters since the Sorenstam's in 2000 to win in back-to-back weeks, but Jessica – who sits at 10-under par and tied for fifth, five shots back of her younger sister – will need to push through another injury (beyond how she is still recovering from off-season jaw surgery). She took an awkward swing Saturday and her wrist popped.
But she popped it back into place and played on.
"(My club) caught grass and then my wrist popped out of place and then… yeah, I got it to pop back in, but it hurt in the meantime," she said. "Then I iced it and took an Advil and hoped for it to go down and it did. I'm very happy. That's what happens when you're double-jointed and hypermobile."
Jessica had an up-and-down round with seven birdies, but a double-bogey on the par-4 9th and a bogey on the par-4 12th on her scorecard.
Nelly made eight birdies Saturday and just one bogey. She birdied three holes in a row on the front nine, and five of seven on the back nine.
"I was hitting the correct shots," she said. "I was aggressive when I needed to be, so I'm just happy with the way it ended and really looking forward to tomorrow."
She's taken the solo lead into the final round on the LPGA Tour for the second time in her young career, sitting at 15-under par through three rounds.
She said that experience, at the Marathon Classic presented by Owens Corning & O-I taught her to take things shot-by-shot, stay in the moment, and try not to think ahead.
"There are a bunch of great girls on top of the leaderboard," said Nelly. "They are going to be making a lot of birdies, so I'm going to have to stay patient and see where the round takes me."
One of those girls is sister Jessica, so it's unlikely she will reach out to her tonight for any advice.
"I think I just usually talk to my dad and mom about this," she said. "Jess is still… she's right there on the leaderboard. I see her."
Nelly remains highly inspired by her older sister, however.
"She's had a very tough off-season with her surgery and just to come out her first week and win and completely crush everyone, it's very inspiring," she said. "It definitely motivated me a bit more."
With a victory, Nelly is projected to climb to second in the Race to the CME Globe.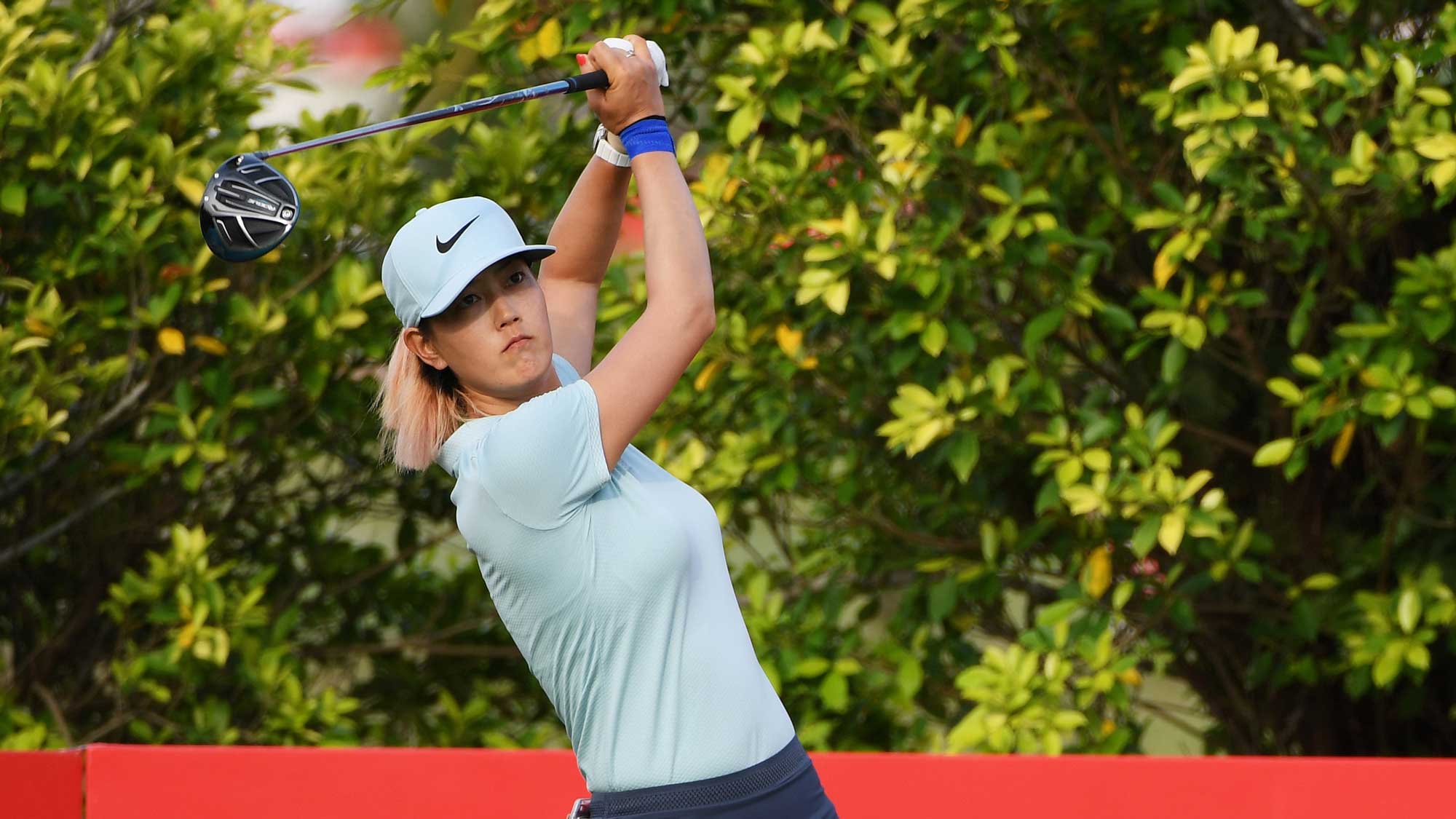 Wie on track for best finish of 2018
Michelle Wie is committed to breaking her streak of 11th-place finishes in 2018, and so far this week at the HSBC Women's World Championship, she's off to a good start to do just that.
Wie bounced back from a 1-over-par 73 on Friday with a 6-under-par 66 on Saturday, which moved her from a tie for 15th to a tie for 5th. She birdied four of her first five holes and made only one bogey on the day.
The 28-year-old admitted Saturday's round was one of those rounds where things didn't pan out how she wanted. She found herself having bad lies in the fairway, bad lies in the rough, and it was tough to give her opportunities to score. She missed a lot of putts on Friday as well, so practiced her stroke after the round. That work paid off, as she needed only 26 putts on Saturday.
"I just felt good out there today," she said.
Wie said she was scoreboard watching on Saturday, although her overall plan was just to try to make as many birdies as she could.
"I think it's important to see where you are standing so you know whether to go for it or not," she said. "Just have to play our own game and if you shoot a good round, that's all you can do."
Wie's close friend on Tour Danielle Kang is just one shot back of the lead going into Sunday's finale and Wie, who hasn't won since 2014, is hopeful for a comfortable pairing and a good result.
"I've got a couple good friends up there (on the leaderboard), so it's exciting," she said. "Hopefully get a good pairing going and it's going to be an exciting day tomorrow."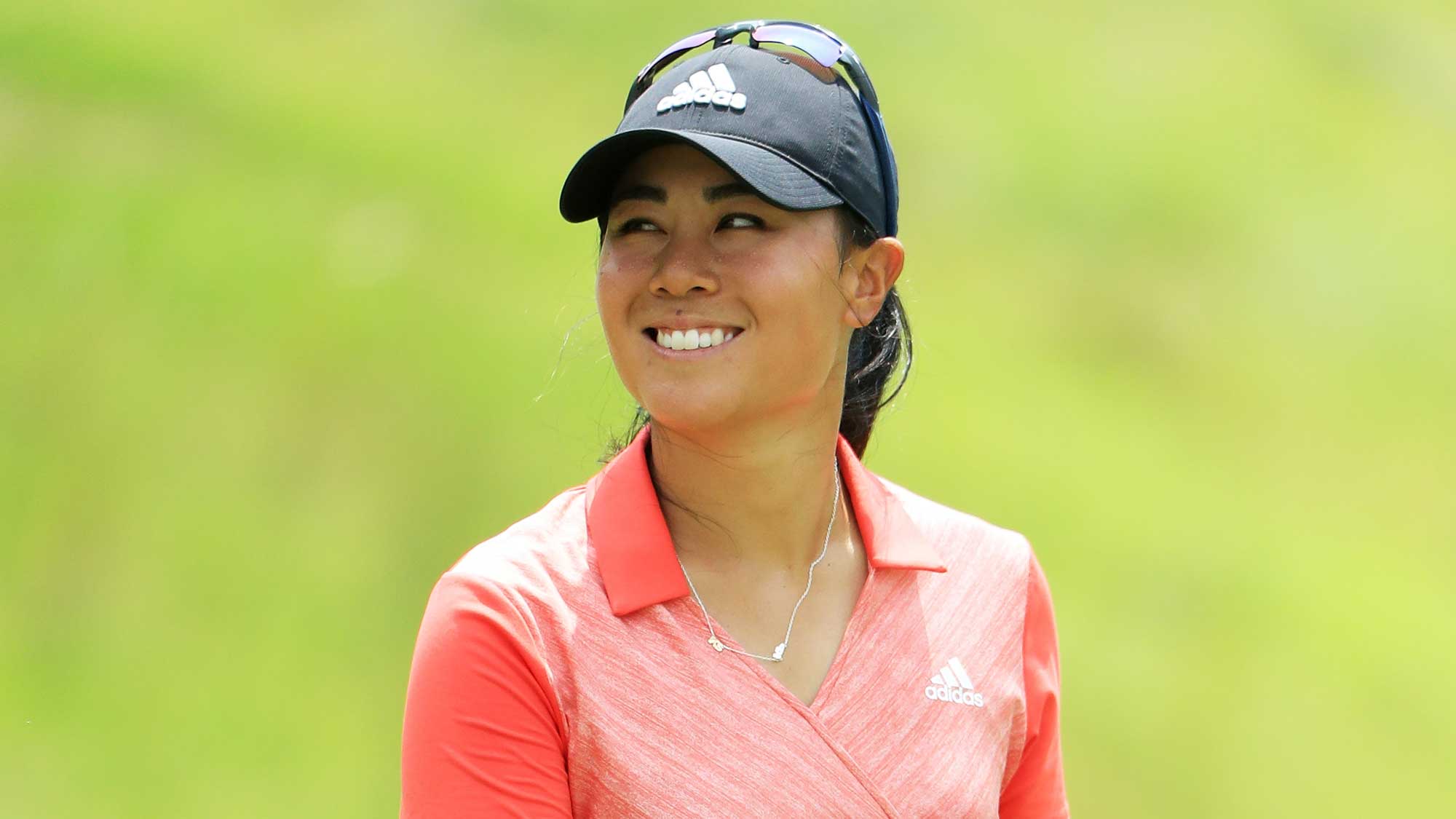 Kang and the contenders
Although it wasn't the finish Danielle Kang was hoping for, she sits just one shot back of the lead heading into Sunday's final round, and she's got a chance to win for the second time on the LPGA Tour.
Kang bogeyed two of her last four holes, including the par-4 18th to drop out of a share of the lead and shoot a 2-under-par 70. She was 3-under par before she got to the par-3 15th where she made her first bogey of the day.
She said Saturday was a grind, but overall happy with her result.
"I didn't want to finish on a bogey but it was a really unlucky lie on the fairway, got plugged in the bunker. But I gave myself a really good par chance and I ended up one shot behind the lead," she said. "Got 18 more holes to play and that's a lot of golf."
For Kang to find the winner's circle, she'll have to navigate a leaderboard that's chalk full of contenders.
Australian Minjee Lee – a three-time winner on Tour – and Brooke Henderson sit tie for third, while Michelle Wie, Jessica Korda, and Marina Alex are just a shot further back at 10-under.
That group at 10-under is also joined by Jin Young Ko, who has a win already on Tour this year and currently leads the Race to the CME Globe, and the race to Player of the Year and Rookie of the Year.
Nelly Korda Third Round Highlights
Trending on Social