For the fifth straight week, weather has impacted the LPGA Tour.
Saturday's round at the ShopRite LPGA Classic presented by Acer was suspended at 1:33 p.m. due to storms in the area, with players not allowed to finish the hole they were on at the time. A thunderstorm remained in the area for the balance of the afternoon before play resumed at 4:30 p.m. after a delay of two hours and 57 minutes.
Play was eventually called for the day at 8:14 p.m. due to darkness, as the ShopRite LPGA Classic became the seventh tournament on the LPGA schedule in 2018 to be delayed.
France's Celine Herbin – who shot her lowest round of the season on Friday to open the tournament – fired a matching 5-under-par 66 on Saturday to sit tied for the lead with Sei Young Kim who is 8-under par through 15 holes.
"It's a good position to be," said Herbin. "I don't really look at the leaderboard so I didn't really know what was going on today. I was just focused on my game."
Herbin's best result of the 2018 season is a tie for 28th at the LPGA MEDIHEAL Championship. She captured the French Open on the Ladies European Tour in 2015 in front of a hometown crowd, and said although she hasn't yet been in the lead on the LPGA Tour, she still feels comfortable on top of the leaderboard.
"Maybe my age is a positive thing. Maturity definitely helps me," she said. "I've been there. I know how to deal with that. Of course I'm going to be nervous tomorrow if I am in the last group. It's part of the game. If you are not, it's very strange."
Kim, meanwhile, made nine birdies on Friday against one bogey on the par-4 14th. She'll play hole No's 7-9 Sunday morning to finish off her second round.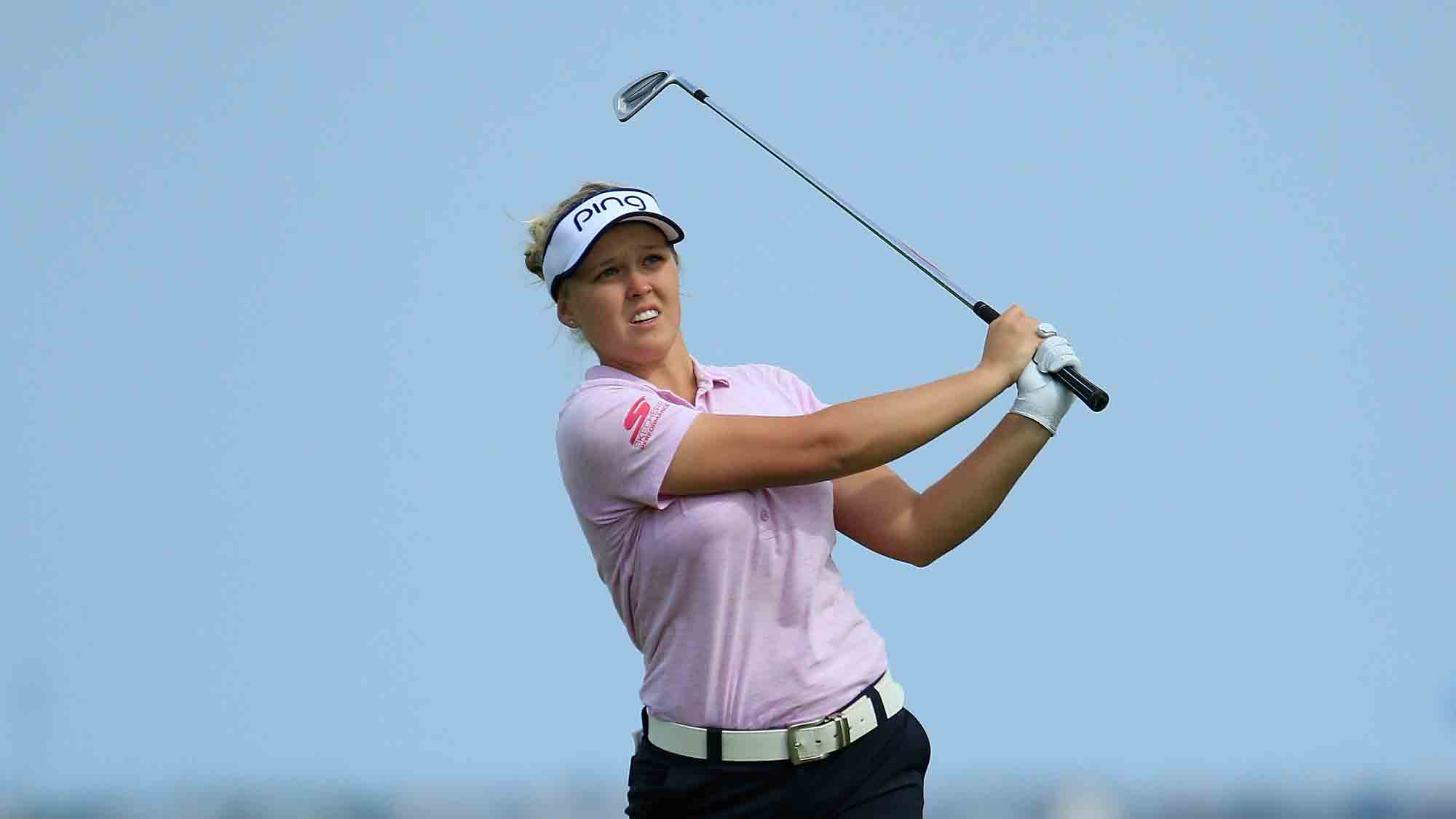 Henderson returns to action
After withdrawing from the U.S. Women's Open last week to head home after the passing of her grandfather, Brooke Henderson decided to tee it up this week at the ShopRite LPGA Classic, and through two rounds she's battling for the lead.
Already a winner this season, Henderson announced she had withdrawn after the first round of last week's major championship. At the time Henderson said the withdrawal was for personal reasons.
Henderson took to Twitter last Sunday to share a remembrance of her grandfather, Bob Moir, who passed away after a brief battle with cancer at the age of 81. A message Henderson and her sister Brittany wrote in Moir's obituary said in part: ""The bond that we shared with our Gramps was truly special. Between the golf courses, hockey rinks, our love of nature, just hanging out at home or our texts from afar, we shared so many great laughs, smiles and memories that will be deep in our hearts forever."
Henderson shot an even par 71 in her first round back Friday, but climbed the leaderboard Saturday with a 4-under-par 67. She sits tied for 20th heading into Sunday's finale, with 42 golfers still left to play their second rounds.
"It was very sad last week and everything, but I think it's really good for us to be back out here playing and enjoying what we love to do," said Henderson.
She admitted she was disappointed to not get anything going after making a bogey on the par-4 10th – she finished with eight straight pars – after shooting 5-under par on the front nine. She's hopeful for a better round Sunday before she defends her title at the Meijer LPGA Classic.
Henderson said she's excited to get back to a place where she's had success at before.
"Something clicked last year, and hopefully it does again," she said. "I know it's going to be very difficult to repeat, so I'm not really going in with that mindset. I'm just kind of excited to go back to where I played so well."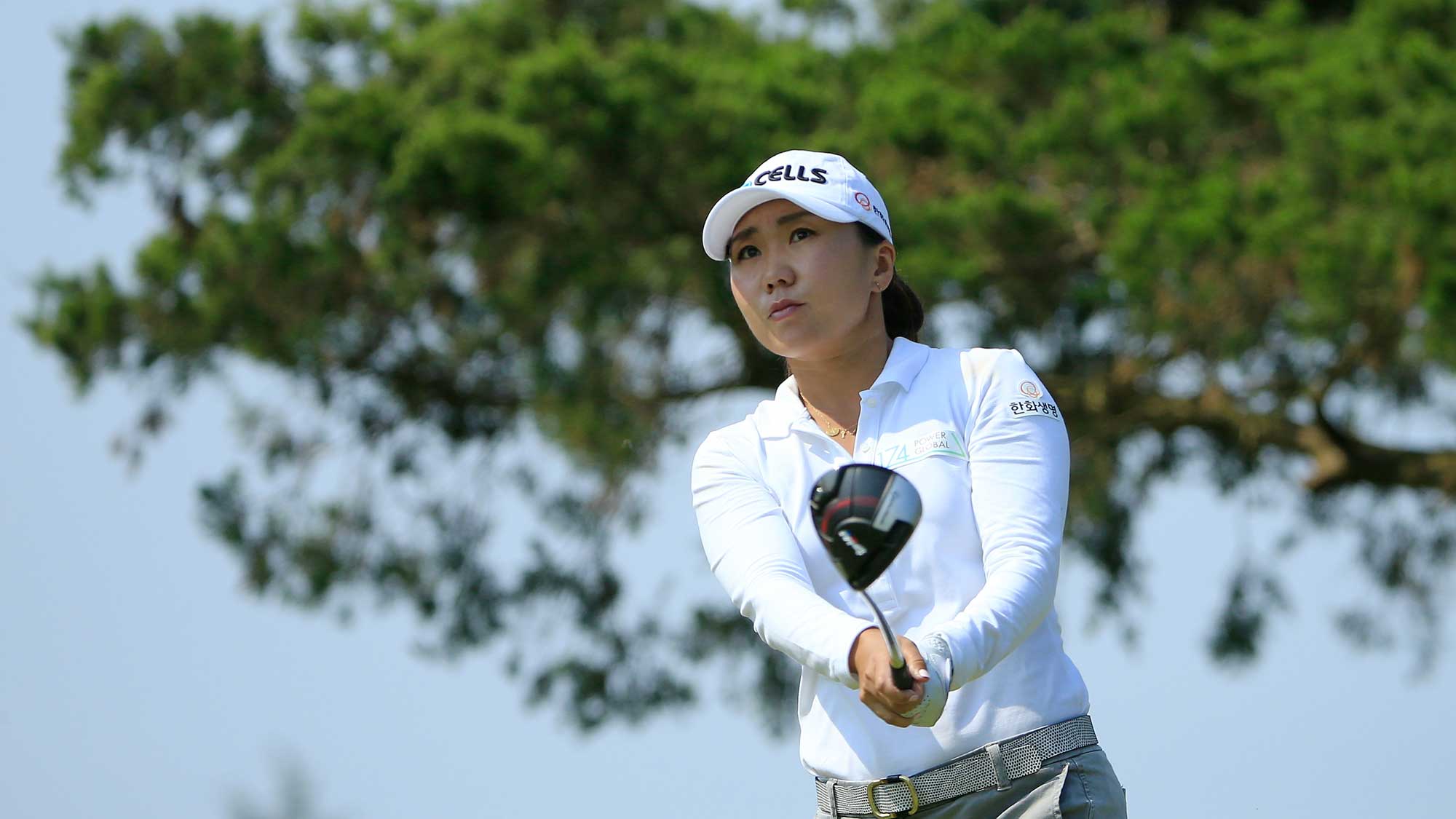 Kim contending
Defending champion I.K. Kim is in contention once again at the ShopRite LPGA Classic after matching 3-under-par rounds of 68 to begin the tournament.
Kim made two eagles on her front nine Saturday and made birdies on No's 17 and 18 to wrap up her round prior to the weather delay that impacted play in the afternoon.
Kim admitted it was an "interesting" round. She said making the two eagles on the front nine saved her a bit, as she made three bogeys on the day.
"I hit a lot of good shot coming in," she said. "It's tricky to, you know, with the score right there, but I try not really focus on the result. I think that's why I was able to (come) back in the end."
Kim's victory a year ago kick started one of the best runs on Tour. She won twice more, including the RICOH Women's British Open, her first major championship title.
She said it's been a great experience to return as the defending champion this week – particularly when she signs autographs on fans' passes, she gets to sign a photo of herself.
Kim sits four shots back of the lead going into the final round, and said the weather will be a key differentiator on Sunday.
"I think it all depends on the wind and who will be the most patient tomorrow," she said.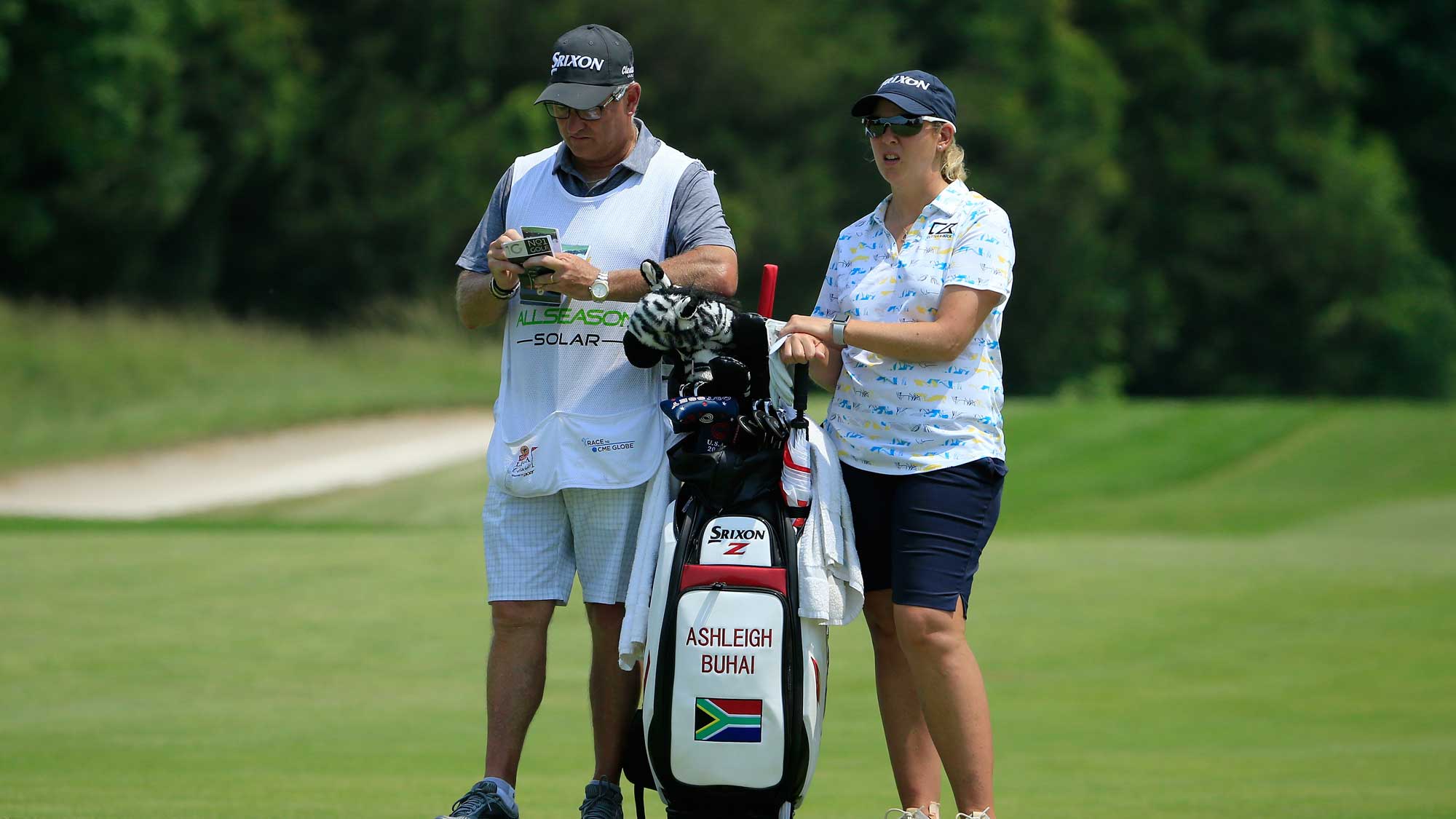 Buhai fires her round of the year
Ashleigh Buhai has only shot in the 60's twice so far this season. But through two rounds of the ShopRite LPGA Classic, she's matched that total.
At 8-under par through two rounds, she sits just two shots back of the lead going into Sunday's finale.
Buhai shot a 5-under-par 66 Saturday, her lowest round of the season so far. She notched six birdies and just a lone bogey to move up 10 spots on the leaderboard.
The South African's best finish so far in 2018 was a tie for 23rd at the LOTTE Championship in April. She said Saturday was a culmination of a lot of hard work over the last few weeks. She had been "close" leading into this week, but so far in New Jersey things have been clicking.
"I really try to commit and swing through the ball this week. Found a little something on the range late Thursday, and I was able to take it into Friday," she said.
Buhai captured a title on the Ladies European Tour earlier this year and said she's comfortable being close to the lead.
"Winning is a feeling," she said. "The stage over here is a little bit bigger; obviously the nerves a little bit more sometimes. You try and control them and we'll see what happens."
Early Round Two Highlights
Trending on Social