If you're on a long flight this month, or even a puddle jumper, instead of closing your eyes or watching another episode of Friends on Netflix, grab the American Way magazine in your seat back pocket.
You'll find a familiar face.
The Rolex Rankings No. 3 ranked player, Lexi Thompson.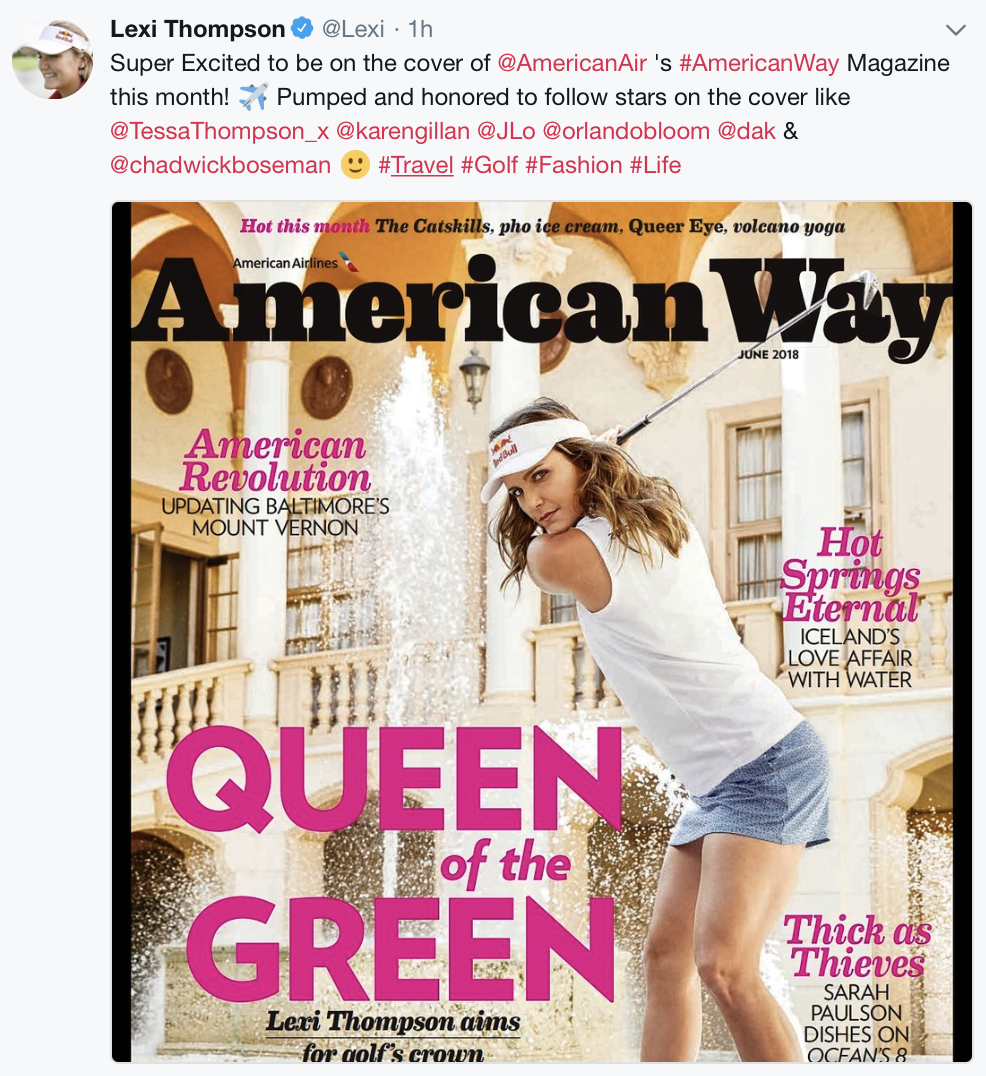 She's just the third solo athlete to grace the cover since 2016. The other two you might ask? Dallas Cowboys quarterback Dak Prescott and Golden State Warriors, 2-time MVP Stephen Curry. Celebrities that have been on the cover include Demi Lovato, Jimmy Fallon and Jennifer Lopez, to name a few.
"I'm super excited and honored to be on the cover because of the caliber of athletes and celebrities that have come before me," Thompson told LPGA.com. "When I got the opportunity, I was really stoked to be able to represent golf, but also to show women can be strong, powerful and fashionable. It was nice to be able to combine those elements."
The photo shoot took place at The Biltmore Hotel in Miami, as did the interview with reporter Michelle Kaufman. It's an impressive feature including eight full pages with five different pictures of Thompson, all in off-the-course, trendy outfits.
The article centers on Lexi's growth from a golf prodigy to one of the top players in the world.
"It would be nice to get to No. 1," Thompson told the reporter over lunch at Fontana, The Biltmore's Al Fresco restaurant.
Thompson also discussed how fame at a young age has affected her social life.
"I'm pretty good at keeping my personal life to myself," explained Thompson. "I don't think that stuff needs to broadcasted or judged. I have only a few people I can really talk to."
Thompson said one of those is her caddie, Kevin McAlpine, who she described as her "best friend."
The article also focused on the Thompson family and her well-documented bond with her mom, Judy.
"We have the same minds, the same sense of humor," said Lexi. "She's an amazing woman."
Lexi is a 9-time LPGA Tour winner and has been the top-ranked American for the two years.
Thompson's representation at Blue Giraffe Sports told LPGA.com that the shoot began at 7:30 a.m. with hair and make up and took approximately eight hours to complete, including wardrobe changes and the interview.