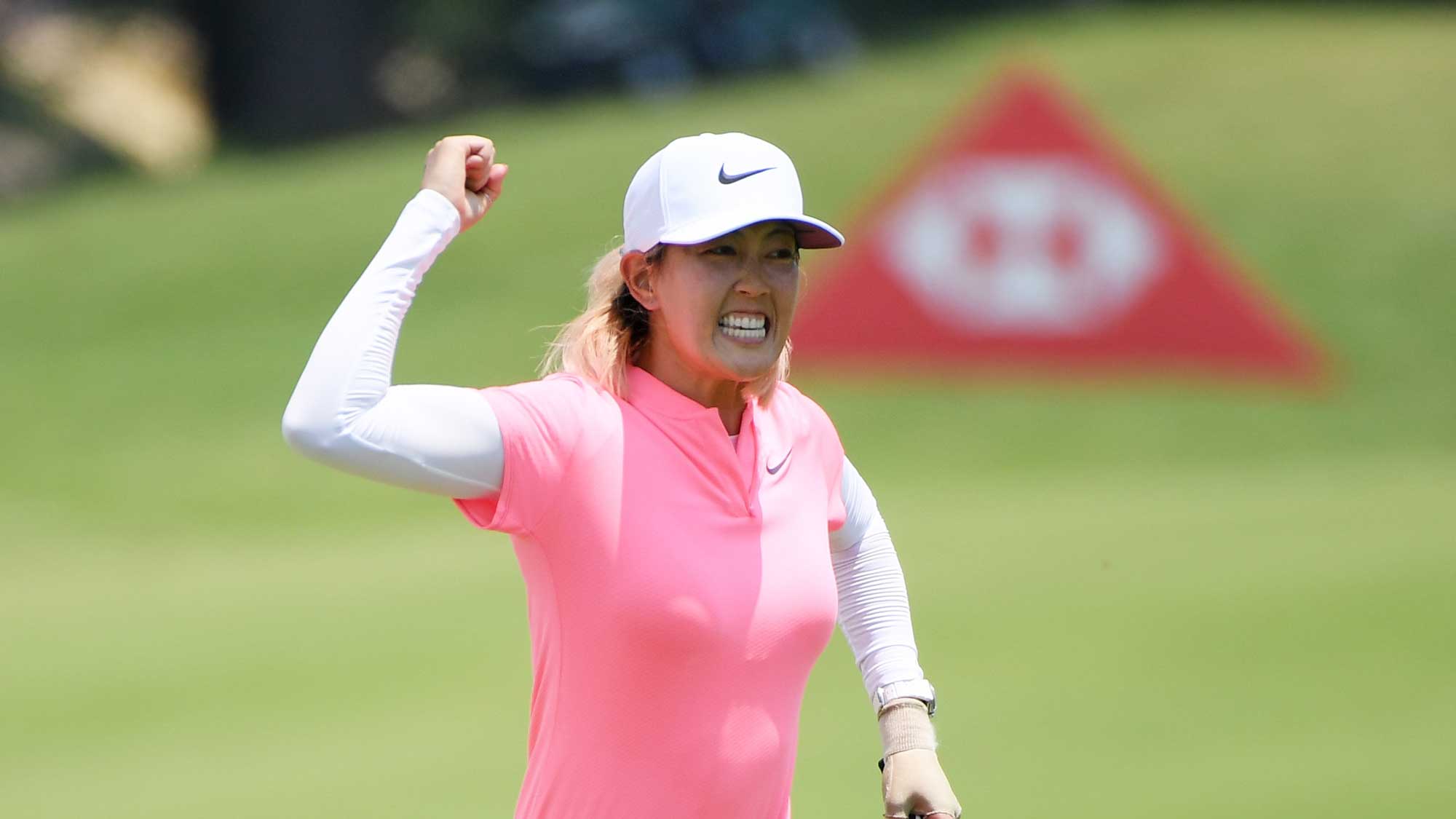 Wie's winless drought is over
Michelle Wie went more than 1,000 days between her last two wins on the LPGA Tour, but Sunday in Singapore, she found the winner's circle once again after some serious drama.
"I think that has to be the best putt of my career so far," said Wie of her nearly 40-foot bomb. She was tied for the lead going into the 72nd hole of the HSBC Women's World Championship and left her approach shot short of the green. But after some deliberation with her caddie, she knocked her birdie try into the cup.
She unleashed a mighty fist pump, and after both Danielle Kang and Nelly Korda couldn't make their birdie attempts on No.18, Wie won outright after a 7-under-par 65 on Sunday.
"I just kind of wanted to get revenge after last year a little bit," said Wie, who held the 54-hole lead at last year's HSBC event, but fell back Sunday. "I kind of came with a slight chip on my shoulder in the morning, and I knew that I had to shoot low to even have a chance, and everyone played great today.
"Everyone was really clustered up there on the leaderboard. I'm just really proud of myself for making a lot of birdies and keep going, and never really getting out of my head, which I'm really proud of doing today."
Wie's first win on Tour since the 2014 U.S. Women's Open moved her to No.2 on the Race to the CME Globe, and she moved up 12 spots in the Rolex Ranking to No.14 in the world.
It has been a few trying years for the former teenage phenom as she battled through injuries and lost a lot of confidence on the course. She said in 2017 she was able to build her confidence back up again and said she wants to keep playing as well as she can again.
Why? Because, as she said Sunday, "winning is everything."
"There is no better feeling than when you think that sink that winning putt. It's a high, for sure. You go out there, and it's this feeling that gets you going. It's this feeling that makes you practice. It's that winning putt that makes you practice for hours and hours and hours, and even the hard times, it gets you going back. You know that good feeling is on the other side," she said after coming from five shots back on Sunday. "It's just everything. Winning's everything."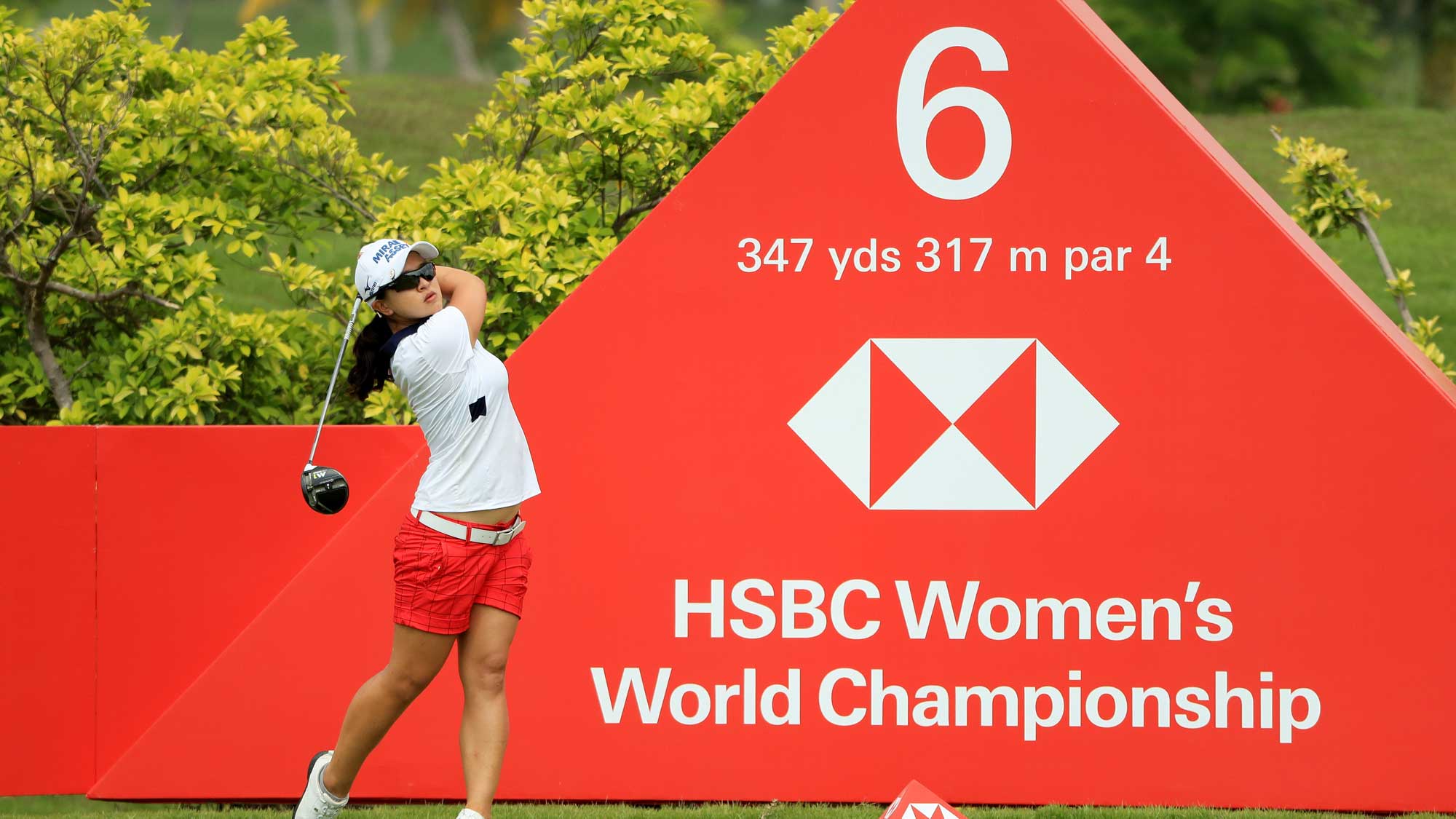 These Girls Are Good
Sunday saw the top 15 golfers on the leaderboard combine to go 85-under par.
Yes, most of the golfers admitted the course was serving up birdies; however, you still have to get the ball into the hole.
And LPGA Tour golfers did that Sunday at the HSBC Women's World Championship in spades.
The tournament course record fell early Sunday when Sei Young Kim fired a 10-under-par 62.
Angela Stanford, who won this event in 2012, was also on a hot pace through her first nine holes – shooting a 29, something she's never done before – but ended up making two bogeys on her back nine en route to a 9-under-par 63. That would have been the tournament course record had Kim not gone lower just 25 minutes prior to Stanford.
"I think starting the day, you just want to see how low you can go, but some days the course doesn't set up for that, and today, I felt like it was set being up for that," said Stanford.
Caroline Masson matched Stanford's 9-under par round on Sunday after making seven birdies and an eagle.
So Yeon Ryu and Amy Yang both shot 8-under-par 64s, while Mi Hyang Lee, Jenny Shin, and eventual winner Michelle Wie all shot 7-under-par 65s.
"I think this golf course, it did open up for birdies on some of the holes," said Wie. "Before I came out this morning, I told myself, if I shoot 8-under today, I have a really good chance, and no matter what happens from there, I'm just going to do that. I shot 7-under (but) if I shot 8-under, would I have won, too."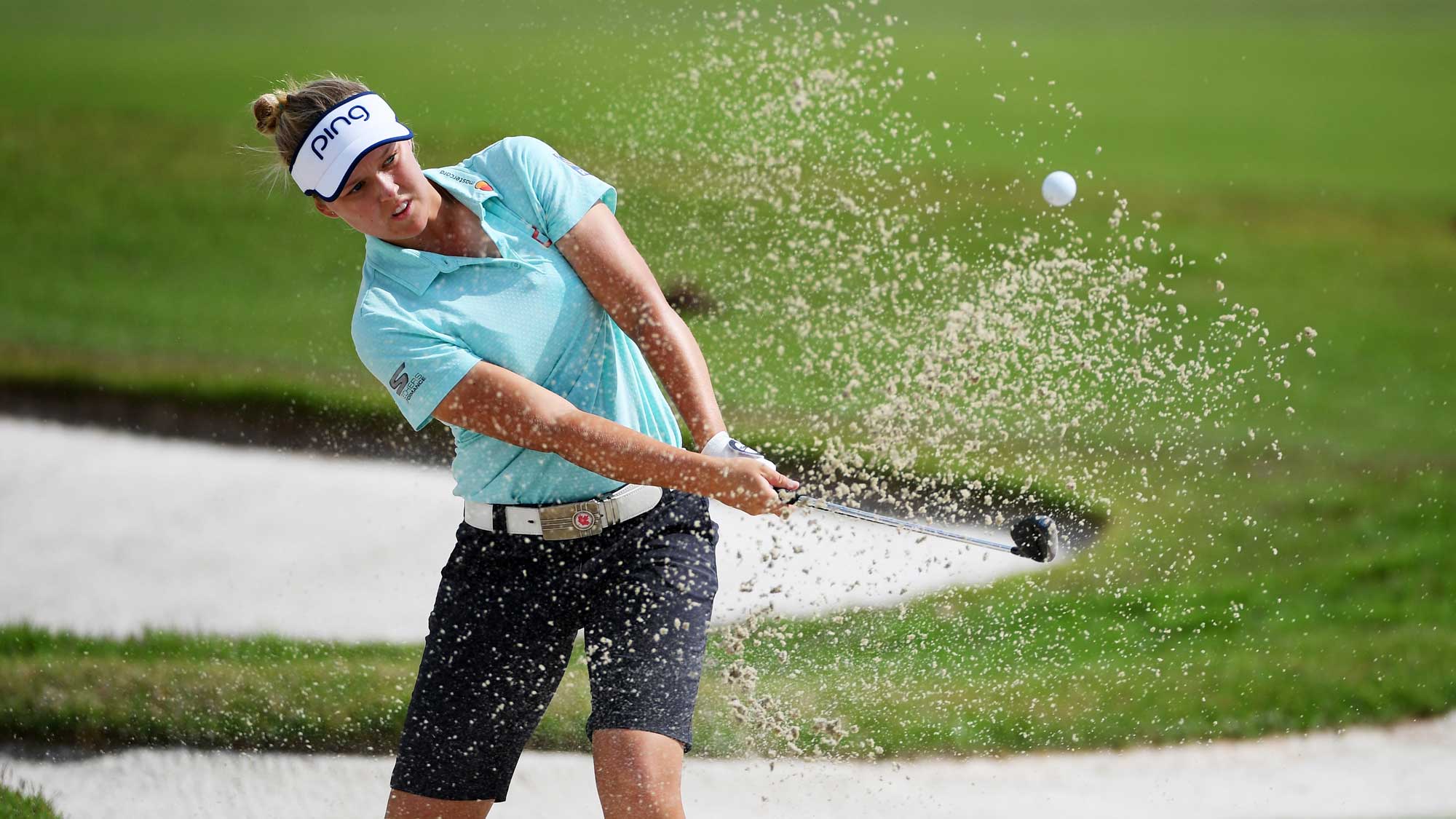 Henderson and Kang go down to the wire again
At last year's KPMG Women's PGA Championship Danielle Kang and Brooke Henderson battled down the stretch, and they bounced back-and-forth as leaders throughout Sunday afternoon.
Kang eventually emerged victorious by one shot, even with Henderson – the defending champion – making birdie on the final two holes.
Sunday at the HSBC Women's World Championship, Kang and Henderson looked primed for another battle. They eventually both finished tied at 16-under, just a shot back of Michelle Wie's winning total.
Kang was 2-under par through nine holes, and Henderson was 4-under. They combined to make only one birdie in their last 10 holes, however, and both couldn't capitalize on any opportunities.
But this has the makings of a buddy rivalry.
Henderson hits it much further, but Kang's short game is a little tighter. Henderson's got five wins to her credit while Kang has only one, but Kang came out on top the last time they were going down the stretch together.
No matter who comes out on top when these two battle, fans of the LPGA Tour will always win.
Final Round Highlights
Trending on Social