NAPLES, Fla., November 19, 2015 – LPGA Tour players, sponsors, and media took part in a night of celebration at Thursday night's Rolex Awards Celebration to honor the 2015 end-of-the-year award recipients.
The star-studded evening at the Ritz Carlton Golf Resort in Naples, Florida honored the winners of the Commissioner's, Patty Berg, William & Mousie Powell, Heather Farr Perseverance and the Media Excellence Awards.
While the Rolex Player of the Year and Vare Trophy winners won't be decided until the completion of the final round of this week's CME Group Tour Championship, this year's Rolex First-Time Winners were also recognized during Thursday night's ceremony. There were five Rolex First-Time winners this year: Sei Young Kim (Pure Silk-Bahamas LPGA Classic, Lotte Championship, Blue Bay LPGA), Hyo Joo Kim (JTBC Founders Cup), Minjee Lee (Kingsmill Championship), Chella Choi (Marathon Classic Presented by Owens Corning and O-I) and Kris Tamulis (Yokohama Tire LPGA Classic).
Additionally, Inbee Park was honored for winning the Rolex ANNIKA Major Award and Sei Young Kim accepted her Louise Suggs Rolex Rookie of the Year Award, which she clinched with two events remaining in the season.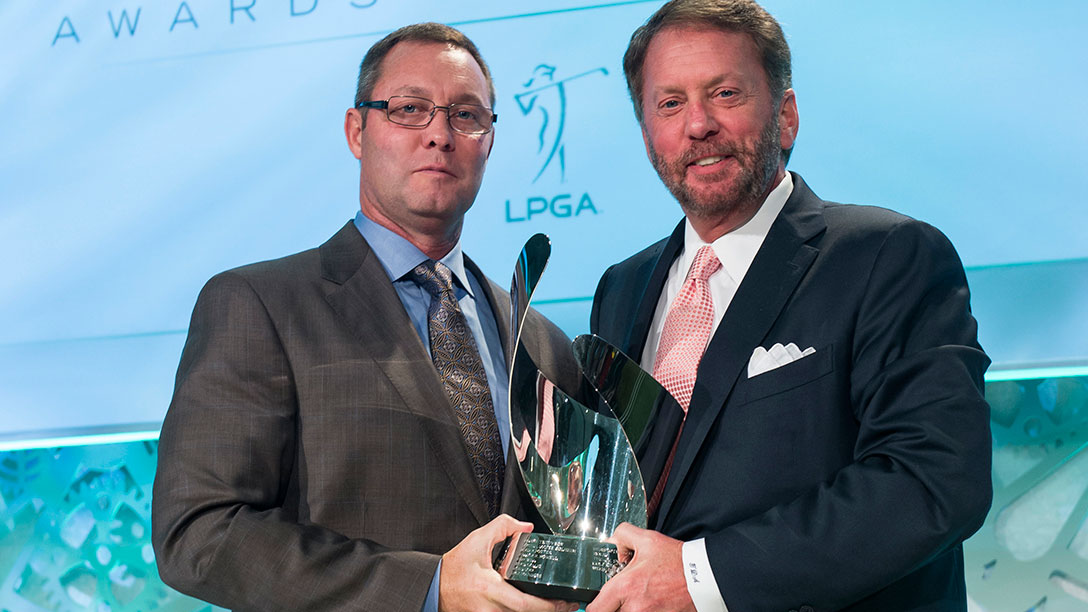 Terry Duffy Receives The Commissioner's Award
LPGA Commissioner Mike Whan presented this year's Commissioner's Award to Terry Duffy, Executive Chairman of CME Group. Since 2008, CME Group has supported the LPGA in combination with their successful Global Financial Leadership Conference and in 2011 became Title Sponsor of the season ending CME Group Tour Championship. In 2014 CME Group and the LPGA launched the Race to the CME Globe which delivers the single largest payday ever in women's golf. The company's commitment to women's golf has allowed unprecedented opportunity for LPGA members and increased global exposure.
The Commissioner's Award, introduced in 1991 by the LPGA, honors a person or organization who has contributed uniquely to the LPGA and its members, who has furthered the cause of women's golf, and whose character and standards are of the highest order. Previous award recipients have included Karsten and Louise Solheim; Jamie Farr; the LPGA Founders; Rolex; Smucker's and Wegmans.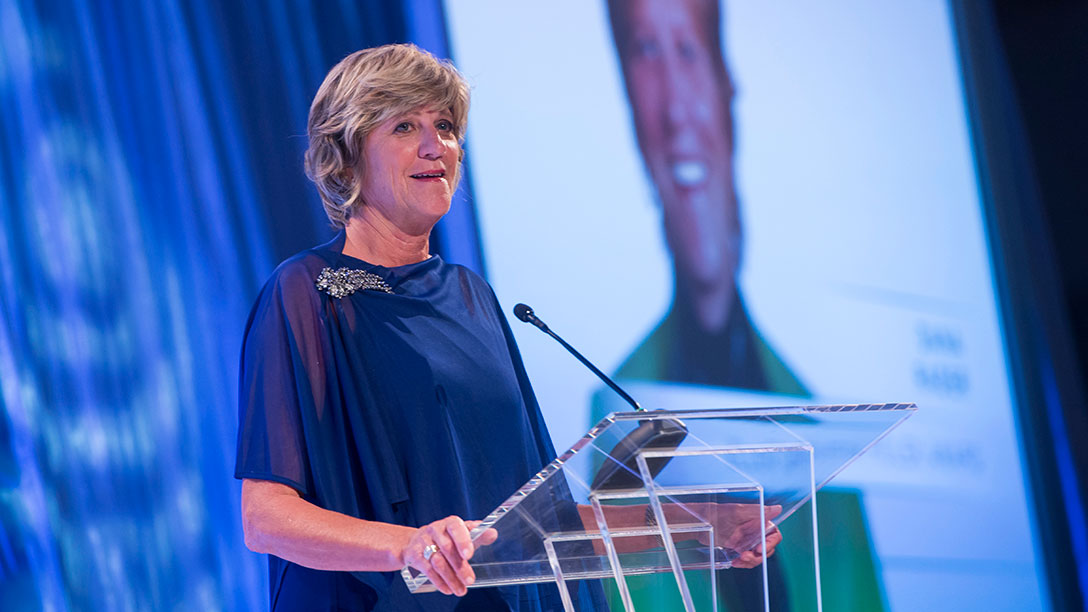 Dana Rader Honored With Ellen Griffin Rolex Award
The Ellen Griffin Rolex Award, instituted by the LPGA Teaching and Club Professional membership in 1989, was created in honor of the late Ellen Griffin, the best-known woman golf teacher in U.S. history. The award recognizes an individual, male or female, who has made a major contribution to the teaching of golf and who has demonstrated, through teaching, Griffin's spirit, love and dedication to the golf student, teaching skills and game of golf.
Dana Rader, a Master Professional member of the LPGA Teaching & Club Professionals, joins an elite group of her peers this year as this year's recipient. In a career spanning 35-plus years, Rader has founded the Dana Rader School of Golf, which teaches over 17,000 students annually, including over 500 juniors. Rader's previously been named the 1990 LPGA T&CP National Teacher of the Year and has been among Golf Magazine's Top 100 Teachers in America. She currently serves as the National President of the LPGA T&CP and has made immense contributions to the development of the TEP program and the program in Korea.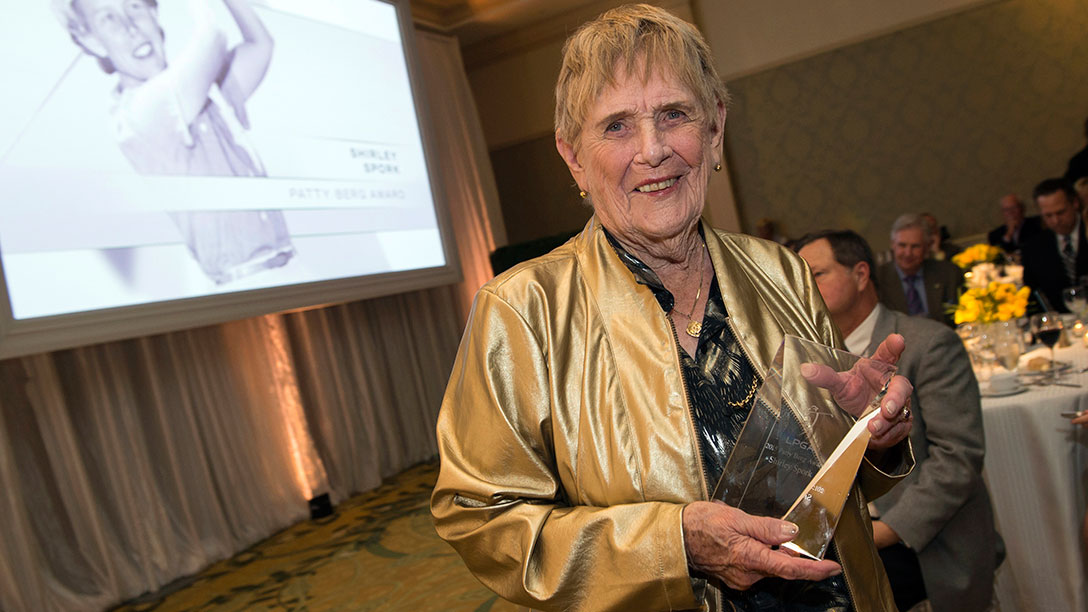 Shirley Spork Awarded Patty Berg Award
The Patty Berg Award, established in 1979 by the LPGA Board of Directors, recognizes an individual for outstanding contributions to women's golf. The award is named in honor of LPGA Founder Patty Berg and it recognizes her diplomacy, sportsmanship, goodwill, and contribution to the women's game.
This year's award is presented to one of the LPGA's 13 Founders, Shirley Spork. Shirley has dedicated her life to growing the game as an LPGA founder, player, teacher and advocate and golf is as much a passion for Shirley today as it was when the LPGA was founded. She helped spearhead the formation of the LPGA T&CP and is well known for her exceptional teaching ability. Beginning in 1960, she served as the chairperson of the LPGA Teaching Division for six consecutive years. Shirley was one of six members of the inaugural class of the LPGA Teaching and Club Professional (T&CP) Hall of Fame, named the 1998 Ellen Griffin Rolex Award winner and was a two-time LPGA National Teacher of the Year (1959 & 1984).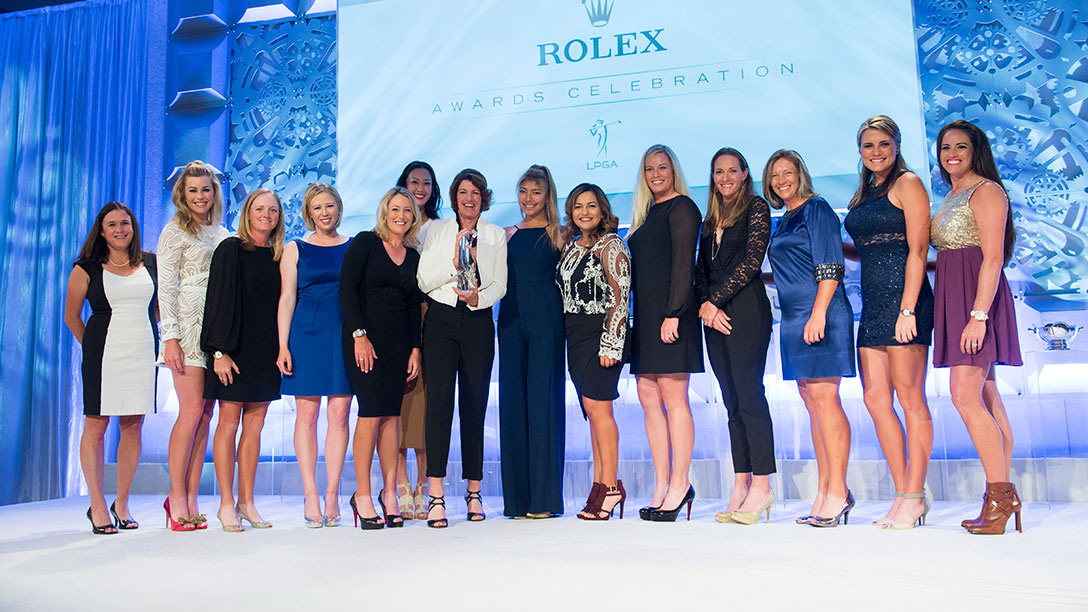 Inkster And Meadow Voted By Peers
LPGA Tour players voted on two awards this year and selected Juli Inkster as the recipient of the William & Mousie Powell Award and Stephanie Meadow as the recipient of the Heather Farr Perseverance Award.
LPGA and World Golf Halls of Famer Juli Inkster is this year's recipient of the William and Mousie Powell Award, given annually to an LPGA member, who in the opinion of her playing peers, by her behavior and deeds, best exemplifies the spirits, ideals and values of the LPGA. She was joined on stage by all 12 members of her winning 2015 U.S. Solheim Cup Team.
In a sparkling 30-plus year LPGA career, the only thing more obvious than her love of the game is her love for her peers. The affable United States winning Solheim Cup Captain is quick with a smile, even quicker with a joke, and always the first to ask how she can help. The 31-time LPGA winner and seven-time major champ may joke that the majority of the Tour is younger than her daughters these days, but her game has proven timeless and the depth of the respect for Inkster reaches every tentacle of the LPGA Tour.
The late Mousie Powell, for whom this award was named, was a close supporter and friend of the LPGA from the 1950s until her death on Jan. 18, 1997. She was married to William Powell, a Hollywood legend and one of its leading male actors. Mousie, who was also featured in movies during that time, started the William and Mousie Award in 1986. Past recipients include: Kathy Whitworth, Nancy Lopez, Pat Bradley, Betsy King, Juli Inkster, Lorena Ochoa and Chella Choi.
The Heather Farr Perseverance Award honors an LPGA player who, through her hard work, dedication and love of the game of golf, has demonstrated determination, perseverance and spirit in fulfilling her goals as a player. Stephanie Meadow received the news the night before leaving for the season-opening Coates Golf Championship that her father, Robert, was diagnosed with Stage IV pancreatic cancer during a routine check-up. Robert was Stephanie's biggest supporter on the course, rarely missed an event of hers throughout her career and saw his only child achieve her lifelong dream of becoming an LPGA Tour member. Stephanie decided to take three months off in the beginning of her rookie year to help take care of her dad throughout his fight. He lost his battle in May and Stephanie returned to play later that month, finishing her rookie season in his honor.
The LPGA established the Heather Farr Perseverance Award in 1994 to celebrate the life of Farr, an LPGA Tour player who died on November 20, 1993, following a four-and-a-half-year battle with breast cancer. Past winners of this award include: Heather Farr, Shelley Hamlin, Martha Nause, Terry-Jo Myers, Lorie Kane, Nancy Scranton, Brandi Burton, Kris Tschetter, Kim Williams, Beth Daniel, Colleen Walker, Amy Read, Se Ri Pak, Leta Lindley, Sophie Gustafson and Lisa Fererro.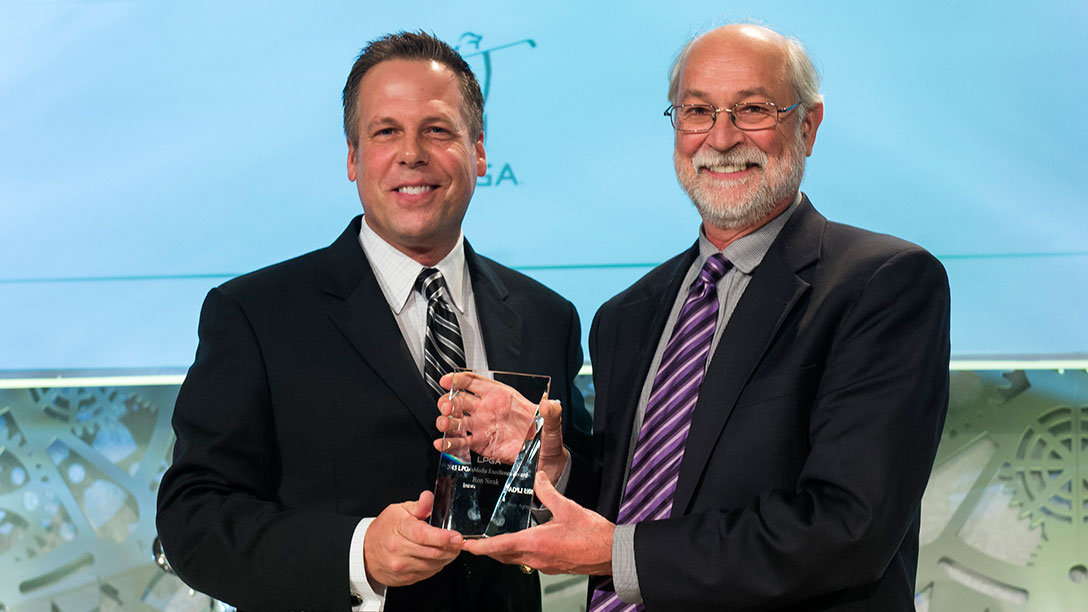 Sirak Honored With Media Excellence Award
The LPGA Media Excellence Award was established to recognize a valued member of the media who has dedicated themselves throughout their career to promote and advance the women's game through their work.
This year's recipient is one of the most trusted voices in the game of golf. Known for his contagious enthusiasm to shine a brighter light on the women's game, Ron Sirak has championed the LPGA Tour and its stars for decades, earning the highest respect of the players and staff alike through his fair and passionate reporting and storytelling.
His Golf World piece that led him to travel to Rwanda and report the story of six LPGA players on a humanitarian mission to help the more than one million orphans in the country of eight million, won Ron a 2008 GWAA award. The award was established in 2010 and was previously presented at the Evian Championship. Past recipients include Lewine Mair, Judy Rankin and David Cannon.