ORLANDO - A heavy fog hung over the driving range Saturday morning. It was cool by Florida standards, barely sixty degrees, and the sun scarcely detectable through the dense haze.
And yet, the driving range was full.
Through the fog could be seen nearly 50 veterans, many showing visible signs of injury, some missing an arm, others a leg. With cameras and phones in hand, they gathered around rows of white folding chairs near the end of the range.
They were there to see Lydia Ko.
The World No.1 joined instructor David Leadbetter in leading a clinic for Tee It Up For the Troops, an organization that reconnects soldiers who are wounded, injured, or ill. This year, 75 veterans reunited during the four-day event at, by no coincidence, Reunion Resort in Orlando, Florida.
"It's really about the bonding and camaraderie that comes with being reunited and we do it around the golf. We're Tee It Up for the Troops so we bring them together through the game of golf," said organization president Tim Wegscheid. "This is a once a year event at Reunion where we bring all these guys in from across the country."
The veterans looked on as Ko and Leadbetter stood side by side, hitting shots into the abyss, the result of which was unknown as the ball soared into the fog. The two were as comfortable as an old pair of shoes, having only worked together over the past two seasons, their comfort seemed decades in the making. Each cracked their own jokes, Leadbetter doing an impersonation of a German golfer he affectionately referred to as Heimlich Maneuver, which had the veterans roaring with laughter.
"Obviously you get a thrill no matter who you're helping but especially these people, what they've been through they deserve the ability to enjoy life a little and we all know what golf can do for people," said Leadbetter. "It's a frustrating game for the most part but on the other hand you start hitting some good shots and it's a real lifter of spirits."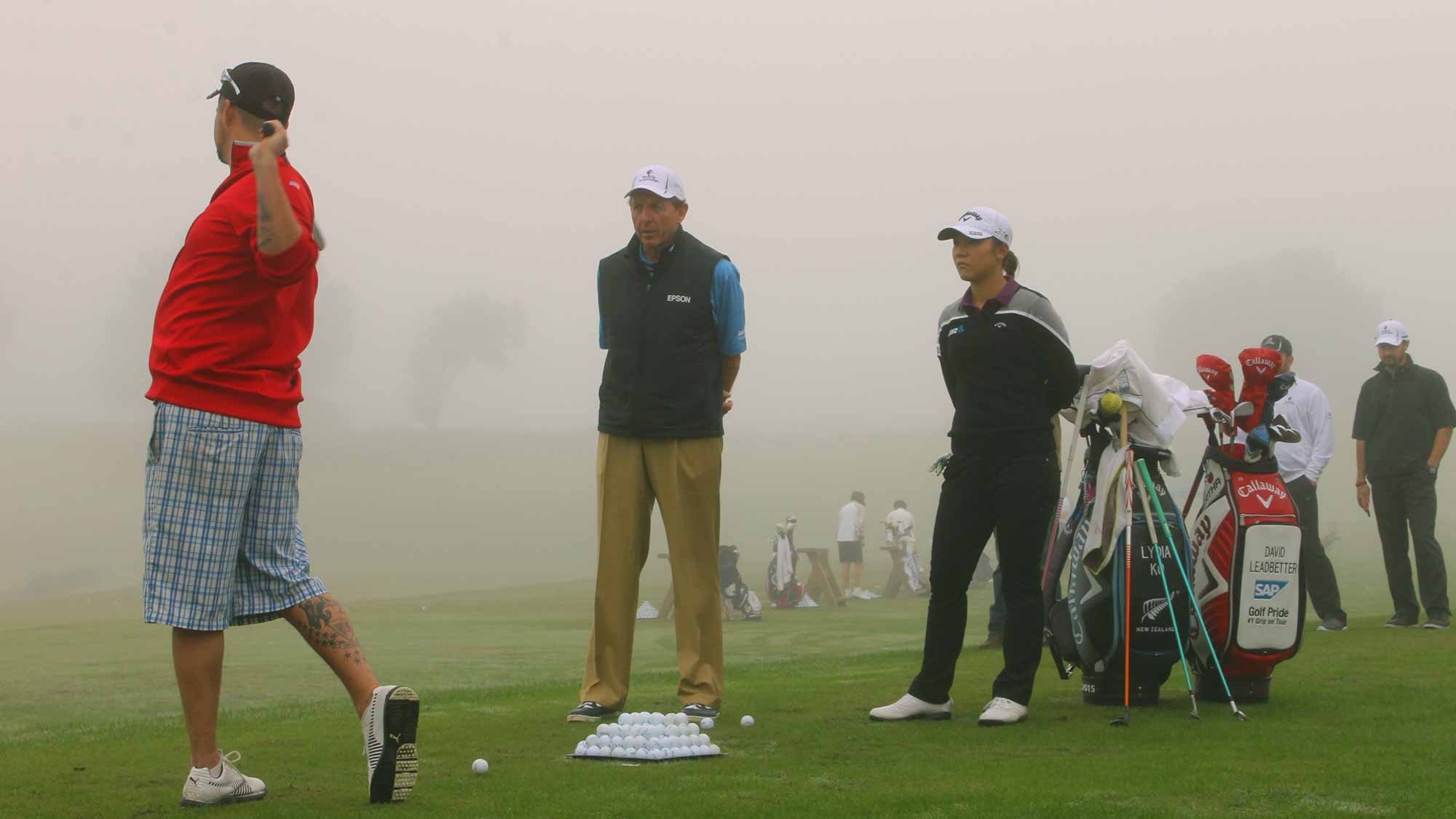 Derek Goodridge was the first to receive a lesson from the duo. The former Marine Corporal lost his right arm in February 2011 in an IED blast, just five and a half months after arriving in Afghanistan. After undergoing 27 surgeries and two years of recovery, his therapist recommended he give golf a try.
"My rec therapist actually in San Diego goes 'you want to try golfing?' I said 'how the hell am I supposed to golf with one hand?' and from there I was like, it's a challenge. So I started golfing," said Goodridge.
That was four years ago.
"I love it, especially when I'm going out with someone with two hands, two legs and I beat 'em. It's the best feeling in the world," said Goodridge, who says he shoots around 90 for 18 holes.
On the range Saturday, Ko teed up the ball for Goodridge who learned from Leadbetter the benefits of playing with a strong left side.
"They were different, it's going to be really awkward and sometime to get used to," Goodridge said about the tips he received. "It's awesome, it's not everyday you get that stuff and I was one of the lucky ones to actually have it."
Next to work with Ko and Leadbetter was Michael Stafford, a member of the Mississippi Army National Guard who was injured when his Humvee hit a pressure plate IED in August of 2005. He immediately lost his left leg.
Stafford had played golf off and on for years, but took it up more seriously following his injury thanks to tips and instruction like that he received from Ko and Leadbetter.
"From the No.1 player in the world, that's great. It showed me a little bit about what I've heard before and to hear from someone who is No.1 and a great instructor like David Leadbetter, that gives me confidence to start working harder to get my hands where they need to be," said Stafford. "Golf is a sport, but to be with your friends and connect like we're doing here this week is so much more."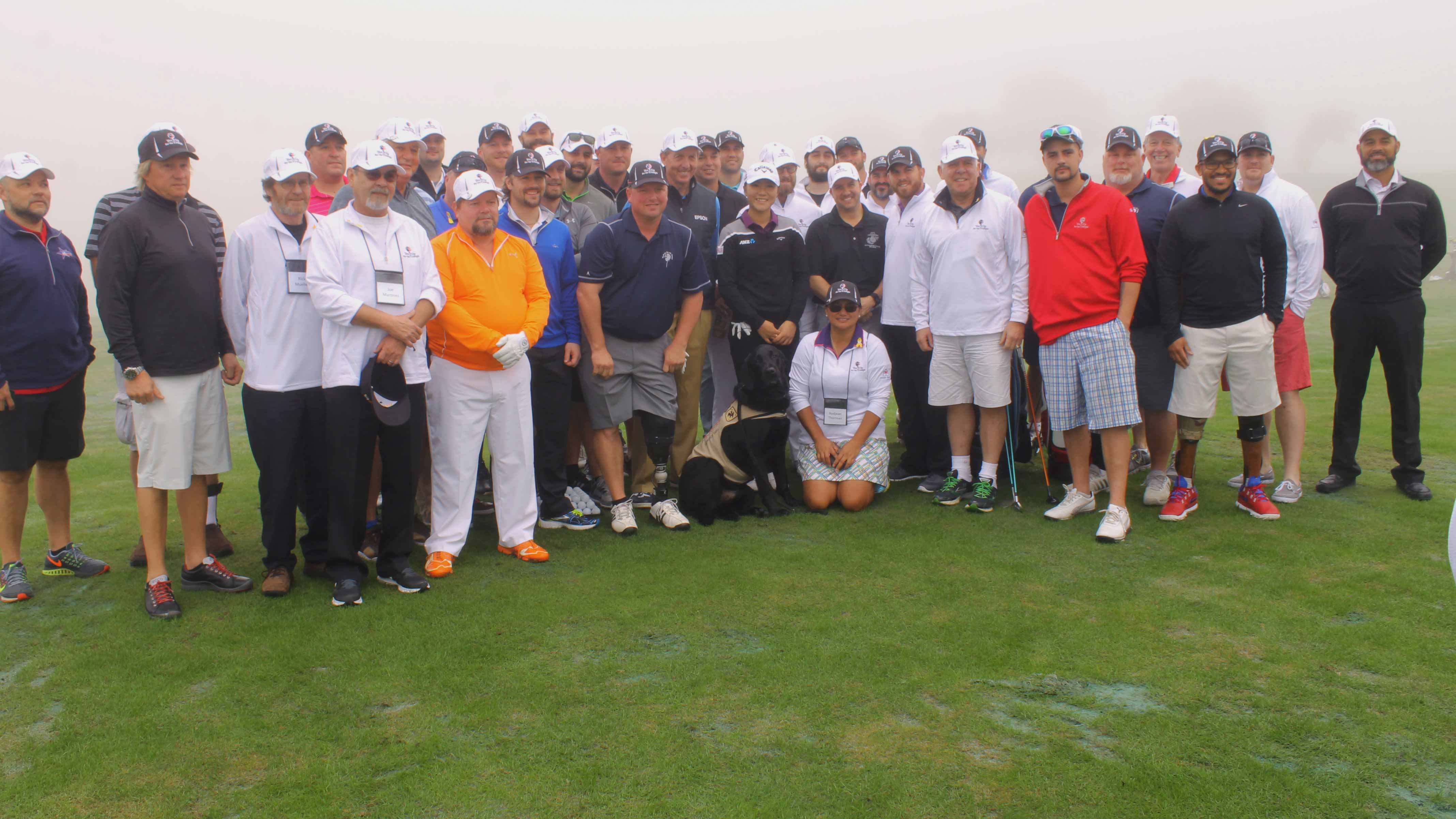 The veterans weren't the only ones moved by the experience of the weekend.
"It's amazing you know what kind of an attitude and mindset they have. I think it definitely brings us all back to the ground and you know say 'hey, you got to be thankful for what you have' and you've just got to be thankful for what they've done and still do," said Ko. "I feel like they definitely inspired me and I feel like I got more of a plus this morning than they did."
It's amazing what can be discovered in the fog.