GURNEE - Play was suspended at 4:34 p.m. due to lightning in the area, leaving two remaining matches on the course on day three of the UL International Crown. When play was called, Team Korea's Amy Yang and In Gee Chun were 1-UP through 15 holes in their match against Australia's Minjee Lee and Su Oh. Republic of Korea's Amy Yang and In Gee Chun were 2-UP through 14 holes over Australia's Karrie Webb and Rebecca Artis. Play will resume Sunday morning at 7:00 a.m. CT.
Team England's Jodi Ewart Shadoff and Holly Clyburn came out swinging on Saturday, wanting to quickly get a point on the board towards securing the team's position at the top of Pool B and ensure they would make it to Sunday. The pair defeated Team Thailand's Pornanong Phatlum and Porani Chutichai 7&5 due in large part to a hot streak from Ewart Shadoff that included four birdies and an eagle to take a 5-UP lead through 11 holes. Team England's victory is the largest winning margin of the week thus far.
Watch Ewart Shadoff and Clyburn's Post-Match Interview.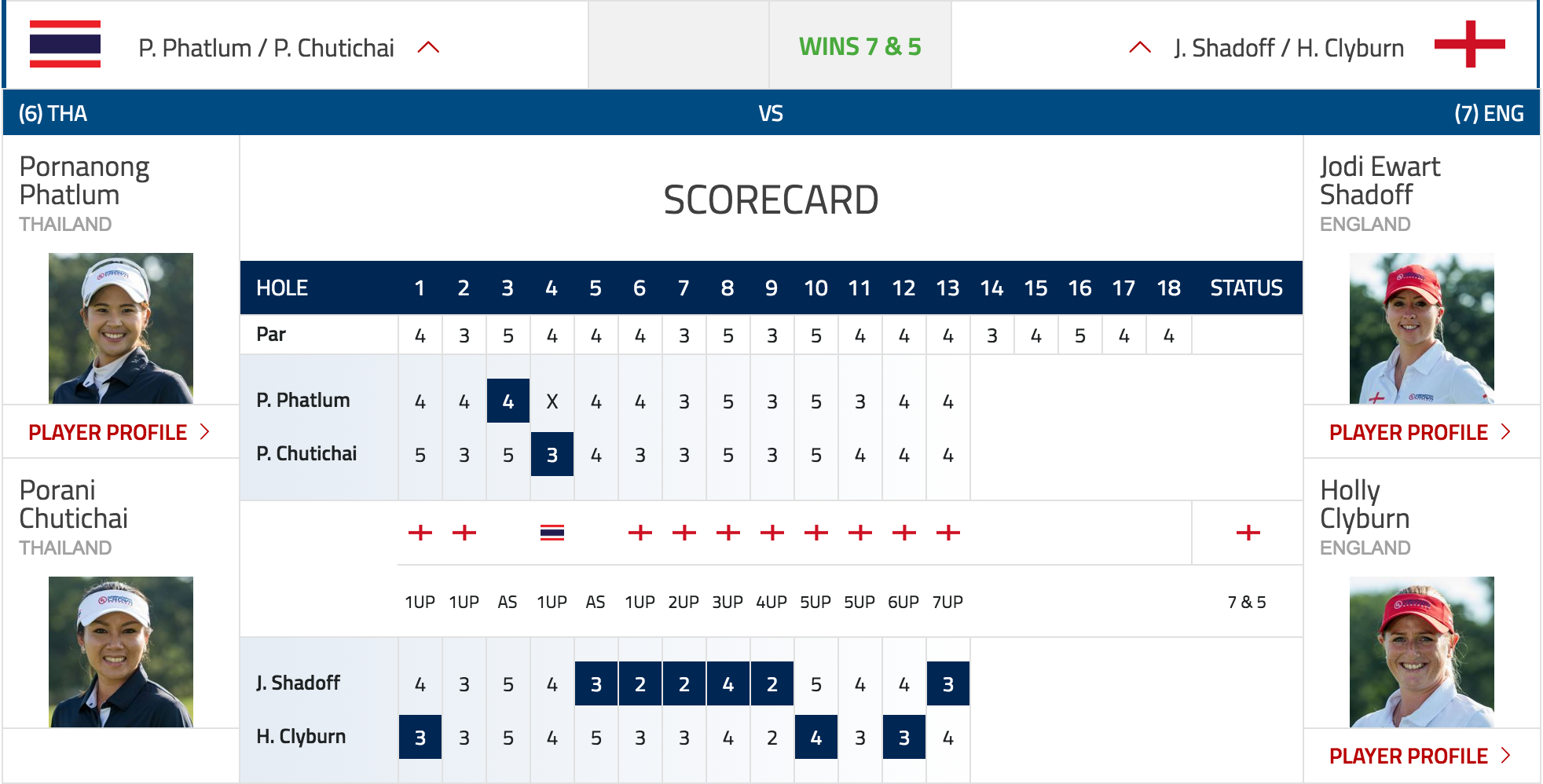 Team Thailand's Jutanugarn sisters, Ariya and Moriya, were paired together for the first time this week on Saturday to take on Team England's Mel Reid and Charley Hull, who missed Friday's match due to illness. The Jutanugarns took the early lead, going 2-UP through four holes, but Team England bounced back with Hull making four consecutive birdies to take a 2-UP lead and never looked back. The pair would go on to win 3&1 to ensure the sweep for Team England on day three and secure the team's berth to the Sunday's singles matches.
Watch Hull and Reid's Post-Match Interview.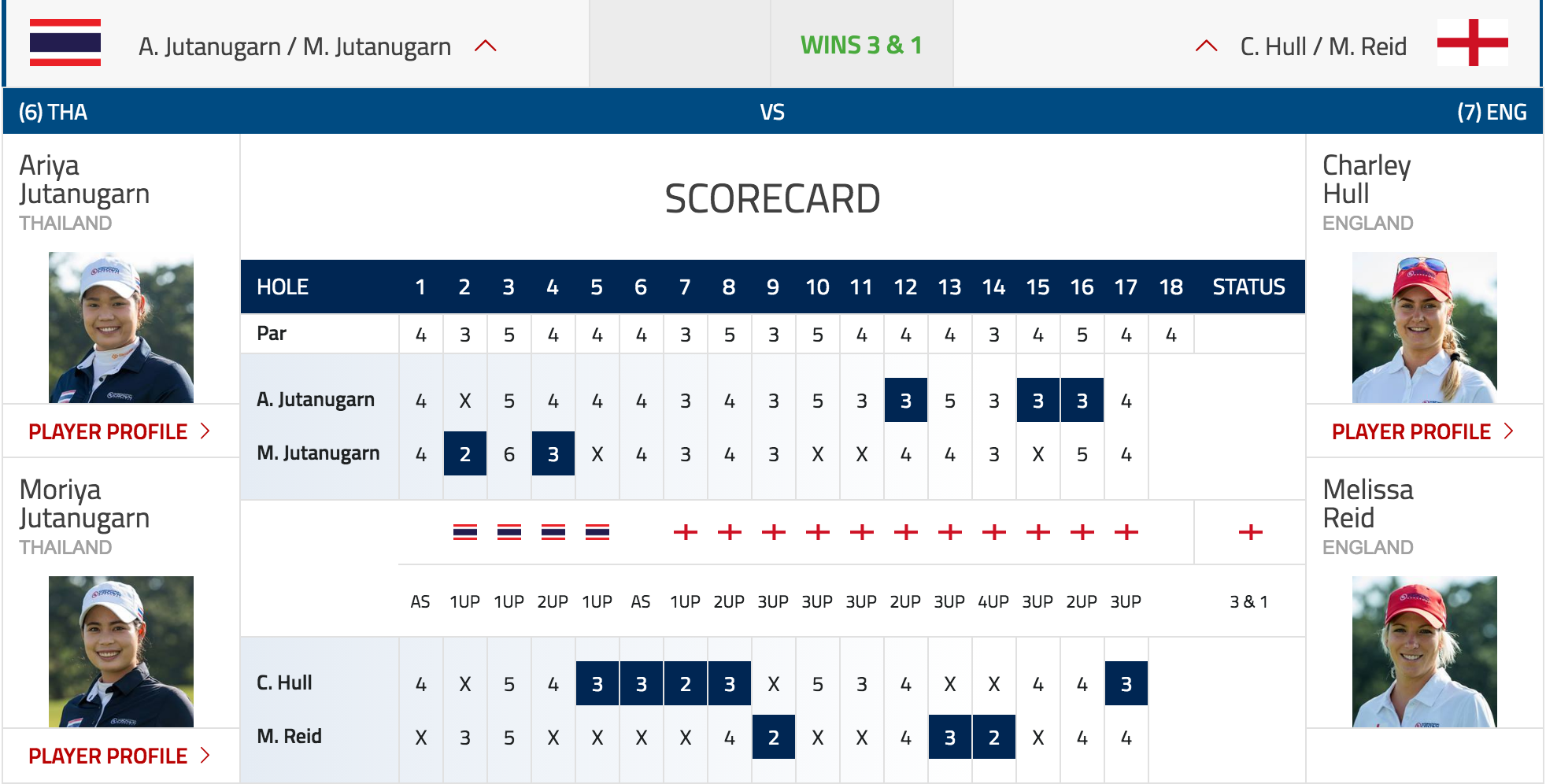 Shanshan Feng and Simin Feng of China were paired together on Saturday for the first time this week and squared off against Candie Kung and Teresa Lu of Chinese Taipei. Team China jumped out to the early lead, going 3-UP through the first three holes. But Kung and Lu battled back, making birdie at the 15th hole to square the match heading down the final stretch. The match would be halved, securing Chinese Taipei's position for from Pool A to compete on Sunday.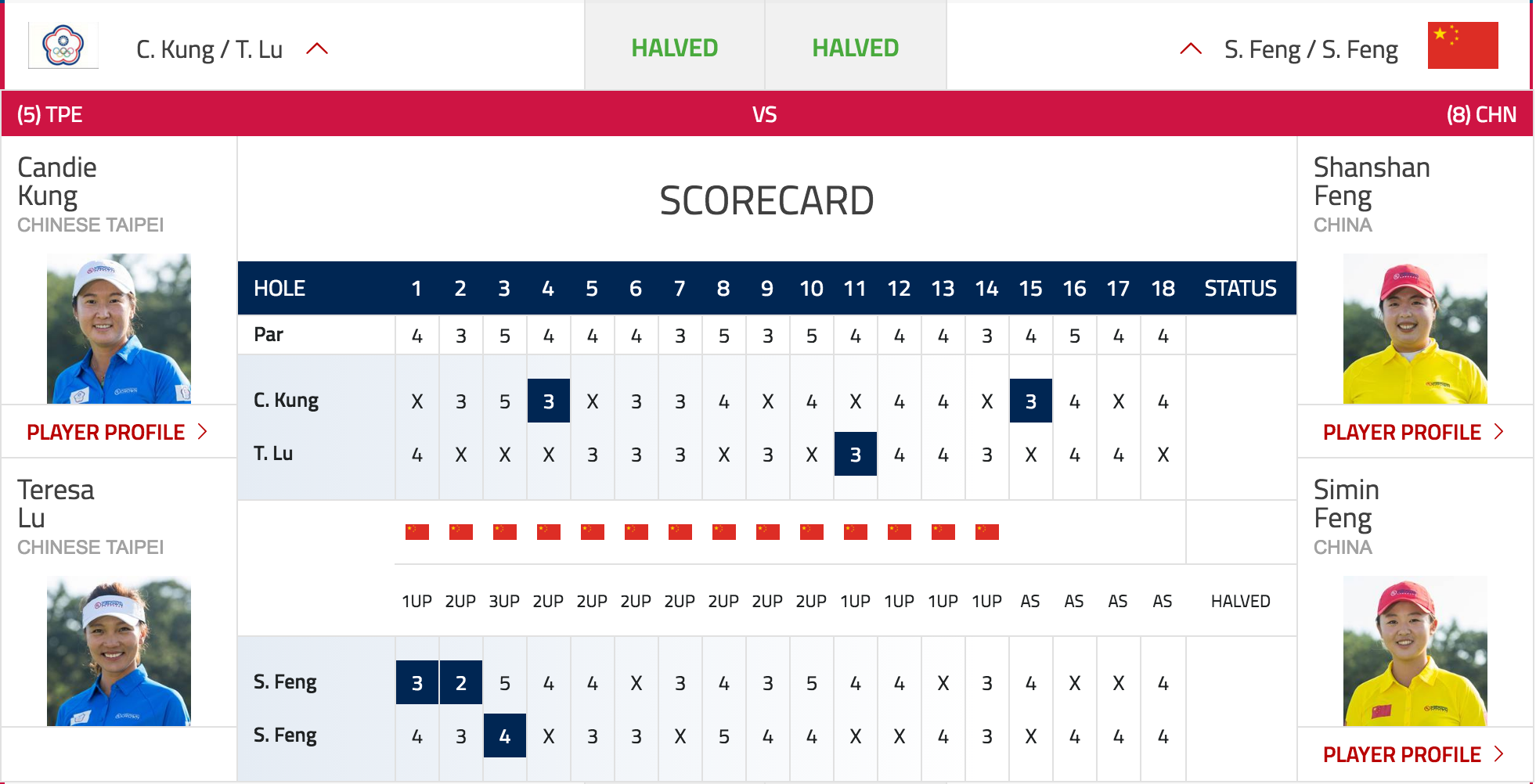 Team China's Xi Yu Lin and Jing Yan took the early lead on Saturday against Chinese Taipei's Yani Tseng and Ssu-Chia Cheng. Both pairings were a first for the week with members of each team playing with their fellow teammates on the first two days. China got off to a quick start, taking a 1-UP lead at the second hole of the day, but Cheng made birdie to square the match before Yan made birdie at the par 4, 5th hole to take a 1-UP lead which set the tone for the rest of the match with China expanding their lead to win 5&4.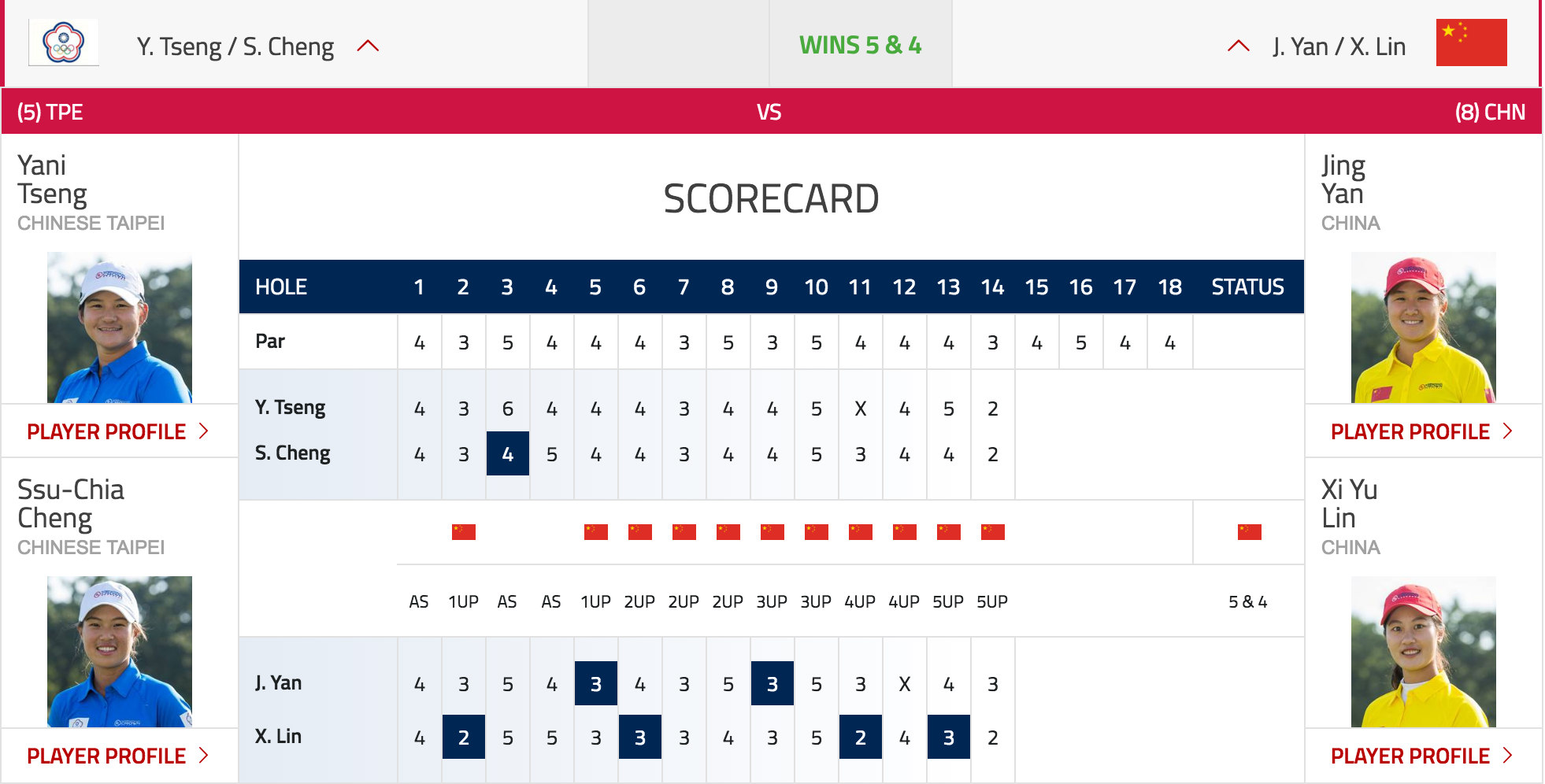 Stacy Lewis and Gerina Piller played together on Saturday for the third consecutive day but the difference on Saturday was the win. A critical birdie putt by Lewis on the 16th hole gave the pair a 2-UP lead heading to the 17th where they were able to close out the match 3&1 to defeat Team Japan's Haru Nomura and Mika Miyazato and secure Team U.S.A.'s berth to Sunday. It was the first win of the week for Lewis and Piller.
Watch Lewis and Piller's Post-Match Interview.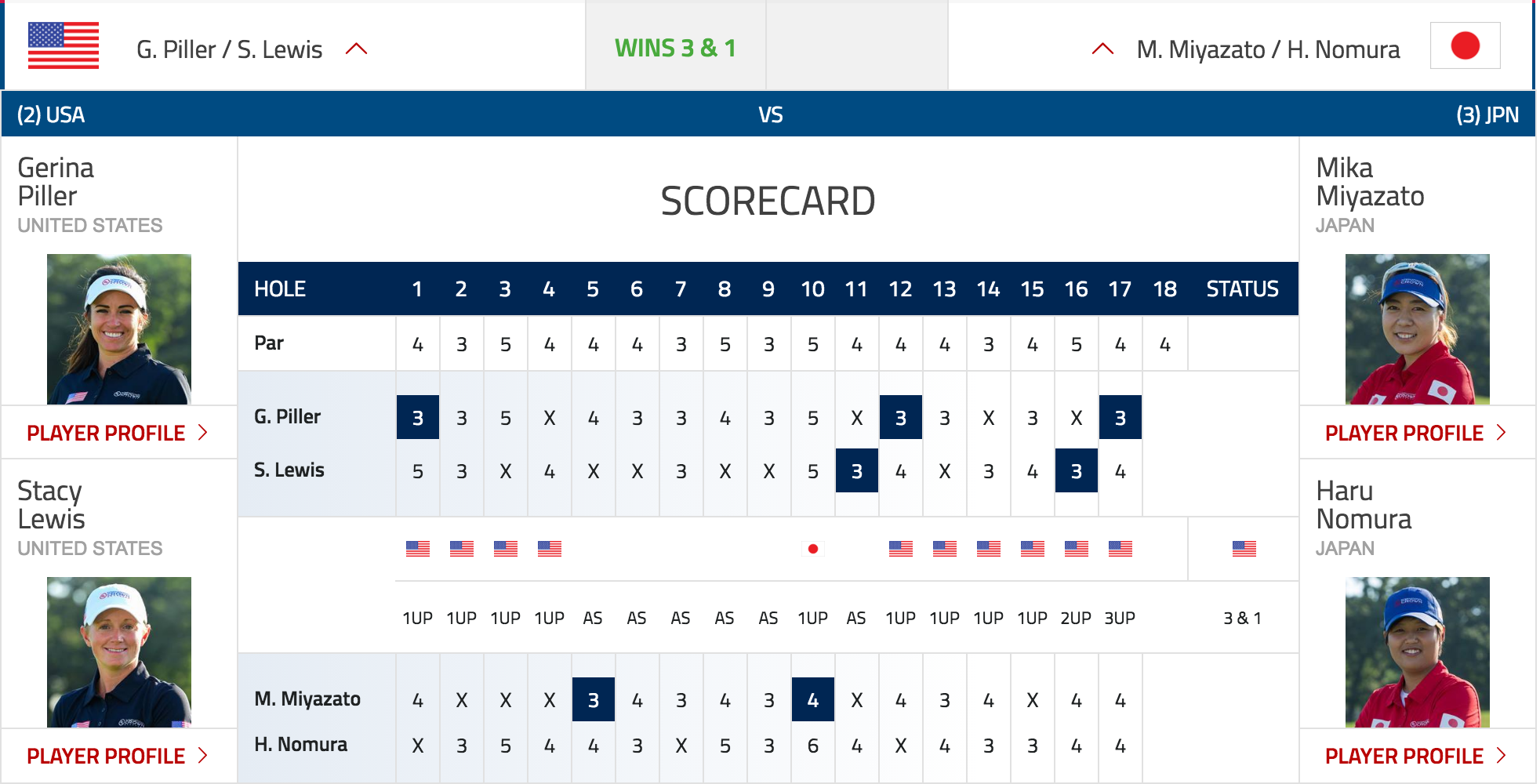 Team U.S.A's Cristie Kerr and Lexi Thompson dominated their match with Japan's Ai Suzuki and Ayaka Watanabe. The Americans took the lead at the first hole with a birdie by Kerr and continued to extend their lead to as many as 5-UP before Suzuki and Watanabe recorded birdies at the 13th and 15th to close the gap down the closing stretch. Thompson then made birdie at the par 5, 16th to win the hole and the match 4&2.