The best thing for Alison Lee's golf game wasn't an extra practice session, a fortifying workout in the gym or a nose stuck in a textbook. Those tasks had become almost too mundane as her golf game and health suffered.
The best thing was to get away from the hyper-focus on balancing golf and the progression toward a college degree at UCLA. As the LPGA scheduled a hiatus during the Rio Olympic Games in August, the 21-year-old Valencia, Calif., native barely picked up a golf club over a three-week restorative vacation. She moved into a new Los Angeles apartment with a college friend near the Westwood campus. She traveled with LPGA friends all the way across the country for an Austin Ernst charity tournament to raise money for domestic violence prevention and awareness and also for "swimming, tanning, boating and cooking" time at a South Carolina lake house with Michelle Wie, Jessica Korda and Ernst. Finally, she lent a helping hand to those much younger who had never been exposed to golf in her hometown.
The getaway may have been similar to the time when she was just starting the game at age 6 and her father "bribed" Alison to focus on practicing golf by promising a trip to Disneyland or Universal Studios.
"Taking a break and hanging with friends is always good for you," Lee said. "I had some struggles this year, and I almost never have any 'me time.' Just having fun got me back in the right frame of mind."
The beginning of 2016 had great promise for Lee. She was coming off a rookie spot on the winning United States Solheim Cup team, had six-top finishes in 2015, signed a sponsorship agreement with GOLFZON, the South Korean golf simulator company, and began playing the new PXG golf clubs. Surely, her first LPGA victory was soon to come.
But in February Lee felt a nagging pain in her left shoulder. She played through it as her game got continually worse. She began hitting off-line shots left and right, broke par only once and missed six cuts and withdrew once during an eight-tournament stretch from March to June. Finally, after seeking assistance with her swing as the pain grew worse, Lee was diagnosed with a torn labrum. Surgery was discussed but Lee opted for physical therapy to point toward a return. That route has been successful.
"I had never been injured before and then mentally I wasn't in the right place," Lee said. "I was freaking out in my goal to make the Olympic team. It was a battle within myself."
Add that to the already difficult task of attending UCLA fulltime to obtain a degree in Communication Studies while playing professional golf all over the world. This fall quarter she plans to take four classes, juggling class time and interacting with professors when it's necessary to go on the road.
"It's been hard, really hard," Lee said. "There have been a lot of times where I've cried and said I don't want to to do this anymore. But I always remember how great college is and the friends I have there that I'll have forever."
Then there's the added influence that Lee will provide when she earns her degree either next June or December.
"There are many reasons I'm still in school and play golf," Lee said. "First, there's the potential to build something for a life post-golf. And it sets an example to kids out there that this is possible. I see some of the girls who turn pro at such a young age. They are so young that they haven't experienced much. … I didn't want to be moving into adulthood with no transition."
With a clear head two weeks ahead of the fall quarter at UCLA, Lee has returned to form. A T6 at the Marathon Classic in mid-July gave her hope. The last two weeks in Canada provided more indication – a T7 at the Canadian Pacific Women's Open and a T58 with a second-round, 7-under 65 (her lowest round to par all season) at the Manulife Classic. She will attend UCLA's home football opener Saturday against UNLV, then fly Sunday to France for the season's final major, the Evian Championship, where she finished with a 66 and a T6 in 2015, her best in a major championship. So there's still a chance to salvage 2016.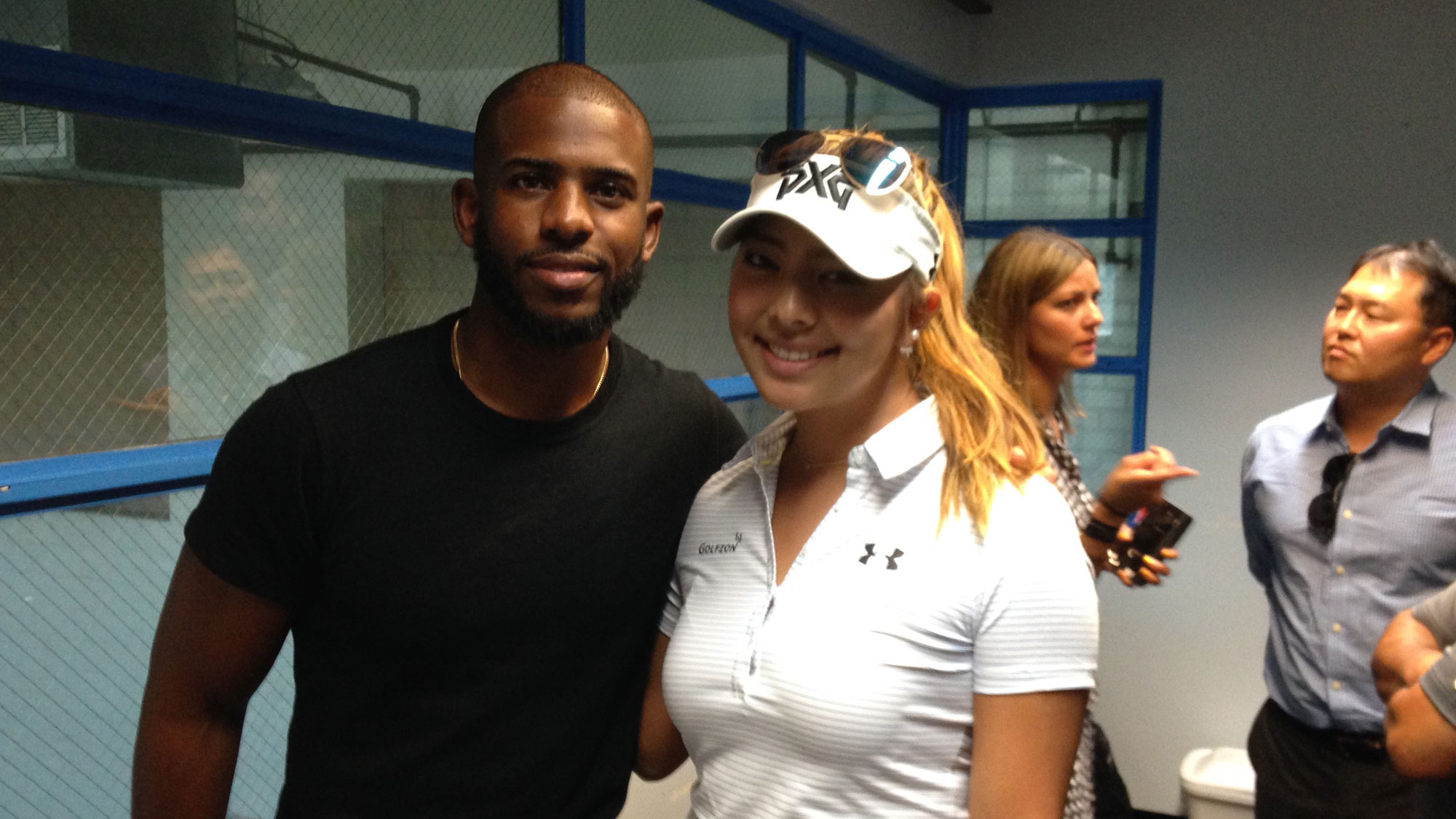 But lest she forget how golf has influenced her growth, she was reminded in mid-August during the final vacation stop. GOLFZON provided a state-of-the-art golf simulator and brought in Lee to join nine-time All-Star basketball guard Chris Paul and PGA Tour golfer Gary Woodland, a CDW Ambassador, at the Roy W. Roberts II Watts/Willowbrook Boys & Girls Club in inner-city Los Angeles for a CDW-sponsored technology event. More than 100 kids gathered, most of them gripping a golf club for the first time. They tugged at Lee's shirt to ask questions and posed for pictures and videos as she demonstrated all aspects of the game, both in the gymnasium with The First Tee program and on the simulator. Skylar Graham, a 14-year-old First Tee participant from Los Angeles, spoke to the gathering about how Lee had influenced her positively years before.

"I wouldn't have a chance to meet people like Chris Paul or Gary Woodland or to be more influential toward kids without golf," Lee said. "That's what makes this sport so special to me. And then to attend an event like this where the kids have the opportunity to be introduced to golf on the GOLFZON simulator – that is so cool. And the kids were amazing. That made my day."
And led Alison Lee back to her busy, but happy, world.