SAN MARTIN – For Nancy Lopez, the U.S. Women's Open conducted by the USGA was the one that got away. Four times Lopez finished runner-up, her last coming in a heartbreaking loss to Alison Nicholas in 1997. Amy Yang has had some heartbreak of her own, already half way to Lopez's runner-up total with two second place finishes in her last four starts in the U.S. Women's Open.
For many players, the U.S. Women's Open is it. It's the one event they want to win more than any other tournament or major they compete in each year.
That's how it feels for Yang.
"It's one of the biggest ones out there," Yang told LPGA.com. "I always like to go there, even though you know good and bad memories, both, but I'm looking forward to go this year."
Those memories include five top-10 finishes in her last six starts at the U.S. Women's Open, where she has four times played in the final group. With a three-stroke lead heading into Sunday's final round at Lancaster Country Club in 2015, Yang looked to have learned from her previous close calls and was poised to cruise to her first major title. But a lip out for birdie at the fourth hole followed by a bogey at the fifth told a different story of how Yang was feeling.
"Let the pressure go," Yang said she was trying to tell herself during that opening stretch. "I was maybe a little nervous starting off the round, but I made a bogey, bogey and then I just couldn't. I thought myself, can't just focus. I can't force to do it, so just let the pressure go and do what I practice out there."
By the 13th hole Yang was standing over her second three-putt of the day, which dropped her into a three way tie for the lead with playing partner Stacy Lewis and In Gee Chun, who was making a run up the leaderboard.
"No, I didn't see her," Yang said about Chun's move on Sunday. "I mean she was playing in front of me, I didn't get to see the leaderboard. I was just struggling a little bit on the front nine and I don't think I played bad, but you know, In Gee played great, you know."
A final round 66 by Chun earned her a place at the top of the leaderboard with Yang, who needed par at the last to force a playoff. But the 54-hole leader made bogey to finish one behind Chun and become the first 54-hole leader in six years not to go on to win.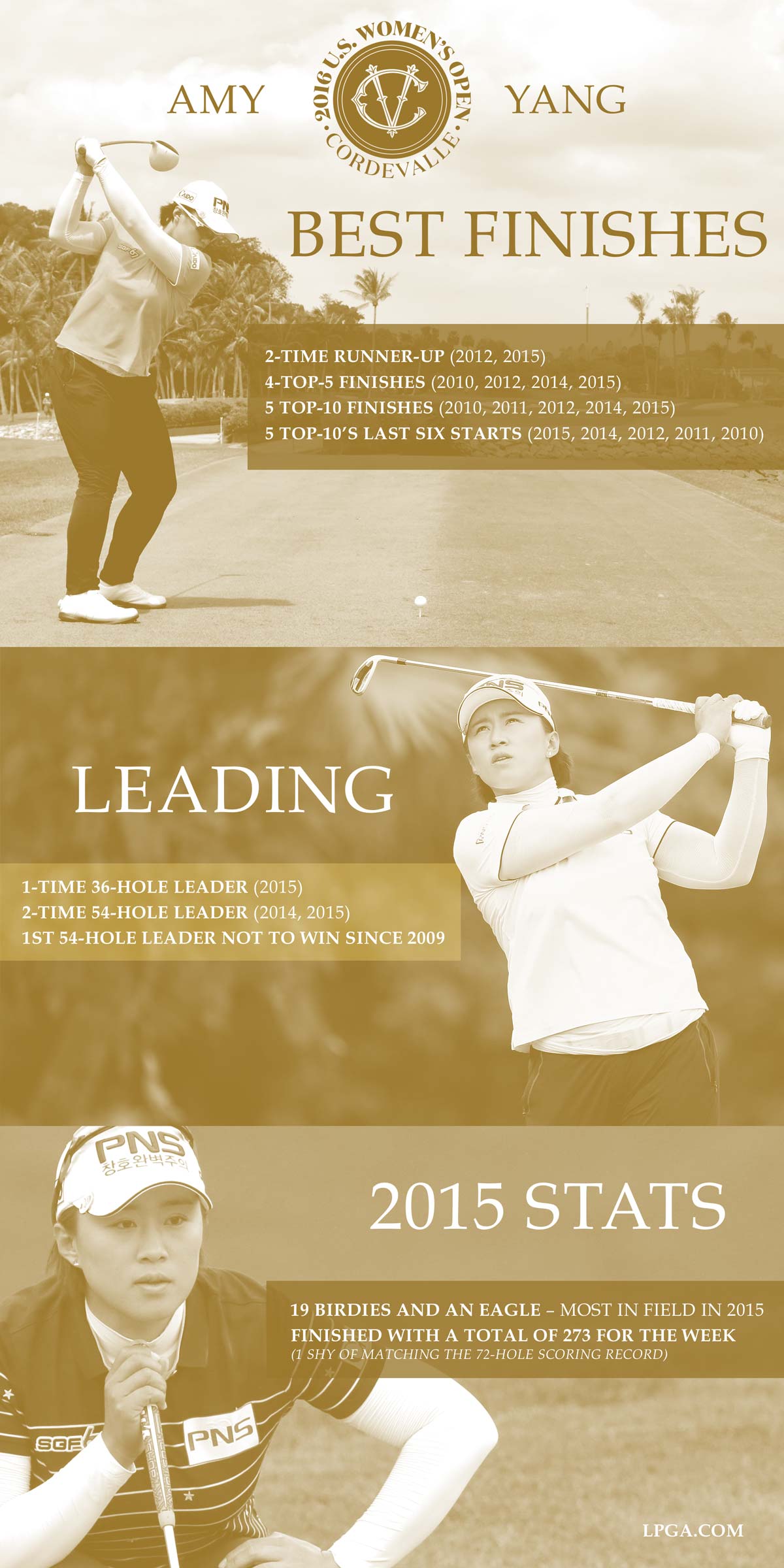 "I learn a lot of things, every experience," said Yang about the loss. "I took a lot of positives. After that you know, I felt how hard I should practice and how mentally I should prepare for it."
Listening to her own advice, the Korean native took last week off in order to return to her home in Orlando, Fla. to put in some extra work with her coach Tony Ziegler to try get her game 100 percent ready for this week's challenge at CordeValle.
"I like tough and challenging golf courses. That's biggest part because you like it so much and enjoy it out there and mentally you're so enjoying it, so it is tough mentally, physically. I think it's 50/50. But you also have to be good at everything at the Open."
The 1998 U.S. Women's Open was the first golf tournament Yang ever watched, where her fellow countrywoman Se Ri Pak captured the title and inspired a generation of players like Yang to take up the game. This week Pak makes her final competitive appearance in the states and a victory by Yang would be a fitting farewell.
"It would be big. It would be huge thing, because you know I saw Se Ri win. That was the first golf tournament I watched and that's what I was looking for," Yang said about her hopes of winning this week. "And also it's a big tournament, it would be an honor."
The world No. 9 comes into the week with four top-3 finishes in 2016. She tees off at 1:58 p.m. Thursday alongside Jessica Korda and Hyo Joo Kim.