PNC is proud to partner with the Ladies Professional Golf Association to celebrate family and recognize players for their achievements. The year-long campaigns featuring #PNCCelebrateFamily and #PNCAchiever will also include a series of events bringing female leaders and influencers together with LPGA leadership. PNC and the LPGA share common values that reflect a deep appreciation for family and a continuous pursuit of personal accomplishment.
---
Sometimes Gerina and Martin Piller have to laugh at themselves when their competitive natures kick in.
Once, while leaving church together, the two carried out their disposable coffee cups and were looking for a trash can. Spying the receptacle at the same time, the couple raced in their Sunday clothes to be the first to dispose of their cup.
And whenever they are flying, the first person to get cellular service after their respective phones have been on airplane mode "wins." That perpetual gamesmanship is showcased in a shaving cream TV commercial showing Gerina competing in a variety of activities with her husband Martin, a current member of the Web.com Tour.
"Sometimes those things just happen and we're like, 'What is wrong with us?'" laughed Gerina, a seventh-year LPGA Tour member.
"We compete off the golf course in just about everything, but if we play golf, we either play for fun or we play on the same team," added Piller, 32, who has 33 career top-10 LPGA finishes. "If we competed in golf, somebody's going to lose and somebody's going to be upset."
That sense of competition is what attracted the golfers in the first place back in 2009, and what brought them together in marriage in 2011. Paired together for a friendly round of golf with friends, the two competitive and unyielding individuals found themselves in the same golf cart, each trying to win.
Gerina thought Martin was "annoying" when she first met him and described him as "cocky in the way he played golf."
"He'd hit a shot and say, 'I hate hitting it perfect every time,' and I was like, 'Oh brother!'" said Gerina. "I wasn't interested at first and I was trying to scare him away, but he wouldn't go away. Actually, he sort of grew on me."
Meanwhile during that 2009 introduction through golf, Martin was texting a friend and telling him to Google Gerina Mendoza, who played on the Futures Tour (which later became the Epson Tour).
"I told him that she was good and she's beautiful, and that I was riding in the cart with her," Martin explained in a 2010 interview.
And even as the two pros counterpunched on the course that day with their best golf shots and matching swagger, a relationship was beginning to bud.
That round led to more golf, time together practicing at the same Dallas course and attending the same Dallas church and whatever activities they could squeeze into their respective schedules as touring professionals.
Martin went on to win twice in 2010, finishing No. 3 on the Nationwide Tour with five top-10 finishes to earn his 2011 PGA Tour card. Gerina posted seven top-10 finishes on the 2010 Futures Tour and earned 2011 LPGA membership by finishing No. 5 on the season money list.
Since that time, Martin, now 31, has won five times on the Nationwide Tour and played two years on the PGA Tour, posting a season-best tie for 4th last year at the Valero Texas Open.
Still seeking her first LPGA win, Gerina has career earnings of more than $3 million and has competed on two U.S. Solheim Cup teams (2013, 2015) and tied for 11th at the 2016 Rio Olympics.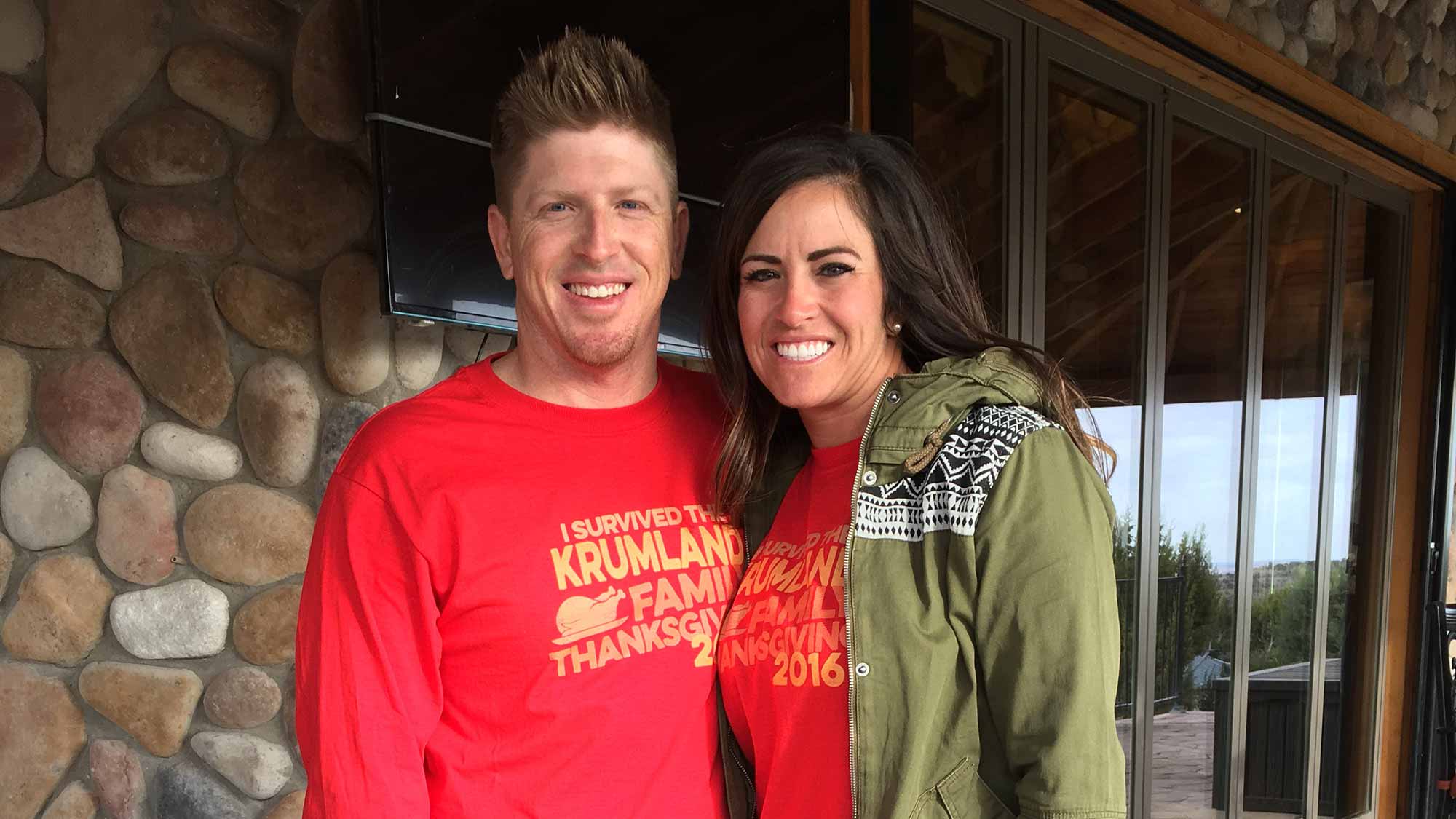 Their respective travel schedules are tricky, often taking them to opposite sides of the globe, but the couple tries not to go more than three weeks without seeing each other.
Currently No. 20 in the Rolex Rankings, Gerina can adjust her LPGA tournament schedule to see her husband. She already has two top-10s this year with a tie for 4th at the Kia Classic and a fourth-place finish at the Pure Silk Bahamas LPGA Classic. Whenever possible, she travels to watch him compete.
"It's cool that she comes and watches me play, but the best part is just seeing her," Martin told PGATOUR.com in an interview last year.
Hoping to play well enough this year to regain his PGA Tour card for 2018, Martin is locked into a more rigid schedule. His best finish to date has been a tie for 10th in February at the Panama Claro Championship.
"I know if he can just focus on the positives, the results will take care of themselves," said Gerina of her husband's efforts this season.
While the two encourage each other, their respective successes also serve as motivation. Gerina hopes to win soon on the LPGA and she has talked to Martin about what it took for him to break through as a tournament champion.
Martin watched his wife win her 2015 Solheim Cup singles match 1-up over home-nation star Caroline Masson of Germany and vowed to someday play on the Ryder Cup.
"Martin doesn't usually get really hyped up, but after I made the putt to win my match in Germany, he could not stop crying," said Gerina. "He was a wreck, but he was so happy."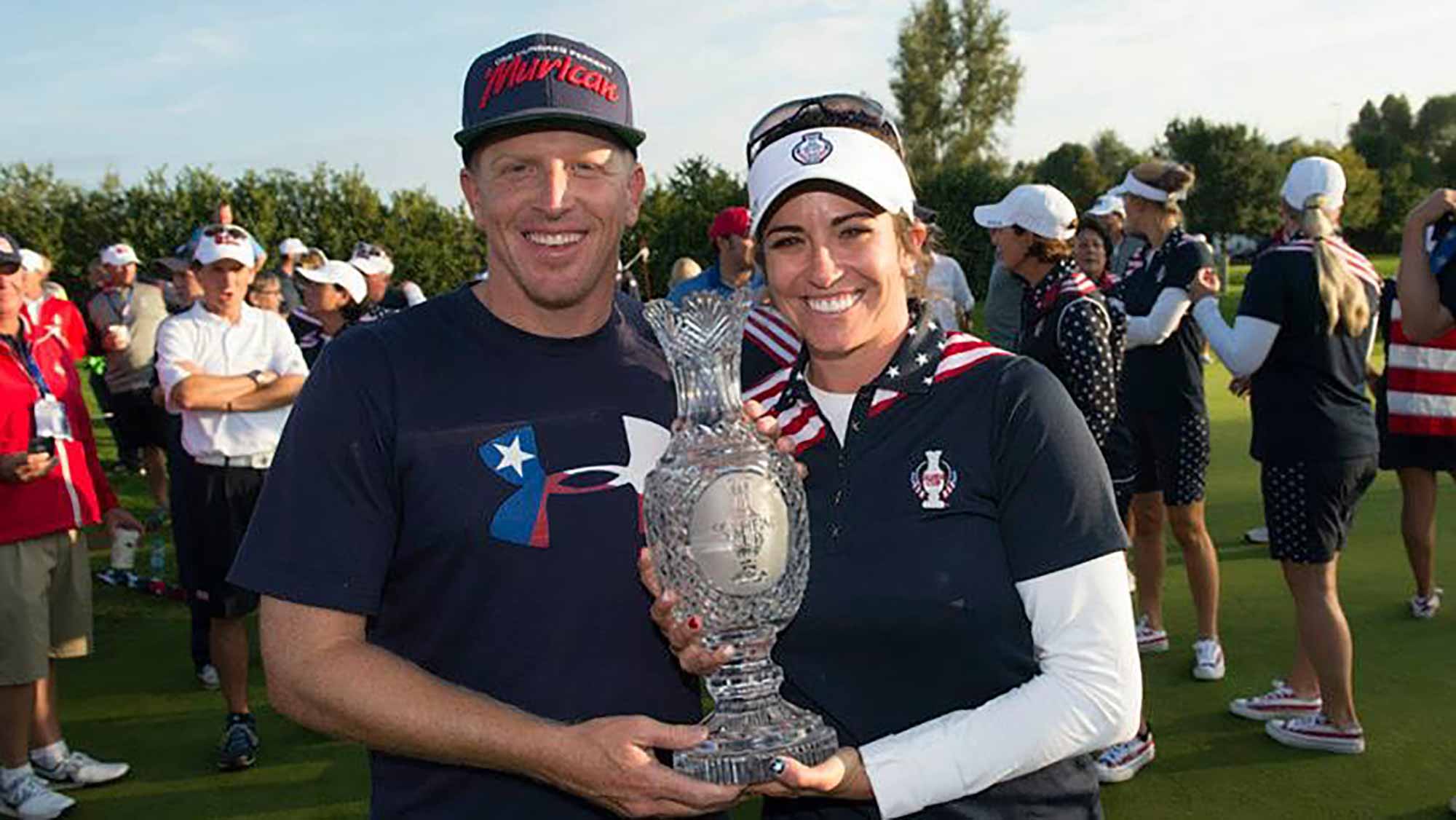 While their days together during the golf season are limited, they are especially precious. Sometimes they will spend time with his family in the Dallas area where they now live, and sometimes they will drive 500 miles to Gerina's hometown of Roswell, N.M.
"It's very chill in New Mexico," she said. "Sometimes we just go to the mountains and hang out."
They also made the long drive to El Paso, Texas last October, when Gerina was inducted into the University of Texas El Paso Athletics Hall of Fame.
"The thing that has been essential for us in our marriage is our Christian faith," said Gerina. "It's given us so much patience, peace and joy. Marriage is tough and life is tough, but Martin understands what I do and I understand what he does, so we make it work."
The two hope to start a family some day, but Gerina says there is "no rush." Right now, the two players are focused on their respective careers. Gerina hopes to make her third U.S. Solheim Cup team this summer and Martin hopes to earn his way back to the PGA Tour.
Together, they offer support for each other even though sometimes that need to win comes shining through in a table tennis game, a putting drill or with the first coffee cup to sail into a rubbish bin.
"Having grown up with brothers, competition is all I know and it makes life fun," said Gerina, who played Little League Baseball long before she took up golf.
That competitive drive has allowed Gerina to move into an elite circle in the women's world rankings and has allowed Martin to beat some of the world's best male players. But away from tournament golf, what drives each is focusing on those coveted days spent together.
"I know that Martin's love isn't dependent on what I do or how I play," said Gerina. "And we're always there to offer support to each other."