PNC is proud to partner with the Ladies Professional Golf Association to celebrate family and recognize players for their achievements. The year-long campaigns featuring #PNCCelebrateFamily and #PNCAchiever will also include a series of events bringing female leaders and influencers together with LPGA leadership. PNC and the LPGA share common values that reflect a deep appreciation for family and a continuous pursuit of personal accomplishment.
Frolicking on the beach. Enjoying ice cream and donuts. Sharing throwback photos as little kids on the golf course.
Take one quick scroll though Jessica and Nelly Korda's social feeds and it's obvious the sisters have more in common than their last name.
During an interview at the Evian Championship, 19-year-old Nelly, who has nearly 40,000 followers on Twitter and Instagram, gushed when asked about who she considers her most valuable follower.
"It has to be my sister," Nelly said. "I can't believe my sister follows me."
The feeling is mutual.
Jessica, Nelly's 24-year-old sister and LPGA member since 2011, is excited to share the experience with her younger sibling.
"To be able to have my little sister, [my] best friend with me, it's so, so cool," Jessica said.
Years on the road have taught Jessica many lessons. She's passed those along which has helped Nelly make a successful transition to the LPGA. Most importantly, she reminds Nelly to be herself. The younger Korda followed her advice when she made her debut in January at the Pure Silk-Bahamas LPGA Classic. There, Nelly carded a third round, 63. Jessica played in the group behind her, clapping and cheering on her sister from the fairway. She congratulated Nelly with a #proudsis post on Twitter.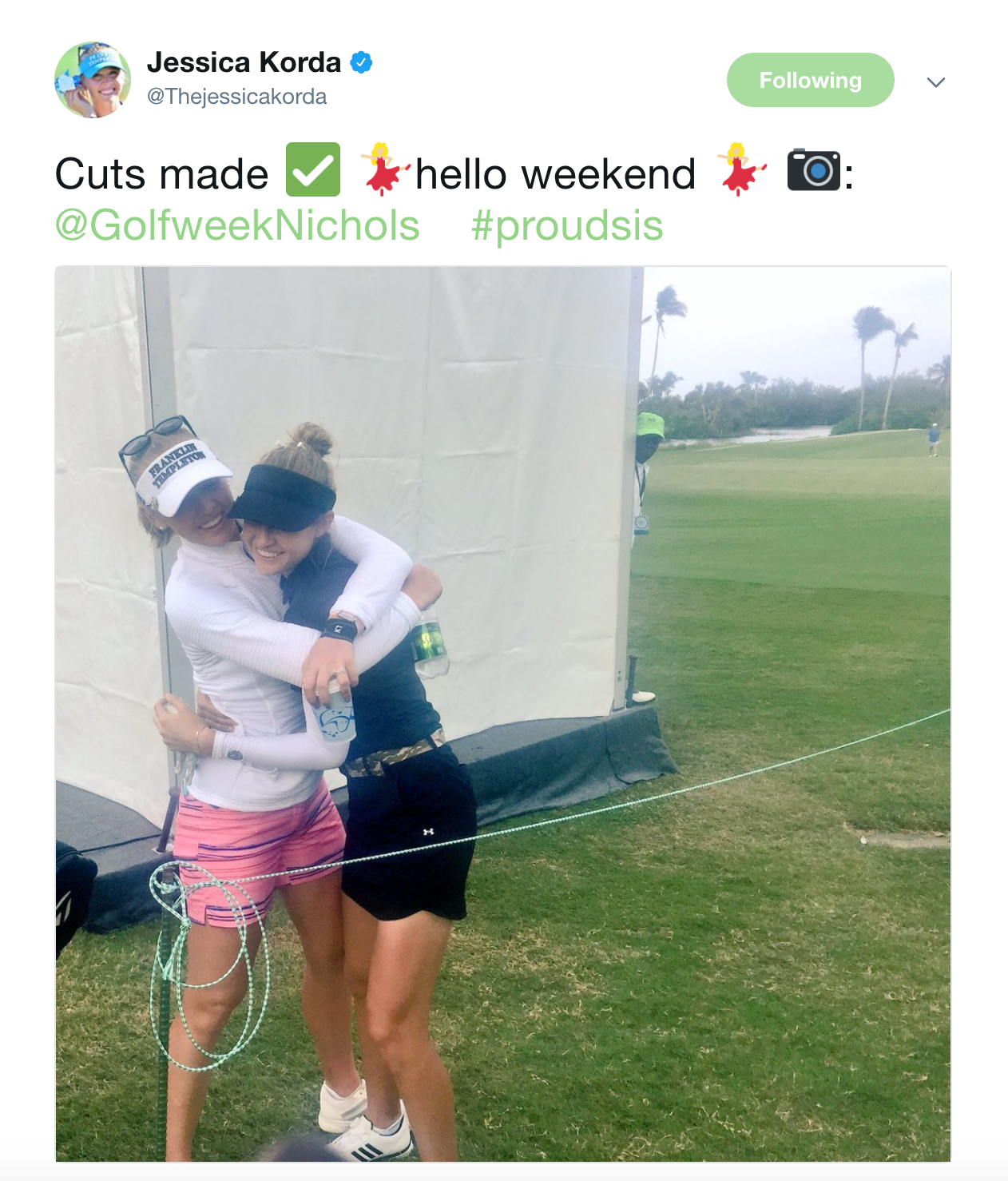 "I'm so proud of her. I feel like I'm more excited for her than for me," said Jessica. "Everyday I always want her to beat me, because as kids growing up, me being much older than her, I felt like she would never really beat me. She might beat me in like a putting contest or a chipping contest but never actually on a golf course, so for her to do it in the Bahamas first week out, I was like finally, yes!"
"My favorite moment by far has to be her waiting for me after my first made cut in Bahamas and giving me a big hug," said Nelly, who finished tied for fifth in the Bahamas for her first of three top-10s this season. "Meant the world to me."
A graduate of the Epson Tour, she earned full status for the 2017 season to live out her dream of playing on the LPGA alongside her best friend.
"The biggest thing she has helped me with is getting comfortable out on Tour," Nelly said about the advice she's received from her sister. "It's truly been a dream this year having her there every step of the way."
Jessica and Nelly were born into an athletic family. Both of her parents played tennis professionally. Their father, Petr, won the Australian Open in 1998.
While Jessica and Nelly dreamed of careers in professional golf, Sebastian, their younger brother, chose tennis, which sent each of the siblings off in their own direction. As the oldest, Jessica, spent the last six years on Tour traveling on her own.
"My brother and sister were growing up and they needed somebody to be home," said Jessica. "They needed their parents to be home, so I couldn't take them from them. [Now], it's been really cool to have somebody from home [out on Tour with me]."
The sisters traveled to their first event together in March for the Kia Classic. They stayed at the same house, went to dinner and played their second official practice round together. The next week, they made their first official road trip, driving from Carlsbad to Palm Springs for the ANA Inspiration. Afterwards, they took separate flights home. Jessica had already booked her flight in December, but Nelly, who only got into the field at the ANA Inspiration the week before, had to book a last minute flight. And while their schedules sent them in different directions throughout the year, Nelly made sure to post on Instagram how much she looked forward to spending their down time together.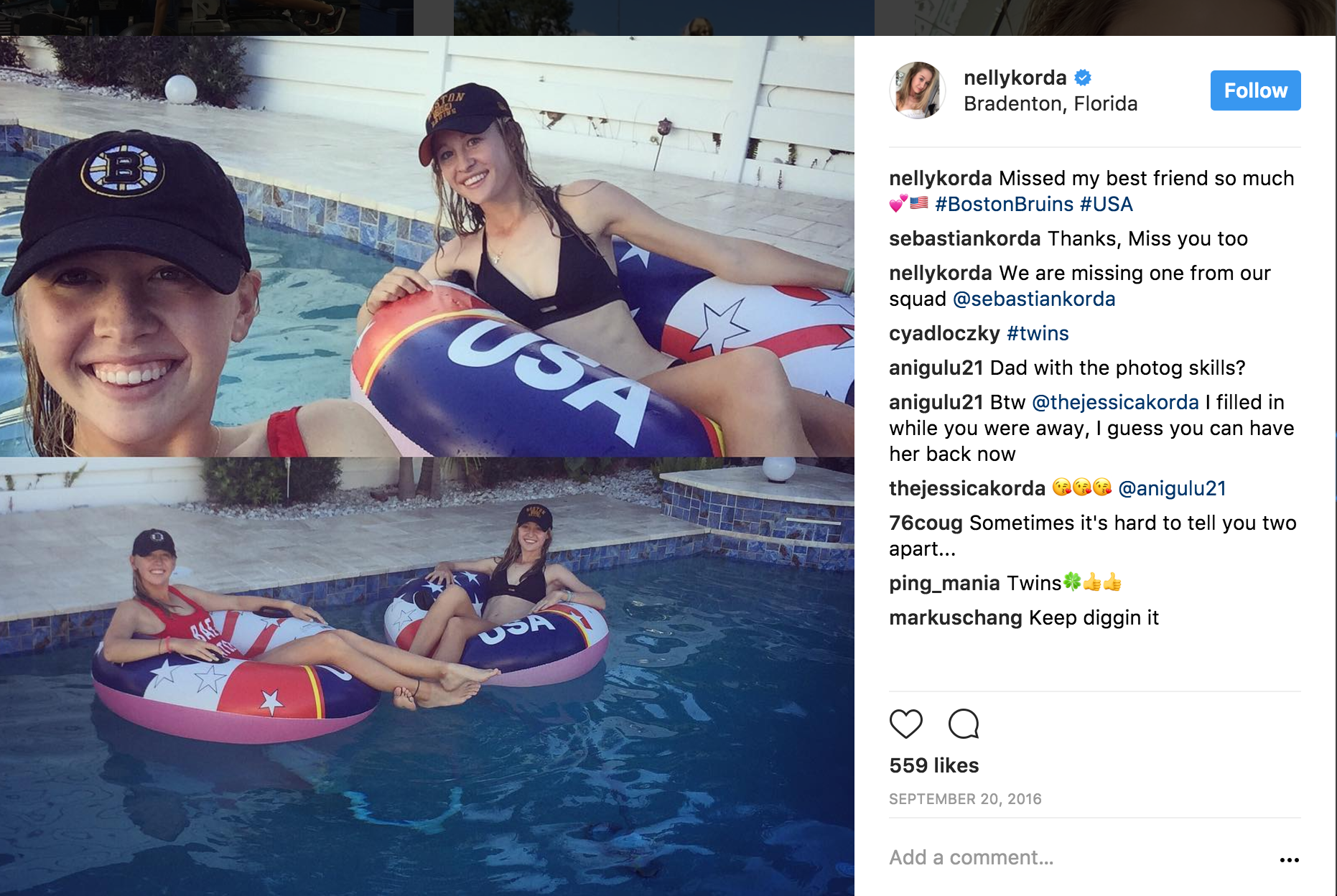 But they haven't always been so close.
"We're actually quite different," Jessica said. "She was born as a Leo, which makes her very strong minded, very determined, slightly uptight. I'm born as a Pieces, so I'm an easy go with the flow type of girl."
It's not unusual for Nelly to grind her way through a practice session on the range, hyper-focused on the work she needs to put in. Jessica likes to play games to break up her practice sessions. Nelly often tried to tag along with her older sister but Jessica would tell her no. It wasn't until their youngest sibling, Sebastian, was old enough to start making their lives difficult that the pair decided to team up.
"My brother started being a tattletale on her and I started ganging up on him," Jessica said, laughing. "So, it created a great friendship."
Jessica and Nelly have grown to love each other, but that doesn't mean they don't compete with one another.
"It's definitely friendly competition and we want each other to succeed," Nelly sent via email. "But in a way we both want to beat each other as well (lol). I think it pushes us to be better. I still hope she rocks it on the golf course every single day."
On Twitter, Jessica recently posted a photo laughing with her sister. The two of them were headed to a party wearing opposite colors, black and white. Jessica refers to Nelly as the yin to her yang, a powerful duo of dark and light.
"I think a simple quote describes our relationship: "Sisters by blood, best friends by choice," said Nelly.