PNC is proud to partner with the Ladies Professional Golf Association to celebrate family and recognize players for their achievements. The year-long campaigns featuring #PNCCelebrateFamily and #PNCAchiever will also include a series of events bringing female leaders and influencers together with LPGA leadership. PNC and the LPGA share common values that reflect a deep appreciation for family and a continuous pursuit of personal accomplishment.
There's a bond that connects the Jutanugarn family – and not just because they're blood. We all know siblings or relatives that want nothing to do with each other.
This is not that family.
On the eve of the Masters Tournament, Ariya Jutanugarn is in Augusta. She's attending the annual dinner hosted by the Golf Writers Association of America to accept the Female Player of the Year honors bestowed on her by the media in recognition of her history making 2016 season. Jutanugarn's two biggest cheerleaders, her older sister who also plays on the LPGA Tour, Moriya, and their mother, who goes by the nickname of Apple, were positioned right where they are every week – by Ariya's side.
"We're too close," Ariya says laughing about her sister. "We're really close. Growing up together we practice together every time. I'm really lucky to have her beside me on Tour."
I'm seated next to Ariya during the dinner. As the family converses in Thai, smiling and giggling and sharing images on their phone, I sit clueless, wondering what sort of jokes they're sharing. There's a feeling of comfort and protectiveness as they tend to each other's needs and begin navigating through the evening's three-course meal. Apple travels with her daughters each week on Tour and tries to help in any way she can. Her ability to speak English is limited, but her eyes say it all. They convey a warmth that shows the love and pride she has for her two girls.
"She does a really good job being a mom," said Moriya. "She tries to prepare things for us and she's never been like a coach or anything, but she always supports us."
Ariya is nervous about her acceptance speech, but Moriya is reassuring as Ariya pulls out her folded paper and begins eyeing her prepared remarks – in English.
When it comes time for Ariya to take to the podium, the anticipation among them is palpable. With cell phones aimed and ready, they both record each and every moment.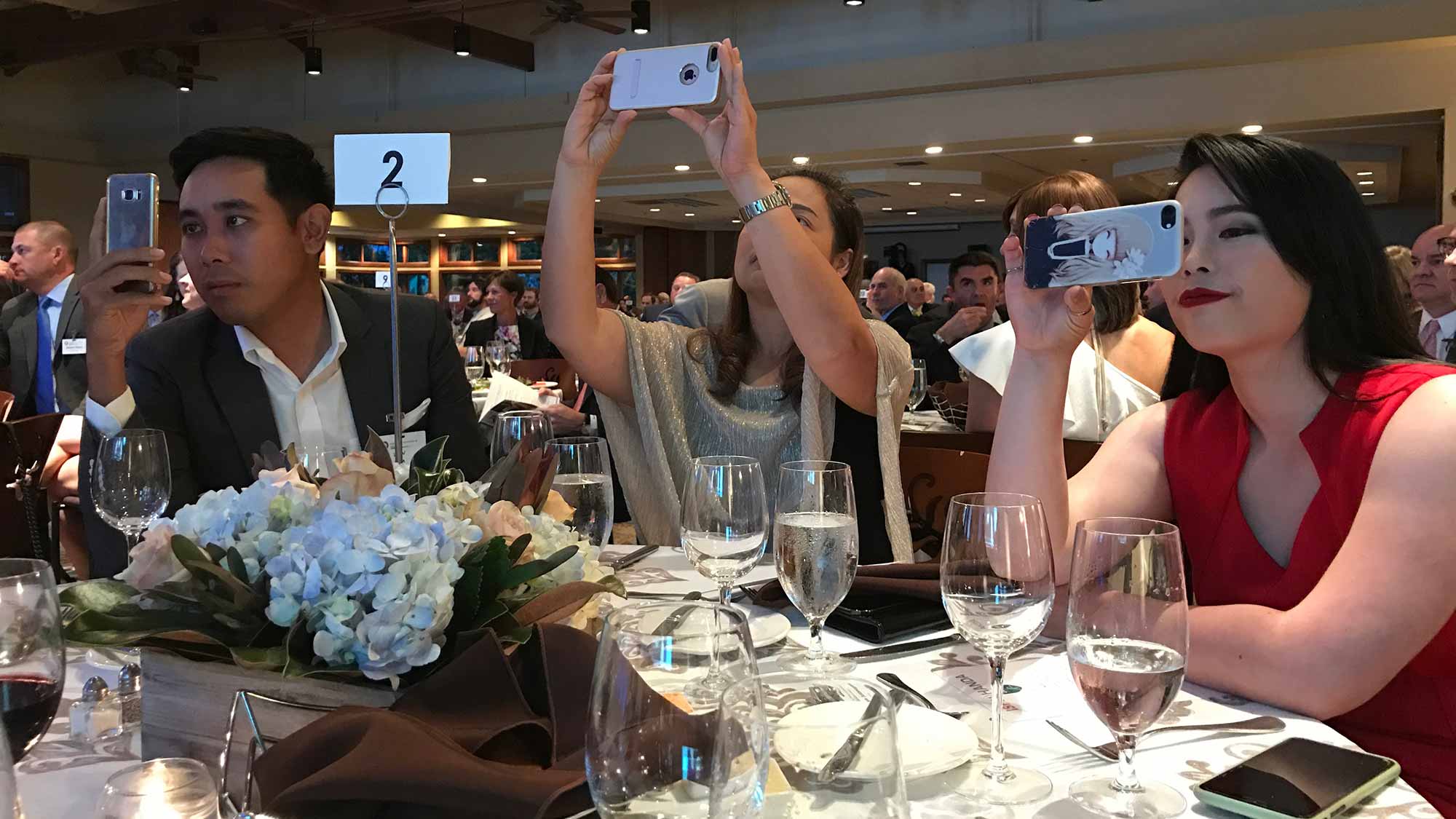 Ariya begins her remarks with a thank you to Mr. Palmer - it's a common thread that runs through the evening with the King's absence felt by many in the room. She continues by describing the shoulder injury she suffered in 2013 when she felt her dreams of playing on the LPGA Tour were no longer in reach, but says she never lost faith. She ended by thanking her family for their support.
"I would say we're more than just sisters," Moriya says. "She's the one that knows me the best."
They took up the game at the same time, Moriya at age 7 and Ariya at age 5. Their father, who purchased a local golf shop in Thailand, kept the girls entertained with golf clubs. That's how they were introduced to the game. Moriya was the first to join the LPGA Tour in 2013, followed by Ariya in 2015. For two years Moriya was on her own, she had a lot to learn about building a schedule and figuring out which courses best suited her game. She passed along those lessons to her sister once she joined her on the road.
"She's my best friend on Tour and it was really nice to have her because she has a different personality than me," Moriya says. "We're a good match."
Moriya nags her younger sister to get out and do things with her, but Ariya would rather hang around in bed, watching movies - just one of many differences between the two.
"We fight about what we're going to eat and what movie we want to watch," said Ariya. "We can fight with everything, sometimes it's nothing to fight about but we can still fight."
It's a friendly rivalry that extends to the course, where the two often put something on the line during off weeks practicing together back home in Orlando. Dinner is usually the prize.
"I beat her a few times. She beat me a few times," Ariya says laughing. "We eat Thai all the time. My sister cooks. My mom cleans. I eat. That's our job."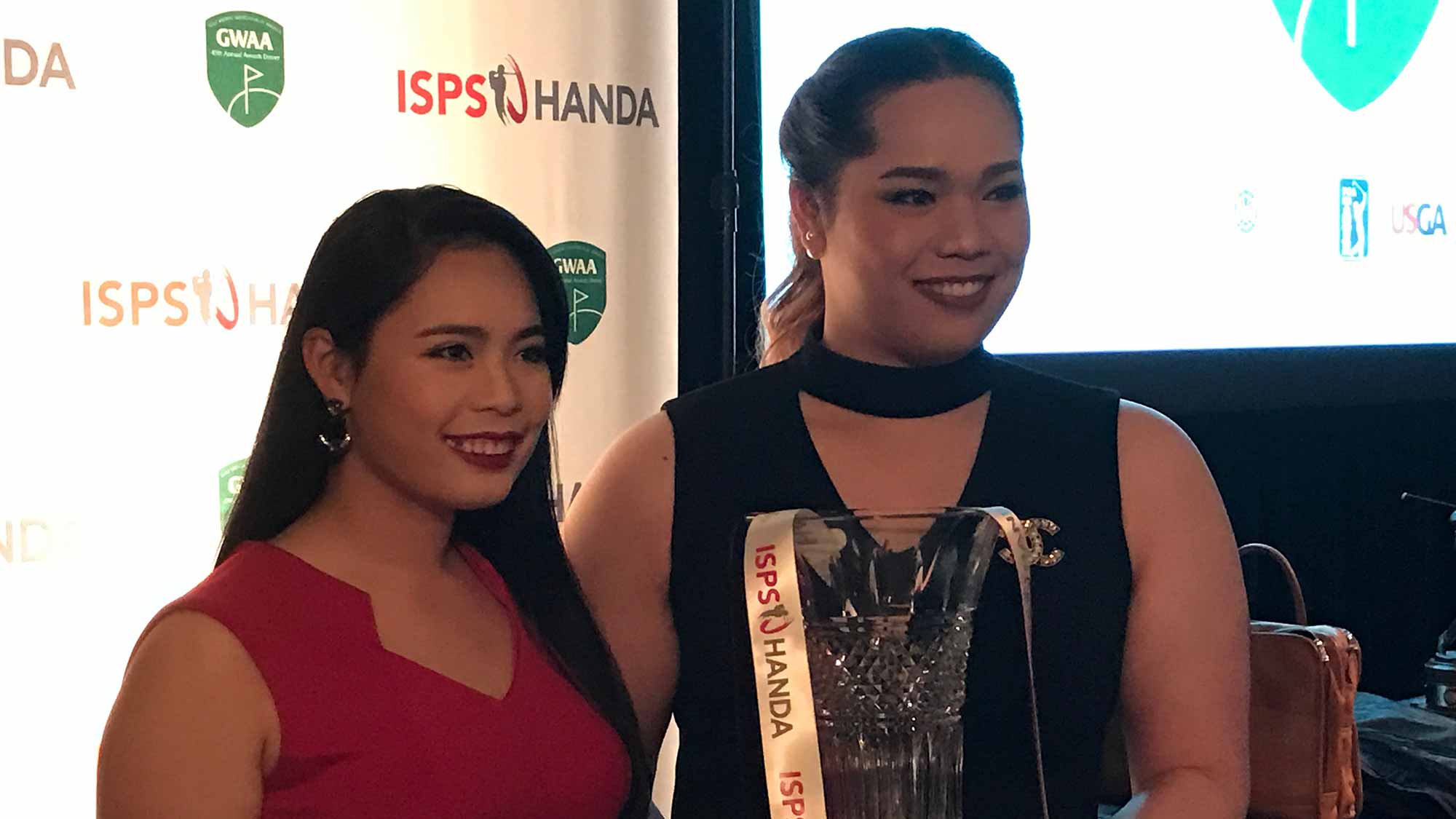 Back in Augusta, her speech now complete, Ariya is able to relax. The family sticks around till the end of the evening, listening to speeches given by members of the media as well as Ben Crenshaw and Stewart Cink who were honored with awards of their own. Both take time to recognize Ariya for what she accomplished last season.
A platter of mini desserts arrives at our table. We all ooh and aah. Moriya is the first to leap. How can Ariya resist? She eventually caves after the rest of us have selected a treat.
It's a sweet ending to what has been an incredible year for Ariya – a five time winner, first time major champion and Player of the Year – all made possible by the unwavering encouragement of her family.
"I'm really happy no matter how I play. I feel like they're really close to me and they're with me everywhere," says Ariya. "They give me great support. No matter what happens in my life I'm still going to have them."
And they will have her.