The Dunvegan Hotel is but 100 yards from The Old Course's 18th green at St. Andrews, Scotland. Situated in a corner of the hotel is The Golfers' Corner Pub, possibly the Auld Grey Town's most famous watering hole. A week in St. Andrews isn't complete unless you hoist a pint in the crowded room where Open Championship winners share the experience from photos posted everywhere – including the ceiling.
But a celebration unlike any other occurred here a decade ago this week, on the occasion of Lorena Ochoa capturing the first Women's Open Championship conducted on The Old Course. Ochoa led after every round and visited the course's worst hazards, its 112 bunkers, only three times in winning her first major championship by four strokes. Her English caddie Dave Brooker compared Ochoa's skills on the unpredictable Old Course to those of another Spanish-speaking star, Seve Ballesteros, because "she has all these great little shots."
Javier, the jovial father, came to the 18th green when Lorena won to douse his daughter with champagne. A Scottish official watched the trophy ceremony while wearing a sombrero. Following a group photo on the iconic Swilcan Bridge, the extensive, extended Ochoa family returned to their quarters for the week, The Dunvegan, and settled in the pub. Brooker brought his father along, who pulled out his saxophone and played Mexican music in a Scottish pub. (Note for future Open Championship participants: Stacy Lewis stayed and celebrated in the same spot when she won the only other Women's Open at St. Andrews, in 2013.
"I will never forget sitting there that night celebrating with my family," Ochoa recalled. "It's still difficult to realize how big that was: The first time at St. Andrews. The first major victory. The significance of a Mexican winning a major there. I think golf had a plan for me by being able to win at St. Andrews. I'm there forever, in history. That makes me very proud."
Women's golf will visit a much newer course this week when the Ricoh Women's British Open travels eight miles down the Scottish coast from St. Andrews to Kingsbarn Golf Links. Ochoa hasn't been back to St. Andrews since her win and professional golf has been without Mexico's greatest golfer as a participant since her retirement in 2010.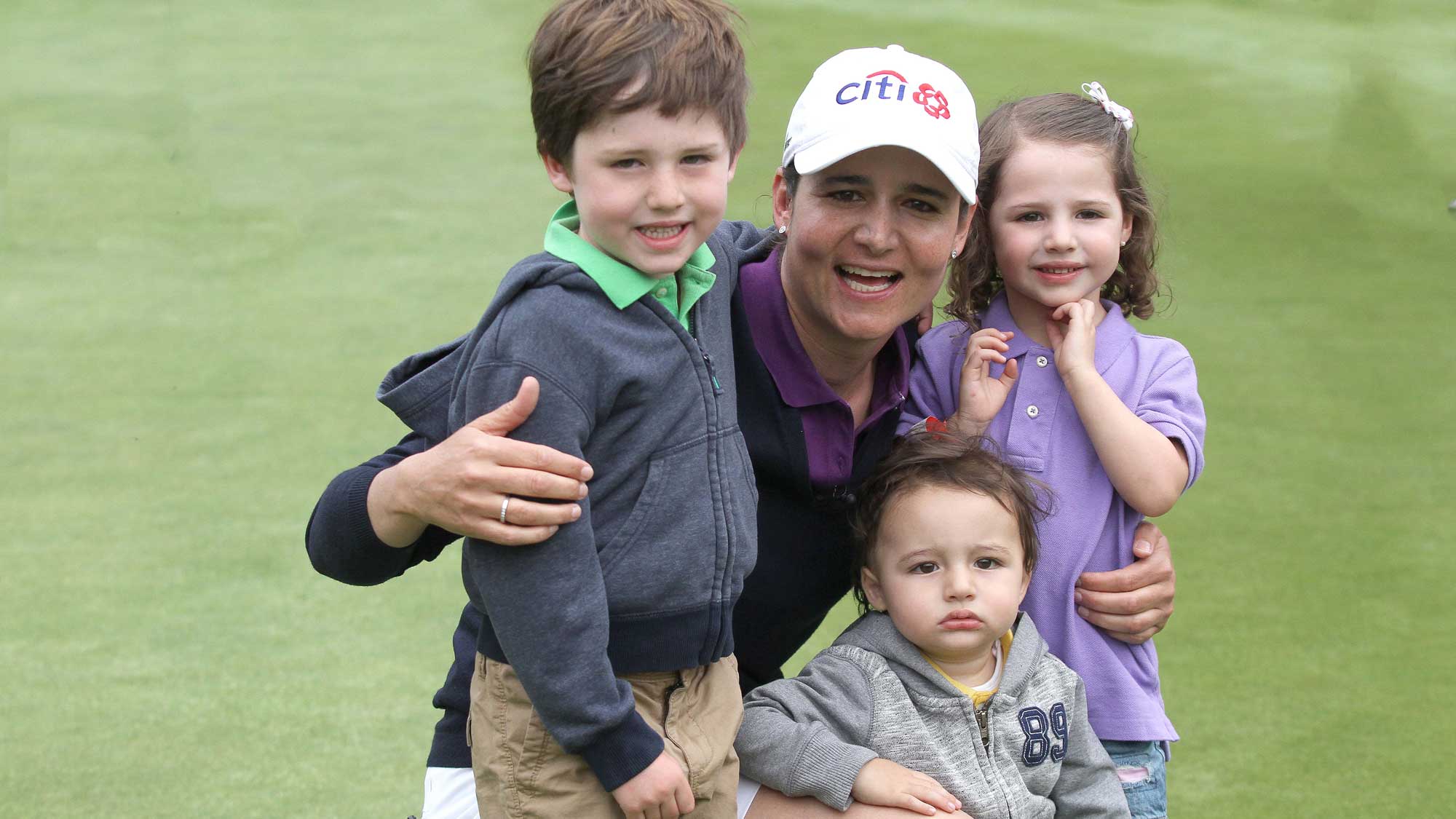 Married to Andres Conesa, the CEO of Aeromexico Airlines, Ochoa, 35, may be even busier these days post-golf competition. She has three children: Pedro, 5; Julia, 3; and Diego, 1. She organizes the LPGA's Citibanamex Lorena Ochoa Match Play, which moved to spring this year from a previous fall date and changed formats. She also keeps a close eye on her foundation, which supports education for 360 children at the La Barranca Educational Center in the Guadalajara, Mexico area.
"I'm pretty much a full-time mom now, which is a full-time job and active," Ochoa said. "Maybe once a week, I work with golf or fundraise for my foundation. But the most important thing is to be at home with my kids."
Soon after her retirement, the school that is supported by the foundation had difficulty. But today, there are a soccer field with lights, covered basketball courts and other amenities.
"It had a hard time just after I stopped playing," Ochoa said. "We didn't have the money to support the school. We had to ask a lot of friends to help. Today, it's a great place. I remain very happy and committed."
Exhibition golf is the extent of her public golf these days. At her tournament in May, Ochoa played 18 holes with Annika Sorenstam as they beat Juli Inkster and Se Ri Pak. It brought back memories but no indication of a return to serious competition. Maybe there will be one or two exhibitions or a quick drop-in to a favorite tournament over the next few years "to get in shape, to say hello to my friends."
"I'm in the second stage of my life," Ochoa said. "One day recently I turned on the TV and told my kids that I won this big tournament once. They said that's boring and then go play. Maybe I'll explain it to them more later."
The opportunity to share her revered past comes this fall when Ochoa joins Meg Mallon, Davis Love III, Ian Woosnam and Henry Longhurst as 2017 World Golf Hall of Fame inductees. The ceremony is scheduled for Sept. 26 at Cipriani Wall Street in New York.
"It's a perfect 10th anniversary of St. Andrews for all my family and friends to be there," Ochoa said. "I'm sure my kids will ask about my career and when I started playing. All of the memories will be so fresh."
All they will need to complete the evening is a saxophone player with a penchant for Mexican and Scottish tunes.