PNC is proud to partner with the Ladies Professional Golf Association to celebrate family and recognize players for their achievements. The year-long campaigns featuring #PNCCelebrateFamily and #PNCAchiever will also include a series of events bringing female leaders and influencers together with LPGA leadership. PNC and the LPGA share common values that reflect a deep appreciation for family and a continuous pursuit of personal accomplishment.
From her LPGA rookie swings as a teen in 2005, to her current 13th season as a veteran player with 10 career wins, family has always played an essential role in Paula Creamer's golf career.
Her father, Paul Creamer, introduced his daughter to golf in Northern California while he was based at Moffett Federal Airfield. The Naval Academy grad piloted the U.S. Navy's P3C anti-submarine and maritime surveillance aircraft when he was working and enjoyed watching his young daughter take to golf whenever he was on the ground.
When Captain Creamer retired after 22 years of service and became a commercial pilot for American Airlines, it was a family decision for the Creamers to move to Bradenton, Fla., for Paula to receive world-class instruction in the game.
Her dad had planted the seed, and her mother Karen was involved in the day-to-day mission of nurturing the teen's biggest golf dreams. Their family unit was a tight team preparing for their child to soar.
But in recent years, the golfer's family network has expanded dramatically. Creamer married U.S. Air Force Captain Derek Heath after he proposed to her during a skydive.
And as world affairs have necessitated greater military involvement in the Middle East throughout the last two decades, Creamer's understanding of the power of family bonds has grown even tighter. She has witnessed family members deploying for active duty in parts of the world most Americans only see in the evening news.
"My cousin is a lieutenant colonel in the U.S. Marines and he has deployed several times," said Creamer, 30, of Orlando, Fla. "He and his wife have four boys. Part of the reason I'm so passionate about the military is I see how hard they work and how strong they all are."
Ever since her first day as a pro, Creamer began wearing an American flag pin on her left lapel, over her heart. It was her way to salute her cousin and an uncle who was in the service at the time. It was also her way of saying thank you to all members of the military.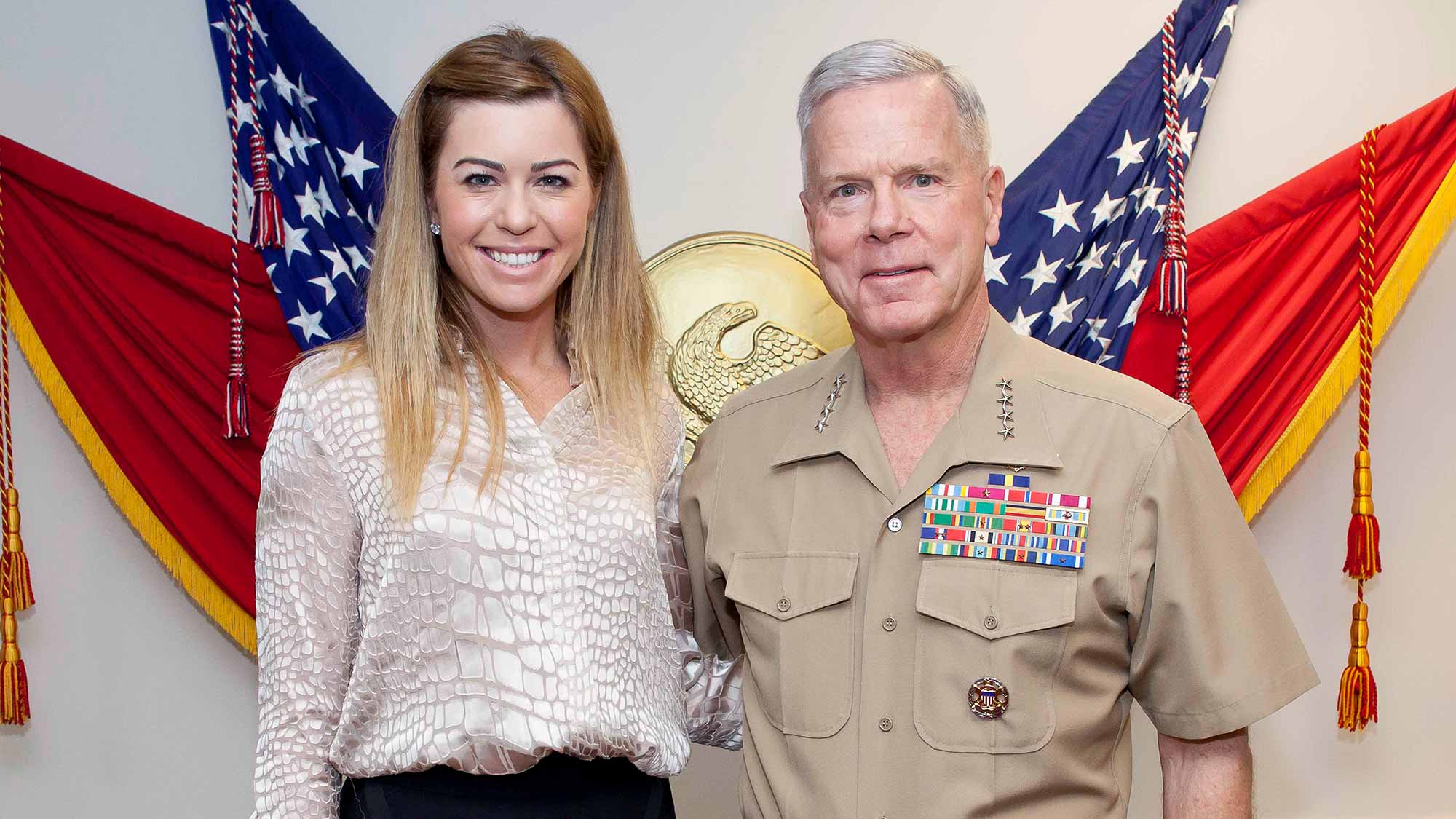 With two wins during her rookie year, Creamer became the first LPGA Tour rookie to qualify for the U.S. Solheim Cup team. And because of that honor, she was invited to visit the White House with the winning American squad. During that visit, U.S. Solheim Cup team members were asked if they would like to visit Walter Reed National Military Medical Center.
Creamer accepted the invitation for a one-hour visit, which became four hours. It also opened the golfer's eyes about how she would come to embrace members of the military beyond those who were her own blood relatives.
"I think I saw a different person when she returned from the 2005 U.S. Solheim Cup Team's visit to the White House," said her father.
Walter Reed was the first stop in the United States for all casualties returning from Iraq and Afghanistan. Wounded solders at the hospital were evaluated and later transferred to specialized medical facilities throughout the nation.
During her visit, Creamer found herself facing soldiers her age whose lives had been forever changed by traumatic injuries. It was a sobering realization for the golfer.
"She visited dozens of soldiers, witnessing first-hand the horrors and result of war," added her father.
While visiting one soldier in the hospital, she noticed that another soldier in the next bed had drawn his privacy drapes tight. She learned that he had refused all visitors other than medical personnel since his arrival at the hospital. But as Creamer said goodbye to the soldier she was visiting, she heard a voice come from behind the closed curtains.
"What about me?" said the voice.
With permission from the staff, Creamer gently pulled back the drape and said to the injured solider lying in his bed, "Are you talking to me?"
That initial exchange led to some lively banter between Creamer and the soldier, who told her he had beaten her in golf several times. Trying to figure out where they could have possibly played golf, the soldier finally explained that he would usually win whenever he had played Creamer on the Nintendo Wii video game.
That exchange ended with laughter – a rare sound in the halls of Walter Reed -- and hugs before Creamer departed to visit another soldier.
"The medical personnel viewed this as the beginning to his road to recovery," Paul Creamer added. "Paula called me and [said] these were incredible people, and she wanted to try to help military families."
And that was the day Paula Creamer's family expanded into one that includes soldiers and military families far and wide. Creamer has made it a point to visit bases and military hospitals in cities located near LPGA tournaments. She often invites military families to walk with her inside the ropes during LPGA practice rounds.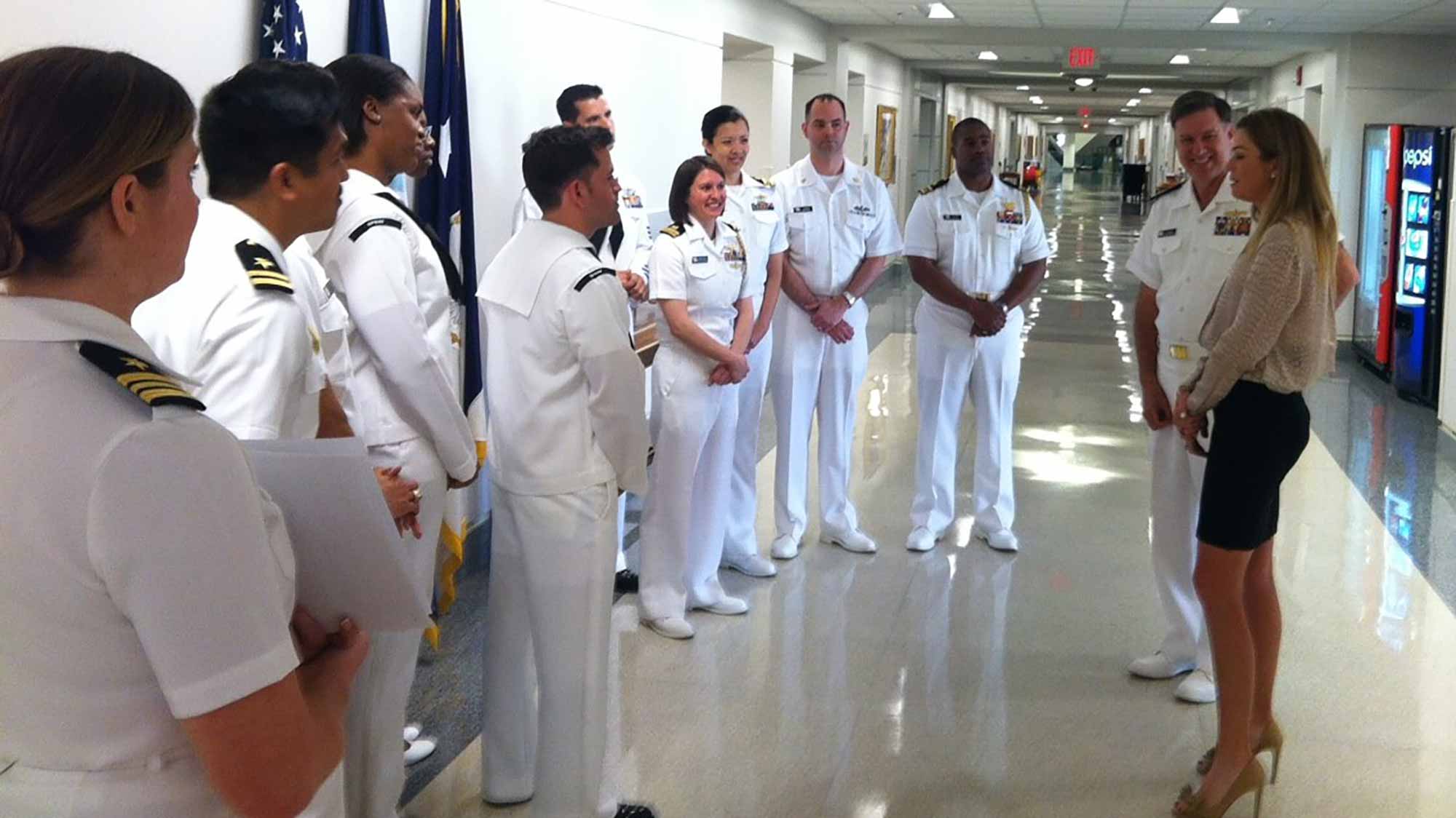 In April 2008, she founded the nonprofit Paula Creamer Foundation, Inc., designed to "support and assist active, reserve and retired United States Armed Service Personnel and their families through organically created programs and already established community not-for-profit military initiatives."
According to the foundation's mission statement, it also "achieves its goals and objectives by identifying and providing educational, emotional and financial support to our true American heroes."
"I have the utmost respect for these men and women who serve our country and I want them to know they aren't forgotten," said the golfer. "It's very hard on these families when they're apart. I hope they can feel the passion I have to try to make their lives easier in any way I can."
Creamer's foundation offers emergency relief to military families if they need quick help with a car payment or to buy groceries or pay bills. It also has a scholarship component to help military children with their education.
But Creamer has also made a point of learning more about what these soldiers do in their workplace. To better understand their lives, she has visited military bases and participated in live fire exercises with both the U.S. Army and Marines.
She has called in artillery targeting coordinates for a 105mm Howitzer, and during a visit to South Korea, she peered through the barbed-wire fence into North Korea, wearing full tactical defensive equipment on the Korean DMZ.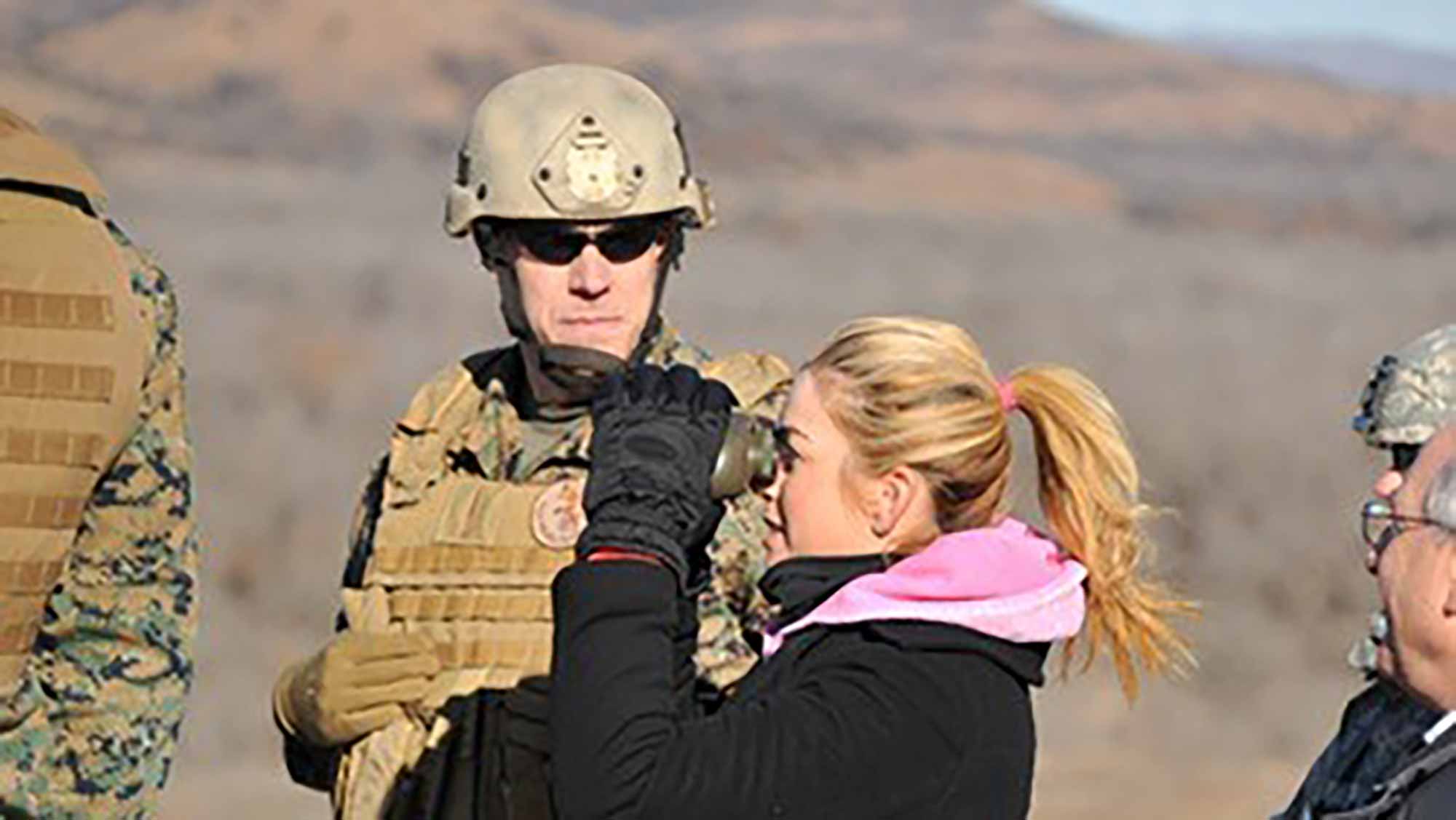 Once, she joined brand new military recruits during their morning physical training in 38-degree temperatures. She's also been onboard a nuclear submarine, flown with both the Navy Blue Angels and the Air Force Thunderbirds, parachuted with the Special Forces, participated in Air Force Military Security Dog exercises, as well as with the Air Force Bomb Disposal Unit while wearing a complete bomb disposal suit and operating a remote robot to explode targeted ordnance.
She has also toured the cavernous C17 military transport planes her husband still pilots for the U.S. Air Force.
"They carry all of the military cars, tanks, helicopters and people," said Creamer. "Derek has been on humanitarian missions carrying food, water and medical supplies, and these planes can be turned into medevac hospitals. They also bring home the caskets of fallen soldiers."
Creamer tries to put herself in the boots of soldiers and understand what their daily lives often entail. She has visited the Air Force Academy, U.S. Military Academy at West Point and the U.S. Naval Academy in Annapolis – even checking out her dad's former room at the Naval Academy. She's even held consecutive one-hour meetings with the Chief of the Air Force, Commandant of the Marine Corps, Chief of Naval Operations and the Chief of the Army in their private Pentagon offices in Washington, D.C.
But while that top brass is aware of Creamer's intention to acknowledge and assist their soldiers, it's the military families that keep her focused on how to help. Both of her grandfathers, two uncles, her cousin, her father, and now her husband have served their country, so she understands the special bond that military families have.
"Family is so important in the military," she said. "That's what they're fighting for and they want to come home to family."
Creamer's biggest dream is for the LPGA to host a professional tournament that would benefit military families. She plans to continue building her foundation and she hopes it will become something that will help countless families and military couples get through challenging times for years to come.
"I have a voice in what I do and what I can give back comes through talking about them, bringing attention to their sacrifices and being able to help them," said Creamer. "I don't have a brother or a sister, but when I meet these men and women, I feel like I do."