JOH AND KIRK RECEIVE AWARDS FROM THEIR FELLOW TOUR MEMBERS
In awards voted on by LPGA Tour players, Katherine Kirk is the recipient of the 2017 William and Mousie Powell Award and Tiffany Joh is the recipient of the 2017 Heather Farr Perseverance Award.
Three-time LPGA Tour winner Kirk received the William and Mousie Powell Award, given annually to an LPGA member, who in the opinion of her playing peers, by her behavior and deeds, best exemplifies the spirits, ideals and values of the LPGA.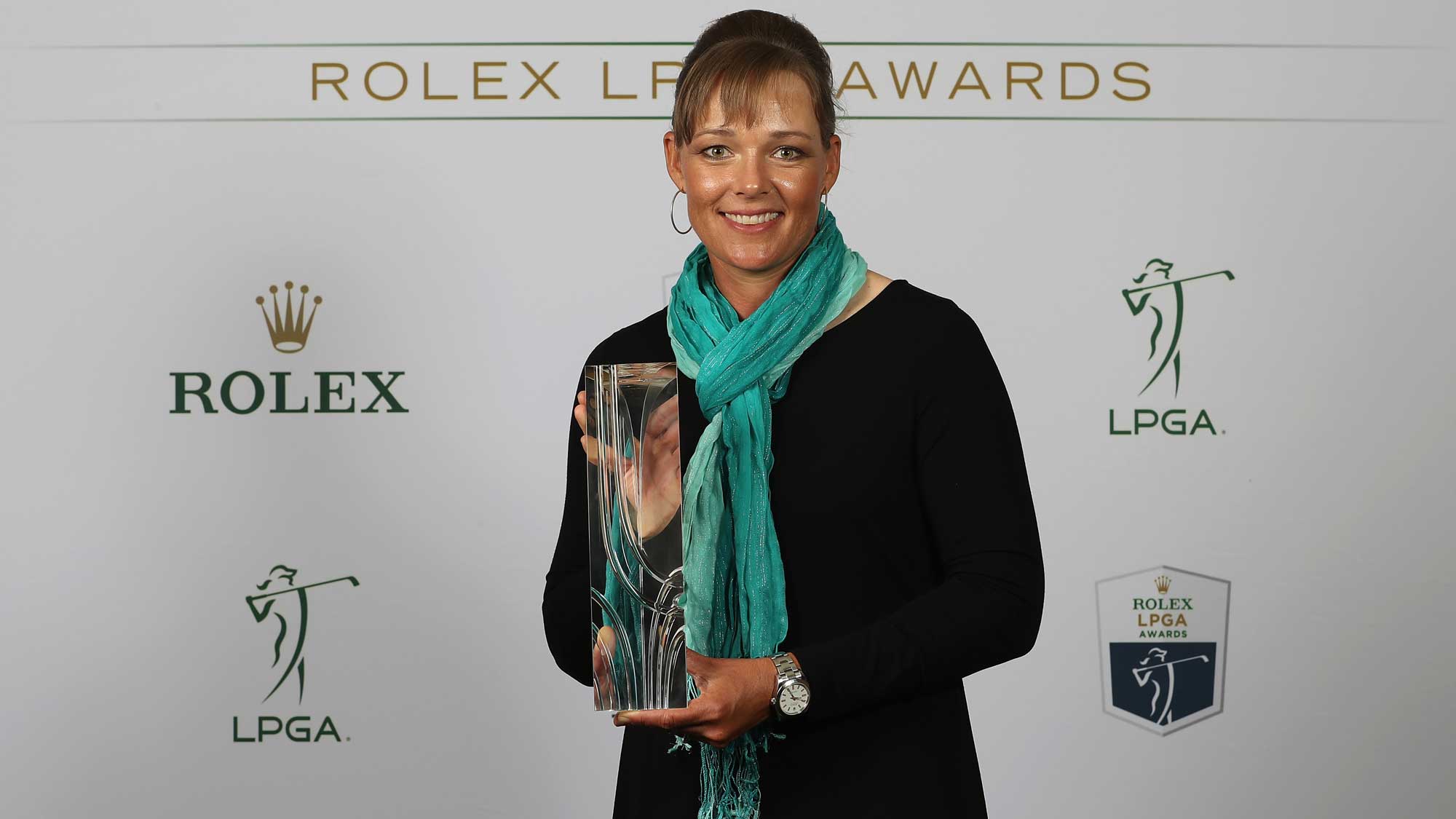 Kirk, a native of Australia who now makes her home in Kansas, is one of the friendliest players on the LPGA Tour. Always ready with a smile on her face for her fans and fellow competitors, Kirk captured the inaugural Thornberry Creek LPGA Classic in July for her first win since 2010. Kirk, who was called a role model in her introduction by fellow Tour member Amy Olson, is a long-time supporter of Golf Fore Africa, a charitable organization run by LPGA legend and past Powell Award recipient Betsy King, which brings clean drinking water to impoverished areas of Africa.
"Some people have asked me if I feel an obligation to give back to the game," said Kirk in her acceptance speech. "I rather think of it as a privilege."
The late Mousie Powell, for whom this award was named, was a close supporter and friend of the LPGA from the 1950s until her death on Jan. 18, 1997. She was married to William Powell, a Hollywood legend and one of its leading male actors. Mousie, who was also featured in movies during that time, started the William and Mousie Powell Award in 1986. Past recipients include Kathy Whitworth, Nancy Lopez, Pat Bradley, Betsy King, Juli Inkster, Lorena Ochoa, Chella Choi, Juli Inkster and Karrie Webb.
Joh received the Heather Farr Perseverance Award, which honors an LPGA player who, through her hard work, dedication and love of the game of golf, has demonstrated determination, perseverance and spirit in fulfilling her goals as a player.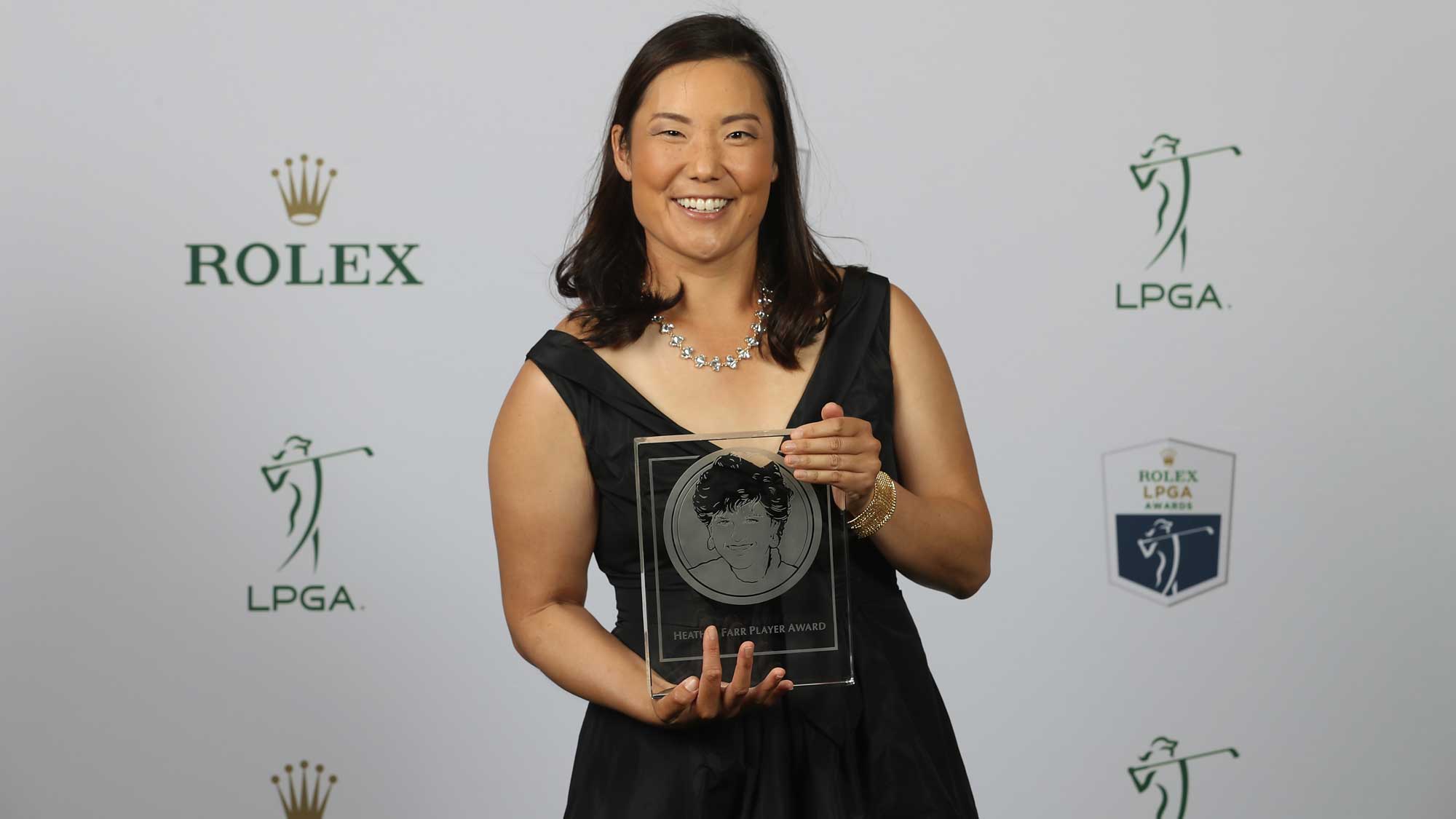 In January 2017, Joh heard the words no one ever wants to hear: You have cancer. She underwent surgery to remove a malignant melanoma lesion from her scalp and later received word that the cancer was isolated to that area. Throughout the process, Joh did not skip a beat, as the bubbly Californian – known for her love of surfing and fuzzy animal onesies – was back on the golf course and in the water within days of her surgery.
"During the most nerve-wracking moments, when I was waiting for a call from the doctor and simultaneously falling down the deep, dark hole that is WebMD, it was my friends and the people of this Tour that came through and offered their support and encouragement," said Joh, making the audience laugh with her signature wry humor.
The LPGA established the Heather Farr Perseverance Award in 1994 to celebrate the life of Farr, an LPGA Tour player who died on Nov. 20, 1993, following a four-and-a-half-year battle with breast cancer. Past winners of this award include Heather Farr, Shelley Hamlin, Martha Nause, Terry-Jo Myers, Lorie Kane, Nancy Scranton, Brandi Burton, Kris Tschetter, Kim Williams, Beth Daniel, Colleen Walker, Amy Read, Se Ri Pak, Leta Lindley, Sophie Gustafson, Lisa Ferrero, Stephanie Meadow and Ariya Jutanugarn.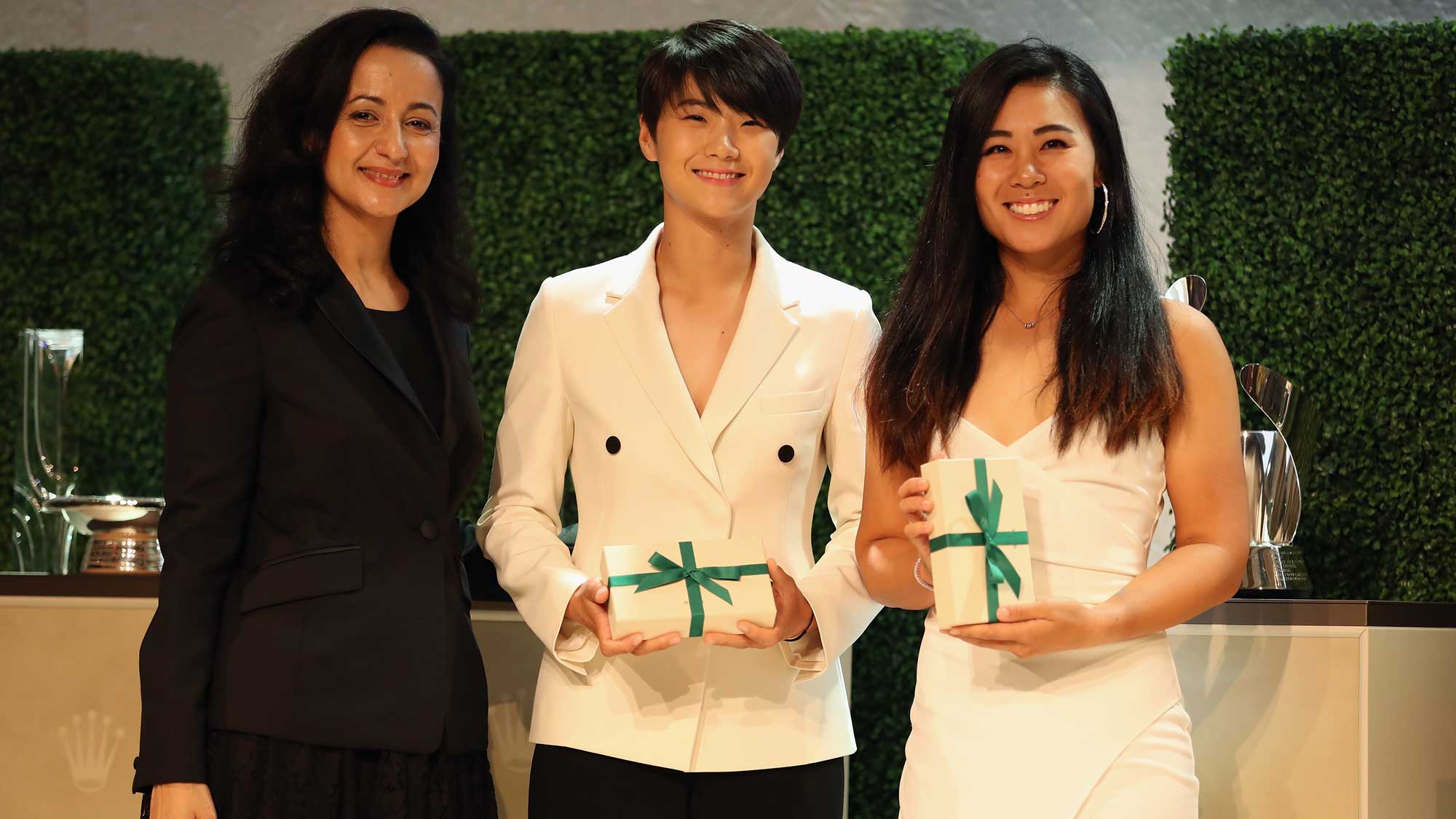 TWO MAJOR CHAMPIONS RECOGNIZED AS ROLEX FIRST-TIME WINNERS; PARK ACCEPTS ROOKIE OF THE YEAR
Danielle Kang and Sung Hyun Park made their first LPGA Tour victories particularly memorable. They became the 32nd and 33rd players, respectively, to capture their first LPGA Tour wins at a major championship.
Kang birdied the 72nd hole to win the KPMG Women's PGA Championship by one stroke over Brooke Henderson. It was an emotional victory for Kang, who lost her father, to whom she credits much of her personal success, to cancer in 2013.
"I just know that he's here for it," said Kang after her victory. "What are the odds that my first win is a major? Pretty sure he had something to do with it. It's just incredible. But I know that he was there, because I felt him with me every day, and I still do."
Kang went on to represent the USA at the 2017 Solheim Cup, where she went 3-1-1 in her Cup debut and was undoubtedly one of the USA's most inspiring players.
A year after finishing two strokes out of a playoff at the 2016 U.S. Women's Open, Park finally emerged victorious, earning a two-stroke win after trailing 54-hole leader Shanshan Feng by three strokes going into Sunday's final round.
"I still cannot believe that it is actually happening," said Park, who later added to her victory tally with a win at the CP Women's Open in August. "It's almost feel like I'm floating on a cloud in the sky."
Additionally, Park accepted the Louise Suggs Rolex Rookie of the Year Award, which she clinched with five events remaining in the season. She reached No. 1 in the Rolex Women's World Golf Rankings on Nov. 6, becoming the first LPGA rookie in history to reach the top spot.
"Knowing that the chance to win the Rookie of the Year award will not come again, I was very grateful," said Park in a pre-taped speech in her native Korean language. "Going forward, with the same heart and mindset that carried me through my rookie season, I will continue to work hard and aim high."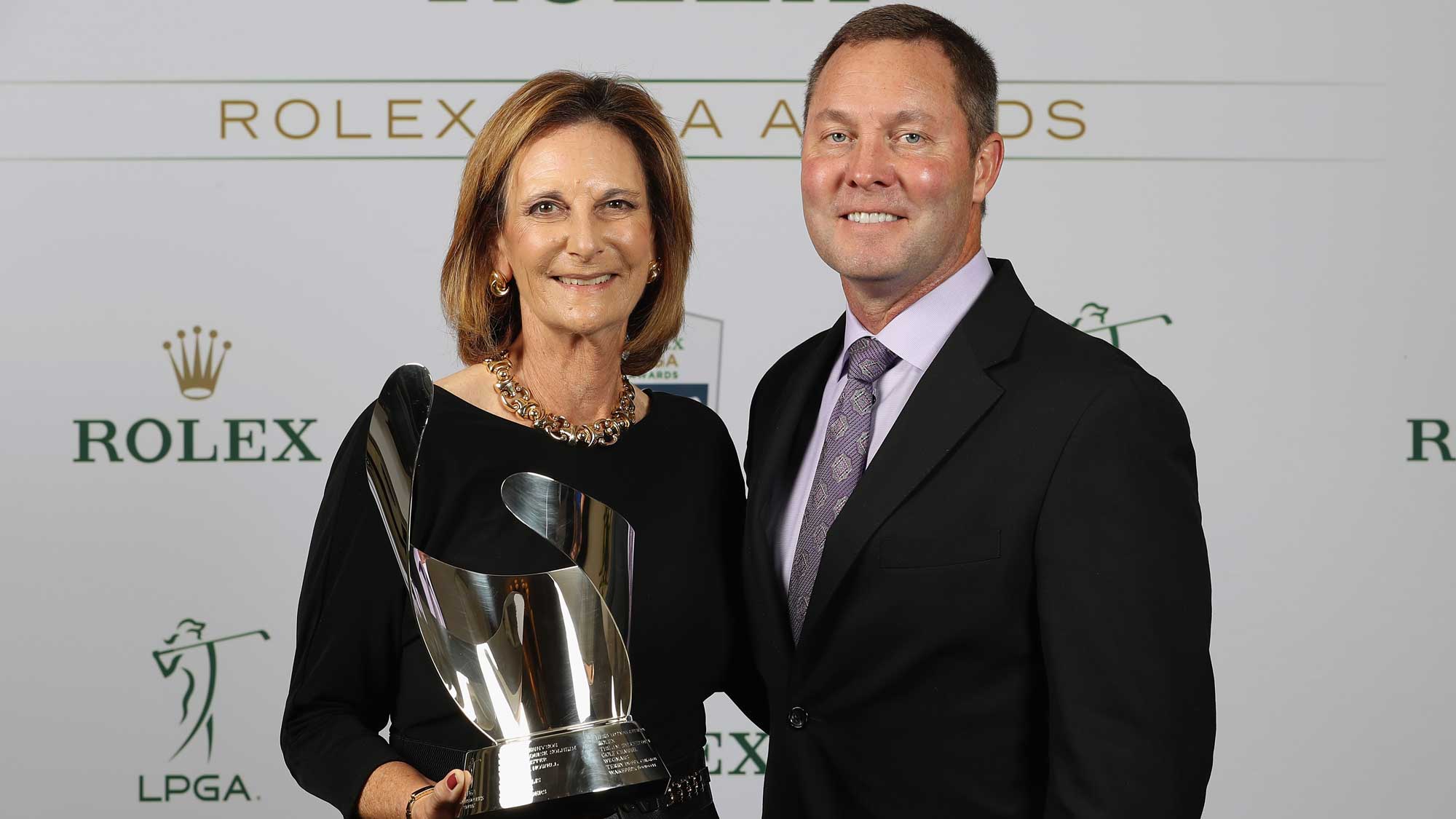 COMMISSIONER'S AWARD GOES TO OUTGOING LPGA BOARD CHAIR BOWMAN
LPGA Commissioner Mike Whan presented the 2017 Commissioner's Award to Roberta Bowman, the outgoing chair of the LPGA Board of Directors. Bowman is a longtime sustainability and communications executive who spent most of her business career at Duke Energy in Charlotte, N.C. She joined the LPGA's board in August 2011 and became chair in January 2016. While her term ends on Jan. 1, 2018, Bowman says she will remain a steadfast advocate for the LPGA Tour.
The Commissioner's Award, introduced in 1991 by the LPGA, honors a person or organization who has contributed uniquely to the LPGA and its members, who has furthered the cause of women's golf, and whose character and standards are of the highest order. Previous award recipients have included Karsten and Louise Solheim, Jamie Farr, the LPGA Founders, Rolex, Smucker's, Wegmans and CME Group.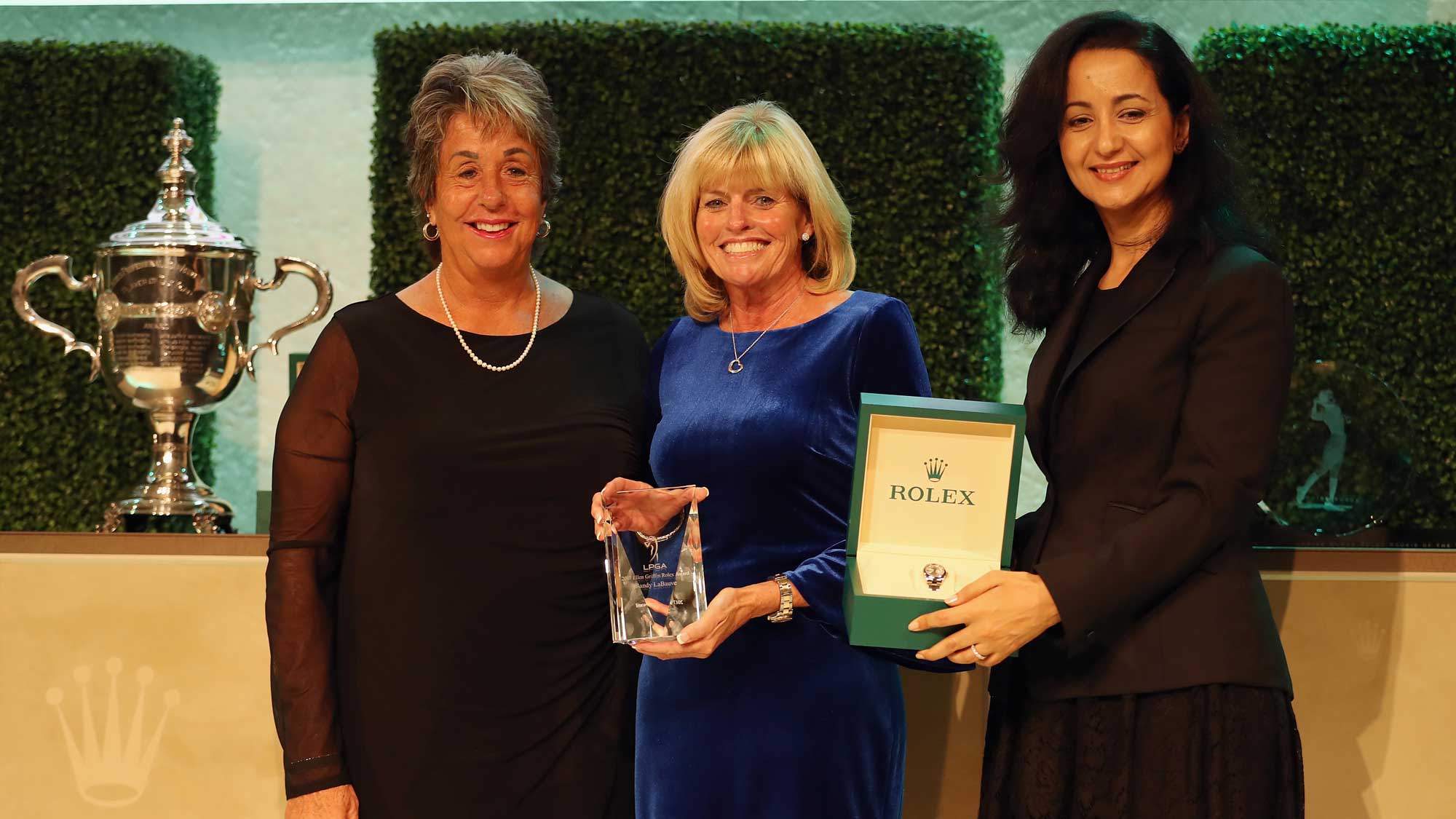 LABAUVE HONORED WITH ELLEN GRIFFIN ROLEX AWARD
The Ellen Griffin Rolex Award, instituted by the LPGA Teaching and Club Professional membership in 1989, was created in honor of the late Ellen Griffin, the best-known woman golf teacher in U.S. history. The award recognizes an individual, male or female, who has made a major contribution to the teaching of golf and who has demonstrated, through teaching, Griffin's spirit, love and dedication to the golf student, teaching skills and game of golf. Sandy LaBauve, a passionate LPGA Teaching Professional and mother of two daughters, founded LPGA*USGA Girls Golf in Phoenix, Ariz., in 1989. She was first introduced to the game of golf by her parents, Jack and Sherry Lumpkin, who taught LaBauve the game by infusing fun drills and games into her golf lessons as a child. She used these childhood experiences to create the LPGA*USGA Girls Golf program. Beginning with just 10 programs, Girls Golf is now in more than 400 communities in the United States and expanding every day. Thanks to LaBauve's vision, more than 500,000 girls have been introduced to the game of golf since the program's inception.
Additionally, Labauve received the LPGA Teaching and Club Professional membership's 2017 Nancy Lopez Golf Achievement Award, which is given to an LPGA professional who emulates qualities valued by LPGA legend Nancy Lopez: leadership, passion, giving and approachability. Labauve will receive that award at the 2018 PGA Merchandise Show.