BOULDEN, KIM EARN STAGE II CO-MEDALIST HONORS; 40 PLAYERS ADVANCE TO Q-SERIES
VENICE, Fla. — The conclusion at Stage II of the LPGA Qualifying Tournament had two players atop the leaderboard with a score of 10-under par overall, as Amy Boulden (St. Asaph, Wales) and Kyung Kim (Chandler, Arizona) earn co-medalist honors in the Sunshine State.
It was a big final round at Plantation Golf & Country Club from Kim that launched her into the position from tied for sixth when she started the day. The former University of Southern California (USC) standout played the Bobcat Course to the tune of a bogey-free, 5-under par 67.
"I just wanted to be patient throughout the round and not push anything, but play my game hitting fairways and greens," Kim said. "It was definitely exciting coming into the week and definitely a big confidence boost that I was able to play it out. Hopefully I can keep it going."
Putting together such a performance is pretty inspiring for Kim, considering she played on a fractured pinky toe.
Ahead of the IOA Golf Classic in Longwood, Fla., which served as the penultimate Epson Tour event this season, Kim hit her right foot on a bed post. She hadn't played golf since the accident, but pushed through the discomfort and pain this week to advance to Q-Series.
"I didn't know what to expect coming in and not having played in three weeks," said Kim, who last played competitively at the Guardian Championship in Prattville, Ala. "It was all up in the air, but I'm really glad it turned out so well. I think it all happened for a reason to get some extra rest and be prepared for this event."
Meanwhile, Boulden was the 54-hole leader and managed to keep her last day effort fairly steady with a 1-over par 73. The Ladies European Tour (LET) four-year veteran came in with a goal in mind and she reached it.
"I wanted to come here and treat it like any other tournament, not necessarily have it feel like Q-School and was always trying to win," Boulden said. "Played well and am now looking forward to getting up to Pinehurst. I made a lot of good improvements and am confident for Q-Series."
In solo third was Sarah Burnham (Maple Grove, Minnesota) at 9-under par overall following a 4-under par showing this afternoon. Furthermore, a group of four players tied for fourth at 7-under par overall, including the top amateur in Suzuka Yamaguchi (Sagamihara, Japan).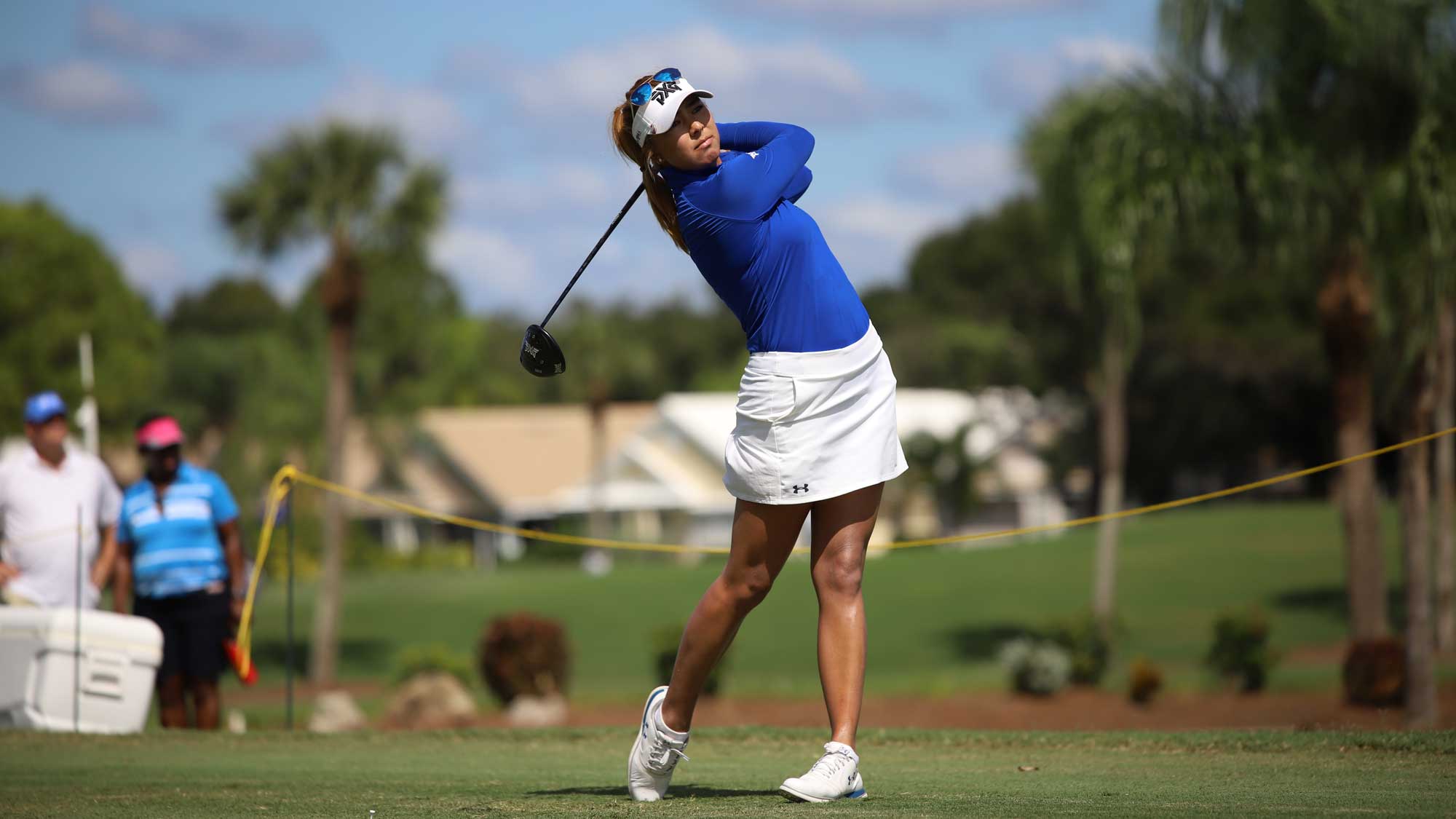 40 PLAYERS ADVANCE TO Q-SERIES
A minimum of the top-25 players and ties advance to Q-Series, contested from Oct. 22 through Nov. 3 in Pinehurst, N.C. at Pinehurst Resort. Those at the next score, or scores, also move on provided that the total number of players in Q-Series does not exceed 108, which had 62 exempt and entered competitors before play began this week at Plantation Golf & Country Club.
With 72 holes now complete in Stage II of the LPGA Qualifying Tournament, a total of 33 players finished at 1-under par or better, with eight more individuals sitting on the even par mark. In total, those 41 competitors at even par or better are heading to Q-Series and finalize the field at 103 players.
Below is a look at the individuals who advanced through Stage II, representing 14 different countries.
AUSTRALIA (Robyn Choi)
CANADA (Jaclyn Lee)
CHINESE TAIPEI (Doris Chen, Ssu-Chia Cheng)
CZECH REPUBLIC (Klara Spilkova)
HUNGARY (Csicsi Rozsa)
JAPAN (Suzuka Yamaguchi)
NETHERLANDS (Anne Van Dam, Dewi Weber)
NORWAY (Celine Borge)
REPUBLIC OF KOREA (Sandy Choi, Hyemin Kim)
SLOVENIA (Katja Pogacar)
SPAIN (Nuria Iturrios)
SWEDEN (Elin Arvidsson, Louise Stahle)
UNITED STATES (Brittany Benvenuto, Sarah Burnham, Youngin Chun, Lauren Coughlin, Allison Emrey, Kristen Gillman, Jennifer Hahn, Lexi Harkins, Alison Lee, Kyung Kim, Cheyenne Knight, Maddie McCrary, Lindsey McCurdy, Liz Nagel, AJ Newell, Jean Reynolds, Summar Roachell, Sierra Sims, Bailey Tardy, Taylor Totland, Alana Uriell, Laura Wearn, Andrea Wong, Katie Yoo* )
WALES (Amy Boulden)
*Due to age restrictions, Yoo could compete through Stage II of the LPGA Qualifying Tournament but only obtain Epson Tour status.
KYUNG KIM FINAL ROUND INTERVIEW
AMY BOULDEN FINAL ROUND INTERVIEW
TRENDING ON SOCIAL