Su Oh and Anna Nordqvist grabbed the lead early on day two at Blythefield Country Club, but World No. 6 So Yeon Ryu made five birdies on her inward nine to grab the solo 36-hole lead at 13-under at the Meijer LPGA Classic on Friday.
Ryu had a somewhat uneven start - three birdies and three bogeys on her first nine - but turned it on with birdies on one, four, five, six and eight to get in position for her first win of the season.
"I hit a bit of bad tee shots, quite a lot today, but putting was good enough to make it (work)," said Ryu. "Then I think I made quite a lot of birdies today after I made three bogeys. I'm happy with 67 today."
Ryu has been excellent on the front nine at Blythefield Country Club. She is a combined 10-under through two days on the first nine.
Ryu admitted after her round that the UL International Crown is a major motivation this week. A good finish would likely seal her spot on Team Republic of Korea.
"I played 2014 and 2016 (UL) International Crown and I know how cool the tournament is going to be. Also, I'm an ambassador for UL and it's going to be more special and then it's going to be in Korea. So all those reasons make me really motivated to playing well for these three events to make it for Team Korea."
Inbee Park, Sung Hyun Park, So Yeon Ryu and IK Kim are currently the four that would make Team Republic of Korea.
Sandra Gal and Sakura Yokomine are one shot back at 12-under while Caroline Masson is two back at 11-under. Lee-Anne Pace, Anna Nordqvist and Su Oh are just three back at 10-under.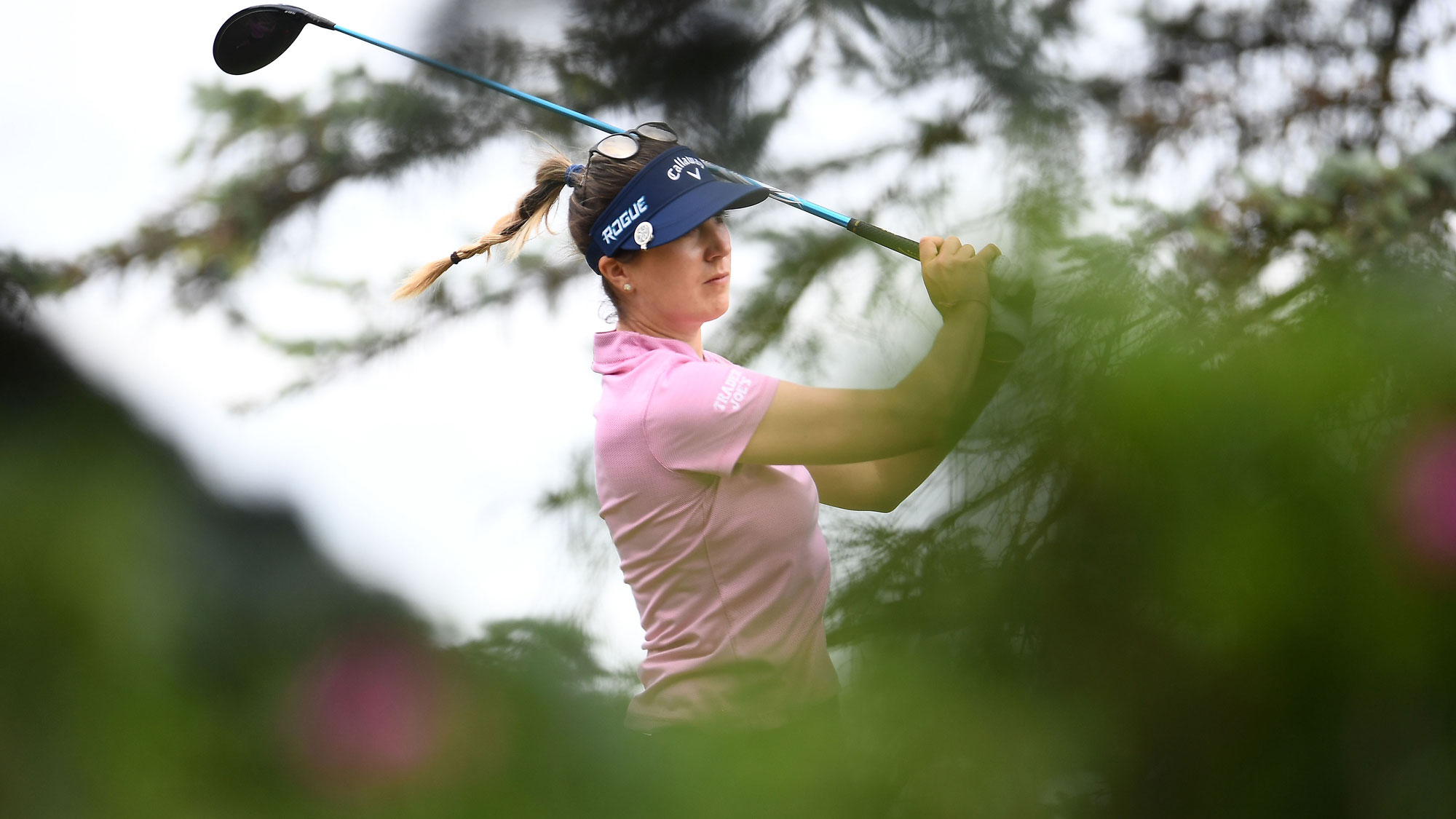 Yokomine and Gal Post Matching 8-under 64s
Sakura Yokomine and Sandra Gal starred in the afternoon with matching 8-under, 64s to get to 12-under and just one back of Ryu.
Yokomine, who carded a Sunday 61 last week in New Jersey, made five birdies on her outward nine and entered the clubhouse with three more birdies on her closing nine. In just her fourth start of the season, Yokomine is vying for her first career LPGA win. She has seven top 10 finishes.
Coming off a solo second place finish at the ShopRite LPGA Classic, Yokomine is playing as well as anyone on the LPGA right now.
The 32-year-old is no stranger to winning. She has 23 career wins on the JLPGA.
Meanwhile, Gal has been working tirelessly with her new coach, Cameron McCormick and the results are starting to show. She finished T5 last week at the ShopRite LPGA Classic.
"It's nice to see when you're making the birdies and you see your name at the top," said Gal, whose lone win on Tour came in 2011 at the Kia Classic. "It's fun when you're in contention for the weekend. It's great."
Gal, now putting left-hand low, credits the subtle changes in her game with the newfound success.
She attempted 29 putts on Thursday and just 25 on Friday.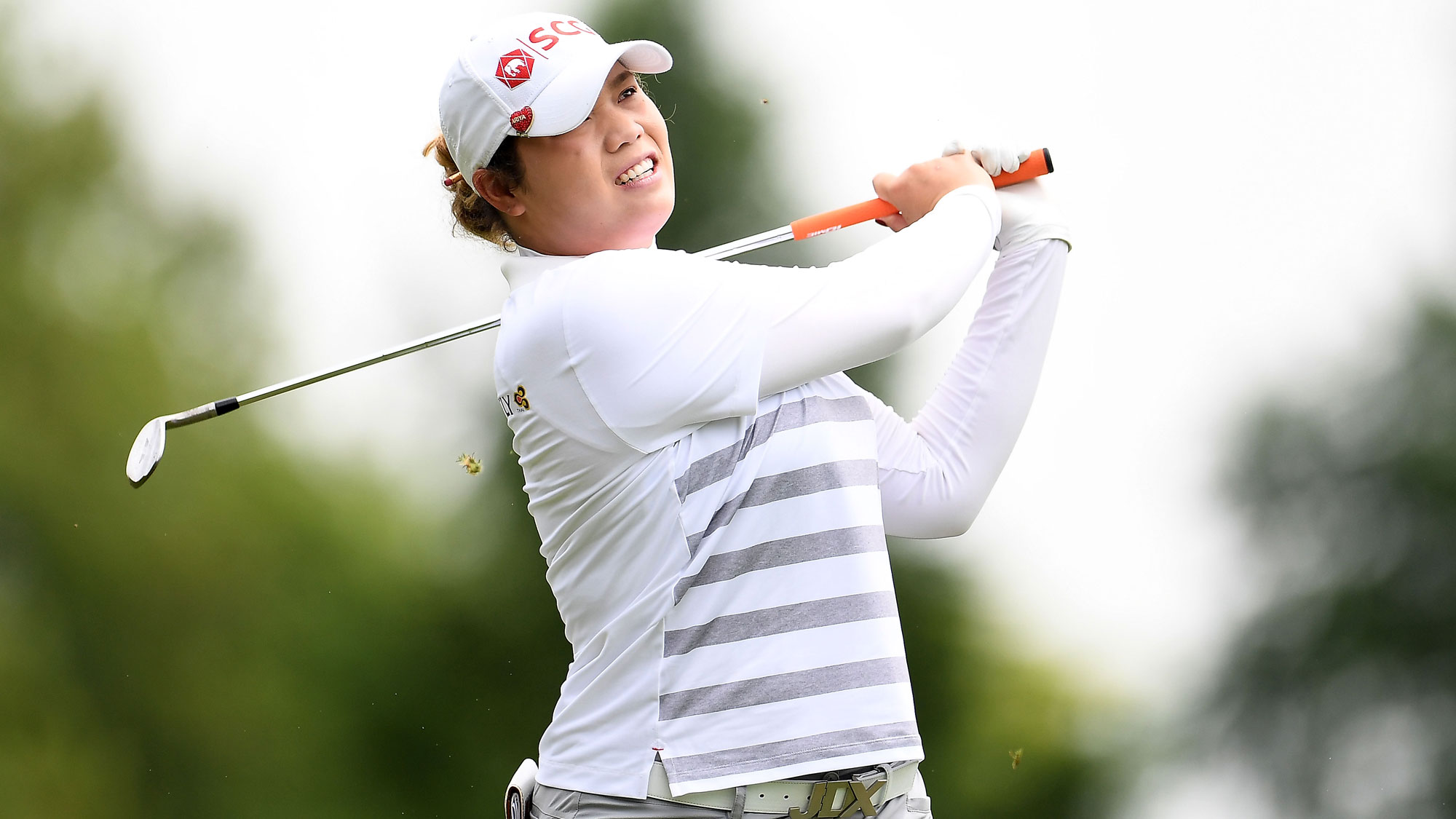 Despite Apparent Back Pain, Jutanugarn Goes Under-Par
Golf Channel analyst Judy Rankin spotted visible anguish on Ariya Jutanugarn before she even tee'd off on Friday. At one point, commentators discussed whether her caddie should grab the ball out of the hole for her after a made putt. Jutanugarn was very careful anytime she had to bend and mark her ball and appeared to be walking a bit slower than normal.
Despite all that, the World No. 2 was 3-under through her first nine holes and finished 2-under for the round. She is 5-under for the tournament.
After her round, she acknowledged pain in her lower back, but downplayed it and said she'd be fine.
"It's okay," said Jutanugarn, who never makes excuses. "My back was hurting a little, but I should be fine."

Tied for Best Round of Year for Ko
Lydia Ko matched her low round of the season with a 5-under, 67 on Friday to back up her 69 on Thursday. Ko moved to 8-under for the tournament and is just five shots off the lead.
"I gave myself a lot of good looks for birdies and I think I was hitting a lot of good shots into the greens, even on the par 3s," said Ko. "I gave all my putts good looks, but I hit the left edge, the right edge, left edge, right edge. I told my caddie that I hit every single edge on my par-3 birdie putts"
The good news is that Ko made birdies on four of the five par-5s.
Ko has three other 5-under rounds this season including the third round of her win at the MEDIHEAL Championship.
Trending on Social