Park, Stoelting, Hedwall Share Day One Lead at Kia
CARLSBAD, Calif. - It never rains in Southern California. At least that's how Albert Hammond's song goes. But Thursday the rain poured down on Aviara Golf Club, in Carlsbad, California where the sun shines more than 260 days a year. Pesky showers came and went throughout the day but they weren't enough to slow down Caroline Hedwall, Jackie Stoelting and Hee Young Park who fired rounds of 6-under par, 66 to surge to the top of the leaderboard on day one of the Kia Classic. They hold a one stroke lead at the top of a jam-packed leaderboard that includes In-Kyung Kim, Ariya Jutanugarn, Nicole Broch Larsen and Cristie Kerr at 5-under par.
Hedwall became a household name at the 2013 Solheim Cup where she became the first player in the event's history to go 5-0-0. But since that epic performance, Hedwall has struggled. The next year, in 2014, Hedwall suffered a wrist injury lifting her luggage at the Phoenix airport. She played injured and changed her swing in an effort to work around the pain. The changes hurt her game, her putting and her confidence. While it took years to physically heal, it took her even longer to heal from the emotional fallout.
"It's just all about trust and having self-confidence. I feel like I've gained that now," Hedwall told LPGA.com after her round. "I had good practice sessions the last couple days, and it's starting to pay off. That's really nice."
Stoelting is dealing with injuries of her own. But Thursday, with her adrenaline pumping, Stoelting didn't feel the cold, the rain or the pain in her left ankle, which she has taped this week due to a sore Achilles. Stoelting also she spent six weeks during the off season in physical therapy to repair a sports hernia she suffered last season. But, for the second consecutive season, she's put herself in contention at the Kia Classic.
"Must just suit my game," Stoelting said about Aviara Golf Club. "I hit a lot of fairways. I don't necessarily hit if far, but keeping it in the fairway is super key this week. The greens are so big that I think I really tried to narrow my focus and worry about right around the pin. They were soft, so I was able to fire at pins. Just a really good day."
Park teed off in the afternoon, missing most of the rain that affected the morning wave. She took advantage of the calm conditions to go low, making nearly everything she looked at. Putting is an area of her game she's been focused on, even picking up a few tips from an uncle of fellow tour pro, Haru Nomura, which helped her make it around in 29 putts on Thursday.

"I've been practicing a lot of like short putting," Park said after her round. "I don't think I missed a short putt today. That makes me like a lot more comfortable, so easier to play the round today."
The 2008 rookie is making her third start of the year with a new caddie on her bag. The two connected last week at the Bank of Hope Founders Cup where she finished T11 for her best finish of the year.
Click here for Stoelting's post-round interview.
Click here for Hedwall's post-round interview.
Ko In Contention
Lydia Ko, the 2016 winner of the Kia Classic, once again put herself in contention at Aviara Golf Club. The former world No. 1 bounced back from a missed cut at last week's Bank of Hope Founders Cup with a 4-under par, 67 on Thursday to sit two strokes back of the lead.
When asked about how she regrouped and spent her extra time having missed the cut in Phoenix, Ko responded with the same positivity that allowed her to bounce back on Thursday.
"I went to a Korean supermarket on Saturday," Ko told LPGA.com. "I guess that's the cool thing about when you miss a cut and you've got San Diego right there."
Ko, who started her day on the back nine, went out in 37 but made five birdies on her inward nine to shoot 31. She had just 25 putts.
"I would say I didn't hit the ball fantastic, but just being able to hole some good birdie putts was key," said Ko. "Just to be able to finish under par after an average front nine was a good turnaround."
With her win at the 2016 Kia Classic and ANA Inspiration, Ko was the last player on Tour to win the week before a major who also won the major the following week.
Click here to watch Ko's post-round interview.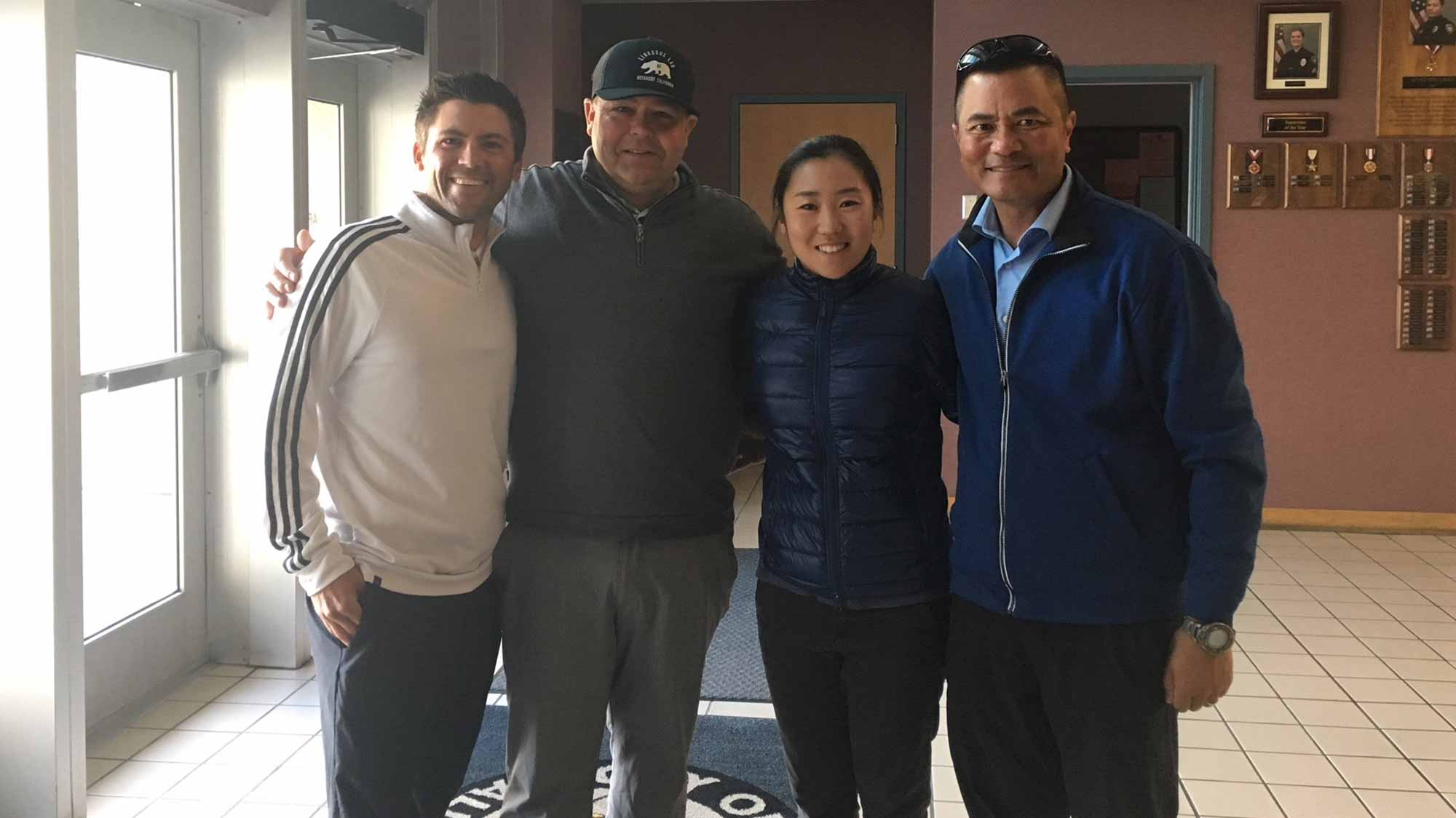 Kim Recovers Clubs
After two months waiting to hear from American Airlines about the status of her missing golf clubs, In-Kyung Kim's equipment was found for sale at Play it Again Sports in the San Diego area. The major champion, who used social media to help recover her missing items, fired her low round of the year on Thursday with a 5-under par, 67. Ironically, Kim spent so long trying to get her new clubs just right that she hasn't even put her recovered clubs back in her bag. She went low on Thursday with all new equipment.
"I was feeling pretty happy coming into this week because I really worked hard," said Kim. "I went to the factory like dozen times. They were like, 'I.K., are you ever happy?' I was like, 'Can you bend this this way, that way. It was just like this for last six weeks.'
Kim won three times in 2017 including the Ricoh Women's British Open.
Click here for the story behind Kim's clubs and their recovery.
Lexi Thompson First Round Highlights
Trending on Social