Anna Nordqvist started Saturday's third-round at the Meijer LPGA Classic two shots off the pace, but erased that quickly with four birdies over her first five holes and posted an 8-under, 64 to snag a share of the 54-hole lead into Sunday at 18-under. South African Lee-Anne Pace matched Nordqvist with a 64 including a birdie from off the green on 18 to also get to 18-under.
"It feels good playing good golf, it has been a couple solid days here," said Nordqvist. "When you struggle this year and you know what bad golf feels like, I'm just happy to feel more like myself and hitting better shots."
Nordqvist, 31, and Pace, 37, were dueling late on the back nine, but the Swede tallied her seventh birdie of the day on the par-5 16th to take the outright lead. Then, on 18, she drilled a 20-footer to close her bogey-free round with a fist pump after the ball rolled right into the center of the cup. In the group behind Nordqvist, Pace came up a bit short with her approach on 18, but drilled a 25-footer to share the lead.
Nordqvist has made just one bogey through 54 holes and hit all 18 greens in regulation on Saturday. Pace has also made just three bogeys this week.
Nordqvist will go for her ninth career win this weekend while Pace is in position for her second win.
"I've been in the position before, but I'm just happy to be playing good golf," said Nordqvist. "I feel like a veteran a little bit, but right now I'm just trying to keep learning, keep getting better every day, and it's been a little bit of a process this year, but pretty happy how far I have come so far."
Meanwhile, Pace is in position for by far her best result of the season, which is currently a T39 at the Kia Classic.
"I love this golf course, it reminds me a lot of home, I feel so comfortable on the course," said Pace. "I'm hitting my irons really well. I've been striking the ball really well. I changed clubs earlier in the year and I'm feeling well."
Pace last won at the 2014 Blue Bay LPGA and has six career top 10s.
So Yeon Ryu finished birdie-birdie-birdie to get into third place at 16-under while Caroline Masson and Angela Stanford are tied for fourth at 15-under.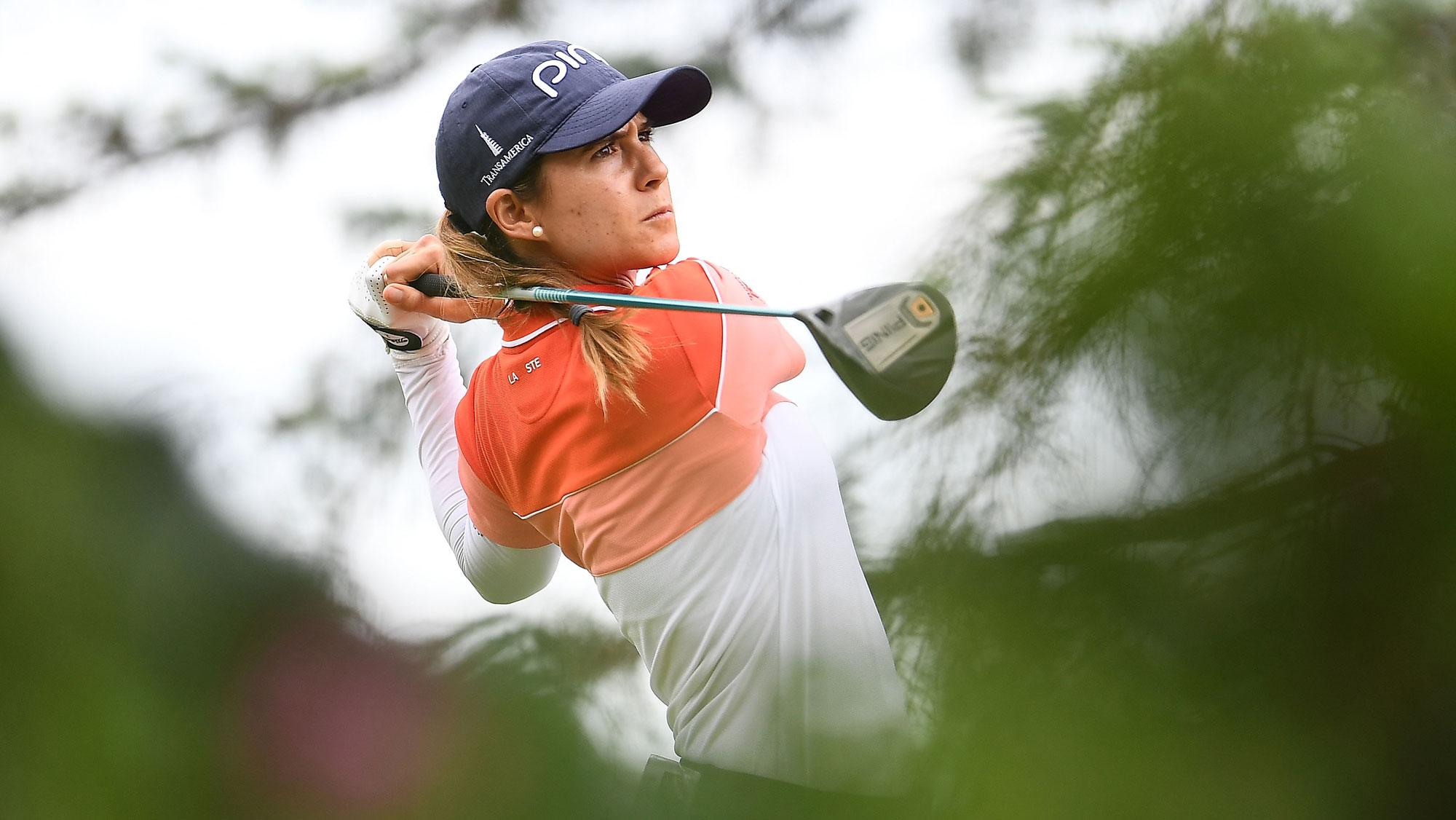 Azahara Munoz and Moriya Jutanugarn Make Big Moves
Azahara Munoz and Moriya Juntanugarn took full advantage of moving day on Saturday and made big jumps with 7-under, 65s. Munoz moved from T21 to T7 while Jutanugarn jumped from T32 to T10.
Munoz started hot with two birdies over her first four holes and then reeled off five birdies in a six hole stretch between seven and 12 including three in a row to start the back nine. Her lone blemish on the day was a bogey on 17.
"This is really nice," said Munoz about her round. "Ever since the first hole, I have been hitting really nice shots, and didn't get myself into trouble, and I have made really nice putts. I felt like every putt I hit today had a chance of going in."
Munoz has made just three bogeys through 54 holes.
After a bogey to start, Juntanugarn made eight birdies over her next 15 holes including four in a row from 11 through 14.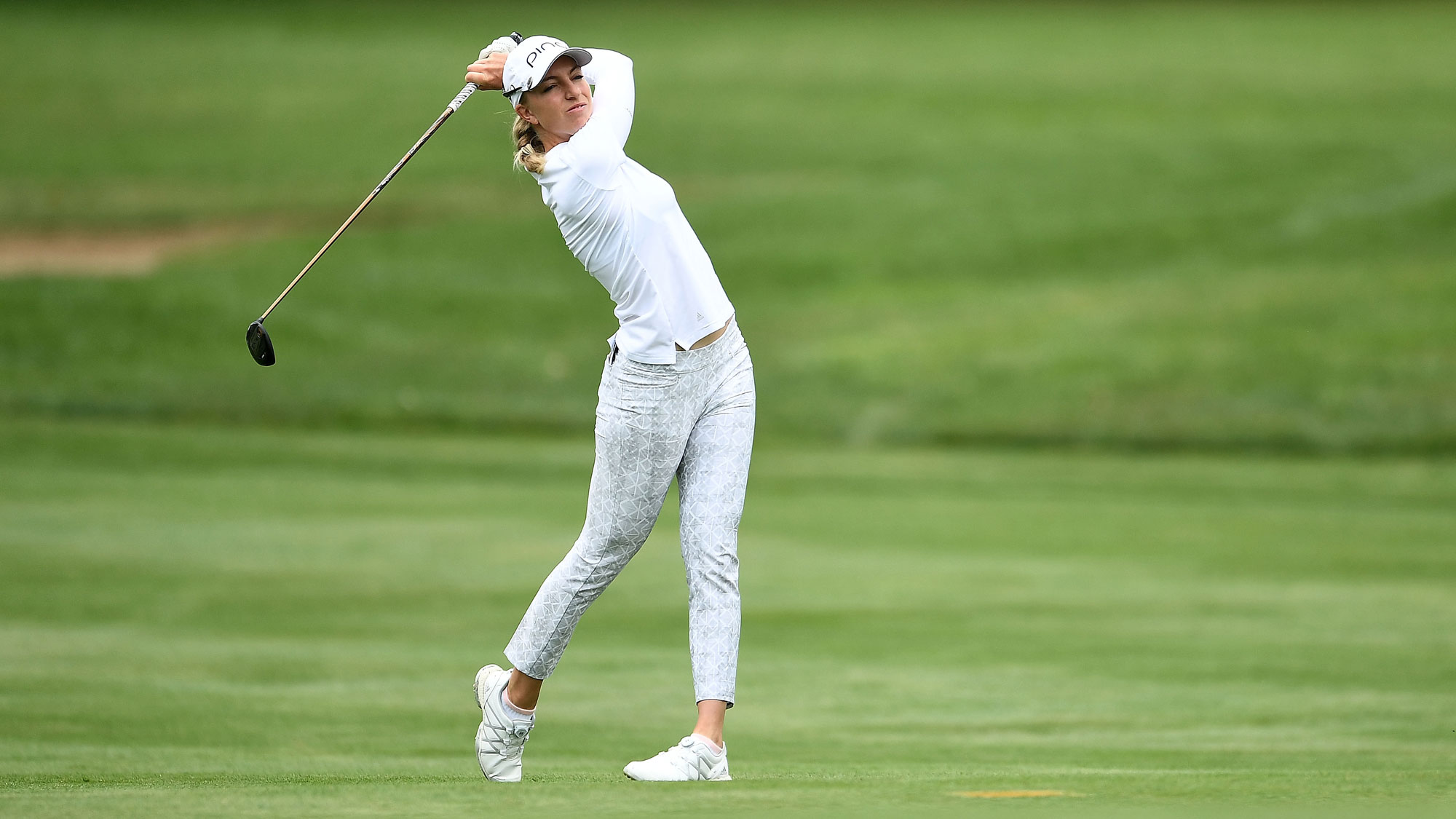 Popov Turning Heads with Third Straight Strong Round
In four starts on the LPGA this year, Sophia Popov has missed the cut three times, but her talent is undeniable. She was part of a national championship team at USC in 2013, she has 12 career top 10s on the Symetra Tour and even finished 14th on the Volvik Race for the Card money list in 2017.
Her success hasn't translated to the LPGA until this week.
"I think a lot of it is attitude," admitted Popov about the difference this week. "I'm someone who gets, I can get pretty down on myself, I can get pretty negative. I think that's really the only thing that's stopped me from playing well, because I know my ball striking is there and I know the putting is there."
Popov turned in a 67 on Thursday, a 68 on Friday and a 67 on Saturday to stand in sixth place with 18 holes left. She is 14-under and four back of the leaders.
Popov said she has been working with friend Jamie Schram on her mental game.
In 16 career starts on the LPGA, the 25-year-old has made just shy of $32,000. She has a major opportunity for a career-altering result on Sunday.
"I have hardly ever been in this position, so I'm just going to try to have fun," said Popov about Sunday jitters. "My caddie, Ryan, he's kind of kept me in a good mood the whole time, and I think we're going to try to do the same thing tomorrow."
Popov has a chance to get fully exempt status on the LPGA with a strong finish.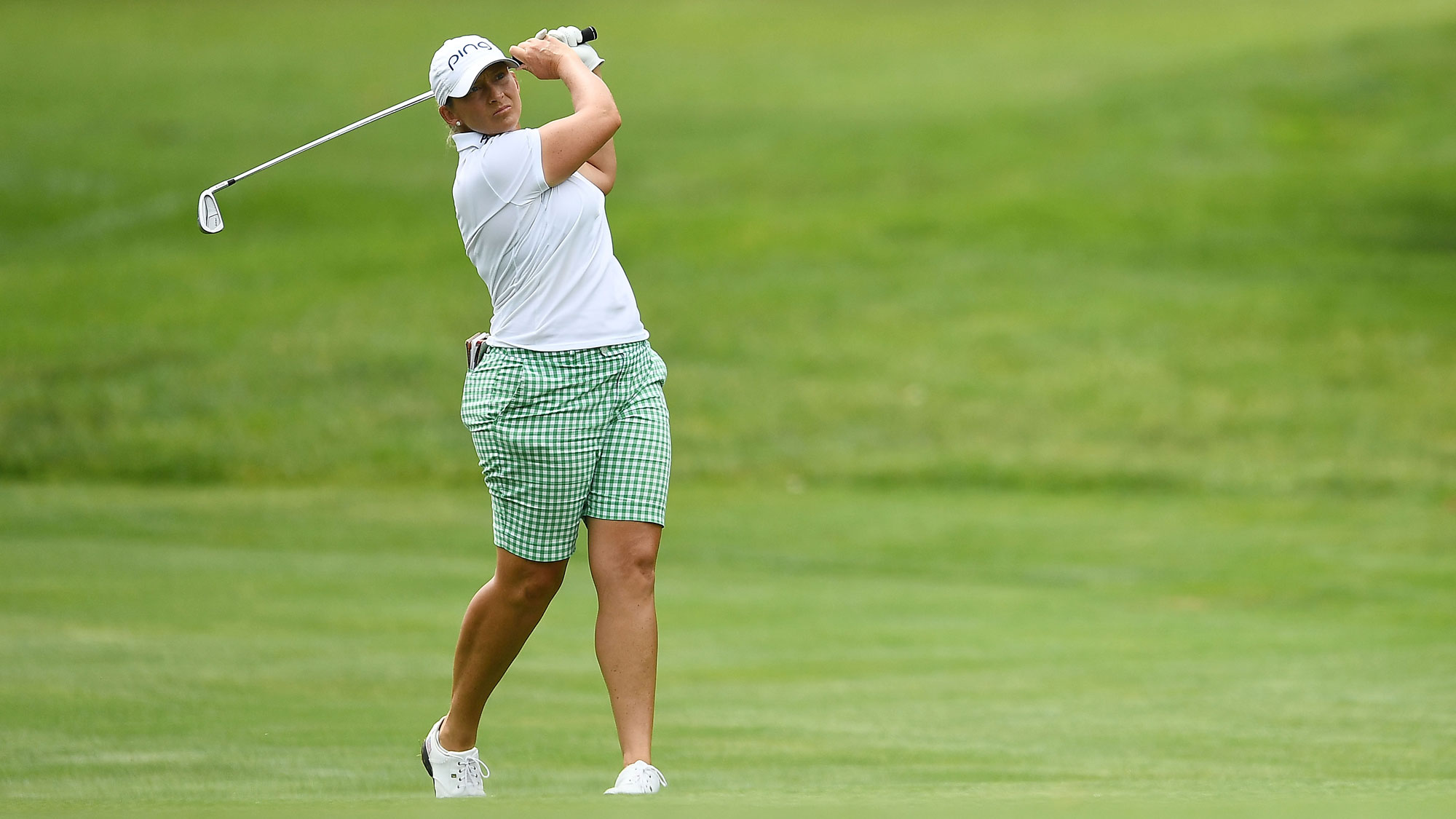 Veteran Stanford in Mix for First Win Since 2012
Angela Stanford turned 40 years old this season, but has talked on several occasions about feeling like she has a lot more to give and accomplish. The Meijer LPGA Classic is another example of what is still left in the tank for the five-time LPGA winner, who has collected 92 career top 10s and over $10 million in career earnings.
Stanford drilled a 12-footer for birdie on 18 to post a 6-under, 66 and she stands three back at 15-under. Stanford has improved each day at the Meijer LPGA Classic. She posted a 68 on Thursday, a 67 on Friday and a 66 on Sunday.
Stanford went 45 consecutive holes without a bogey until the 10th in round three.
"They say absence makes the heart grow fond, I stopped coming here for a couple years, because I couldn't figure out the golf course," explained Stanford. Then to have, I think it was like 45 holes without a bogey. I don't think I have ever done that in my career. So, I have no idea. I'm putting pretty well."
Tuesday of U.S. Women's Open when it was pouring in Shoal Creek, Alabama and practice facilities were unavailable, she got in the car with her coach, Todd Kolb, and drove to Oxford, Mississippi to practice.
"Just for my own sanity, I needed to get away," said Stanford. "And we got in a great day of work."
Stanford finished T10 at the Open and that has kickstarted more positive results.
Trending on Social