SPILKOVÁ ON TOP THROUGH SECOND ROUND OF Q-SERIES
It was another cold day at Pinehurst No. 6 on Thursday, but Czech Republic player Klara Spilková (-8) was on fire with a bogey-free, 6-under par 66 to jump out in front of the 102-player field at the inaugural LPGA Q-Series presented by Blue Cross and Blue Shield of North Carolina. Meanwhile, Canadian amateur Jaclyn Lee (-6) has just one bogey through 36 holes and is two strokes back from Spilková.
With 11 amateurs in the Q-Series field, it is the Ohio State University senior leading the pack as she is in second through two rounds. "I'm off to a good start," Lee said. "It doesn't mean a whole right now, but I'm happy that I've put myself in a good position for the tournament…it's great to be out here playing great golf."
A lot is on the line these next two weeks as players will compete in a total of eight rounds over two, four-day tournaments with the top-45 finishers and ties receiving LPGA membership in Category 14 on the LPGA Priority List and remaining competitors earning Epson Tour status.
LPGA and Epson Tour veteran Jackie Stoelting (-5) was feeling good in round two with a 5-under par 67. "It was just one of those days," Stoelting said. "It felt easy, I was having good targets, having good numbers. The greens are quick, but they're really true so as long as I start on the line it seemed like the putts went in."
SPILKOVÁ READY FOR NEXT STEP
While she is only 23 years old, Klara Spilková (1, -8) is already a veteran on the Ladies European Tour. As a highly touted teen in the Czech Republic, Spilkova joined the LET as a 16-year-old and has been a mainstay ever since.
Spilková had a breakout year in 2017 when she became the first Czech winner on the LET with a victory at the Lalla Meryem Cup, where she beat out major champion Suzann Pettersen. While she has experienced success on the LET, Spilková is battling through eight rounds at Pinehurst Resort in hopes of making it on the LPGA Tour.
"It's an amazing tour," Spilková said of the Ladies European Tour. "I really liked my time over there, but I think I just need to move on a little bit. I think I'm ready for it, hopefully. We'll see."
Spilková, who has 16 career starts on the LPGA, came close to getting her LPGA card in 2017 when she made it to the Final Stage of the LPGA Qualifying Tournament. She ultimately missed out with a T72 finish, but is in a much better position this year at the top of the Q-Series leaderboard following 36 holes.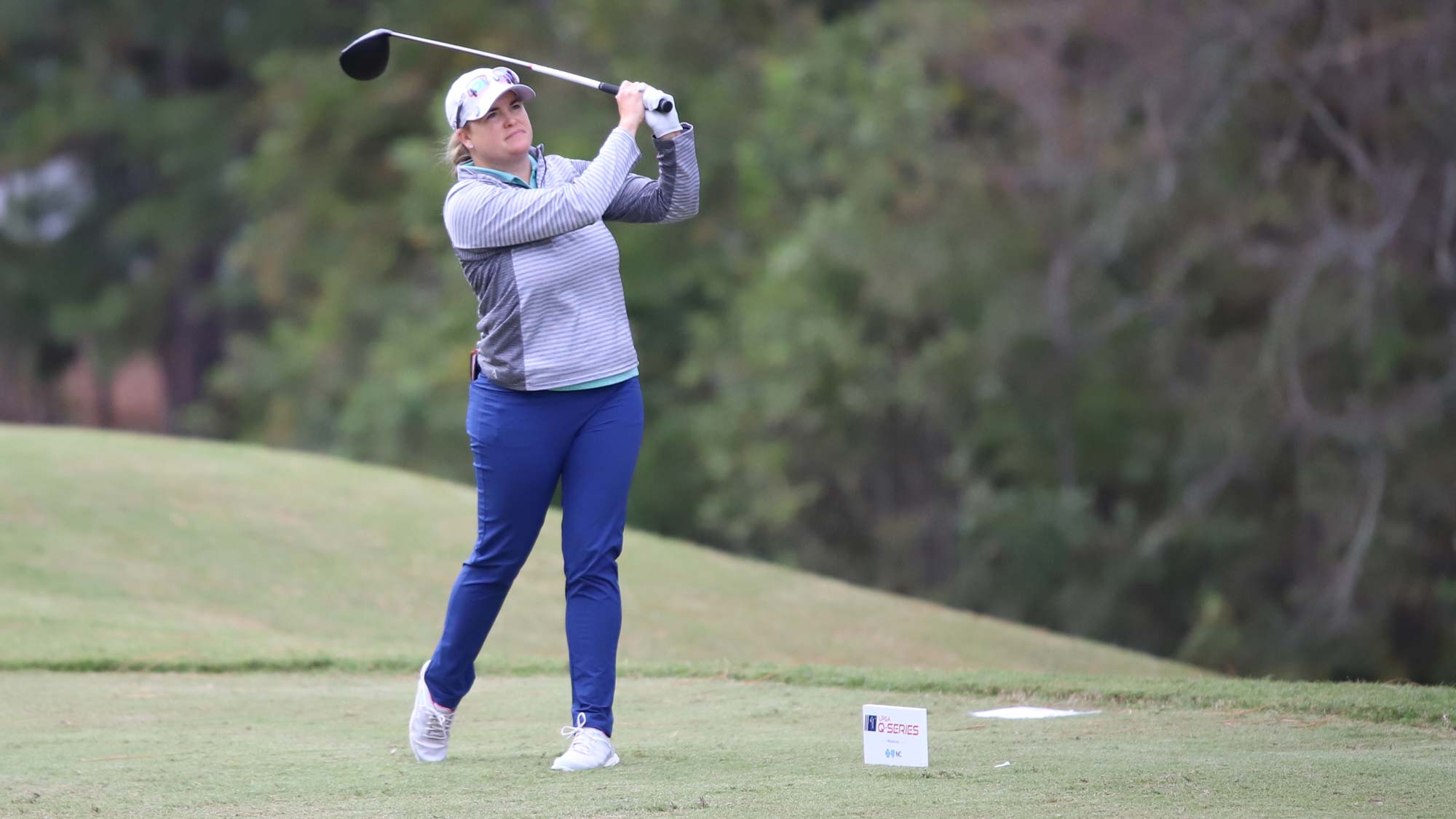 NO CUT, NO PRESSURE FOR STOELTING
It's a mental game this week for 2015 LPGA rookie Jackie Stoelting (3, -5) as she looks to secure her LPGA status for the 2019 season. While playing on the LPGA in 2018, Stoelting made seven cuts in 18 starts with a top-10 finish at the Volunteers of America LPGA Texas Classic. She says that her game is better than her record showed this season, and on Thursday she said the lack of a cut at Q-Series will help alleviate some pressure for her.
"I know my game has been there all year," Stoelting said. "I missed six or seven cuts by one. It's kind of nice going into these two weeks thinking that I'm already making the cut, since there isn't one, that little mindset helps me to relax and just play my own game. It's obviously working, so I'll take it."
Stoelting was on fire Thursday at Pinehurst No. 6 with a 5-under par 67 and is in a good position—just three shots off the current leader Spilková—with six rounds to go.
PLAYER NOTES
Klara Spilková (1, -8)
Spilková, 23, is from Prague, Czech Republic and has played on the LET since 2011
When Spilková earned LET membership as a 16-year old, she was the youngest member in history
As an amateur, she was named the Czech Republic's Golfer of the Year in 2009 and 2010. Then, as a permanent member of the Czech National Golf Team, she won both the International Championship of Austria and the Junior Championship of Germany in 2010.
In 2017, Spilková became the first Czech winner on the LET with a win at the Lalla Meryem Cup; there has never been a Czech winner on the LPGA
Spilková represented the Czech Republic at the 2016 Rio Olympics, finishing T48
She has made 16 career starts on the LPGA Tour with a career-best T50 finish at the 2018 Ricoh Women's British Open
In 2018, Spilková is ranked seventh on the LET Order of Merit with a season-best runner-up finish at the Lalla Meryem Cup
Spilková made her first career start on the Epson Tour this season at the Valley Forge Invitational with a T34 finish
Jaclyn Lee (2, -6)
Lee, 21, is from Calgary, Canada and is a senior at Ohio State majoring in finance
Lee is one of 11 amateurs in the LPGA Q-Series field
In 2018, Lee was named a WGCA Second Team All-American and represented the Buckeyes as a First-Team All-Big Ten selection
As a junior, Lee collected three wins in collegiate competition and has already notched one win this season at the East & West Match Play Challenge in September
Lee has made four career starts on the LPGA, including a T35 finish at the 2018 Meijer LPGA Classic where she was a sponsor's invite
Lee is a member of the Canadian National Team
Jackie Stoelting (3, -5)
Stoelting, 32, is from Vero Beach, Fla.
Finished third on the 2014 Epson Tour money list to earn LPGA Tour status for the first time in 2015
Stoelting made seven cuts in 18 starts on the LPGA in 2018, recorded her first career top-10 finish with a T8 showing at the Volunteers of America LPGA Texas Classic, which was shortened to 36 holes
Has four career Epson Tour wins and 28 career top-10 finishes, including a T6 finish at the 2018 Murphy USA El Dorado Shootout in September
Won the Golf Channel reality series Big Break Florida in 2014
Jeongeun Lee6 (4, -4)
Lee, 22, is from Yongin, Republic of Korea and has played on the KLPGA since 2015
Lee is ranked No. 19 in the Rolex Rankings, the highest ranked player in the Q-Series field
Lee has seven career victories on the KLPGA, including two wins in 2018 and is currently ranked No. 1 on the season money list
She has six career starts on the LPGA Tour with two top-10 finishes, both coming in majors: T6 at the 2018 Evian Championship and T5 at the 2017 U.S. Women's Open
She's the sixth player on the KLPGA with the name Jeongeun Lee, hence the number 6 in her name
Her fan club in Korea is called 'Lucky 6'
Anne Van Dam (5, -2)
Van Dam, 23, is from Arnhem, Netherlands and has played on the LET since 2015
She is a two-time winner on the LET, with seven career top-10 finishes and is currently third on the 2018 Order of Merit
Van Dam has made 10 career starts on the LPGA, with a career-best T17 finish at the Aberdeen Standard Investments Ladies Scottish Open
Van Dam made nine starts on the Epson Tour in 2018 with two top-10 finishes
Anne-Catherine Tanguay (6, -1)
Tanguay, 27, is from Quebec City, Canada
Made cut in 18-of-20 starts on the Epson Tour in 2017 with a win at the Garden City Charity Classic to finish eighth on the Epson Tour Money List and earn LPGA membership for the 2018 season
In 2018 on the LPGA, made seven cuts in 17 starts with a season-best T16 finish at the Cambia Portland Classic in September
Played two events on the Epson Tour in September and collected two top-20 finishes (T17 at the Murphy USA El Dorado Shootout; T5 at the Guardian Championship)
Finished T36 in the Final Stage of the 2015 LPGA Qualifying Tournament to first earn LPGA card in 2016
A two-time All-Big 12 and honorable mention All-American performer at the University of Oklahoma
NOTABLE QUOTES
Klara Spilková (1, -8), on her bogey-free 6-under par round:
"It was pretty good. I was pretty happy. I wasn't that happy this morning on the range, it was freezing cold, so maybe that's why, but then when I was on the course I said just whatever happens, happens. Bogey-free is always good, I made a few good putts, had a few good up and downs which helps. It was nice…I just tried to make the putts and I just kept it going. It was kind of easy, which is always really good when things feel easy on a golf course, because it's not that often. Pretty happy."
Jaclyn Lee (2, -6) on Pinehurst No. 6:
"I like this golf course, it's a bit of a placement golf course off the tee sometimes. I just think that it warrants good shots, kind of like No. 2, I just like those kinds of golf courses."
Jackie Stoelting (3, -5) on her gameplan for the two-week tournament:
"We still have over 100 holes left. I'm really just taking it one shot at a time. I have a great caddie [Jackie Schram] this week, it's the first week working together, but were having a lot of fun. We're literally just taking it one shot at a time. Obviously, the more birdies you can make the better coming into next week but if I can keep playing like I am then I'll be good."
Anne-Catherine Tanguay (6, -1) on how playing a few Epson Tour events helped prepare her:
"I think it helped me to test my game and see where it's at. That's pretty much why I played those events, to see what I had to work on. It was good because I had about four weeks to work on my game afterwards. It was really good to be home and I feel pretty good, pretty ready and feel good about my game too. The biggest thing is to stay patient."
Xiyu Lin (T7, E) on rebounding with a 1-under par round:
"I can't handle the cold really well, so I thought yesterday would be a better chance for me to go lower and then today just take it easy and not be that aggressive. But yesterday I had some silly mistakes, so it wasn't a really good result. Today I tried my best to keep myself warm and keep my swing rhythm and I think I did really good."
Lin on the new Q-Series format:
"Eight rounds of golf, I know its long but its easier for me because you can have a round that's not that good but you can still cover it up. All you need to do is be consistent, you don't' have to have a really, really low round to get through it. I like this format."
QUICK HITS
Six of the 11 amateurs— Jaclyn Lee (Ohio State), Kristen Gillman (Alabama), Maria Fassi (Arkansas), Jennifer Kupcho (Wake Forest), Lauren Stephenson (Alabama) and Dewi Weber (Miami)— are inside the top-45 following the second round.
Only six players are under par through two rounds, compared to nine players after the first round.
Of the players inside the top-45, 22 would be rookies on the LPGA.
14 different countries are represented by players inside the top-17.