YUAN LEADS AFTER FIRST ROUND IN SOUTHERN CALIFORNIA
RANCHO MIRAGE, Calif. — If there was nerves then Celina Yuan (Sydney, Australia) didn't show it in the first round at Stage I of the LPGA Qualifying Tournament, firing a bogey-free, 8-under par 64 on the Shadow Ridge Golf Club course to set the pace for the 340-player field.
"I sunk a lot of long putts and every long putt that I sunk I was just like, 'Wow, how did that happen,' so I guess that worked very well for me," said Yuan, a rookie on the Epson Tour this year. "I didn't hit too many shots out wide which was also good."
The lowest score recorded by Yuan so far this season came on May 24 in the first round of the Valley Forge Invitational when she went 2-under par. Other than that, the 19-year-old has not shot anything better than even par across 12 starts.
Yuan credits the simple addition of a familiar face as providing a boost to her game.
"It helps that my dad [Shu] is finally here, so he is caddying and I'm more comfortable," Yuan said. "Even though it's Q-School and everyone gets nervous, but with a family member you are more comfortable. I just try not to think too much about anything that has happened in the past and work on the next day."
Meanwhile, a group of six players sit three shots back of the lead at 5-under par. They include Kellie Edelblut (New Hope, Pennsylvania), Ingrid Gutierrez Nunez (Cuautla, Mexico), Brenda Gonzalez (Torreon, Mexico) and Megan Thothong (Dallas, Texas), as well as amateurs Suzuka Yamaguchi (Sagamihara, Japan) and Georgia Lacey (San Diego, California).
Here for a third time, starting off strong on the Arnold Palmer Signature Course is something that William & Mary alumna Edelblut knew she had in her.
"This year I feel more comfortable than ever, so I didn't have nerves like the past, just normal first tee anxiousness," said Edelblut, who last played on the Epson Tour in 2017. "I'm more prepared than ever before with sharper skills, and today was a great example of the hard work coming together, applying good self-management then letting my athleticism take over."
Continuing down the leaderboard, a pack of five individuals carded rounds of 4-under par. A pair of amateurs in Minori Nagano (Tokyo, Japan) and Yujeong Son (Busan, Republic of Korea) head into day two trailing Yuan by four strokes, and are joined by Marissa Chow (Honolulu, Hawaii), Taylor Totland (Tinton Falls, N.J.) and Karen Kim (Garden Grove, California).
For Totland, it was one tweak in her recent preparations that really made a difference today on the Dinah Shore Tournament Course.
"I had a putting lesson a few weeks ago with [professional instructor] Michael Breed and he told me things about my putting that made a lot of sense," said Totland, who has a season-best tied for 41st finish at Florida's Natural Charity Classic in 12 starts on the Epson Tour. "It was like a light bulb went off. This year, I have been struggling a lot with putting, but having 24 putts today was a much needed confidence boost."
A total of 83 players conclude round one at even par or better, while 154 competitors are at 2-over par or better.
Second round action picks up tomorrow at 7:15 a.m. PDT with players venturing onto a new course according to the rotation of Dinah Shore-Arnold Palmer-Shadow Ridge.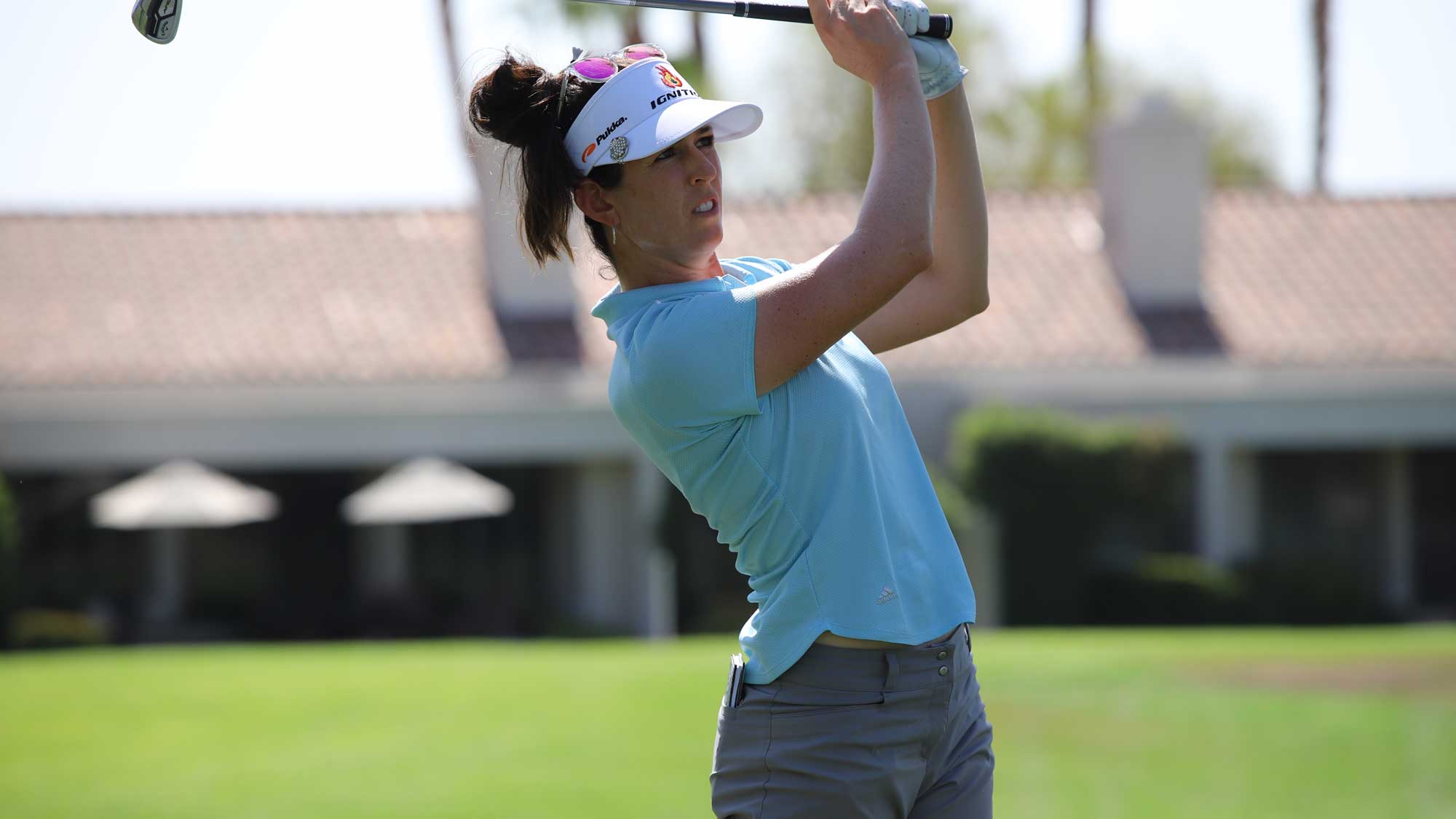 JANDEL RETURNS TO AREA OF ENGAGEMENT
The greater Southern California area is one that Emma Jandel (Dayton, Ohio) has fond memories of and although a first round 3-over par 75 on the Dinah Shore Tournament Course may leave her wanting more, many would consider she already has it all.
Last November, Jandel ventured West to the Golden State on a family trip organized by cousin Alex Garret to celebrate his wife Blair's birthday. The Ohio State University alumna was accompanied by boyfriend at the time Patrick Miller, as well as her brother Sam and his girlfriend Jenna Harrison.
On the 11th of the month when the group went to The Parker Palm Springs for the evening, the adventure turned extra special.
"All of the sudden Alex got up for drinks and his wife follows, then Jenny gets up and my brother is just sitting there like, 'Um, I have to get drinks too,' and I was just thinking everyone is being so weird right now," Jandel said laughingly. "Pat is getting really quiet and I was like, 'What is your deal, what is going on?' I was like, 'Do you have something to say?' And he was like, 'Well actually, I do.' He got down on one knee and proposed while the peanut gallery is inside watching the whole thing. They came out with champagne, yelling and taking pictures so it was great."
Back at Stage I of the LPGA Qualifying Tournament for the first time since 2010 when she was still in college, Jandel hopes to capture the spark of good vibes and take the Arnold Palmer Signature Course by storm tomorrow.
"I didn't really know that I was going to be at Stage I until a couple weeks ago," said Jandel, who has a Epson Tour season-best tied for 18th finish at the Fuccillo Kia Classic of NY. "I had better intentions on how I played obviously, but it's just one of those things that you have to be prepared and work your butt off so you're ready for anything."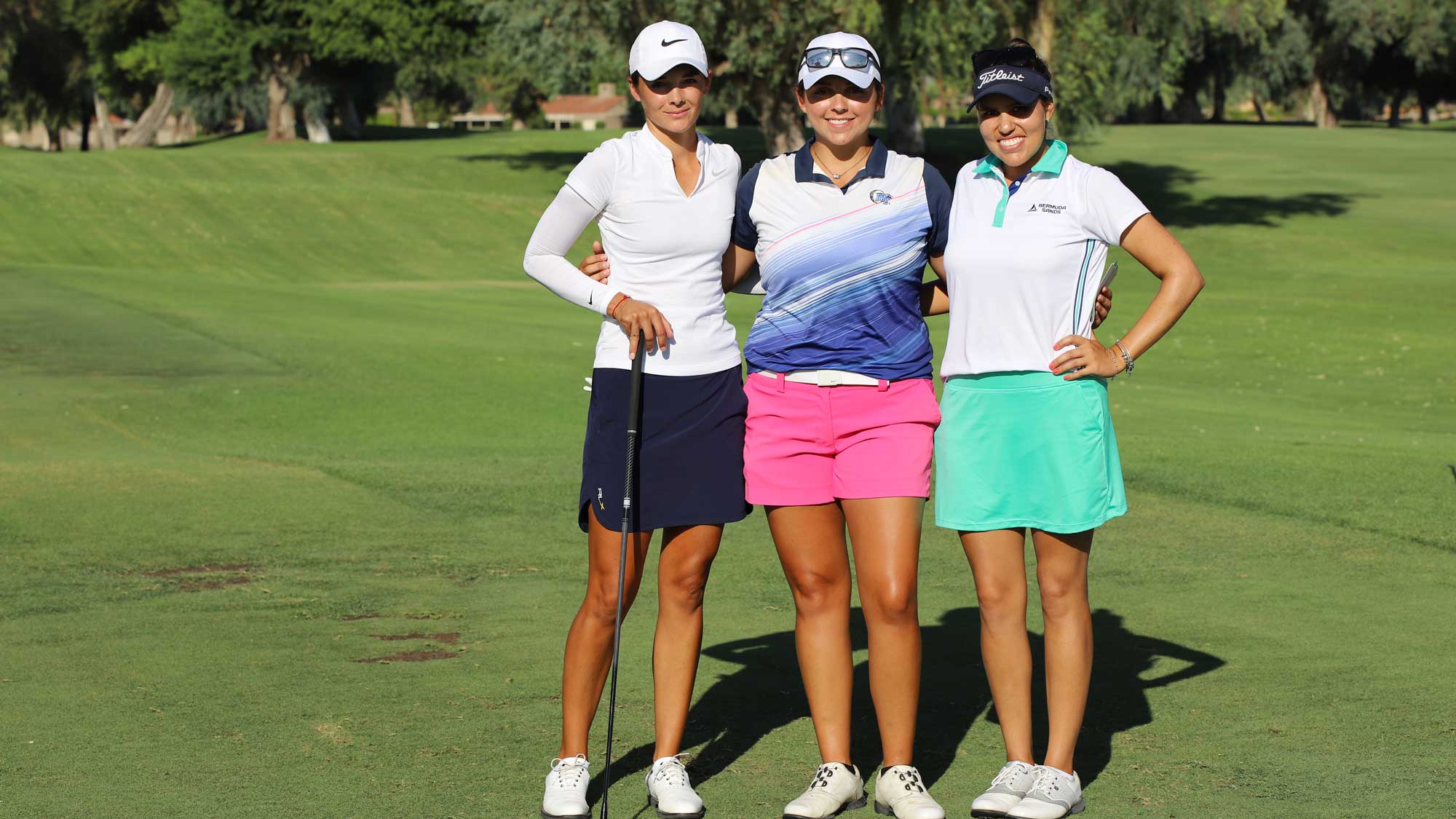 THREE EPSON TOUR PROS GROUPED TOGETHER IN ROUND ONE
Of the 114 groups in the first round at Stage I of the LPGA Qualifying Tournament, one featured three Epson Tour professionals.
Kate Machado (Scottsdale, Arizona), Alejandra Cangrejo (Bogota, Colombia) and Avery George (Perry, Georgia) comprised group 17 that headed off No. 1 tee of the Dinah Shore Tournament Course at 8:35 a.m. PDT this morning.
"It was really cool when I saw the pairings," said Cangrejo, who had the best round of the three at 1-under par. "I'm closer to Avery than Kate, who I knew but actually just met today, so it was awesome to play with people you know and are friends."
Meanwhile, both George and Machado went 3-over par on the day.
"I was hitting it 20 yards farther today for some reason, so I think I had some adrenaline," George said with a smile. "It was kind of hard to adjust to that part, but to get paired with someone you know, I liked it."
While they may be in a setting not all familiar to them, the camaraderie helped take some of the pressure off. Cangrejo said it was more lighthearted thanks to some good conversation and Machado supported that notion.
"It was just like a Epson event," said Machado. "It was nice to see the familiar faces and eases the stress of the week a little bit. This is the toughest of the three courses, so as long as you can keep it together, you can go low on the other two."
CELINA YUAN OPENING ROUND INTERVIEW