EVIAN-LES-BAINS – Heavy rain and sleet poured down on Anna Nordqvist as she stood in the 18th fairway at Evian Resort Golf Club.
Let it rain. There was no way she was giving up.
"That never even crossed my mind," Nordqvist said.
That no-quit attitude is one that the Swede has relied upon during her years on Tour and helped her through one of the most challenging seasons of her career in 2017.
Last year, Nordqvist ended an almost decade long wait for her second major title when she won the Evian Championship in September. That win came in the midst of a year-long battle with mono, the effects of which Nordqvist continued to feel well into this year. In 2017, she also parted ways with her longtime swing coach to work with Cameron McCormick, only to split with the renowned instructor and return to her old swing.
But what all those challenges taught her was that she didn't need to seek answers from others. She needed to trust her own instincts and get back to the attitude that earned her eight victories and two major titles.
"I've always been a player that never gave up and always kept fighting," Nordqvist said.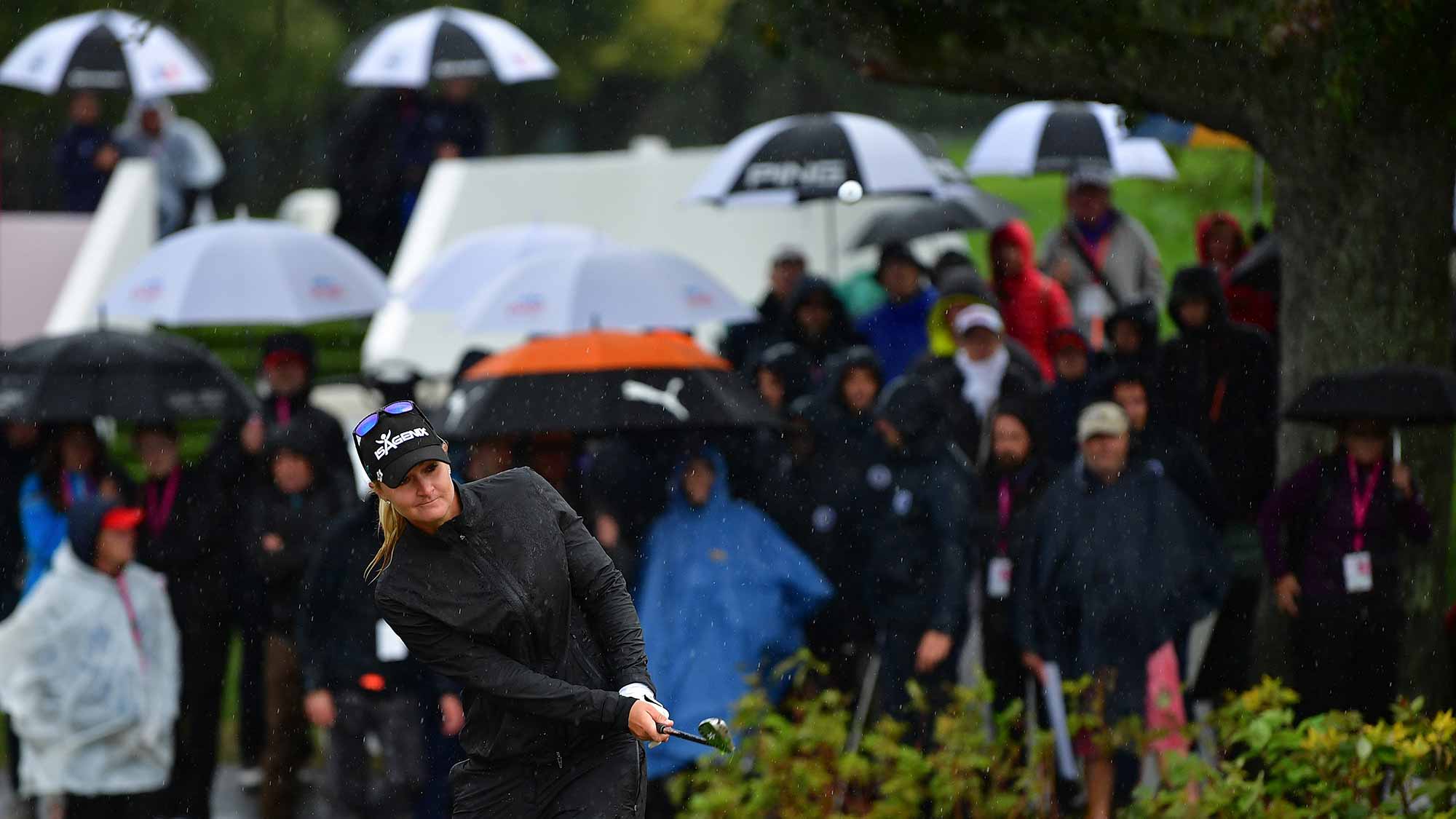 The Swede didn't have her rain gear on Sunday at the Evian Championship. She was already soaking wet before she even returned to the par 4, 18th hole for a playoff with Brittany Altomare. The pair finished regulation tied at 9-under par, and Nordqvist, who began the day five-strokes back of the lead, sat around in her waterlogged clothes for nearly 45 minutes before the playoff began. The driving range, a short drive from the club, was too far for Nordqvist to warm up. Instead, she took shelter inside the clubhouse where she watched and waited to find out whether she'd be heading back out in to the rain.
"I was inside trying to stay warm," said Nordqvist.
The frigid final round capped off a week that was plagued by rain, wind and unseasonably cold temperatures. The first round was scrapped mid-way through day one after conditions made it impossible for the remainder of the field to face the same test players encountered during the morning wave. The season's fifth major was reduced to 54 holes.
Sunday, tee times were moved up to avoid the storms forecasted for the afternoon. But when the championship was forced to extra holes, the inclement weather that rules officials tried to avoid became part of the final round drama.
Wearing the same rain soaked clothes, Nordqvist returned to the formidable 442 yard, par 4, 18th hole for the playoff. It was pouring.
"With the weather being a little bit cold and the tee all the way back for Sunday, I don't think there were many girls that could actually reach it in two," said Nordqvist. "It was playing really tough."
Both Nordqvist and Altomare remained short of the green in two. Standing over their third shots, the clouds grew even darker as the heavens opened up and hail rained down on Evian.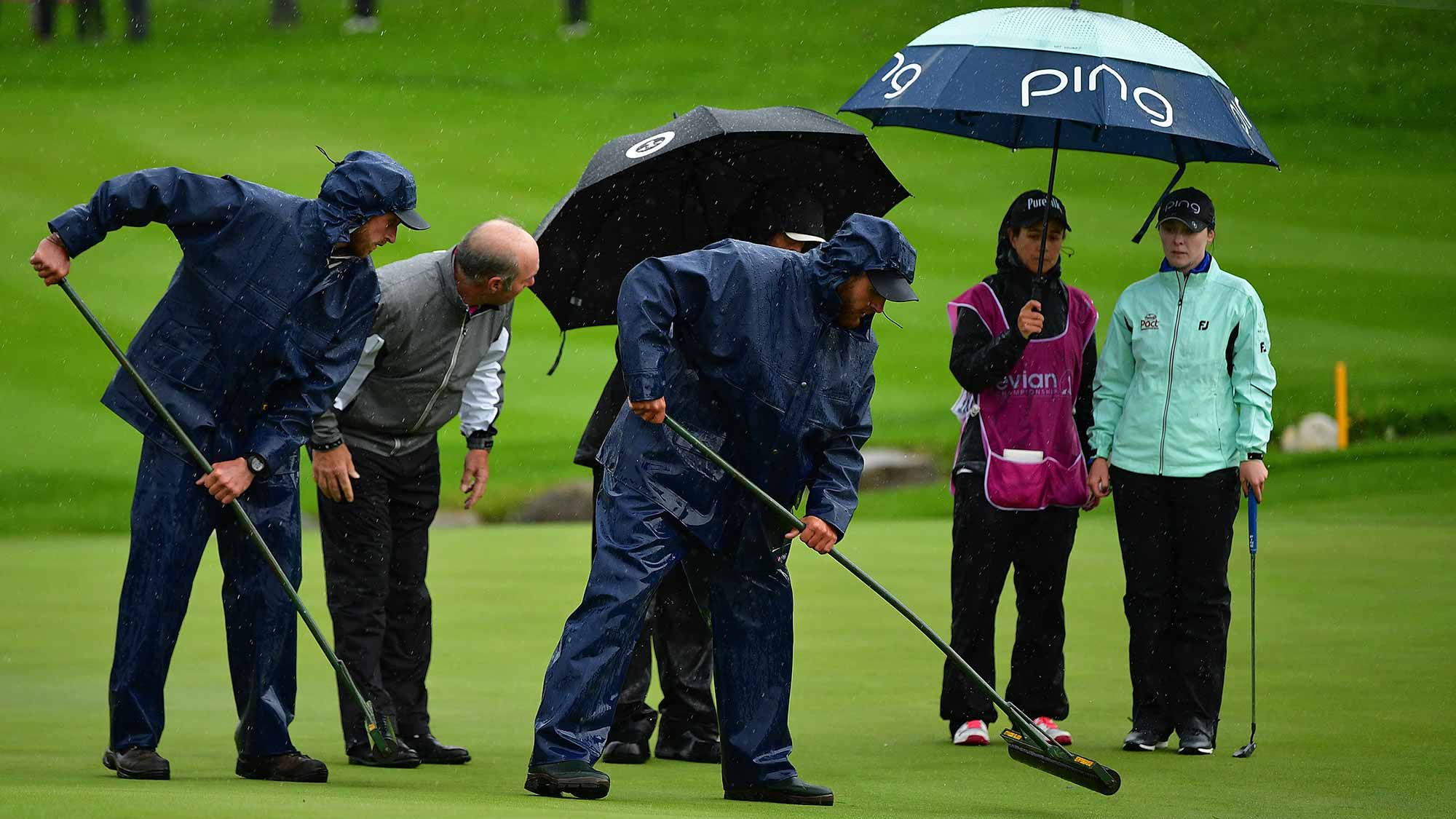 "I don't know how either one of us would have handled another playoff hole in those conditions and with everything being wet," Nordqvist said. "I've played in a lot of conditions, but that was probably about as bad as it can get."

Another hole wasn't needed. When Altomare putted her fifth shot well past the hole, she left the door open for Nordqvist, who nestled her chip shot close to the hole. She defeated Altomare with a bogey for her second major title.

"To win a major championship with a bogey is maybe not what you think, but under those conditions, that probably was one of the better bogeys I've had in my life," Nordqvist said.

It's been 12 months since her last win on Tour at the Evian Championship. The year has been admittedly disappointing for Nordqvist, who won during each of the last four seasons, but has yet to hoist a trophy in 2018. She points largely to the changes she made to her swing over the last year as the reason for her struggles this season.

After three and a half years with instructor Jorge Parada, Nordqvist began working with Cameron McCormick in July 2017, the same month she was diagnosed with mono. The changes they made to her swing resulted in an unpredictable ball flight, which had her missing shots to both the left and right.

"I found myself in difference places on the golf course, just not really sure where the ball was going."

Despite a genuine affection for McCormick and his method of teaching, Nordqvist wasn't seeing the results she wanted. In May, after missing the cut at the U.S. Women's Open, she knew it was time to make a change.

"I told myself I needed to trust myself a little bit more and go back to the things that I feel like worked in my swing."

That trust paid off.

Since going solo, Nordqvist has four top 10s. She returned to a compact swing with a more athletic posture over the ball. She employs one of the tried and true drills of sticking a towel under arm while working on the range to get her body, not just her hands, moving through the ball. She hopes the changes will result in finding more fairways, greens and better positions off the tee.

"There's nothing bad I feel like I need to keep chasing," Nordqvist explained. "I feel like I recognize myself again a little bit more in my ball striking and the way I play the game."

And the way Nordqvist plays the game is with attitude. It's one that has kept her fighting, no matter what her health, her game or Mother Nature throws at her. And as she's met each challenge, she's learned she has what it takes to find success on her own.

"It's been a little bit of a learning lesson this year and a bit of process," Nordqvist said. "I feel like it's coming along, and hopefully the results will follow."

No matter how long it takes to see results, she won't give up. That's an idea that's never crossed Anna Nordqvist's mind.