QUOTABLE
Anna Nordqvist, Sweden (198, -18), on the key to her 64:
"I think I hit most of the greens today. Had real good lines and the speed. Made a few longer ones today, which obviously helps. Hit a 3 wood to just a few inches on the long par 3, the fourth hole, to tap in, which probably was a really good birdie to get my round going. But overall, it was solid. I feel like I had a lot of in between numbers, but I feel like I controlled those half shots a little bit better than I have done in the past, so just very happy and finish out with the birdie making."
So Yeon Ryu, Rep. of Korea (200, -16), on the key for Sunday:
"I just knew I just needed to loosen up a little bit. I think I just really wanted to play well. I really want to win the tournament. And that may be extra pressure. But sometime you got to loosen up to play better. So, I think that's the key point."
Angela Stanford, United States (201, -15), on 45 holes in a row without bogey:
"They say absence makes the heart grow fond. I stopped coming here for a couple years, because I couldn't figure out the golf course. And then to have, I think it was like 45 holes without a bogey. I don't think I have ever done that in my career. So, I have no idea. I'm putting pretty well. I think that's probably what's kind of kept things looking good."
Lydia Ko, New Zealand (203, -13), on taking advantage of the par-5 holes:
"I think the par 5's have been huge. And especially now that 16 has become a par 5, I think it makes it really interesting, especially for tomorrow, where there are so many players with similar scores where an eagle and a par, that's a two-shot swing straight away. So, I think it's really cool. I think it will make it really interesting, you know, for this weekend."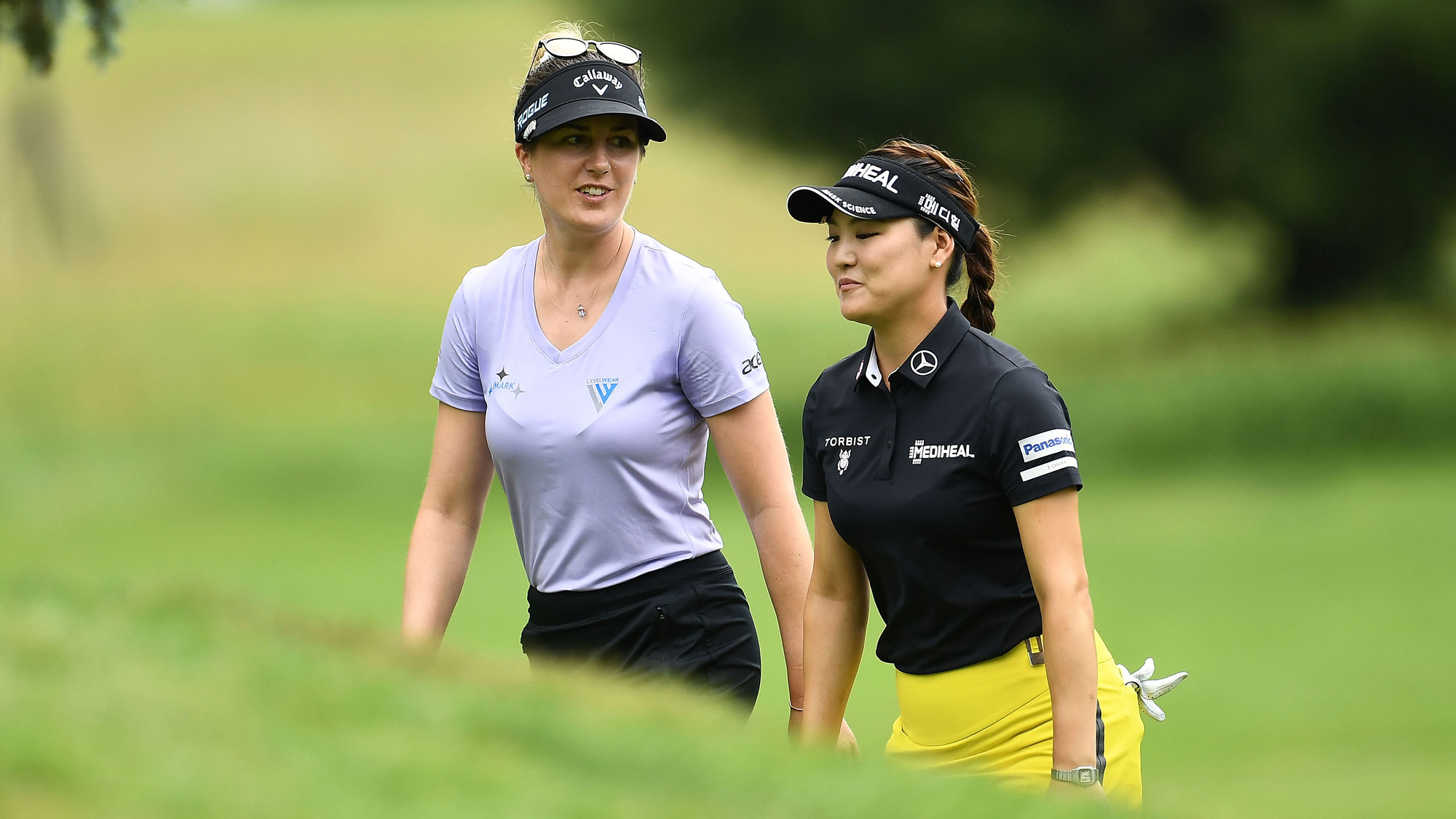 NOTABLE
Rolex Rankings No. 14 Anna Nordqvist has made three prior starts at the Meijer LPGA Classic, with her best-finish of T13 coming in 2016 (she did not play the event in 2017)
Eight-time LPGA winner Nordqvist is searching for her first victory since the 2017 Evian Championship, she's won in each of the last four seasons (2014-17) but has just one top-10 finish in 11 starts in 2018
Nordqvist has held at least a share of the lead heading into the final round five times in her career with three resulting in victories (in 72-hole events)
Rolex Rankings No. 174 Lee-Anne Pace's third-round 64 (-8) ties her lowest career 18-hole score-to-par - she shot a 61 in the third round of last year's Meijer LPGA Classic for Simply Give when the course was reduced to a par 69
In 10 LPGA starts this season, Pace has five made cuts with a season-best T39 at the Kia Classic – her last top-10 finish was T5 at the 2016 Fubon LPGA Taiwan Championship
Pace has held a share of the third-round lead one time in her career at 72-hole events, she went on to finish T4 at the 2014 Marathon Classic
This is the first time Rolex Rankings No. 6 So Yeon Ryu (64-67-69) has put together three straight rounds in the 60s at a tournament since the 2017 Sime Darby LPGA Malaysia
In her two previous starts at the Meijer LPGA Classic, Ryu finished fourth (2015) and sixth (2016)
Ryu's best finish of the 2018 season is a fourth place result at the HUGEL-JTBC LA Open, one of two top-10s on the year
Rolex Rankings No. 46 Caroline Masson is a perfect 13-for-13 in cuts made this season, with two top-10 finishes including season-best T7 finishes at both the LPGA MEDIHEAL Championship and the Kingsmill Championship
After missing four cuts in a row, Rolex Rankings No. 68 Angela Stanford is coming off a T10 finish at the U.S. Women's Open - one of two top-10 finishes in 13 starts in 2018
Rolex Rankings No. 53 Azahara Munoz's third-round score of 65 ties her lowest round of the season, she also shot 65 in the first round of the Kingsmill Championship
Rolex Rankings No. 29 Nasa Hataoka had an ace on No. 14 in the third round from 147 yards using an 8-iron, winning a Kia Sorento in the process
After the third round, defending champion Brooke Henderson is T20 at 9-under par
12 players inside the top 10 represent nine different countries: South Africa, Sweden, Rep. of Korea, USA, Germany, Japan, Spain, New Zealand, Thailand