YUAN MAINTAINS LEAD ON DAY TWO IN THE DESERT
RANCHO MIRAGE, Calif. — After 36 holes at the First Stage of the LPGA Qualifying Tournament, it's Celina Yuan (Sydney, Australia) who holds down the fort atop the leaderboard at 9-under par overall thanks to a steady 1-under performance today on the Dinah Shore Tournament Course.
Yuan also held the 18-hole advantage. It is the first time this year that she has put together back-to-back rounds under par.
"It feels really good, but since this is Q-School, as long as you don't screw up too bad you'll be fine," said Yuan, who entered the day with a three-stroke lead. "I haven't played under par in so long and I forgot what it feels like until this tournament. I'l try to play as comfortably as I can, stay cool with this heat. Also, hit as many greens as I can, two-putt and I'll be happy with that."
Meanwhile, Ji Eun Baik (Cumming, Georgia) closed the gap between Yuan and second place. The former Mississippi State University standout signed a bogey-free, 5-under par 67 scorecard early this afternoon, also on the Dinah Shore Tournament Course.
At 8-under par overall, Baik was tied for the lead when she got into the clubhouse, but now heads into the third round just one shot off the lead.
"It definitely takes a lot of pressure off my shoulders because it is my second time at Q-School," said Baik, who Monday qualified for the Indy Women in Tech Championship last week on the LPGA Tour. "It was a really great experience and I wish I would have made the cut, but then I would have been late for Q-School practice rounds, so I guess it kind of worked out in the end. I'm just trying to soak up every moment and having a lot of fun."
Another individual starting to separate herself a bit from the rest of the pack is Ingrid Gutierrez Nunez (Cuautla, Mexico). Like Yuan and Baik, the University of New Mexico alumna shot in the red on the Dinah Shore Tournament Course.
"I started a little bit nervous like yesterday, but I think it helped," said Gutierrez Nunez, only two shots back at 7-under par overall. "This exceeds my expectations for the tournament so far. I'll just keep playing as I am right now because it has been working, so I'm not going to change."
Furthermore, the rounds of the day belonged to Linda Henriksson (Helsinki, Finland) and Kennedie Montoya (Thatcher, Arizona). Each entered at 4-over par and tied for 199th. They left Shadow Ridge Golf Club at 2-under par overall and tied for 17th, thanks to showings of 6-under.
"This is the tournament that gets me motivated the whole season and all the events before this have been practice for this," Henriksson said. "It really feels good to see that all the practice is paying off. Yesterday I was really nervous and not hitting the ball well. With my coaches, we decided that today I was gong to aim at every single pin and I hit 17 greens."
A total of 60 players conclude round two at even par or better, while 141 competitors are at 4-over par or better. Third round action picks up tomorrow at 7:15 a.m. PDT with players venturing onto the final course of the Dinah Shore-Arnold Palmer-Shadow Ridge rotation.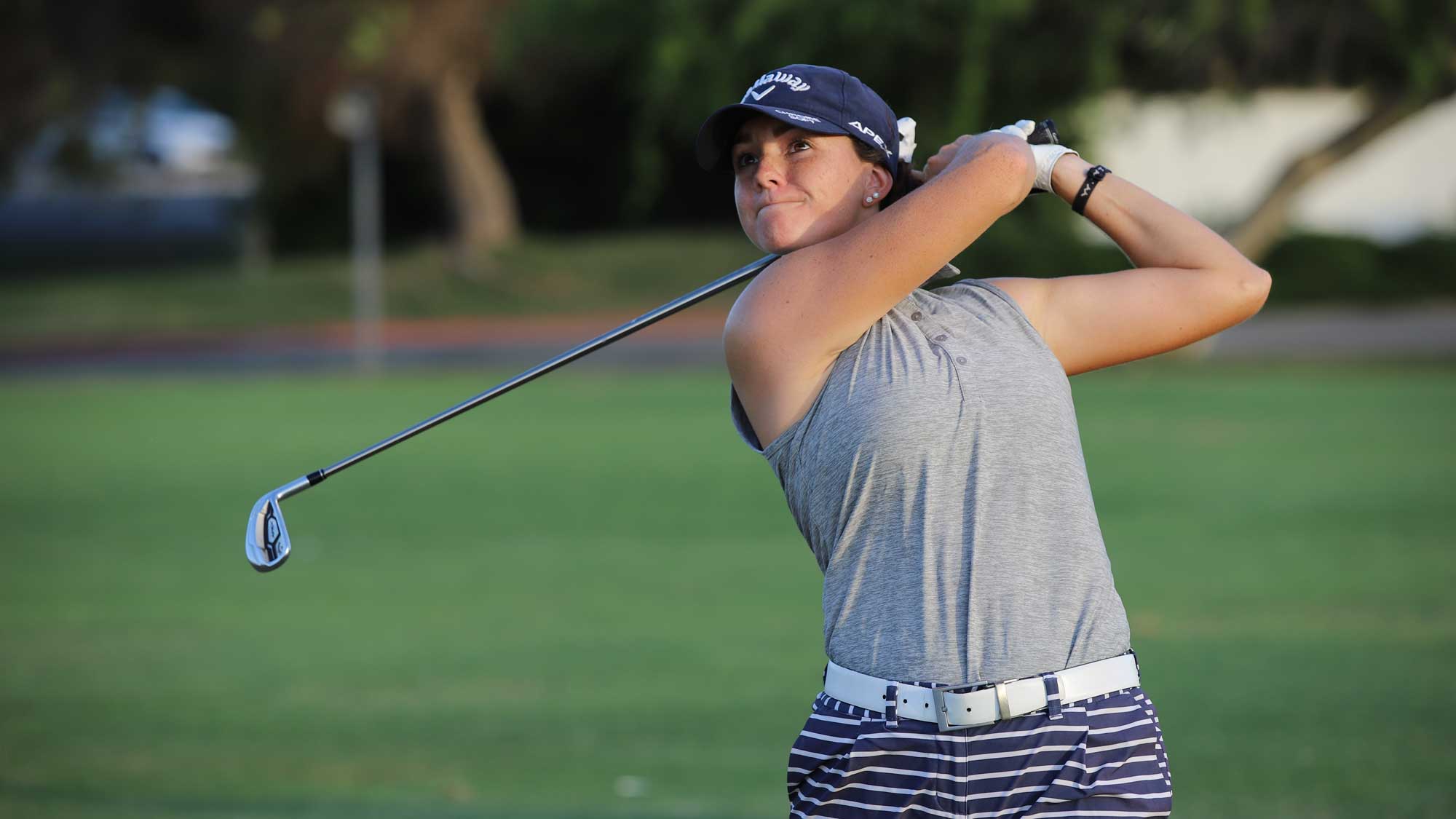 PETTY SAYS I DO
She is going by Kasey Petty (Columbus, Ohio) for the time being on the golf course, but her last name recently changed to Miller on August 11 when she walked down the aisle and said "I do" to now husband Jake Miller.
Competing at the First Stage of the LPGA Qualifying Tournament in Coachella Valley is just the latest event in a string of August highs for Petty, her wedding at the top of the list.
"His mom owns a hair salon that me and my family go to," said Petty, who first started playing golf when she was 14 years old. "She was like, 'My son plays golf, you guys should meet,' and we did. Then we went our separate ways, remained friends and finally started dating when I was a sophomore at the University of Findlay and he was a junior at Marshall University. Dated for about two years, then he proposed after the second round of the U.S. Women's Open in 2016."
As an amateur in the event, Petty missed the cut and carded a second round 11-over par 83. The number left Miller slightly worried.
"I did not play well and he was like, 'I was so nervous you were going to say no,' and even though I was upset, it was all such an amazing experience," Petty said. "It was the U.S. Women's Open and I couldn't be mad with his proposal."
Now married, the couple still has to find time for a honeymoon. The morning after their wedding at The Trout Club in Newark, Ohio, Petty and Miller got in the car and drove to Indianapolis, where Petty competed in the Monday Qualifier for the Indy Women in Tech Championship on the LPGA Tour.
From there, it was out to the desert for Stage I of Q-School, followed by a stop at the Colorado Women's Open next week.
"We are going to go on a real honeymoon in November right after Thanksgiving, flying to the Bahamas," Petty said with a smile. "Life doesn't stop and it's crazy that the wedding has come and gone already after all the time we put into it. Jake is a college golf coach for Tiffin University so his season is just now starting up, but we are both looking forward to November."
After a second round 5-over par, Petty is tied for 169th. She'll look to comeback with a strong effort tomorrow on the Dinah Shore Tournament Course to make the cut.
Those advancing to Stage II shall include a minimum of the lowest 100 scores and ties after 72 holes of Stage I. Those at the next score or scores will also advance to Stage II, provided the total number of players entered into Stage II following the conclusion of The Evian Championship does not exceed 216.
The notification of the additional advancing players will occur following The Evian Championship on September 17, when the field for Stage II is finalized.
CELINA YUAN ROUND TWO INTERVIEW
JI EUN BAIK ROUND TWO INTERVIEW