PNC is proud to partner with the Ladies Professional Golf Association to celebrate family and recognize players for their achievements. The year-long campaigns featuring #PNCCelebrateFamily and #PNCAchiever will also include a series of events bringing female leaders and influencers together with LPGA leadership. PNC and the LPGA share common values that reflect a deep appreciation for family and a continuous pursuit of personal accomplishment.
It's not every day when a young pro on the Symetra Tour can look at her phone and read congratulatory notes from an LPGA Hall of Famer.
And it's not typical for one of the winningest players in the history of women's golf -- with 41 career LPGA wins, seven major championships, earnings in excess of $20 million and distinction as the tour's only Super Career Grand Slam winner -- to devote time and resources nurturing the careers of young professionals from her home country.
But that is exactly what Australia's Karrie Webb has done since 2007, when she established the Karrie Webb Series. That program offers a dozen or more tournaments each year throughout Australia, in which players are awarded points for performance.
The top two performers at season's end each win a $10,000 scholarship for tournament travel costs and the opportunity to fly to the United States on an all-expenses-paid trip to watch Webb compete in a major championship. That major is normally the U.S. Women's Open, but because of scheduling, the 2018 winners spent the week with Webb at this year's KPMG Women's PGA Championship.
"The time, effort, support and mentoring Karrie has given me and other amateur golfers is something money just can't buy," said Australian amateur Becky Kay, who finished second in the 2018 Series and traveled to Chicago this summer to follow Webb.
"The atmosphere of being at a major championship with Karrie is surreal and something that I will never forget," added Kay, who has been a scholarship recipient for the last two years. "Karrie has given me the opportunity to see how the best players in the world compete, train and handle themselves under pressure."
In her second year as a pro, Australian Hannah Green earned 2018 LPGA rookie status after finishing second on the 2017 Symetra Tour's money list with three wins and 12 top-10 finishes. Green honed her skills back home in the Karrie Webb Series and was also a two-time scholarship winner (2015, 2016) before heading stateside to play professionally.
"My first time meeting Karrie was when I went to the 2015 U.S. Women's Open [as a scholarship recipient]," said Green. "It was a real eye-opener for me because I got to see how hard-working everyone is and how good the players are. I would have never known that if it weren't for Karrie."
After each of her three wins last year on the Symetra Tour, Green received texts from Webb offering congratulations.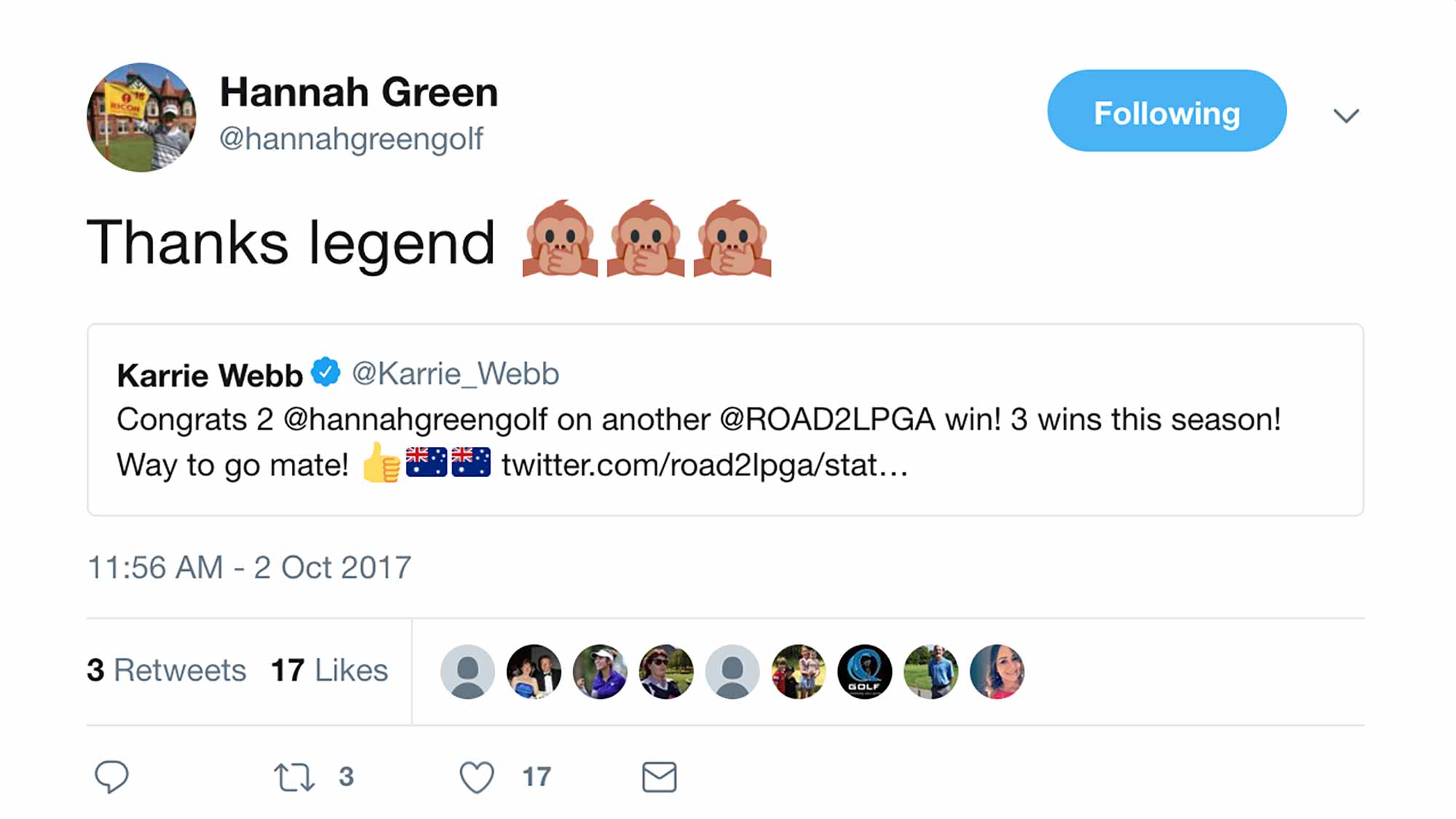 And even when Green competed in the 2015 U.S. Women's Amateur Championship in Portland, Ore., during the same week the LPGA was playing across town at the LPGA's Cambia Portland Classic, Webb made time to offer support. The Hall of Famer drove over to the Women's Am early in the week and watched her young compatriot advance into match play.
"Now that I'm their cheerleader, I understand what my family has gone through for 20-plus years," laughed Webb. "And when I watch live scoring, I find myself refreshing the scoreboard to see what their scores are."
"I feel like a big sister to them," Webb added. "I really care about their success."
Webb got the idea to help young Australian women after having a similar experience as a young player. As a teen, she was mentored by PGA star Greg Norman and was flown to the United States to follow the Australian at one of his tournaments.
"I already knew that I wanted to be a professional golfer, but staying in your idol's house for a week and having open access to him and his family was something I will never forget," Webb said.
"This is my pay-it-forward for that experience I had with Greg Norman," she added. "If there are 20-30 girls I can impact throughout the Series, that's 30 people who can hopefully also pay it forward to the next generation. It's going to help women's golf in general, and Australian women's golf, in particular."
Webb typically leases a house near the golf course during a major championship and has allowed the Series winners to stay in the house with her during tournament week. For the first year of the program, the Series winners stayed in a hotel and came over to her house for dinner each evening, but ever since the inaugural year, the young Aussies have packed their bags to come stay with Webb for the week.
During the week, Webb willingly shows them the ropes, allowing the young players to observe practice sessions, walk with her during practice rounds, watch as she interacts with fans and media, and observe how she focuses when it comes time to compete.
"I have seen firsthand how much she actually does on and off the course throughout a tournament week because I've been able to participate in this incredible experience she gives young golfers," added Kay.
Australian pro Stacey Keating, a former two-time Series winner who later earned LPGA Tour membership, returned to Australia, where she now works at the governing body, Golf Australia. Now, Keating manages negotiations for the Karrie Webb Series and works with the young players who come through the program.
She advises players how to plan tournaments around their school schedules. She also has reported back to Webb that today's young players are designing their season to not only represent their states and their nation, but also to have the best chance of winning the Karrie Webb Series.
"That's where I never expected to see the program go – to the point that winning the Series is the players' goal at the start of the season," said Webb. "That means a lot."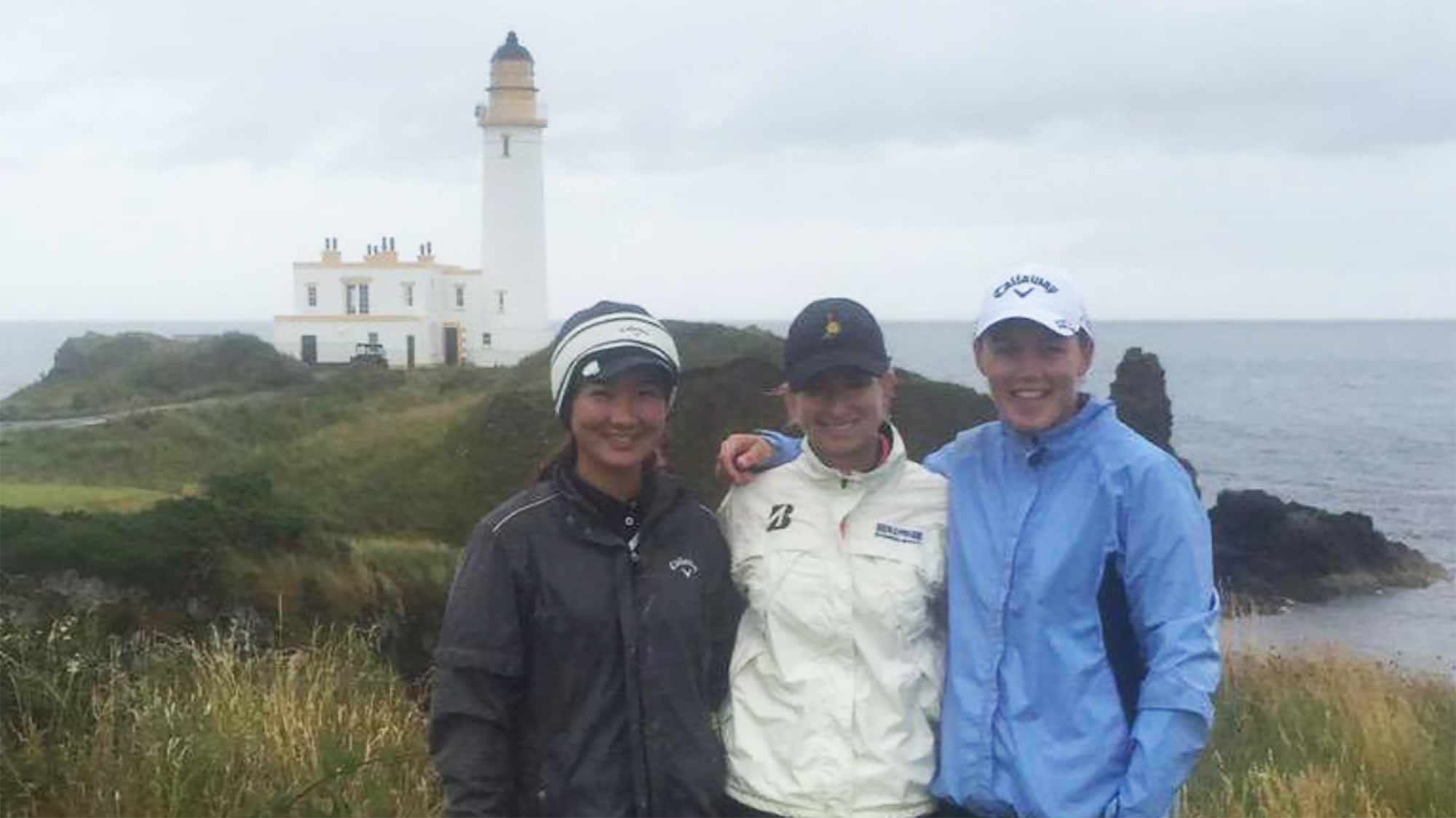 Webb has scaled back her tournament schedule this year and expects to do the same in 2019. Admittedly, at the beginning of her career, she wasn't thinking about how she could help others. That desire came with time.

"I was so self-absorbed in what I was doing, and I never thought of myself as a mentor or being able to help others," she said. "I never realized I had that much to give back, so it's been really rewarding to watch all the girls develop."

Combined with her own shyness and the competitiveness it took to be one of the LPGA's best players for nearly two decades, Webb wasn't always approachable. Even she sensed "the young Aussies were intimidated" by the steely player behind the mirrored-lensed sunglasses.

These days, however, the young Australian players call her "Webbie" and have the legendary pro's number in their phones. Her line is always open to them, which has ultimately benefitted both Webb and her protégés.

"I'm not pushy and I don't give advice without being asked, but they know they can always contact me, if they want," said Webb. "They've become friends and that's what I love. As much as I know I've helped these girls, I feel like they've given a lot back to me and I've thoroughly enjoyed it."