SUWANNAPURA HOLDS FIRST-ROUND LEAD AT BLUE BAY LPGA
The Cinderella season continues for Thailand's Thidapa Suwannapura, who shot a 4-under 68 on Wednesday and holds the first-round lead at the Blue Bay LPGA, the penultimate event in the 2018 LPGA season. Suwannpura, who won her first LPGA title at July's Marathon Classic presented by Owens-Corning and O-I, carded five birdies and one bogey on a windswept Jian Lake Blue Bay Golf Club.
"Everybody has to be patient when you play hard golf," said Suwannapura, who broke her back in 2016 and is finally fully returning to form. "But then with this golf course it's really challenging and it's windy and you have to think where to go, where to miss. It's kind of fun to play in this golf course. We just enjoying playing today."
World No. 1 and Suwannapura's countrywoman Ariya Jutanugarn is one stroke behind at 3-under 69, tied with Canadian veteran Alena Sharp, who is playing for the first time since September's Evian Championship. Six players are tied for fourth at 2-under 70, including three more Thai players in Moriya Jutanugarn, Pannarat Thanapolboonyaras and Benyapa Niphatsophon.
SUWANNAPURA ENJOYING LONG-AWAITED BREAKTHROUGH YEAR
One swing. That's all it took for Thidapa Suwannapura's life to change. On her second practice hole at the 2016 Kingsmill Championship, she felt a painful pop in her back. That pop – a fracture that quickly sent her into surgery.
"I didn't think at all I'll be able to play golf," said Suwannapura, who was sidelined for the next six months. "Without a surgery the doctor say I wouldn't be able to walk within a year. That bad. All my right leg was numb."
The damage necessitated a swing overhaul, adjusting her main movement from her back to her core. Working with physical therapists but no swing coach, Suwannapura adapted her motion to fit her new normal, and she is finally starting to see all the pain and hard work pay off. Her hard-earned win at the 2018 Marathon Classic, coming in her seventh season on Tour, was even more special due to what it took to get there.
"You kind of be like down because you been playing so long. I'm like, Okay, am I good enough?" said Suwannapura, who admitted worrying about keeping her LPGA Tour Card prior to her victory in Ohio. "I have to try to be better somehow. When, where, what to do, so kind of lost. And then, yeah, somehow on those three weeks before I won, I just got up and say, You know what? I'm good enough to be here. I'm just going to play. Then I get better and better. That week my putts were dropping and then I won, so everything is good there."
THAI INVASION IN CHINA
Through the first round of the 2018 Blue Bay LPGA, one flag is dominating the leaderboard. Five of the top nine players hail from Thailand, which has emerged this season as a growing force in the women's game.
"I think we (have played) golf since when we were pretty young, and right now golf in Thailand is growing up a lot," said Ariya Jutanugarn, currently No. 1 in the Rolex Women's World Golf Ranking and the leader of the young Thai movement. "A lot of people start when they were so young. We got a lot of inspiration from a great player."
Jutanugarn pointed to the past LPGA player Virada Nirapathpongporn and current PGA Tour star Kiradech Aphibarnrat as her points of inspiration. Thidapa Suwannapura highlights two other names, both very familiar to today's golf fans.
"We have two top 10 in the world," she said, meaning Ariya Jutanugarn and her sister Moriya Jutanugarn, who of whom have joined Suwannapura as 2018 LPGA Tour winners. "It's getting better every year, I think."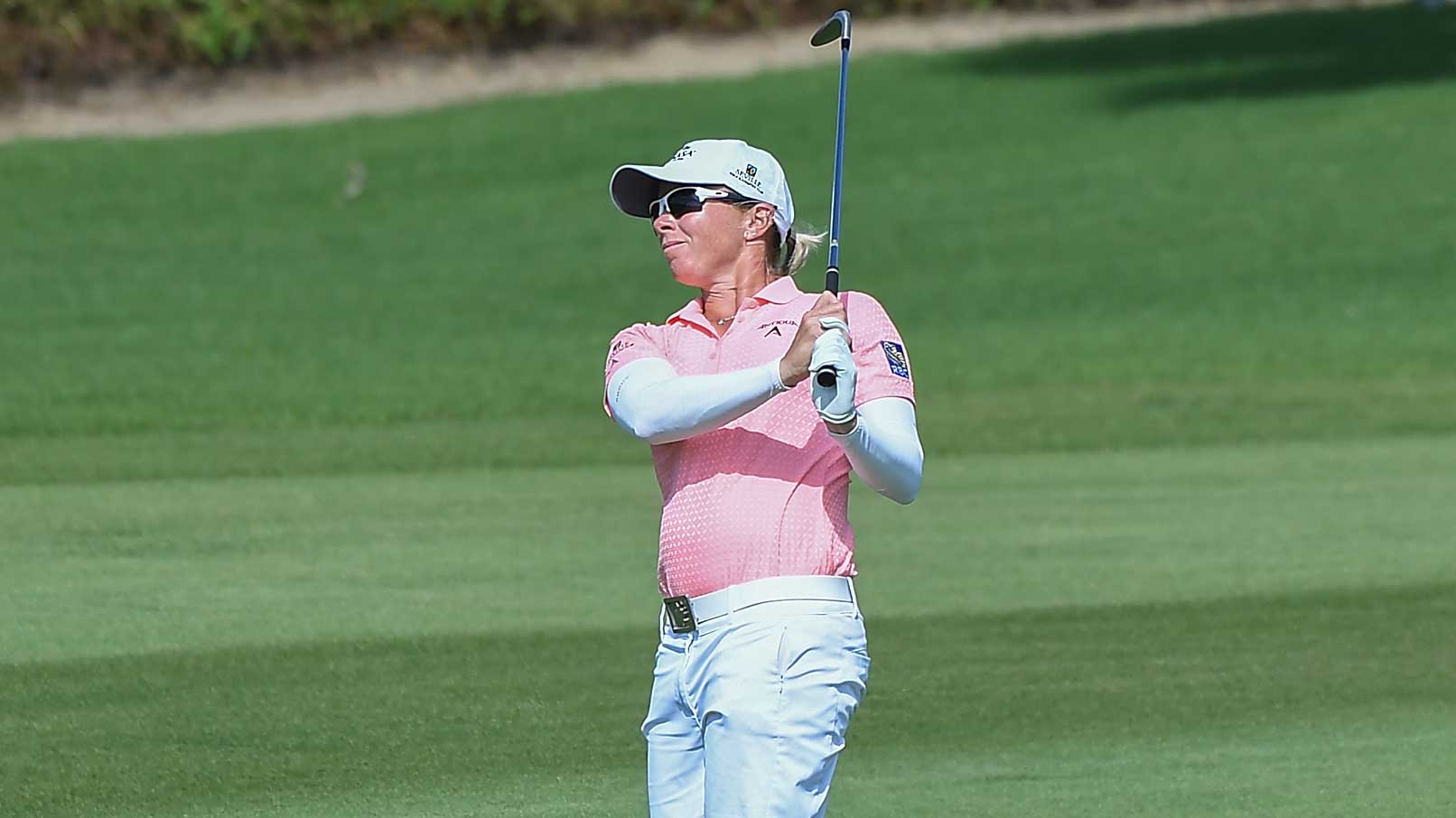 CLEAR-HEADED SHARP LOOKING TO BRIGHTER FUTURE
Alena Sharp came to Blue Bay with fresh legs and a fresh outlook on golf. Saying that this season "hasn't been the greatest year for me," the Canadian veteran got down to hard work in her adopted home state of Arizona, meeting with her coach several times in hopes of finding the next step in her game.
"I'm trying to gain more distance," said Sharp, who is teeing up this week for the first time since the Evian Championship in mid-September. "That's my overall goal with the driver. I'm not working on that right this second. That's kind of after this tournament. Work into that and get in the gym more and get some more speed that way."
Sharp did compete in a Cactus Tour event last week, emerging victorious and adding a pep to her step as she came to China. A good finish this week could earn her a spot in next week's season-ending CME Group Tour Championship, but that's not immediately on Sharp's mind. She just wants to feel good about her game.
"There is always light at the end of the tunnel. Finishing off on a good note and getting ready for next year is my main goal for this week," said Sharp. "I didn't really have a lot of expectations coming in. I'm not thinking about CME. It would be nice to play next week, but if that happens that's just a bonus."
PLAYER NOTES
Rolex Rankings No. 89 Thidapa Suwannapura (68, -4)
Suwannapura is playing in her second Blue Bay LPGA; she finished T11 in 2014
She hit 13 of 14 fairways and 12 of 18 greens, with 25 putts
This is Suwannapura's 27th event of the 2018 season; she won the Marathon Classic presented by Owens Corning and O-I and has two other top-20 finishes
Rolex Rankings No. 1 Ariya Jutanugarn (69, -3)
Jutanguarn is playing in her fourth Blue Bay LPGA, with a best finish of third in 2016
She hit nine of 14 fairways and 10 of 18 greens, with 25 putts
This is Jutanugarn's 27th event of the 2018 season; she has wins at the Kingsmill Championship presented by GEICO, U.S. Women's Open and Aberdeen Standard Investments Ladies Scottish Open, as well as 12 other top-10 finishes
Jutanugarn has already clinched 2018 Rolex Player of the Year honors, as well as the Money Title and the LEADERS Top 10s competition
Rolex Rankings No. 187 Alena Sharp (69, -3)
Sharp is playing in her fourth Blue Bay LPGA, with a best finish of T5 in 2015
She hit nine of 14 fairways and 12 of 18 greens, with 26 putts
This is Sharp's 24th event of the 2018 season; she has one top-20 finish, when she finished T18 at the Pure Silk-Bahamas LPGA Classic
QUICK HITS
Jennifer Song had a hole-in-one at No. 7, from 152 yards and with an 8-iron; it was the 27th ace of the 2018 LPGA season
Song (T4, -2) is the leading American player
At T10, Mohan Du (-1) leads the contingent of 21 Chinese players; Du is a 16-year-old who last week won the China National Team Championship's individual and team titles
Defending champion Shanshan Feng shot a 3-over 75 on Wednesday and is tied for 48th after the first round
Sandra Gal withdrew following the first round, citing personal reasons
TRENDING ON SOCIAL