LOPEZ CELEBRATES BIRTHDAY WITH ACE, THIRD-ROUND LEAD AT BLUE BAY LPGA
It was a 25th birthday to remember for Gaby Lopez, who closed her third-round 66 with a back-to-back ace and birdie to take a one-stroke lead heading into the final round of the 2018 Blue Bay LPGA. Lopez, who stood on the 17th tee three strokes behind second-round leader and Rolex Rankings No. 1 Ariya Jutanugarn, dropped in the ace from 181 yards with a 7-iron.
"As soon as the ball left the club, I knew it was a good shot, but I couldn't see because the sun was in my face," said Lopez, a native of Mexico City. "I turned around and my caddie goes, it went in. I'm like, no way. And the camera guy told us, Yes, it did. I couldn't give myself a better birthday present."
The ace, her eighth career hole-in-one, pulled Lopez within a stroke of the lead. Then, with Jutanugarn in trouble at No. 18 after sending her tee shot into the water, Lopez nailed a 21-foot birdie at the final hole to hold a 54-hole lead for the first time in her three-year LPGA career.
Jutanugarn's bogey at No. 18 gave her a third-round 71 and dropped her into solo second, one stroke behind Lopez at -8. World No. 2 Sung Hyun Park, who birdied four of her final five holes, and 2015 Blue Bay LPGA winner Sei Young Kim are tied for third at -4.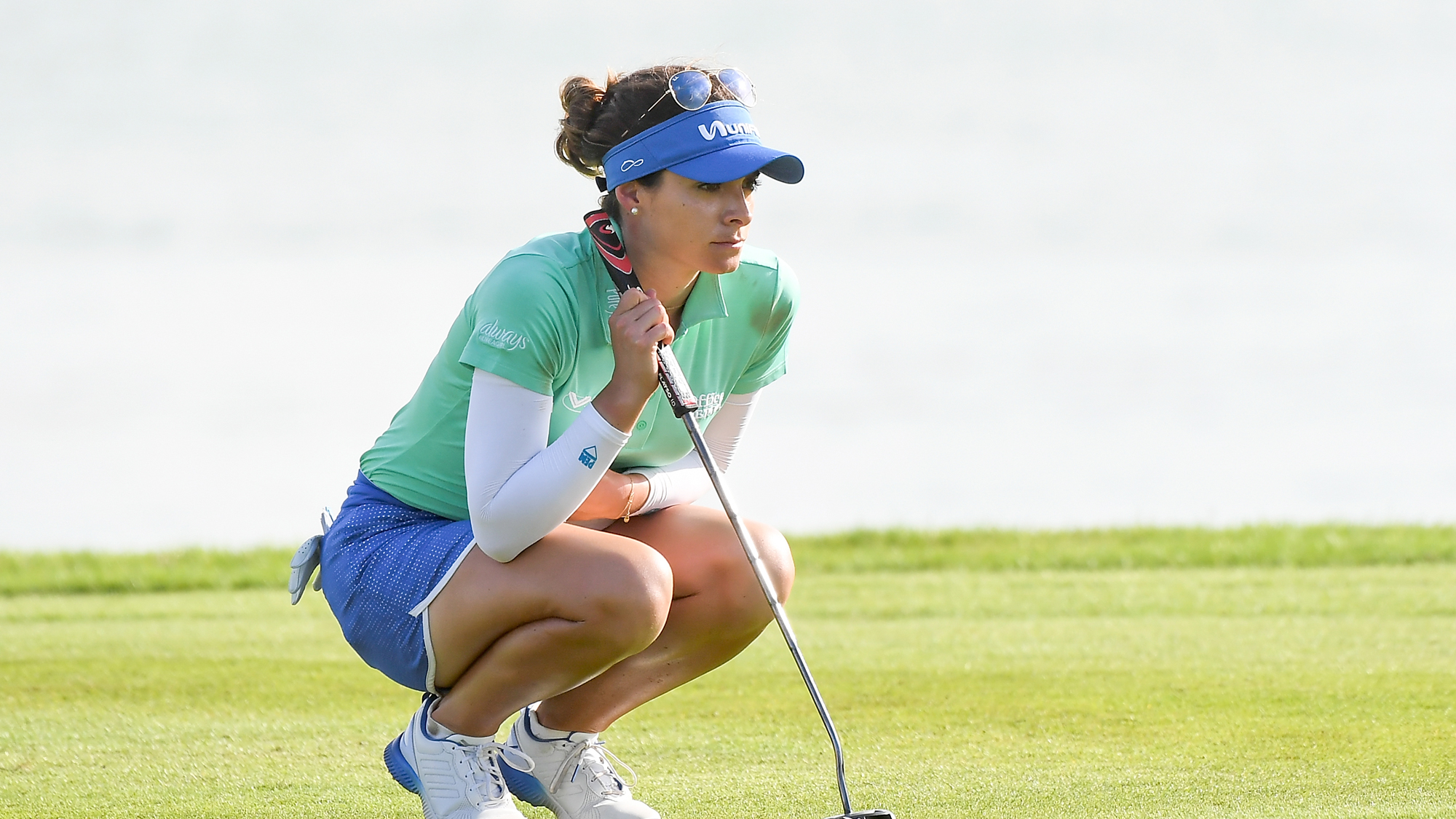 LOPEZ LOOKING ABOVE FOR INSPIRATION
As Gaby Lopez stood over her lengthy birdie putt at No. 18, her mind went not to the task in front of her, but rather to someone she says was watching over her. Lopez's grandfather, Jose Lopez, passed away in early October ago, and the 25-year-old relied on his love to guide in the putt that launched her to the top of the leaderboard.
"He was on my mind in that putt," said Lopez. "I remember saying, you know, just a question like, do you believe me? I'm like, Yes, I trust you. I hit the putt and I made it. It's very, very special to have those moments of peace, you know, very calm."
In her third season on the LPGA Tour, Lopez has only notched three top-10 finishes, with a best showing of T7 at the 2017 ShopRite LPGA Classic. But when asked about her chances of taking home her first victory, the young player spoke with the confidence of a much more experienced player.
"I'm right here because I can do it," said Lopez, who represented Mexico at the 2016 Summer Olympics. "It's not because of luck. It's not because I've been having good bounces around the golf course. You know, I'm just very, very excited to do it again tomorrow."
ONE BAD SHOT FOR JUTANUGARN
Ariya Jutanugarn's tee shot at 18 was not a moment the 22-year-old Thai wants to remember. With a one-stroke lead, Jutanugarn badly mis-hit the ball, clipping the hedges lining the front of the teeing ground and sending it careening into the water.
"Just missed the shot," said Jutanugarn when asked about what happened. Despite a second shot she deemed as great, Jutanugarn made bogey on the hole and dropped into second behind Gaby Lopez heading to the final round.
"This course, anything can happen, especially it's windy, the greens so tough," said Jutanugarn, who plays in the final group alongside Lopez and World No. 2 Sung Hyun Park. "I feel good about my game today. I miss a lot, but still got a lot up and down."
WITH A WIN…
Gaby Lopez would join the legendary Lorena Ochoa as the only LPGA winners from Mexico; Ochoa last won at the 2009 Navistar LPGA Classic before retiring in April 2010 with 27 LPGA Tour victories
Lopez would become the 10th Rolex First-Time Winner of 2018, joining Jin Young Ko, Pernilla Lindberg, Moriya Jutanugarn, Annie Park, Nasa Hataoka, Thidapa Suwannapura, Georgia Hall, Marina Alex and Nelly Korda
With the $315,000 winner's check, Lopez would move to 255th on the LPGA Career Money List with $1,101,942
Ariya Jutanugarn or Sung Hyun Park would become the first player to win at least four events in a single season since Jutanugarn won five events in 2016
Park would become the 77th player in LPGA history to break the $4 million threshold, moving to $4,061,406 in career earnings
ROLEX WOMEN'S WORLD RANKINGS PROJECTIONS
Projections show that Sung Hyun Park needs a tie for eighth place with three other players or a better finish at Blue Bay LPGA to have a chance to move past Ariya Jutanugarn and reclaim Rolex Rankings World No. 1. A win projects Park's move to World No. 1 regardless of Jutanugarn's finish at the Blue Bay LPGA.
Scenarios that project Sung Hyun Park moving to World No. 1:
Win
Solo second and Jutanugarn finish third or worse
Solo third and Jutanugarn finish fifth or worse
Solo fourth and Jutanugarn finish seventh or worse
Solo fifth and Jutanugarn finish 13th or worse
Solo sixth and Jutanugarn finish 21st or worse
Solo seventh and Jutanugarn finish 32nd or worse
Solo eighth and Jutanugarn finish 55th or worse
Tie for eighth with one other player and Jutanugarn finish 61st or worse
Tie for eighth with two other players and Jutanugarn finish 66th or worse
Tie for eighth with three other players and Jutanugarn finish 66th or worse
NOTE: If Park finishes in a tie for second through seventh place, a separate scenario would be run to check. Also, if Jutanugarn finishes in a tie position better than the listed finish position for each scenario, there may be a possibility for Park to move to World No. 1. For example, if Park finishes solo fourth and Jutanugarn finishes in a tie for sixth place with two other players, Park would be projected to become No. 1 in this scenario.
After two rounds, Jutanugarn is in second at -8 and Park is tied for third, four strokes behind at -4.
PLAYER NOTES
Rolex Rankings No. 136 Gaby Lopez (70-71-66, -9)
Lopez is playing in her third Blue Bay LPGA, with a best finish of T18 in 2016
She hit 12 of 14 fairways and 16 of 18 greens, with 28 putts
This is Lopez's 23rd event of the 2018 season; she finished T10 at the LPGA Volvik Championship for her only top-10 of the year
Rolex Rankings No. 1 Ariya Jutanugarn (69-68-71, -8)
Jutanguarn is playing in her fourth Blue Bay LPGA, with a best finish of third in 2016
She hit six of 14 fairways and 11 of 18 greens, with 27 putts
This is Jutanugarn's 27th event of the 2018 season; she has wins at the Kingsmill Championship presented by GEICO, U.S. Women's Open and Aberdeen Standard Investments Ladies Scottish Open, as well as 12 other top-10 finishes
Jutanugarn has already clinched 2018 Rolex Player of the Year honors, as well as the Money Title and the LEADERS Top 10s competition
Rolex Rankings No. 2 Sung Hyun Park (73-72-67, -4)
Park is playing in her second Blue Bay LPGA; she tied for third in 2017
She hit 14 of 14 fairways and 14 of 18 greens, with 27 putts
This is Park's 23rd event of the 2018 season; she has wins at the Volunteers of America LPGA Texas Classic, KPMG Women's PGA Championship and Indy Women in Tech Championship driven by Group 1001 and has three other top-10 finishes
Rolex Rankings No. 13 Sei Young Kim (73-71-68, -4)
Kim is playing in her third Blue Bay LPGA; she won in 2015 and finished T37 in 2016
She hit 13 of 14 fairways and 16 of 18 greens, with 31 putts
This is Kim's 26th event of the 2018 season; she won the Thornberry Creek LPGA Classic at an LPGA record 31-under 257 and has six other top-10 finishes
QUICK HITS
Jennifer Song (fifth, -3) is the leading American player, followed by Danielle Kang (T7, -1)
At T11, Mohan Du and Simin Feng (+1) lead the contingent of 21 Chinese players
Defending champion Shanshan Feng is tied for 17th at +3
TRENDING ON SOCIAL