WORLD NO. 1 JUTANUGARN ON TOP AT BLUE BAY LPGA
No. 1 in the world and No. 1 on the leaderboard. Thailand's Ariya Jutanugarn shot a 3-under 68 in Thursday's second round and holds the 36-hole lead at the 2018 Blue Bay LPGA. After consecutive bogeys at holes 5 and 6, Jutanugarn reeled off three straight birdies at holes 7-9, and twice nailed back-to-back birdies on her inward nine, including a 15-footer from off the green to close out her round at No. 18.
"I feel great," said Jutanugarn. "I felt like I made lots of birdies because this course so tough. That's why I feel like I make a lot of birdies."
At 7-under 137, Jutanugarn, who already has three wins this season, holds a three-stroke advantage over a trio of players at 3-under 141 – her older sister Moriya Jutanugarn, AmericanJennifer Song and Mexico's Gaby Lopez. First-round leader Thidapa Suwannapura shot a 3-over 75 on Thursday and is tied for sixth going into the third round.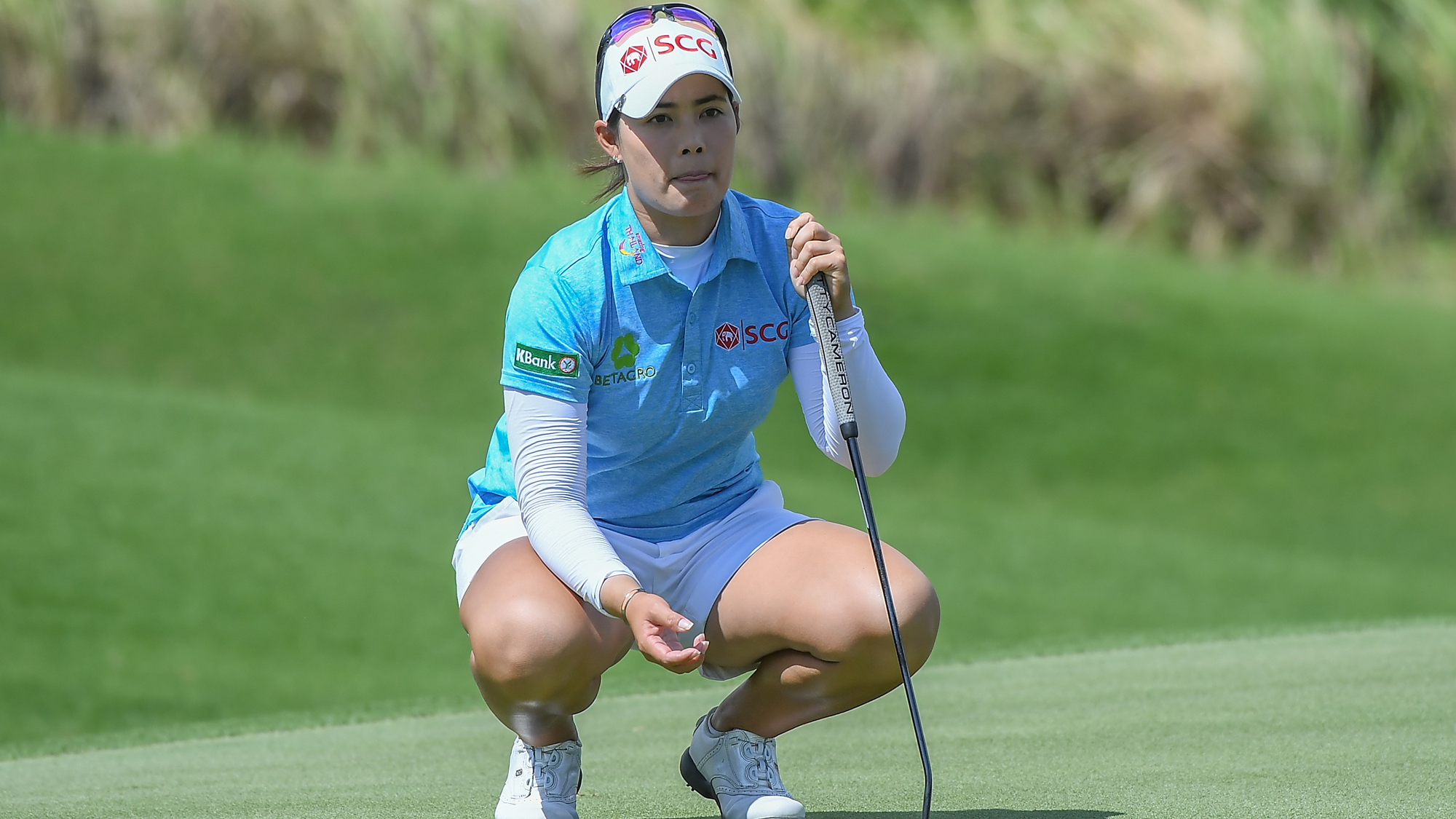 WIND A BIG STORY AT BLUE BAY
For the second straight day, the wind was a major factor at the Blue Bay LPGA. With sustained wind speeds of 18-28 mph, the gusts wreaked havoc with even the most determined player.
"It's been playing tough out there," said Moriya Jutanugarn, who sits in a tie for second, four strokes behind leader (and her younger sister) Ariya Jutanugarn. "I just try and play one shot at a time. I think that's pretty much my goal."
"The wind can take you all over the place if you let it," said Gaby Lopez, also tied for second and looking for her first top-10 finish since May's LPGA Volvik Championship. "Just hitting solid shots, doing what you actually can do. It's tough out there. You know, it's a good opportunity to have fun out there."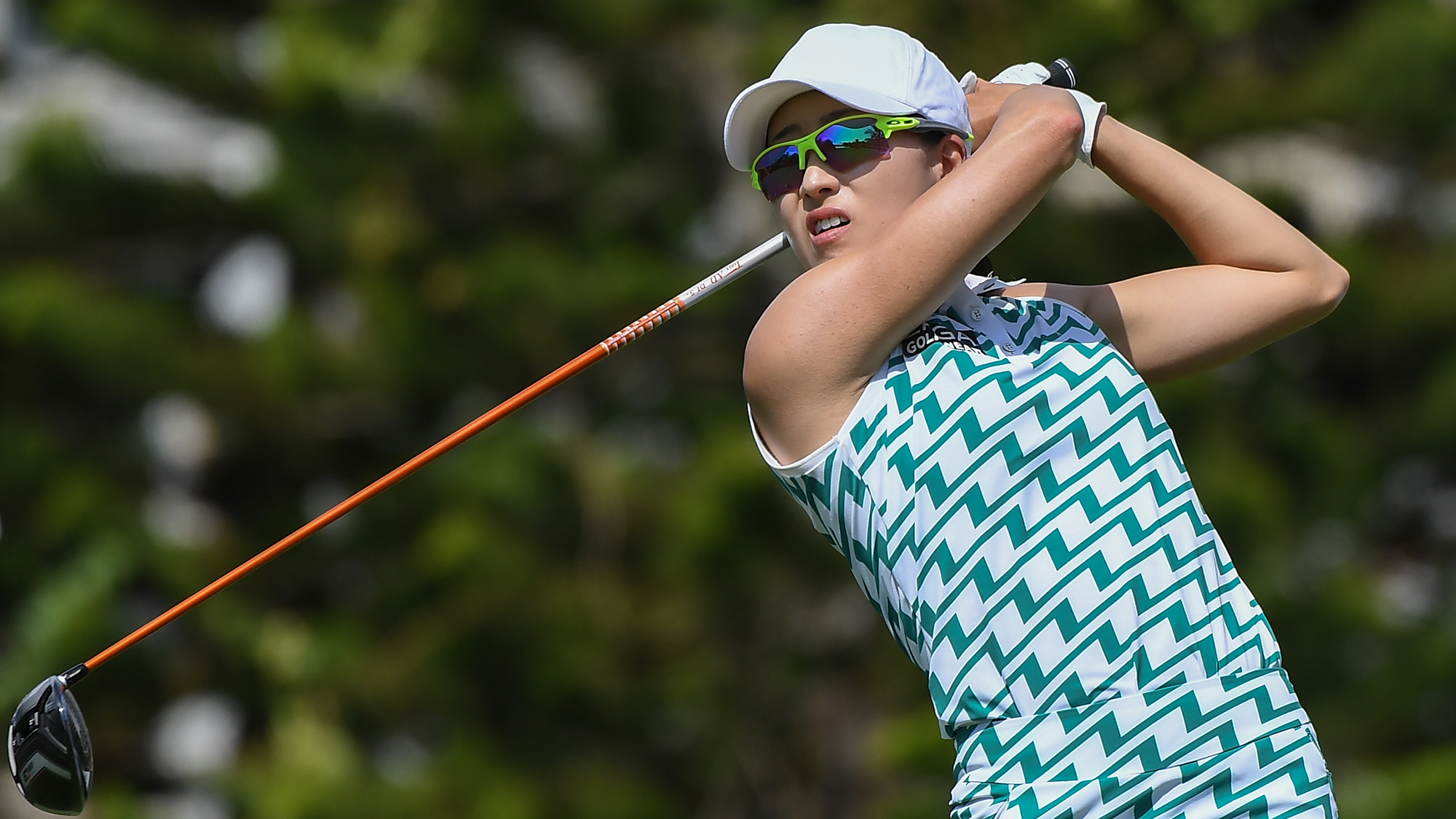 NEW PUTTER FOR SONG
With a new putter in the bag, Jennifer Song feels like she's finally putting forth her best effort on Jian Lake Blue Bay Golf Club's severely undulating greens.
"Ever since I switched it, I've been rolling a lot of putts in, making good up and downs," said Song, who switched from a Scotty Cameron putter to a Ping product before last week's TOTO Japan Classic. "I really like it so far."
That comfort has been all the difference for Song, who came out of nowhere on the final day of the ANA Inspiration to join the playoff between Inbee Park and eventual champion Pernilla Lindberg. Since that whirlwind, Song has not had the same level of success in 2018, only notching one other top-10 finish.
Perhaps that putter really is the key. Song finished T11 last week in Japan, her best showing since she finished third at the CP Women's Open in August. Between that week in Canada and last week in Japan, she never finished better than 49th.
"I think I play better when I'm chasing, from behind," said Song, who came back from four strokes at the ANA Inspiration. "I think Ariya is playing great. Definitely she'll play solid the next two days. I'll just have to see how she plays."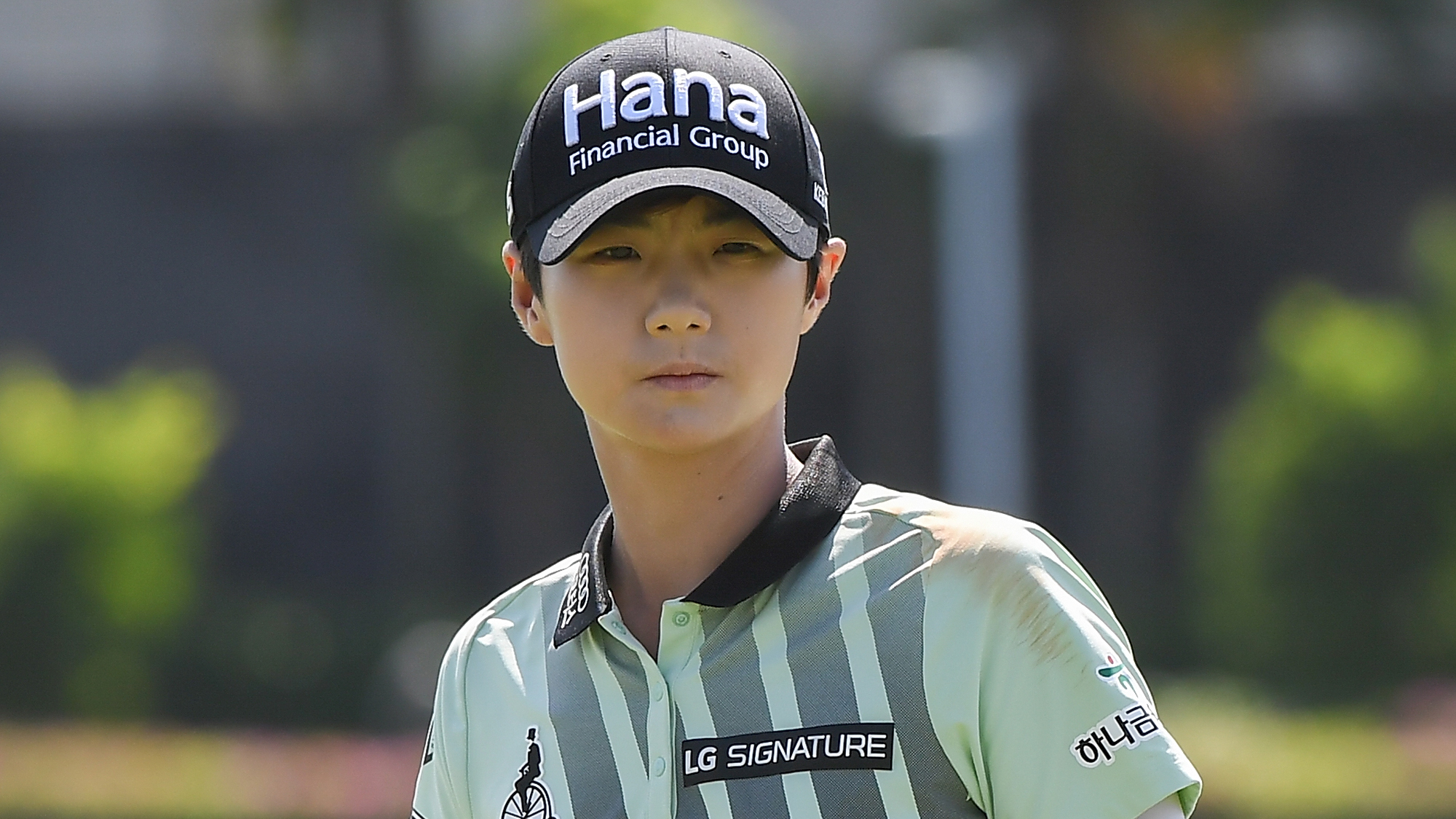 ROLEX WOMEN'S WORLD RANKINGS PROJECTIONS
Projections show that Sung Hyun Park needs a tie for eighth place with three other players or a better finish at Blue Bay LPGA to have a chance to move past Ariya Jutanugarn and reclaim Rolex Rankings World No. 1. A win projects Park's move to World No. 1 regardless of Jutanugarn's finish at the Blue Bay LPGA.
Scenarios that project Sung Hyun Park moving to World No. 1:
Win
Solo second and Jutanugarn finish third or worse
Solo third and Jutanugarn finish fifth or worse
Solo fourth and Jutanugarn finish seventh or worse
Solo fifth and Jutanugarn finish 13th or worse
Solo sixth and Jutanugarn finish 21st or worse
Solo seventh and Jutanugarn finish 32nd or worse
Solo eighth and Jutanugarn finish 55th or worse
Tie for eighth with one other player and Jutanugarn finish 61st or worse
Tie for eighth with two other players and Jutanugarn finish 66th or worse
Tie for eighth with three other players and Jutanugarn finish 66th or worse
NOTE: If Park finishes in a tie for second through seventh place, a separate scenario would be run to check. Also, if Jutanugarn finishes in a tie position better than the listed finish position for each scenario, there may be a possibility for Park to move to World No. 1. For example, if Park finishes solo fourth and Jutanugarn finishes in a tie for sixth place with two other players, Park would be projected to become No. 1 in this scenario.
After two rounds, Jutanugarn has the solo lead and Park is tied for 11th, eight strokes behind at +1.
PLAYER NOTES
Rolex Rankings No. 1 Ariya Jutanugarn (69-68, -7)
Jutanguarn is playing in her fourth Blue Bay LPGA, with a best finish of third in 2016
She hit 10 of 14 fairways and 10 of 18 greens, with 25 putts
This is Jutanugarn's 27th event of the 2018 season; she has wins at the Kingsmill Championship presented by GEICO, U.S. Women's Open and Aberdeen Standard Investments Ladies Scottish Open, as well as 12 other top-10 finishes
Jutanugarn has already clinched 2018 Rolex Player of the Year honors, as well as the Money Title and the LEADERS Top 10s competition
Rolex Rankings No. 48 Jennifer Song (70-71, -4)
Song is playing in her third Blue Bay LPGA, with a best finish of 13th in 2015
She hit 10 of 14 fairways and 10 of 18 greens, with 27 putts
Song had a hole-in-one in Wednesday's first round at No. 7, from 152 yards and with an 8-iron; it was Song's third ace in competition
This is Song's 24th event of the 2018 season; she was co-runner-up at the ANA Inspiration and finished third at the CP Women's Open, her only two top-10 finishes of the year
Rolex Rankings No. 17 Moriya Jutanugarn (70-71, -4)
Jutanugarn is playing in her fifth Blue Bay LPGA; she was runner-up in 2017
She hit 12 of 14 fairways and 12 of 18 greens, with 29 putts
This is Jutanugarn's 27th event of the 2018 season; she won the HUGEL-JTBC LA Open and has six other top-10 finishes, including a tied for second at the Honda LPGA Thailand
Rolex Rankings No. 136 Gaby Lopez (70-71, -4)
Lopez is playing in her third Blue Bay LPGA, with a best finish of T18 in 2016
She hit 10 of 14 fairways and 14 of 18 greens, with 31 putts
This is Lopez's 23rd event of the 2018 season; she finished T10 at the LPGA Volvik Championship for her only top-10 of the year
QUICK HITS
With a win, Ariya Jutanugarn would become the first player to win at least four events in a single season since she won five events in 2016
With a win, Jennifer Song would become the ninth different player from the United States to win in 2018; the last time at least nine different American players won was 2014, which saw nine American winners
With a win, Gaby Lopez would join the legendary Lorena Ochoa as the only LPGA winners from Mexico; Ochoa last won at the 2009 Navistar LPGA Classic before retiring in April 2010
Song (T2, -4) is the leading American player, followed by Jane Park and Amy Olson (T13, +2)
At T6, Weiwei Zhang (-1) leads the contingent of 21 Chinese players
Defending champion Shanshan Feng is tied for 23rd at +3
TRENDING ON SOCIAL