Alena Sharp first met Erin Lynch in 2005 when she was matched with the Lynch family for housing at the Marathon Classic in Toledo, Ohio.
Erin was eight years old and when Alena first met her, she had face paint on. She was a healthy, sassy, spunky kid that had just returned from a fair.
The next day was the opening round of the tournament. Unbeknownst to Alena, Erin was assigned to be a standard bearer for her group.
Since Erin had face paint on the night before, Alena didn't recognize her standard bearer when she got to the first tee so she walked over and introduced herself.
"You slept in my bed last night" is the response young Erin gave Alena.
"I'll never forget that response, that's Erin," said Alena on Thursday from the Meijer LPGA Classic.
It was the start of a little sister-big sister relationship that stands as strong as the test of time. Sharp and her partner, Sarah Bowman, have stayed with the family for the last 13 years.
On Wednesday, the Lynch family made the three-hour drive from Toledo to Grand Rapids to watch Sharp play. It's something they try to do anytime the LPGA is playing in the Midwest.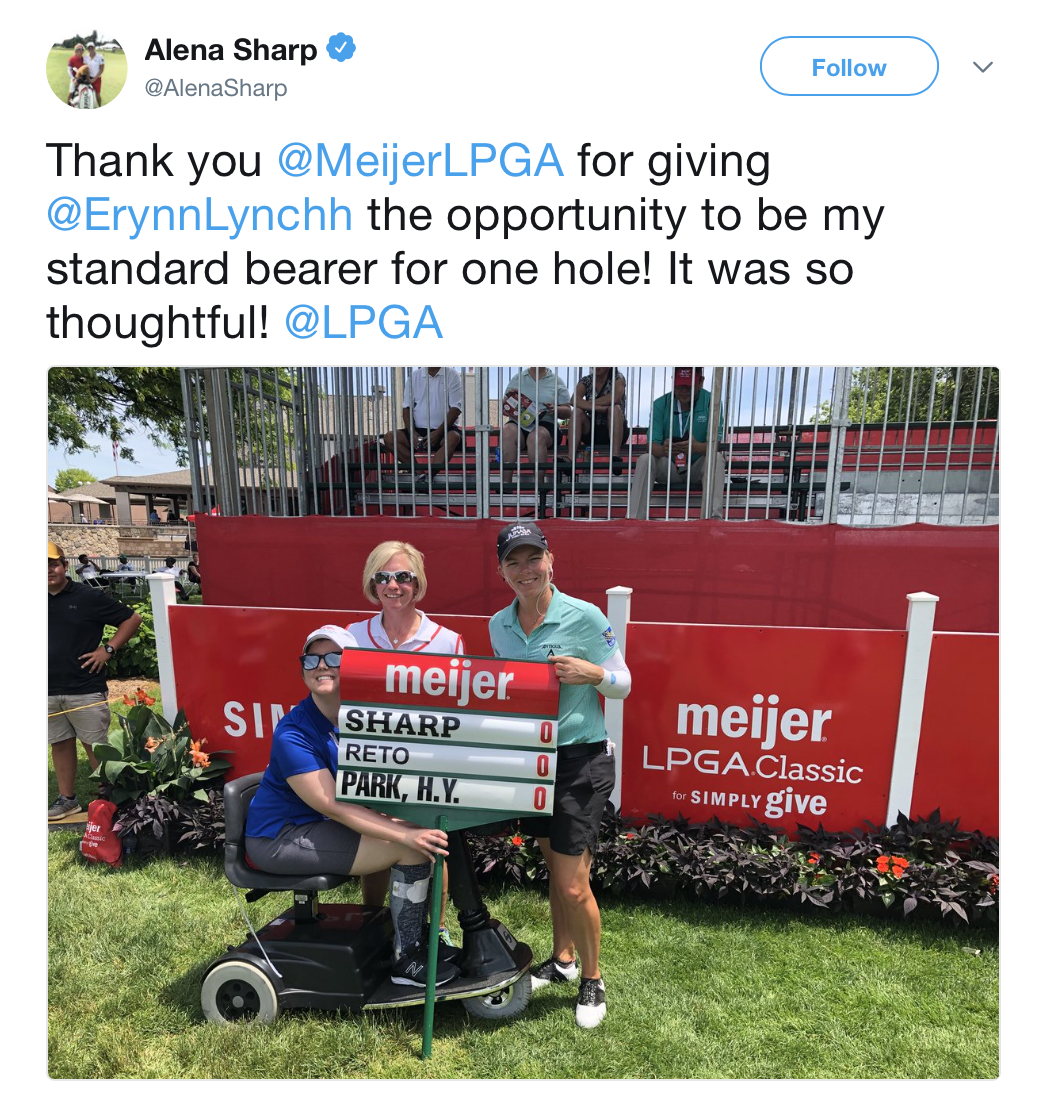 Life was altered forever for Erin on May 25, 2015. It's a date Alena knows very well. Erin was headed back to college at Ohio University after a long birthday weekend with her family when she lost control of her car, spun over the median and collided head-on with a vehicle on the other side of the road. She suffered severe brain damage and life-altering physical injuries.
Three years later, Erin continues to make small strides in her recovery.
On Thursday, she got to be a standard bearer again. She rode in her motorized scooter and held the scores for Alena's group on their first hole of the Meijer LPGA Classic.
"I see her every summer and she is definitely improving, she can now raise her left arm above her head," said Sharp. "Her short-term memory is not great, but she has always remembered me because I have known her for so long."
Sharp and Bowman travel with their two dogs, Chandler and Porter. Erin loves spending time with the dogs. The Lynch family is actually watching Chandler and Porter this week.
"I remember when Erin used to love to take naps (before the accident) and she would take naps with the dogs. It's good for her to have them around."
While the accident changed the course of Erin's life, at least one thing remains. Her love for Alena.
"She's still sassy, too," said Alena with a wide-smile. "I love that she still has that part of her personality three years after the accident. It's just great she was able to be a standard bearer again. I really appreciate the LPGA and the tournament helping set that up."