Annie Park captured her first LPGA Tour title Sunday at the ShopRite LPGA Classic presented by ACER by one shot over Sakura Yokomine, who tied the tournament course record earlier in the day.
Park, the 2013 NCAA individual champion at the University of Southern California and a celebrated amateur, shot an 8-under-par 63 Sunday with no bogeys.
She was four shots back of the lead when she teed off Sunday morning, and credited her putting for being what carried her through to the winner's circle.
"It was just amazing how the putt that I look at goes in," she said. "Just a great day."
She has only played five events so far this season after battling injuries last season and had only conditional status this season. Her best result so far in 2018 was a tie for 18th at the LPGA MEDIHEAL Championship, a tournament she Monday Qualified for.
Born in Queens, New York but raised in Long Island – just two hours from Atlantic City – Park had a robust gallery of friends and family watch her find the winner's circle for the first time on the LPGA Tour including her brother-in-law, who had never seen her play.
"I've been through a lot of struggles, and thank my family for being here. There are so many people that supported me. Without them, I can't be here where I am today," said Park.
Park finished first on the Symetra Tour's money list in 2015 after turning professional thanks to three wins that season. She was named Symetra Tour Player of the Year and Gaelle Truet Rookie of the Year that same season.
Park's previous best finish on the LPGA Tour was a tie for sixth, which came in 2016 also at the ShopRite LPGA Classic.
Park is projected to move from 32nd on the Race to the CME Globe. Other notable NCAA champions who have gone on to have successful LPGA Tour careers include Stacy Lewis, Annika Sorenstam, and Pat Hurst.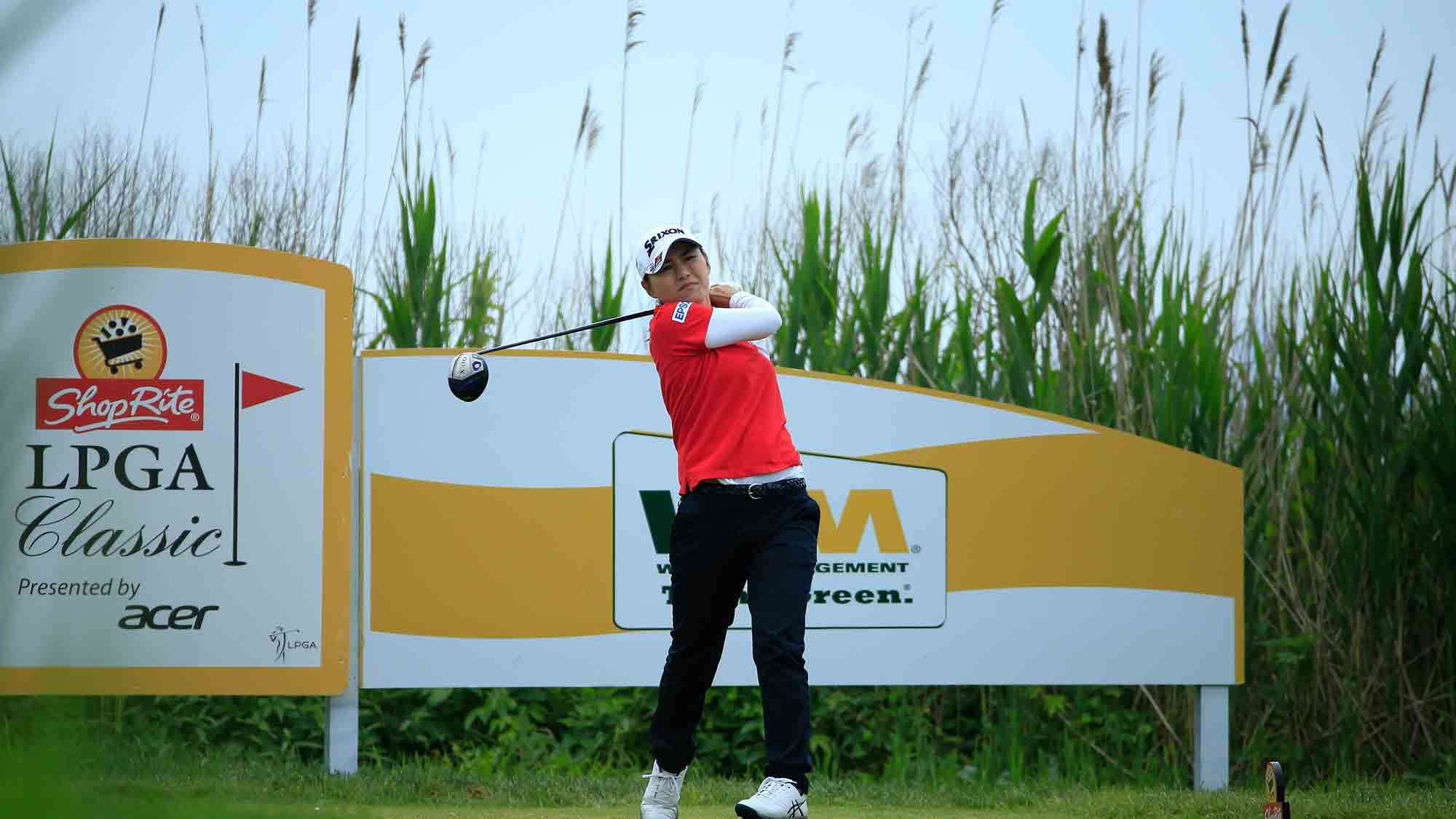 Yokomine ties course record
For the second time Sunday, someone shot the tournament course record at the Stockton Seaview Hotel and Golf Club.
Japan's Sakura Yokomine made nine birdies and an eagle in the final round to move up the leaderboard from a tie for 20th to runner-up alone. It was her best finish on the LPGA Tour.
Yokomine said her 61 was the lowest round she's ever shot in her life.
She said the round gave her the confidence that was missing through the balance of last year. She had trouble visualizing a good swing last year, but thanks to her husband – who is also her caddie and mental coach – she was able to play better in 2018. It was just Yokomine's third event on the LPGA Tour in 2018.
Her 10-under-par 61 matched the tournament course record shot by Sei Young Kim, who put the finishing touches on her 61 earlier Sunday. She had to finish three holes of her second round after a weather delay Saturday.
An ace for Alex
Marina Alex aced the par-3 17th Sunday as part of a 7-under-par 64 that moved her into third place alone. It was Alex's third top-5 finish of the season.
"It was an incredible day," said Alex. "Got off to a really good start and just tried to carry that momentum the entire day."
It was the fourth hole-in-one of the week and the third on No.17. Daniela Darquea made an ace with a pitching wedge from 114 yards in the second round, while Vicky Hurst also used a pitching wedge from 109 yards in the first round.
"That one was pure," Alex said of her tee-shot on the 17th hole. "I think what happened is that it hit just by the flag and bounced up on to the little bank behind… We watched it roll in. It was pretty special."
Alex finished tied for 27th last week at the U.S. Women's Open, and tied for 25th at her previous tournament, the Kingsmill Championship presented by GEICO. But, she said she's happy with finishing strong this week and climbing the leaderboard for one of her best results of the season.
"This tournament has been stressful for me for whatever reason, so to have a great finish is really exciting," she said. "I just feel relieved, to be honest."
Gal with her best finish of the year
Sandra Gal notched her best finish of the year this week at the ShopRite LPGA Classic, and credited her tie for fifth to the work she's been doing with noted swing instructor Cameron McCormick.
"I worked hard for the past two months. It doesn't just come suddenly," she said. It's just kind of been coming. Especially this week I focused on playing a little bit faster, trusting myself a little bit more with my decisions, and don't overanalyze, especially when I it comes to putting. Just trusting my intuition a little bit more. That worked out really well."
Gal shot a 6-under-par 65 Sunday, her best round of the season. Her tie for fifth was her best finish on the LPGA Tour since she finished tied for fourth at the Wal-Mart NW Arkansas Championship presented by P&G in 2016.
Gal said this week was validation for the hard work she's been putting in the last few months. She said she had been feeling good and "telling everyone" how excited she was for the results to come.
"Obviously a lot of things come together and I have a great team, but there is a lot that you don't see behind the scenes. Of course you got to put the hours in, but then you got to play like a kid again on the golf course," she said.
"To be honest, I've had a lot more joy playing golf. Sometimes we get so serious about it. I just try to really, really enjoy it."
Trending on Social