BIG MOVING DAY FROM BOULDEN VAULTS HER TO TOP
VENICE, Fla. — On moving day at Plantation Golf & Country Club, Amy Boulden (St. Asaph, Wales) put on a show with a bogey-free, 7-under par 65 on the Panther Course to position herself atop the leaderboard after 54 holes in Stage II of the LPGA Qualifying Tournament.
The five-year Ladies European Tour (LET) veteran heads into the final round with a two-shot advantage at 11-under par overall.
"I am playing well this week and thought if I could roll the greens nicely then I could hole some putts since there are some low scores to be shot out here," said Boulden. "That's what I did today and had some nice yardages into the greens. I tried to find the spots for nice straight uphill putts."
Easily the highlight of the day for Boulden came on her finishing hole, the par-4 18th. From 138 yards out, she launched a 9-iron into the air and watched it find the bottom of the cup. Boulden will take the momentum into her final 18 holes.
"Had a bit of a downhill lie and it rolled a little to the right, but probably the best strike I had all day to be honest," said Boulden, who recorded five birdies in addition to the eagle. "I have my coach [Paul Williams] on the bag and am really enjoying that. We are treating this tournament like any other event and the goal was always to win, so that is what I am trying to achieve."
Not only is Boulden experienced on the European circuit, but also when it comes to the LPGA Qualifying Tournament. This time around is her third attempt at Stage II and Boulden is taking full advantage of the history she has with both the Panther Course and Bobcat Course.
"I know them pretty well," Boulden said with a smile. "I actually feel good enough to get a LPGA card. That's where the confidence has come from, playing well the last couple of events on the LET and seeing that my game is in a good place."
Meanwhile, 36-hole leader Youngin Chun (Gainesville, Florida) overcame a tough start to shoot 2-under par 70. The 2018 Epson Tour rookie carded a 1-over par 37 going out and then rattled off four birdies over her last eight holes following a bogey to start the back nine.
Chun will join Boulden in the final pairing tomorrow at 1:26 p.m. ET off No. 1 tee on the Bobcat Course, two shots back of the lead.
"My goal is to play under par for all four days and the birdies on the back nine got me more focused to make even more birdies tomorrow," said Chun. "I am proud of myself because I came here wanting to make it to Q-Series. I'm not thinking about winning, just advancing."
Rounding out the last group is amateur Suzuka Yamaguchi (Sagamihara, Japan). She signed a 3-under par 69 scorecard this afternoon, complete with six birdies and three bogeys.
"I wasn't satisfied with the way my putter went, but was happy with how my game turned out as the day went on," said Yamaguchi, who is solo third at 7-under par overall. "I am really just concentrating on going step-by-step and not thinking so much about Q-Series. It is a target of mine that is giving me motivation, though."
After 54 holes, a total of 24 players are at 2-under par or better, with eight more individuals sitting on the 1-under par mark. Meanwhile, 42 competitors will enter the final round at even par or better.
A minimum of the top-25 players and ties will advance to Q-Series, contested from Oct. 22 through Nov. 3 in Pinehurst, N.C. at Pinehurst Resort. Those at the next score, or scores, will also advance provided that the total number of players in Q-Series does not exceed 108, which currently has 62 exempt and entered competitors.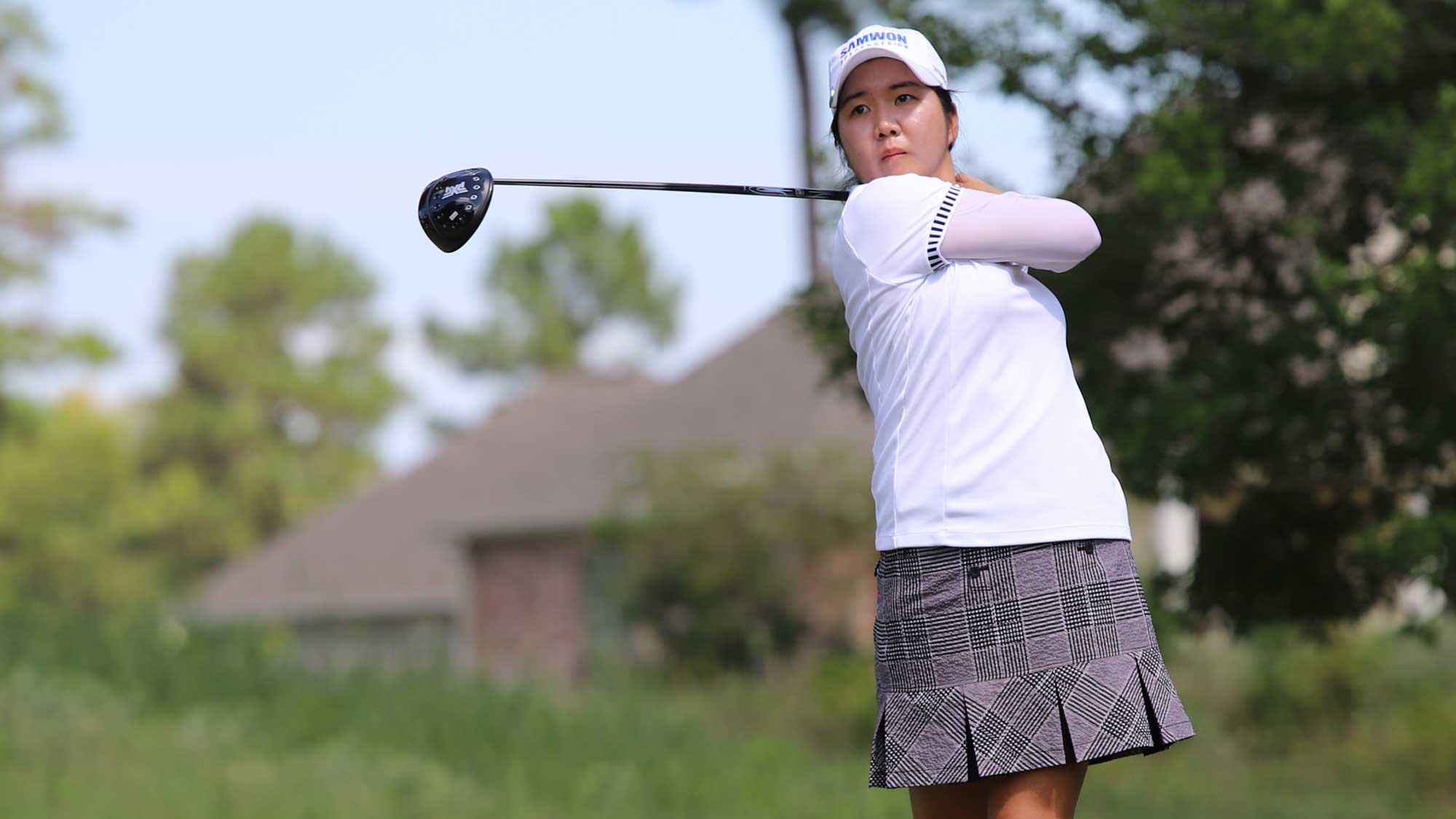 BATTLE FOR TOP-25 HEATING UP
With only one more day for players to make a move at Stage II of the LPGA Qualifying Tournament, several made critical climbs up the leaderboard today to give new life to the possibility of advancing to Q-Series.
The strongest jump came from Kenzie Neisen (New Prague, Minnesota), who started the third round in a tie for 69th. A 5-under par 67 from the Oklahoma State University alumna now has her tied for 18th at 2-under par overall.
"I didn't start the tournament off well on the first day, but knew I had a chance to improve each day," said Neisen, who found eight birdies, a bogey and one double bogey. "Ball striking was a lot better in the last two rounds, so I am building off that and am really excited to continue tomorrow. I'm going to play my normal game and see what happens."
Furthermore, the biggest jump was courtesy of Allison Emrey (Charlotte, North Carolina). When the Wake Forest University graduate started day three she was tied for 82nd, but after firing her own 5-under par, Emrey is now tied for 25th at 1-under par overall.
An eagle, seven birdies and four bogeys filled Emrey's scorecard today.
"Having been to Stage II before, I have realized it is a marathon, not a sprint," Emrey said. "I have also learned that having a low round can really help you move up the leaderboard quickly. I wasn't happy with my first two rounds, so I had a feeling I was due for a good day."
Finally, right on the cusp of the top-25 and ties that advance to Q-Series is Hyemin Kim (Seoul, Republic of Korea) and Marta Sanz Barrio (Madrid, Spain), a pair of 2018 Epson Tour champions. Both players are tied for 33rd at even par overall and would advance since the total of 42 players at that mark or better would not put the Q-Series field over 108.
Either way, there is plenty of work to be done over the final 18 holes to feel safe about securing a spot in Q-Series.
"I was actually thinking about that week I won when I was playing today," said Kim. "It helped me a lot and I didn't stop trusting myself, even though my game didn't seem to be going all too well. I kept waiting and stayed patient, so I will do the same thing tomorrow. It's not an easy situation."
COUGHLIN HIGHEST EPSON TOUR CHAMPION ENTERING FINAL ROUND
Right in the thick of things at Stage II of the LPGA Qualifying Tournament in a tie for sixth is 2018 PHC Classic champion Lauren Coughlin (Charlottesville, Virginia), currently the highest positioned Epson Tour winner from this season at Plantation Golf & Country Club.
Coughlin turned in a bogey-free, 4-under par 68 today and sits at 5-under par overall. She will play in the penultimate pairing tomorrow off No. 1 of the Bobcat Course. Even though Coughlin finds herself in contention, this week to her is not about finding another win.
"This has been a little more slow and steady than Milwaukee because I don't have to win," said Coughlin. "It's more of doing what I need to and taking my medicine when I need to, hopefully make a few birdies. You don't want to go out there and make a mistake that could end up costing you. I'll play the same way tomorrow as I have been and if I make some birdies, that's great."
After spending a large majority of the season on the LPGA Tour, Coughlin made the cut in four of 18 starts. Nonetheless, through the tough times she has managed to take different learning experiences and implement them on the course for positive results when she has needed to.
"Even though my scores didn't always show it, I would say I learned a lot this year and from the beginning of the year to when I won in August, I am a completely different player," Coughlin said. "I learned how to strategize a golf course and really make sure I minimize mistakes. If I do hit a bad shot, I am able to still hit it in a place to get up and down easier. Even after the win, I didn't play great in the last few LPGA tournaments, but I was better than before."
Tomorrow, the former University of Virginia standout will take on the final round at 1:15 p.m. ET with Klara Spilkova (Prague, Czech Republic) and Sandy Choi (Seoul, Republic of Korea).
AMY BOULDEN ROUND THREE INTERVIEW
TRENDING ON SOCIAL