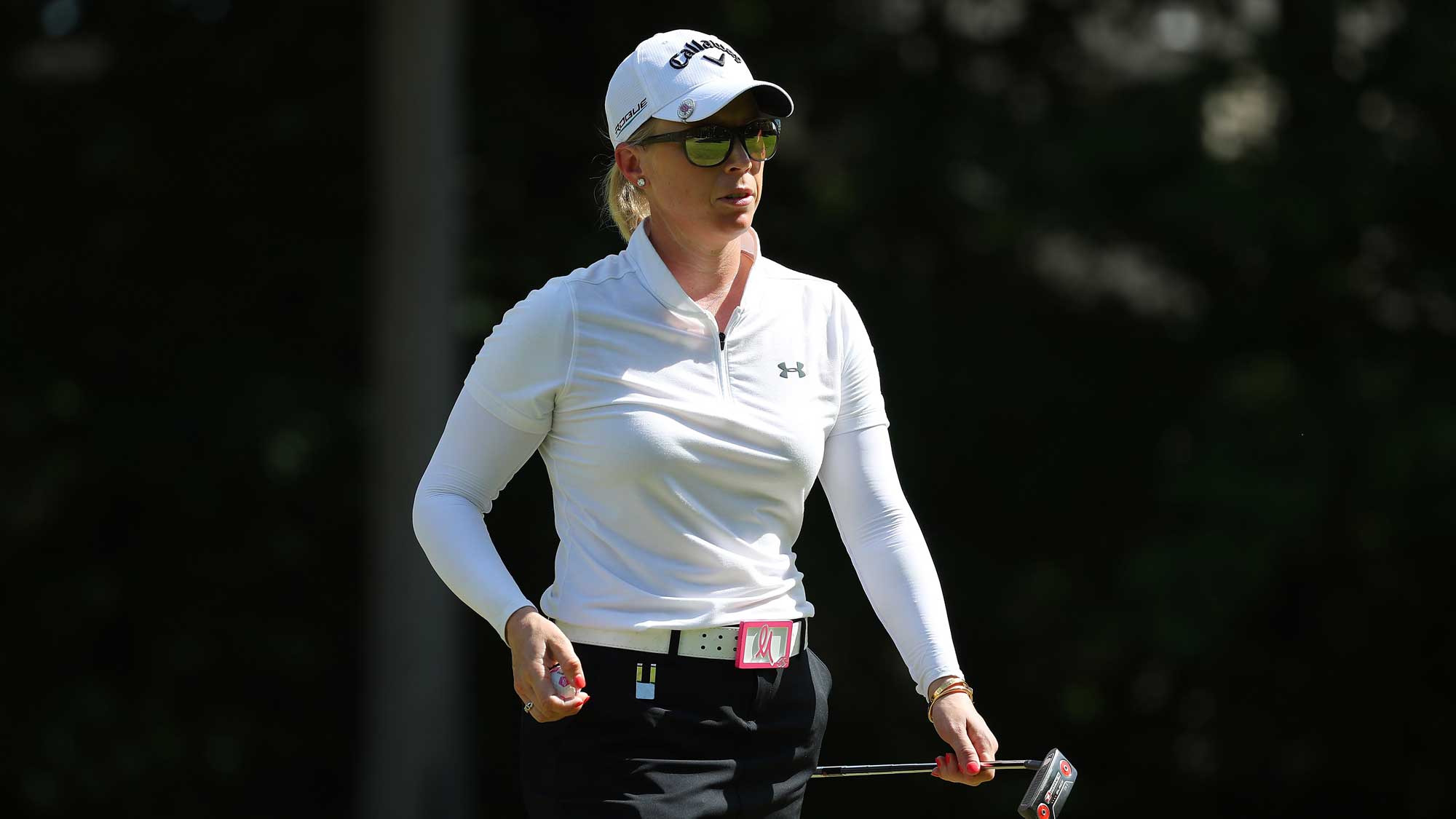 'Birthday Birdies' for Pressel
Although she didn't play on her actual 30th birthday, Morgan Pressel tried to make up for it by making as many 'birthday birdies' as she could Thursday at the LPGA Volvik Championship.
Pressel, whose last win on the LPGA Tour came 10 years ago, made eight birdies Thursday en route to shooting a 5-under-par 67. She's just one back of the lead held by four golfers.
"Eight birthday birdies is pretty good, we'll take it," said Pressel.
Pressel admitted she made some "silly" mistakes, but was able to bounce back nicely as the round moved along (she three-putted the second hole, for example, and hit a few poor bunker shots she said) and will take a lot more positives than negatives from Thursday's first round.
Pressel said she's been close to success over the last few years, and Thursday's opening round was a day where things came together.
"I feel like one day I hit it great and I putt poorly, and the next day I feel like my swing is kind of a mess. It's just been… it's been kind of right on that edge," she said. "Today it definitely felt a little bit better and was able to really keep good swing thoughts and steady composure throughout the day."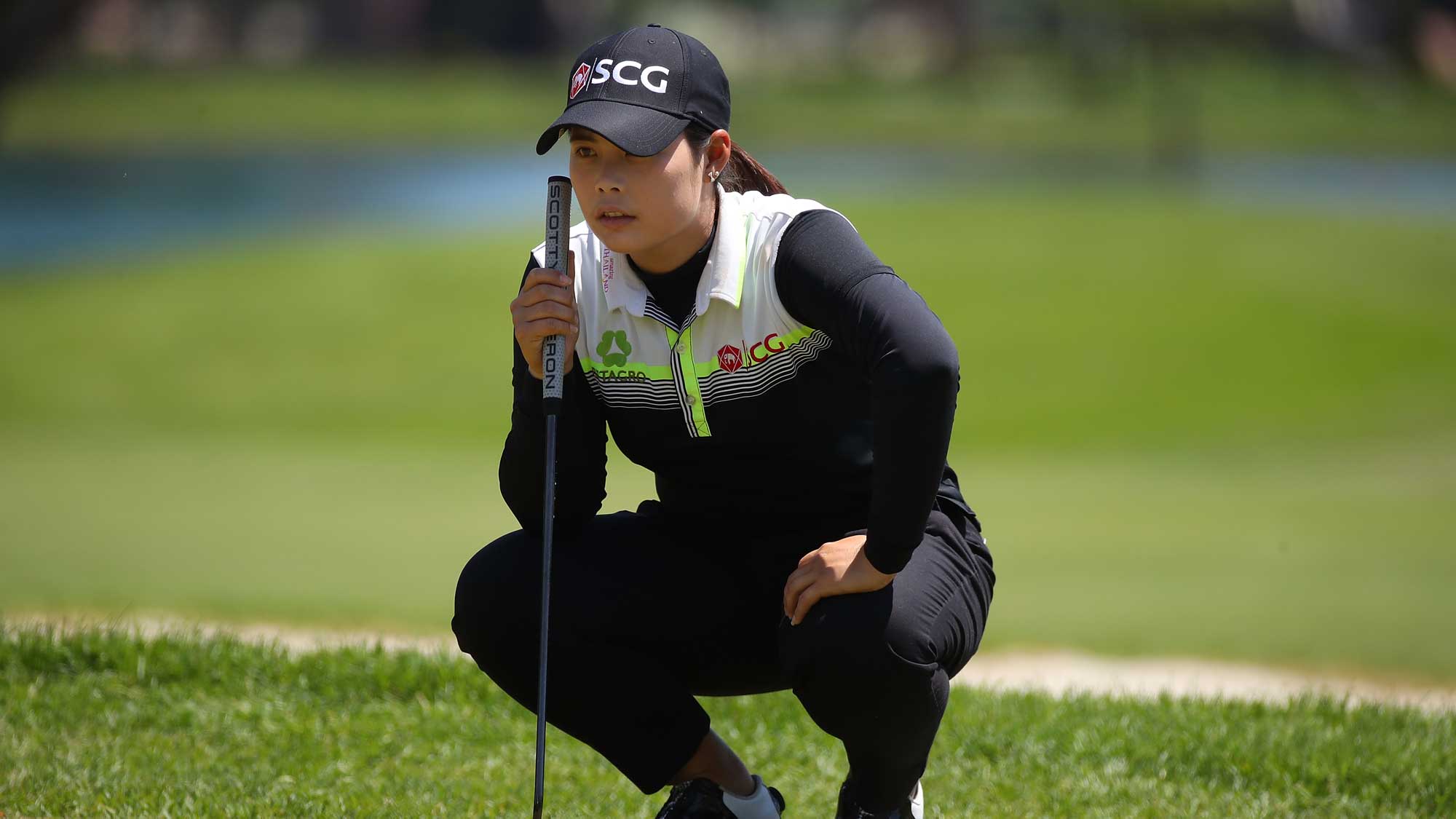 Jutanugarn keeping the momentum
While last week it was younger sister Ariya who won on the LPGA Tour for the first time in 2018, just last month older sister Moriya broke her career winless draught – finally, after notching 11 top-10 finishes in 2017 – and she kept the momentum going through the first round at the LPGA Volvik Championship.
Jutanugarn shot a 6-under-par 66 Thursday, with no bogeys. She finished tied for the lead with Amy Olson, playing partner Caroline Masson, and Danielle Kang.
She missed only one fairway Thursday and hit 14/18 of greens en route to tying her low first-round score of 2018 (she's shot 66 on two other occasions this year).
Jutanugarn said she's worked hard at committing to every shot, which has resulted in her playing solid golf the last few weeks. She's also tried to keep her approach to golf simple.
"Pretty much you just hit the shot, go find the ball, hit another shot. If you don't make (the) putt, just go hit another putt," she said. "I had a lot of fun out there."
Jutanugarn's group was a collective 15-under par during Thursday's opening round, and she said it was fun to see putts falling and everyone getting into a good mood on the course. She said the whole group was feeding off the success of one another, which resulted in two of the three members sharing the lead after round one.
The 23-year-old has been working with Gary Gilchrist on her swing, and Gareth Raflewski on her short game (who also works with her sister Ariya and fellow former world no.1 Lydia Ko), making sure everything is in place week-to-week.
However, after her win last month at the HUGEL-JTBC LA Open, she said she's feeling as relaxed as ever on the golf course, with the weight of getting that first win off her back.
"I feel is more relaxed now, and of course I like looking forward for my next one," she said. "But I just want to set it as a goal and go back to what I have to do every day, every shot, and I think, it's just more like start over again."
So far in Michigan, it's been a good start.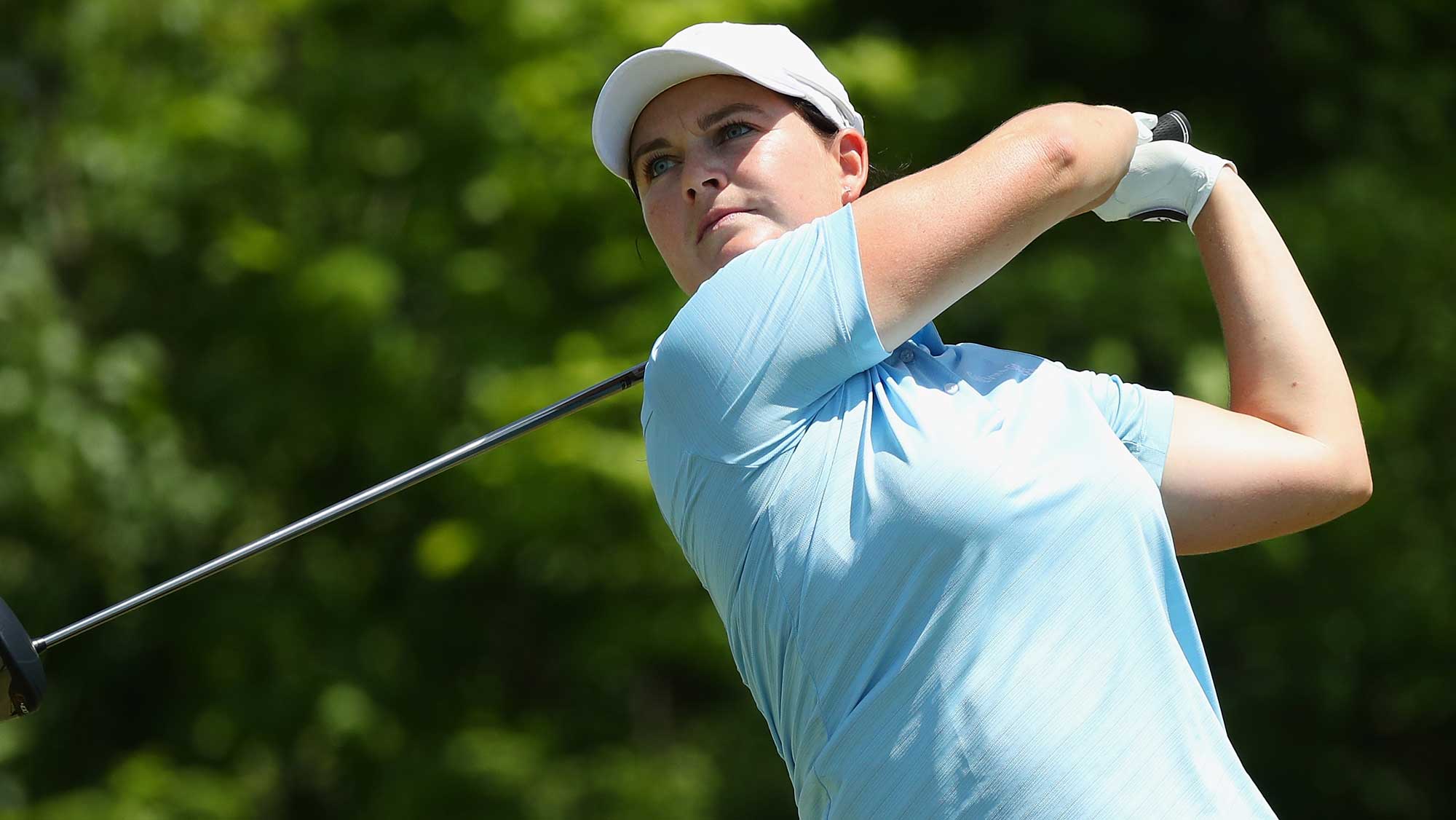 Masson shares the lead
It was a colorful scorecard for Caroline Masson Thursday at the LPGA Volvik Championship, but after it was all added up, she still shared the lead.
Masson's 6-under-par 66 included six birdies and an eagle. She said her putting was key to her success in the opening round.
"I played well last week, and my ball-striking was really good and I was struggling a little bit with the putts. Just changed a couple things with my coach, Gareth (Raflewski), earlier this week and it seemed to work," she explained. "So it was just nice to see a couple go in and played pretty solid overall."
Masson admitted her ball-striking Thursday wasn't as solid as it was a week ago, so she worked on a few things on the driving range after her round to get ready for Friday. She admitted she fed off the momentum of the other two members of her group, especially Moriya Jutanugarn, who she is co-leading with.
The highlight of the day for Masson, who hasn't won on the LPGA Tour since 2016, was an eagle on the par-5 14th. She said she hit a great drive and a 3-wood onto the green before converting the eagle putt from more than 30 feet away.
"That was kind of the first really nice putt that I made today," she said. "Sometimes it can… really get you into a really good round, so it was fun to play like that."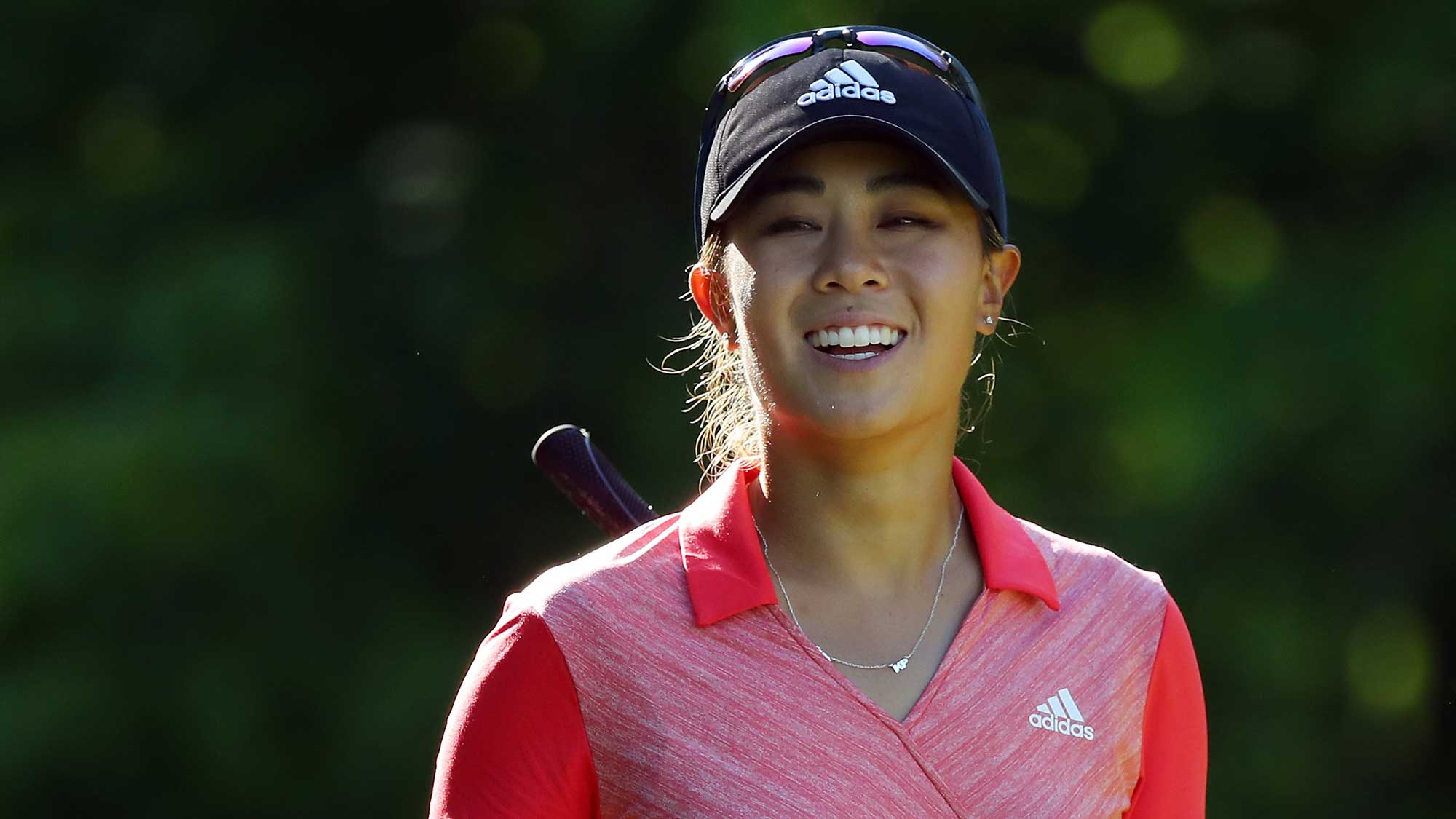 Kang in major form
Danielle Kang woke up this morning thinking she wanted to go all 18 holes at the first round of the LPGA Volvik Championship without a bogey.
Mission accomplished.
Kang shot a 6-under-par 66 Thursday to tie for the lead with three other golfers, making three birdies on both her first and second nines.
"Woke up, was like, 'I don't want to make any bogeys today, let's just try that.' I know that's weird. I rolled the putts really well. I'm hitting the ball really good, even from last week. My game feels really great, so just keep giving myself birdie chances," she said.
Kang has had an up-and-down start to 2018, with two top-5 finishes including a runner-up at the HSBC Women's World Championship, but she's missed two cuts including at the ANA Inspiration, the first major of the year.
However, with her title defense at the KPMG Women's PGA Championship just around the corner – and the U.S. Women's Open next week – her game is rounding into form at the right time.
"I feel like my game is in a really good place and I felt really good after last week," said Kang, who finished tied for 17th a week ago. "Just kind of using this week as a practice for preparation for next week and that's what I'm doing."
Trending on Social