Lee leads
Despite the two-hour, 11-minute rain delay, it was a clean scorecard for Minjee Lee on Saturday.
Lee shot a 4-under-par 68 on Saturday at the LPGA Volvik Championship and leads by two over a foursome of golfers.
She's looking for her first LPGA Tour win since 2016 (when she won twice), and her fourth LPGA Tour victory overall.
"I had a pretty solid day today, made no bogeys," she said. "Four birdies on the card, which is pretty solid for today."
Lee said the greens firmed up by the time she finished her round but was able to take advantage of the putts she had for birdie, which was the key to her round Saturday.
"I think just keeping it in play was pretty important today," she explained.
Lee birdied her final hole of the day to head into Sunday's finale with a two-shot lead.
She's got some good vibes at the LPGA Volvik Classic as well, having finished tied for second a year ago.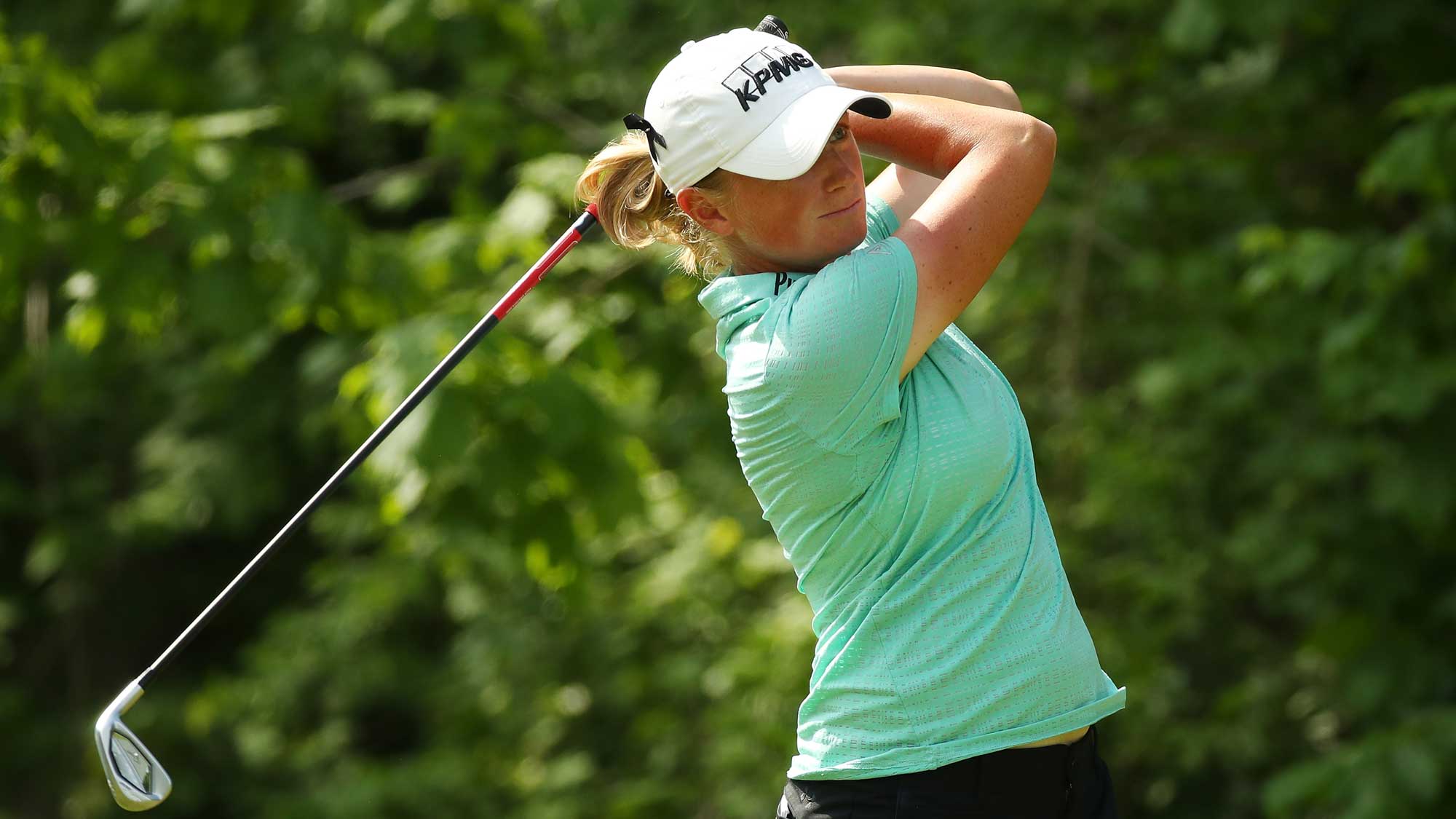 Lewis just one shot back
It's been quite the year away from golf for Stacy Lewis, as she announced she was expecting her first child in April.
Although she hasn't been in contention yet on the LPGA Tour through 2018, through three rounds in Ann Arbor, she's just one shot back of the lead and in prime position for her best finish of the year.
Lewis shot a 5-under-par 67 on Saturday to move into a tie for second with three other golfers.
Her last win came at the Cambia Portland Classic presented by JTBC in August. It was a dramatic result, as she had promised at the beginning of the week to donate her full winners cheque from that tournament to the relief efforts in Houston, Texas. The full first-place prize ended up going to Houston.
Lewis said she didn't feel as though she hit the ball well, but managed to get saved by making some solid up-and-downs and got on a "nice little run."
"This golf course, you can shoot a number. You can shoot 6 or 7-under, but you can also play pretty good and shoot even par. So you've just got to get runs like I did there at the end of the day and just keep hanging around and post a number and see what happens," she said. "That's what wins these things."
Lewis admitted she was tired after today's stop-and-start round, but otherwise physically feels as though she can still be competitive.
"The little one was telling me it's dinnertime right now, but other than that I feel pretty good," she said.
Lewis said she won't be putting a number in her head that she'll have to get to in order to find the winner's circle, but heading into Sunday just a shot back of the lead makes her feel as though she's got as good a chance as any.
"The golf course is going to keep drying out and it's not going to get any easier. What they do with the hole locations… the hole locations are pretty tough today, a lot really close to the edges more than I've seen. Just kind of depends on setup and what kind of weather we get, but I'm looking forward to it," she said. "Excited to be in the hunt."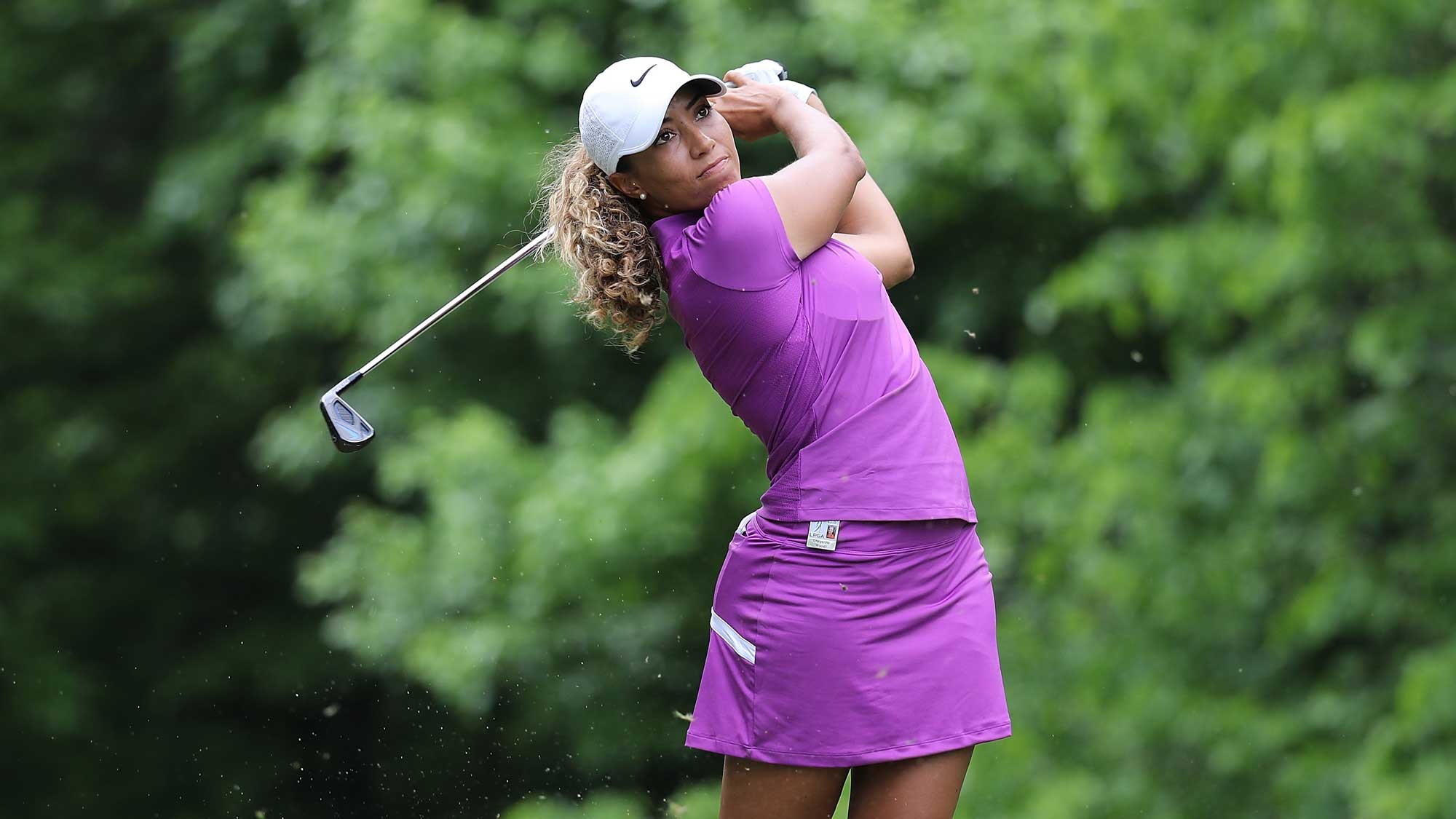 Woods off to a quick start
It was an early start for Cheyenne Woods, prior to the rain delay on Saturday at the LPGA Volvik Championship, but the early rise was worth it for Woods, who shot her lowest round of 2018.
Woods' 6-under-par 66 was only her second round in the 60's so far this season, but it moved her up nearly 40 spots on the leaderboard. It was the first time she went bogey-free in 2018 as well.
"It felt really good out there today," said Woods. "I felt like the last few weeks my game has just kind of been coming together, and the results haven't always shown but my caddie and I have just stayed patient and today we finally saw what we've been feeling."
Although Woods will start Sunday well back of the leader IK Kim… she is on track for her best result of the season.
She said Travis Pointe Country Club was ripe for scoring on Saturday and she was able to take advantage. She pointed to the par-5 18th as one of the more scoreable holes, as officials moved the tee box up to encourage birdies.
Woods said it was nice to get out early, prior to the rain delay, and get into a groove that allowed her to post one of the best rounds of the day.
"It was just nice to get out there early," she said. "The pace of play is always nice in twosomes so you're able to really get into a solid flow."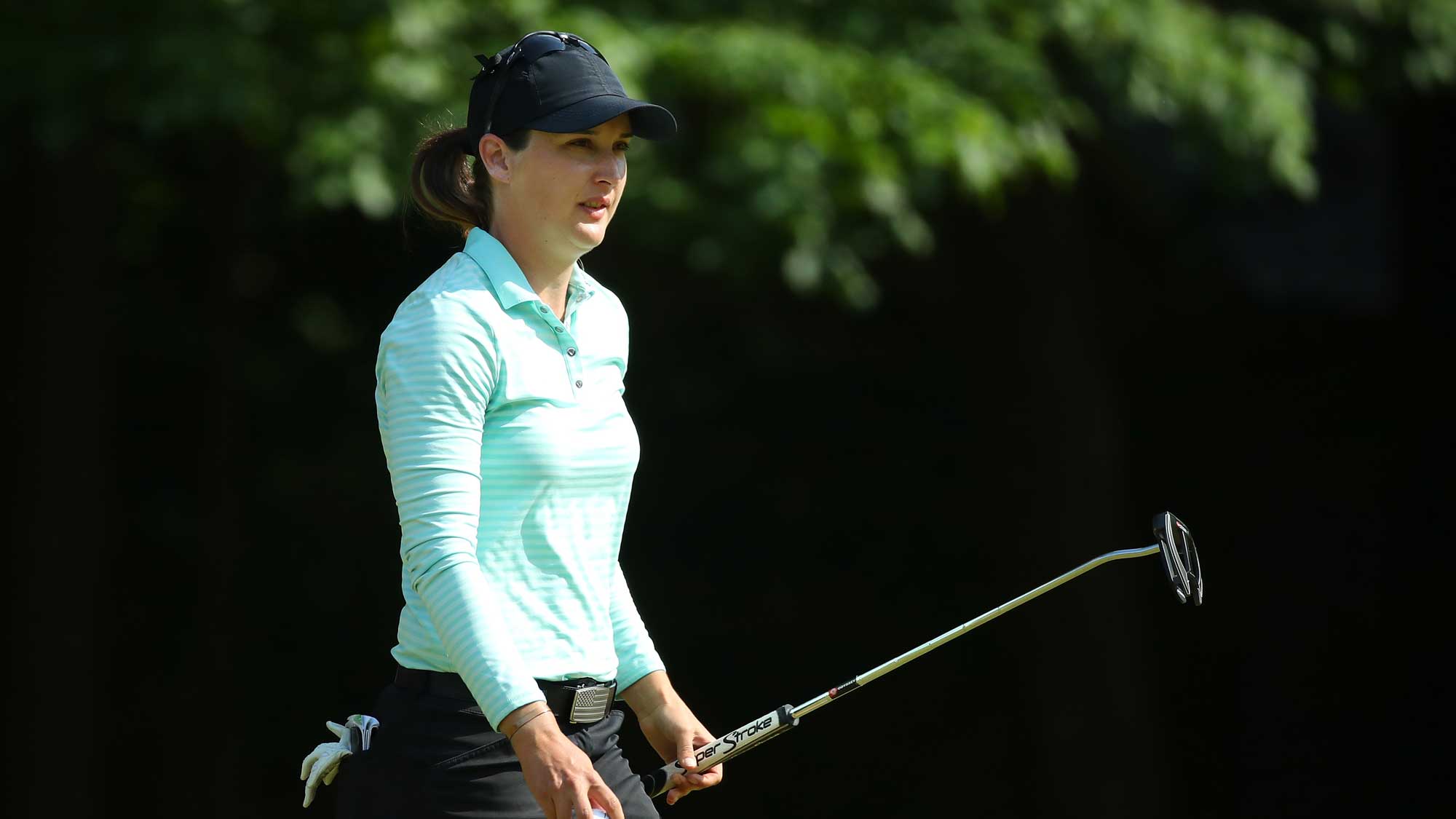 Duncan in position for first LPGA Tour victory
After a 3-under-par 69 on Saturday, Lindy Duncan is just two shots back of the lead, and is the closest she's been to an LPGA Tour victory in her young career.
Duncan made four birdies and just one bogey Saturday and sits tied for second with three others. She said the weather delay didn't impact her, as she had yet to tee off. Instead, she felt relaxed.
Duncan said she was able to take advantage of the front nine and got her momentum going. She was 3-under for her first nine holes and was overall solid from tee-to-green. She hit 12 of 14 fairways and 13 of 18 greens on the day.
"The front nine was solid… birdied the par 5's and had three good par saves on 10, 11, 12, so that was pretty much a good round," she said.
Duncan said she made a swing change prior to the LOTTE Championship in Hawaii, and she is now just seeing the fruits of her labour pay off.
"I was having a lot of misses in the heel and that was causing like loss of yardage and some dispersions, so I think when we kind of worked on the swing change I kind of started hitting it more in the middle and then from there just got some nice distance back," she said. "But more importantly, I'm just hitting more greens I would say, and then my wedge game improved a lot over the offseason."
Trending on Social