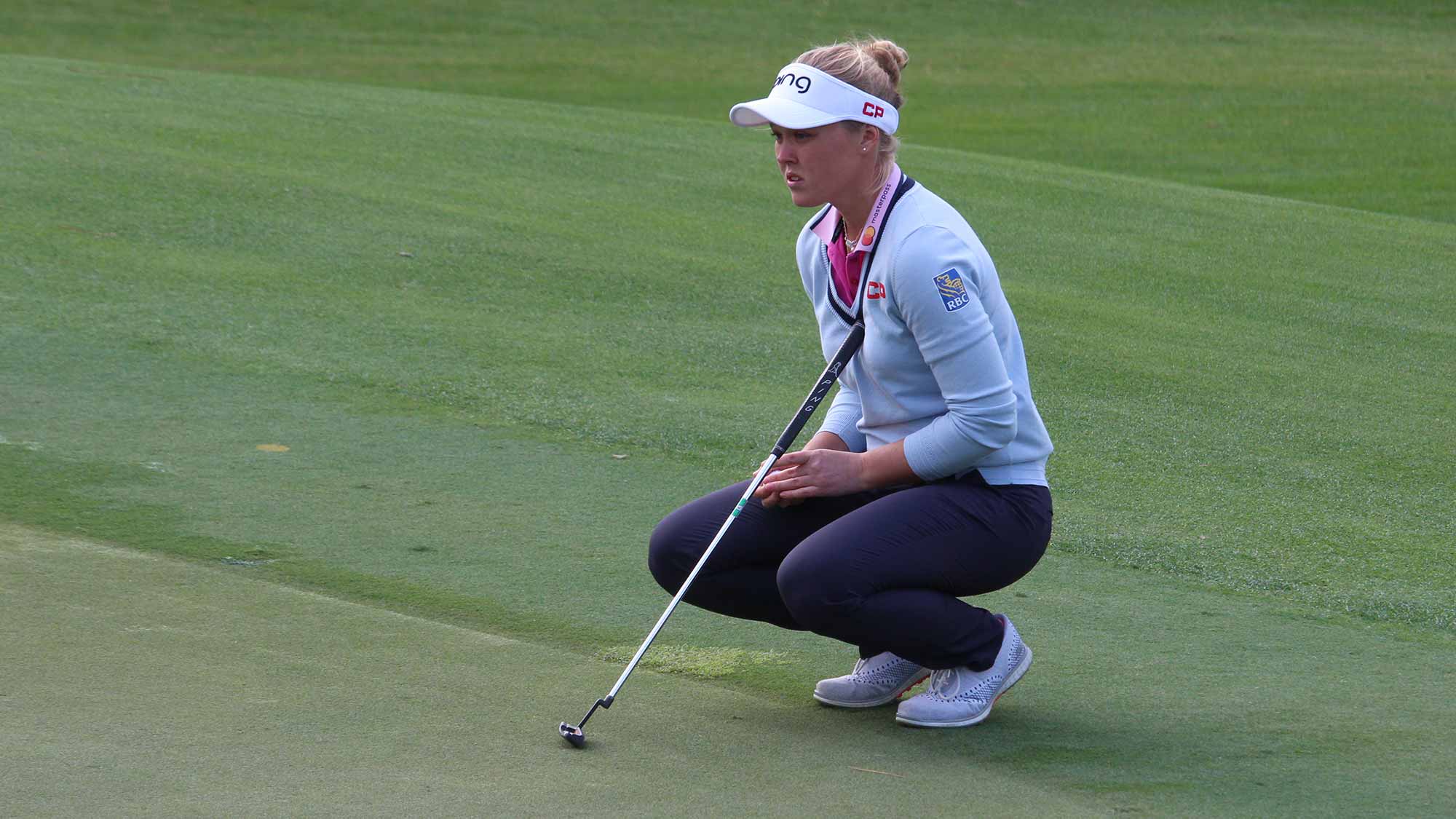 Henderson Holds Steady
It was an unseasonably cold Saturday in Central Florida at the Diamond Resorts Invitational, with cloudy skies and temperatures in the mid-50s. Even Canada's Brooke Henderson was feeling the freeze, but her play remained hot for the second straight day as she backed up a 66 with a Saturday 67.
"I made six birdies, which is awesome," Henderson told LPGA.com after her round. "I had one bad hole that kind of set me back a little bit but I felt like I move on from it pretty quickly and made three birdies after that which is really good."
Henderson, who was T-6 after day one, played alongside the MLB's Mark Mulder and Troy Glaus. Henderson got off to a hot start with two birdies in her first three holes. She picked up another at the par 3, 9th hole to climb to 43 points in this week's Stableford scoring system. A double bogey at the par 5, 10th hole set her back, but she rebounded with three birdies on the inward stretch to finish the day with 55 points and in a tie for seventh.
"I like the position I'm in," Henderson said. "I'm just going to go out tomorrow and just have some fun and hopefully make a few more birdies."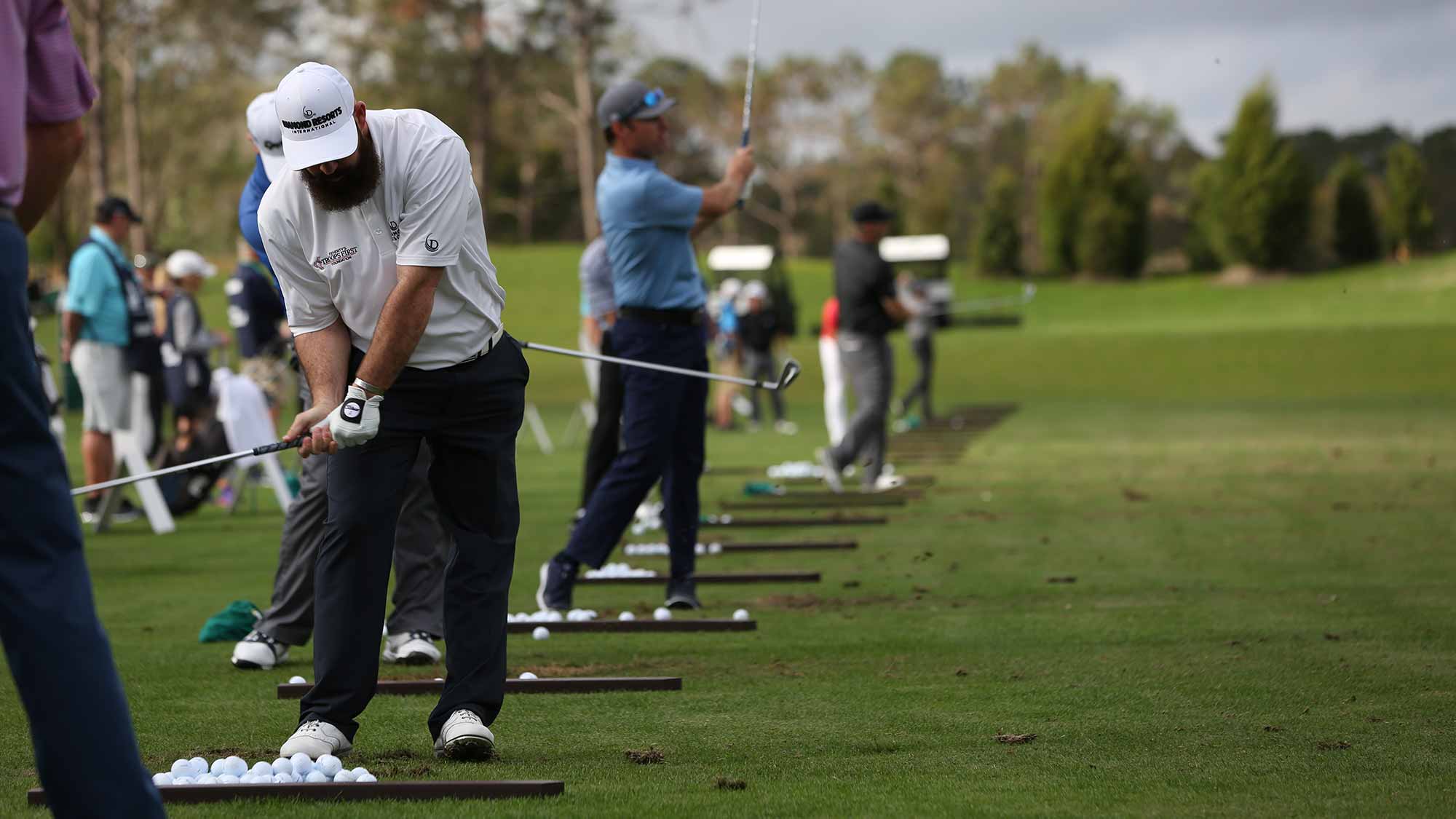 Parel Leads Professional Division at Diamond Resorts Invitational
ORLANDO, Fla. – Scott Parel, who spent 10 years as a computer programmer before turning professional at age 31, birdied five of the last 10 holes in Saturday's chilly second round and maintained his Professional Division lead in the third annual, 54-hole Diamond Resorts Invitational.
Flu-ridden through Thursday, the second-year PGA Tour Champions player closed with a birdie 2 on the 209-yard 18th and had 27 points Saturday for a total of 61. That put Parel one ahead of former driving range pro Wes Short Jr. (30 points Saturday), who didn't play on the PGA Tour until age 40, and Joe Durant (32 points Saturday), long one of golf's best ball-strikers. Short made seven birdies in a 7-under-par, back-nine 30 at par-71, 6,675-yard Tranquilo Golf Club.
"When I got in my late 40s, this is kind of what I envisioned, hoping that I would have a chance to do this, but you never really know until you get out here," Parel said of being able to play golf for a living after a career in computers. "It's been amazing. Honestly, it's a dream come true."
Canadian Brooke Henderson, 20, a five-time LPGA winner playing from the same tees as the men, made six birdies and remained in contention in a tie for seventh at 55 points in this unique hybrid event. Henderson, who won a major championship at age 18, was 18 points ahead of the next best among the four LPGA players in the 32-person pro field, Brittany Lincicome.
"Hopefully tomorrow I'll make a bunch more birdies and maybe get closer to that lead in the first few holes," Henderson said. "Yeah, it's exciting to be in this position, and hopefully I can just build on it tomorrow."
In the 52-man celebrity division, the question is this: Can anyone catch Fish?
Former tennis player Mardy Fish, the 2016 DRI winner and '17 runner-up, made four birdies against one bogey and has 51 points, six more than former all-star pitcher Mark Mulder, the defending champion, and nine ahead of former NHL all-star Jeremy Roenick.
"It'll be a nice challenge again," Fish said about trying to hold off Mulder.
Durant, a four-time Tour winner and twice champion on the over-50 circuit, is one off the lead despite battling tendinitis in his right elbow and feeling "rusty."
Modified Stableford scoring awards six points for an eagle, three for birdie, one for par, zero for bogey and minus two for double bogey or worse. Champions and LPGA players are competing for $750,000, the 52 celebrities for $500,000 in the event televised nationally by the Golf Channel.
By Diamond Resorts Invitational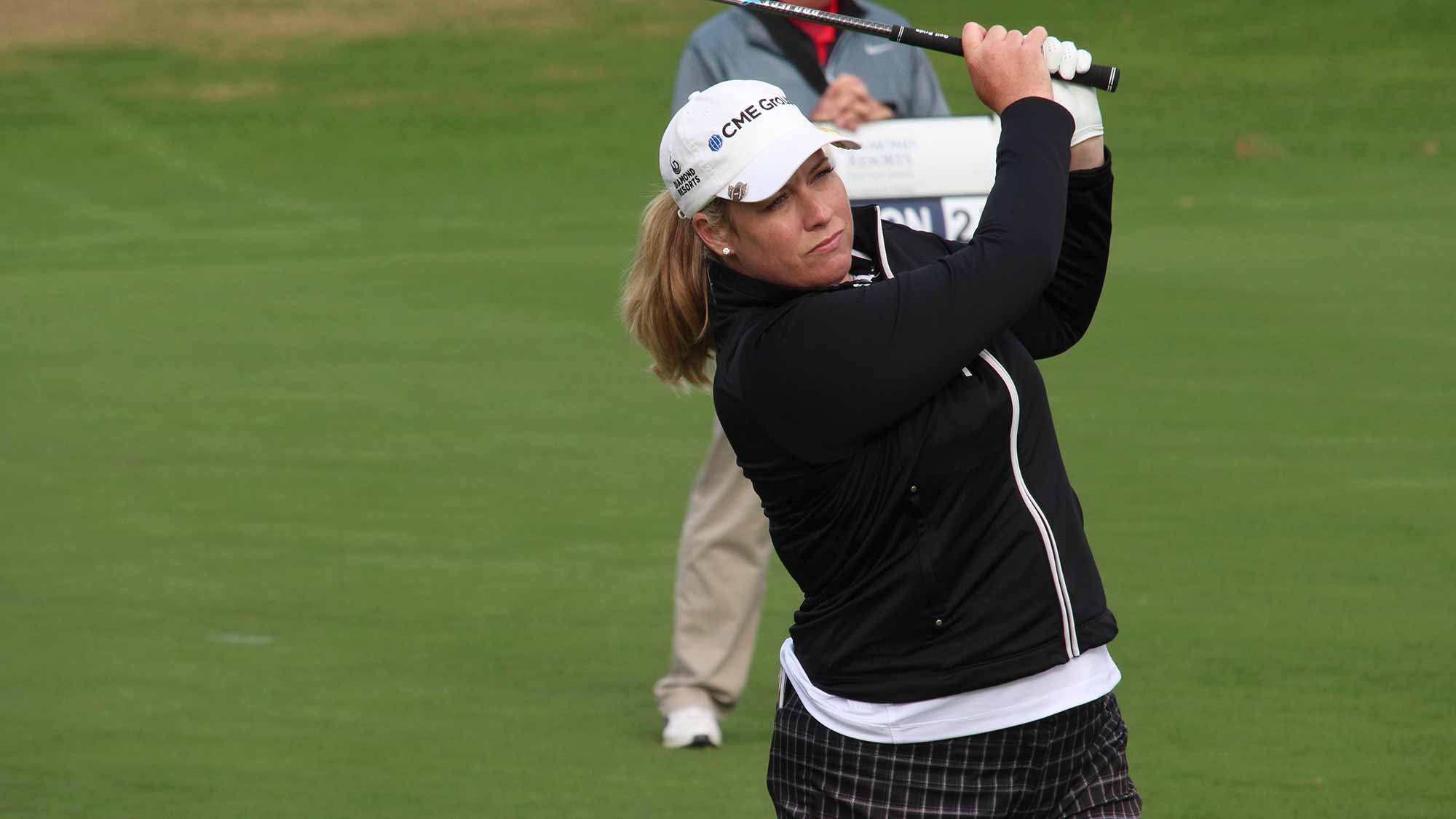 LPGA Leaderboard
Saturday, Brittany Lincicome was grouped with the NFL's Brian Urlacher and Patrick Peterson. She rebounded after a 76 on day one with a 70 on Saturday to increase her total to 37 points. Gerina Piller was grouped with MLB's Jon Lester for the second consecutive day and Tim Wakefield. She has 32 points heading into the final day. On day two, Brittany Lang played with Chris Harrison, host of The Bachelor, and Rob Riggle. She has also has 32 points.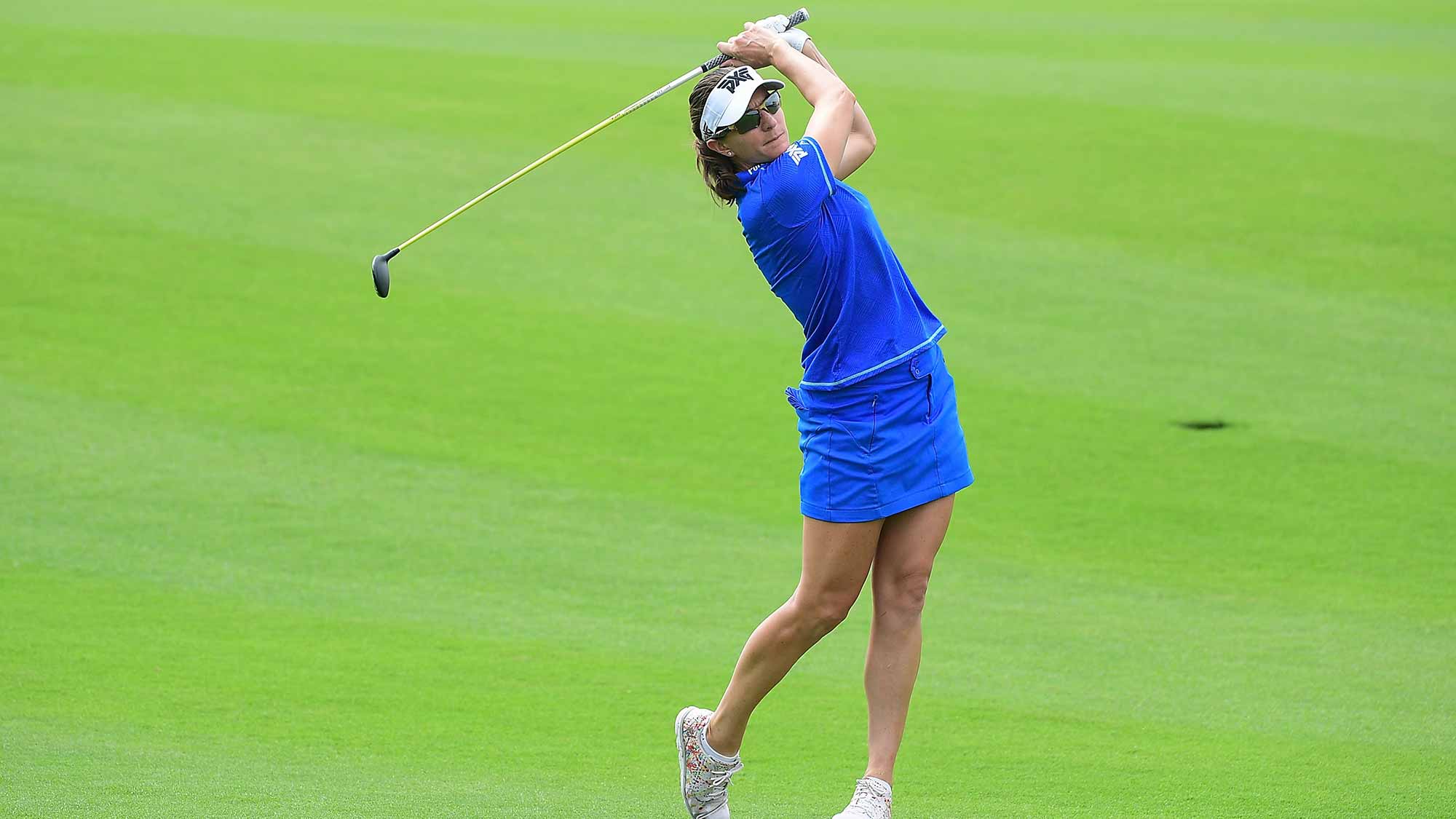 Growing the Game
It's easy to forget all you've accomplished playing alongside popular celebrities like Larry the Cable Guy and Rob Riggle. As fans clamored for their attention, U.S. Women's Open champion Brittany Lang lost sight of the fans that were lining the ropes, waiting to see her. Encouraged by her husband and caddie this week, Kevin, Lang sought out a fan to give a signed golf ball.
It was a tiny, 10-year-old named Ada, whose big green eyes caught her attention
"I asked her do you play golf?" Lang told LPGA.com. "She said no, I said well here's a ball. I think her parents said it's Brittany Lang, she's won a couple tournaments. She followed the rest of the time and her parents said she kept asking 'Where's Brittany? Where's Brittany? I've had clubs forever and I'm going to start playing. I can't wait to start playing.'"
It was a game changing moment for Lang and likely one for Ada, too. The soon to be golfer admired Lang's pink golf bag, which she plans to send to Ada after this week.
"Golf's such a great game for kids, but getting girls into just give them something to be successful in, it's just awesome."
Second Round Highlights from Diamond Resorts Invitational