Park Wins KPMG Women's PGA Championship
Sung Hyun Park doesn't show much emotion. But Sunday the Korean showed the world the wide range of emotions she has been experiencing, much like the roller coaster she's been riding this season.
The sixth ranked player in the world outlasted a three-person playoff, defeating So Yeon Ryu and Nasa Hataoka on the second extra hole to win her second major title and fourth career victory on the LPGA Tour. Park rolled in birdie putts on both playoff holes, the second one dropping in at the par 4, 16th hole after a 20-minute weather delay. As she hugged her caddie, David Jones, Park showed an outpouring of emotion that hasn't been seen in her previous wins. She cried openly on her caddie's shoulder as all the frustrations of three missed cuts in her last four starts poured out.
Park recorded the only bogey-free round on Sunday at Kemper Lakes Golf Club, carding a 3-under par, 69 to force a playoff. She didn't make a single bogey on the back nine all week. When she rolled in a long birdie putt at the par 4, 14th hole to pull within one of Ryu, she let her fist fly. It was the most emotion she had displayed all week. Park fist pumped again at the par 4, 16th hole after chopping her ball out of knee high grass in order to make, what would end up being, a critical up and down from near the water just short of the green.
It was the highlight of the championship and evoked memories of another great Korean, Se Ri Pak, who 20-years-ago hit a shot barefoot from a similar lie and inspired a nation.
Park's par save seemed omniscient, as Ryu found the water off the tee at the par 3, 17th hole and made double-bogey to drop back into a tie with Park. At the 72nd hole Park let a birdie putt slide by that would have given her the outright win.
Park is just the third Korean to win the KPMG Women's PGA Championship, joining a short list that includes two of the game's greats in Pak and Inbee Park.
The win is Park's second of the season. She won the weather-shortened Volunteers of America LPGA Texas Classic in May.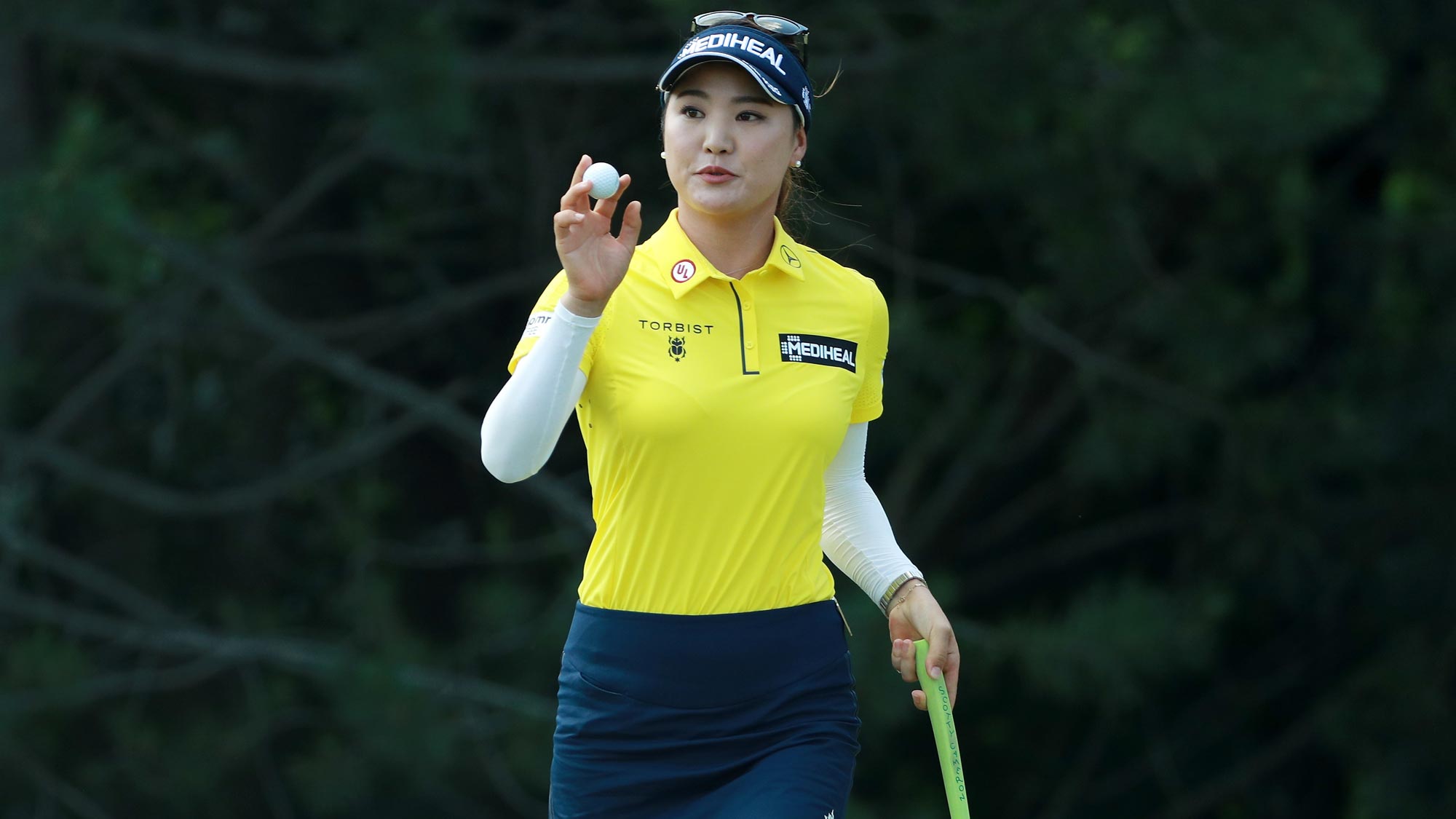 Ryu's Grand Slam Quest Continues
Achieving the Career Grand Slam wasn't a thought in So Yeon Ryu's mind 15 months ago. But after she won the 2017 ANA Inspiration, that dream began to grow in her heart, having already won the U.S. Women's Open for her first win on Tour in 2011. Ryu's dream became closer to a reality at the KPMG Women's PGA Championship, where she nearly captured the third leg. Instead, she settled for a runner-up finish after losing in a three-way playoff to Sung Hyun Park.
The three-stroke lead Ryu held at the start of the day quickly evaporated with a double-bogey on the second hole. Although she was able to recover and make the turn at Even par, a critical second double-bogey at the par 3, 17th ultimately cost her the championship. She had a two-stroke lead on the tee box and walked off the hole in a three-way tie for the lead. Ryu lost on the second playoff hole when Park drained her putt for birdie and the win. Ryu carded a final round 1-over par, 73 on Sunday.
"The biggest regret is 17," Ryu said on Sunday. "I was over the ball and I felt like the wind was a little bit more into, so I was going to have like one club longer, and then I was like, I just want to stick to my plan A, and then I hit it, I don't think it was a really bad shot, but just maybe ball drew more than I expected, then there was a really strong right-to-left wind and then wind just took it really hard to the left, and then it's in the water hazard."
Ryu has struggled in 2018 to top what she achieved in 2017. Last season was a career best for the 2012 rookie. She won twice, including a major championship, she also ascended to No.1 in the world and shared Player of the Year honors with Sung Hyun park at the season's end. But with all she achieved in 2017, the Korean put more pressure on herself to perform in 2018. That stress became almost paralyzing for Ryu who turned to her instructor, Cameron McCormick for advice. He told her to face her fears. All of them. Ryu is terrified of roller coasters. So, she made a trip to Six Flags amusement park in Dallas with her sister and road every coaster she could find. She won her next event on Tour, picking up her sixth career win at the Meijer LPGA Classic for Simply Give. That was two weeks ago.
With her fears aside, Ryu was freed to pursue her dreams. They'll just have to wait another four weeks, when she has her next shot at picking up another leg of the Career Grand Slam at the Ricoh Women's British Open.
"I did my best," Ryu said after the round. "If I look back, nothing I can do any better than that. I just did 100 percent effort. Every shot, every putt, and still, you know, I like looking at the positive side. This is my best finish for this tournament, so hopefully it's going to keep improving, and one day I want to lift that trophy."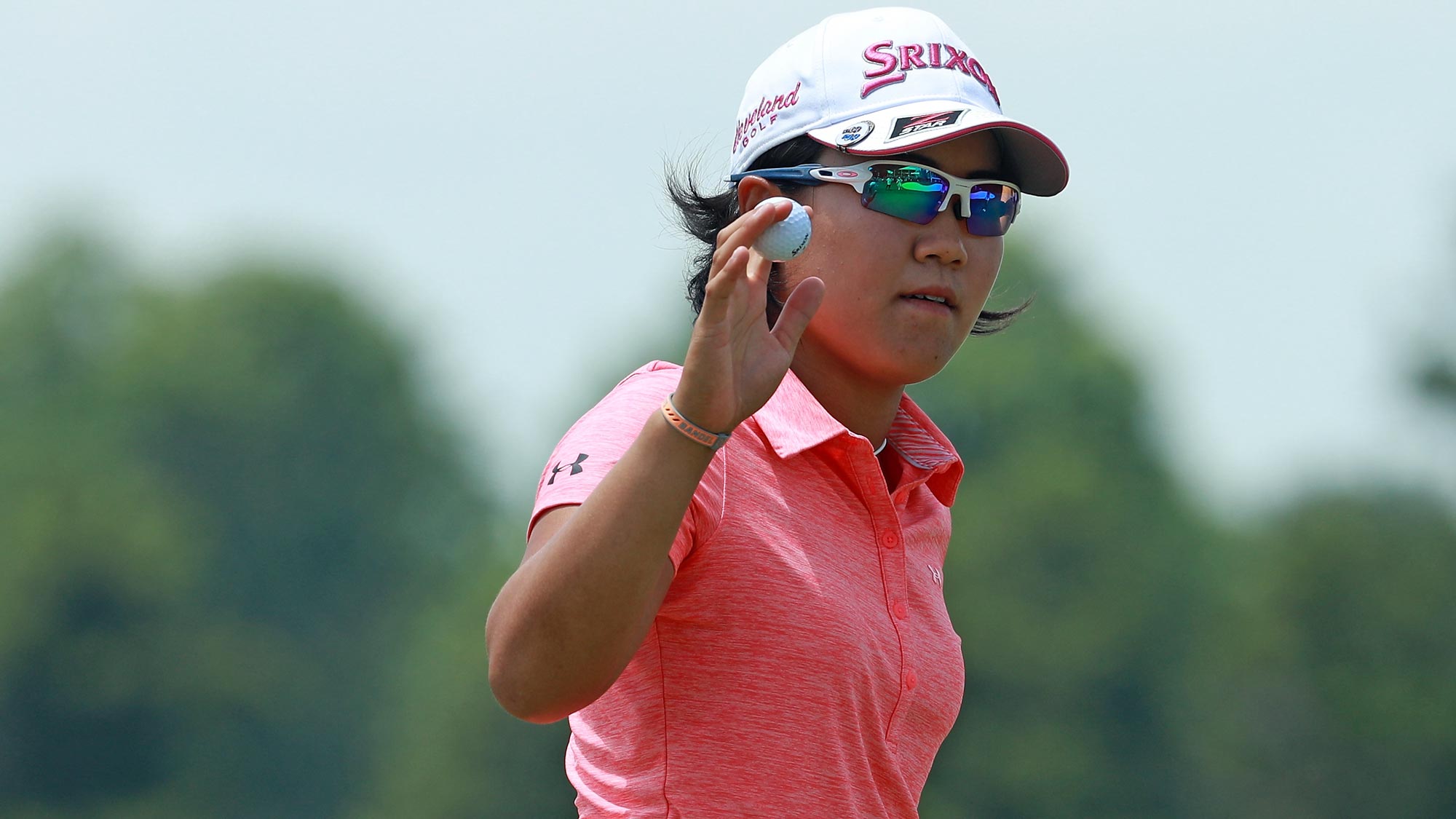 Hataoka Hops, Skips and Jumps Her Way to the Top
Nasa Hataoka finished a hop, skip and a jump shy of her first major title. The 19-year-old from Japan, who was named after the United States' space program, rocketed to the top of the leaderboard at the KPMG Women's PGA Championship with an 8-under par, 64 for the low round of the week. Hataoka began the day 9-strokes back of the lead and waited more than an hour and a half to see if the leaders would fall back to her at 10-under par.
They did.
Hataoka was eliminated on the first extra hole with Sung Hyun Park and So Yeon Ryu when she failed to make birdie at the 18th hole. The second-year member won't be heading home with the trophy but will walk away with her best finish in a major championship.
Last Sunday, Hataoka was the one who walked away with the trophy when she won for the first time on the LPGA Tour in Arkansas. Today, Hataoka and her caddie, Dana Derouaux enjoyed another fun Sunday, this time at Kemper Lakes Golf Club, where Derouaux says his player was more concerned about his ability to cope with the extreme heat than about her golf.
"I think she's trying to keep me upright out there," Derouaux joked with reporters after the round.
At the start of the day, Hataoka appeared to be a non-factor after backing up with a third round, 73. Temperatures that felt well into the triple digits affected many players this week and the young player was among them.
"Mentally she was stronger today. Yesterday, she was kind of out of her rhythm and I think was a little tired," her caddie explained. "She got some good rest last night and she had a lot of confidence today."
Ahead of each shot, Hataoka shrugs her shoulders and hops in the air. It's a unique pre-shot routine that's she's done since she was 14-years-old. It keeps her loose on the course when her body tenses up as she gets nervous. While Hataoka isn't the type of player who gets very excited on the golf course and wouldn't seem a likely candidate to hop, the process worked for her on Sunday. She recorded two eagles, five birdies and one bogey en route to that round of 64.
"Nasa doesn't get real excited, she stays pretty steady," said Derouaux. "She's got a heart of goal. She really does."
Park Pulls Off Incredible Up and Down at 16th Hole on Sunday
Trending on Social