Lee captures her fourth LPGA Tour title
Happy Birthday to her.
On her 22nd birthday, Minjee Lee notched her fourth LPGA Tour title, capturing the LPGA Volvik Championship by one shot after a 4-under-par 68 on Sunday.
Lee got off to a quick start, making three birdies in her first five holes. She made a costly bogey on the par-4 17th, but bounced back with another birdie on the 72nd hole of the tournament to nail down the victory.
"I started off pretty solid, so I think I made three birdies on the front nine and I just pretty much was pretty steady until the end," she said. "Overall I had a really solid day. I think I was striking it well and putting it pretty well."
Lee's approach on No. 18 got lucky as it went around a collection of trees en route to the green. But a delicate chip shot ended up close enough to the hole for a final birdie, and the win.
"My drive went pretty far. I didn't expect it to go that far. I had a 5-iron in, but I sort of had to cut it around the tree and I overcut it a little bit and I was lucky not to clip the very top end of the tree," Lee admitted. "I had a pretty easy chip shot after that shot."
After winning twice in 2016, Lee has since gone through a winless draught. However, Sunday's victory was a nice weight off her shoulders. And leading into the U.S. Women's Open next week, she feels as confident as ever.
"I'll go there and check out the golf course and hopefully have a good week, too," she said.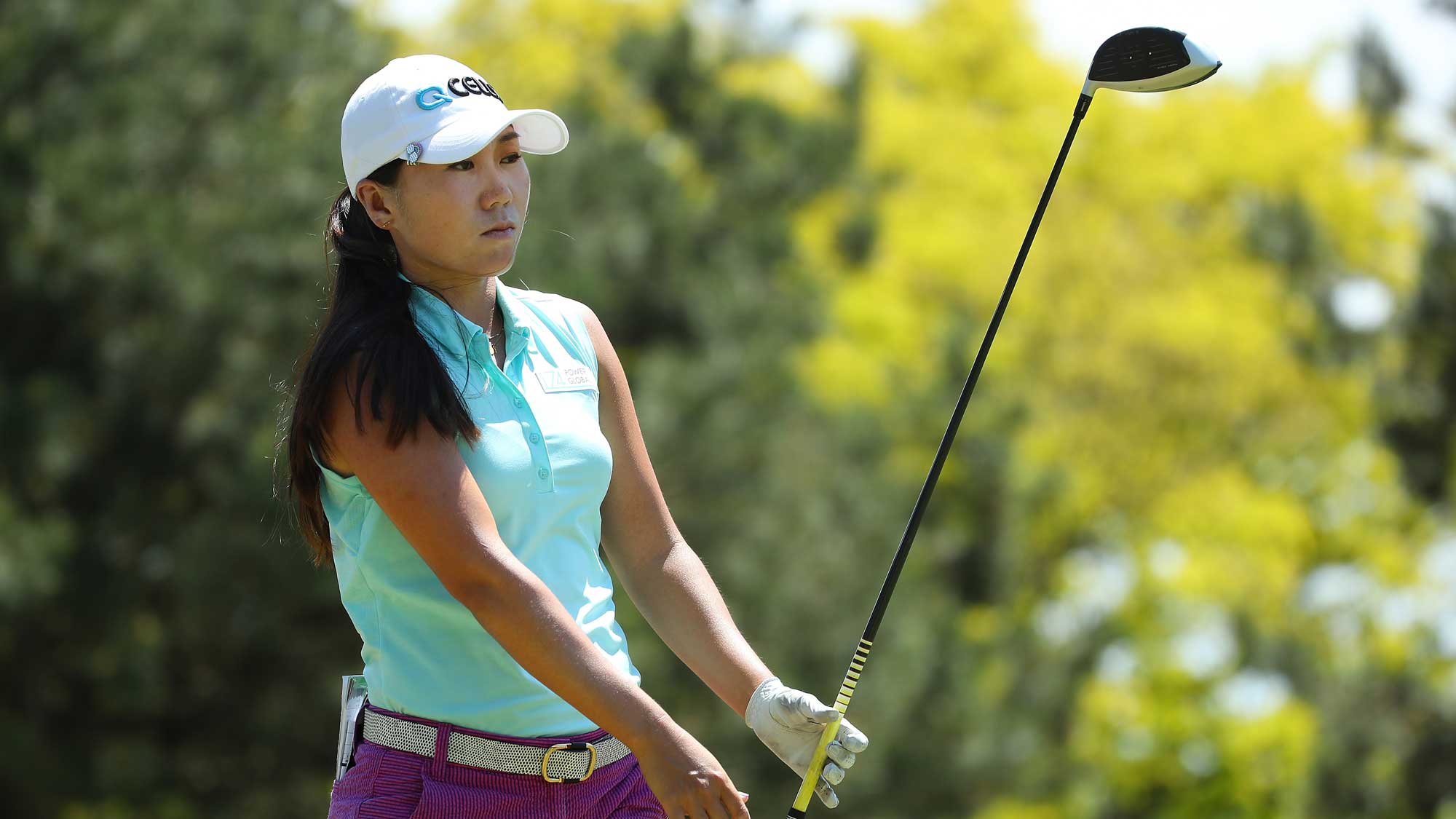 Kim finishes runner-up
It was quite the debut for I.K. Kim at the LPGA Volvik Championship, as she and eventual champion Minjee Lee battled back-and-forth all day – they were tied for the lead a handful of times throughout Sunday afternoon – before Lee eventually pulled away.
Kim, to her credit, shot a 5-under-par 67, the identical score she shot on Saturday. She made two bogeys on Sunday, one on the par-3 7th, and the other coming later in the round, on the par-4 15th, which essentially derailed her chances at the win. She bounced back with a birdie on No. 18 that put the pressure back on Lee, but after a bogey on the 17th hole, Lee birdied No. 18 as well to put a bow on the championship.
Kim said although she wanted to get to a playoff, she said it was great to have a chance to win, especially the week before a major championship.
"I like to put myself in that position as often as possible," she said. "It's my first time playing this course as well, so it's been very inviting."
Kim said she's refocusing on next week, and although she's had some trouble adjusting to new golf clubs in 2018, she said things are starting to come around.
"I'm still trying out a few things," she said. Everything's coming along… and I feel like it's been a lot of grinding, so it's really nice to have some kind of assurance."
Kim's runner-up finish was her best of 2018. She finished tied for fourth at the Kia Classic in March.
Kim won three times on the LPGA Tour last year, including the RICOH Women's British Open, her first major championship.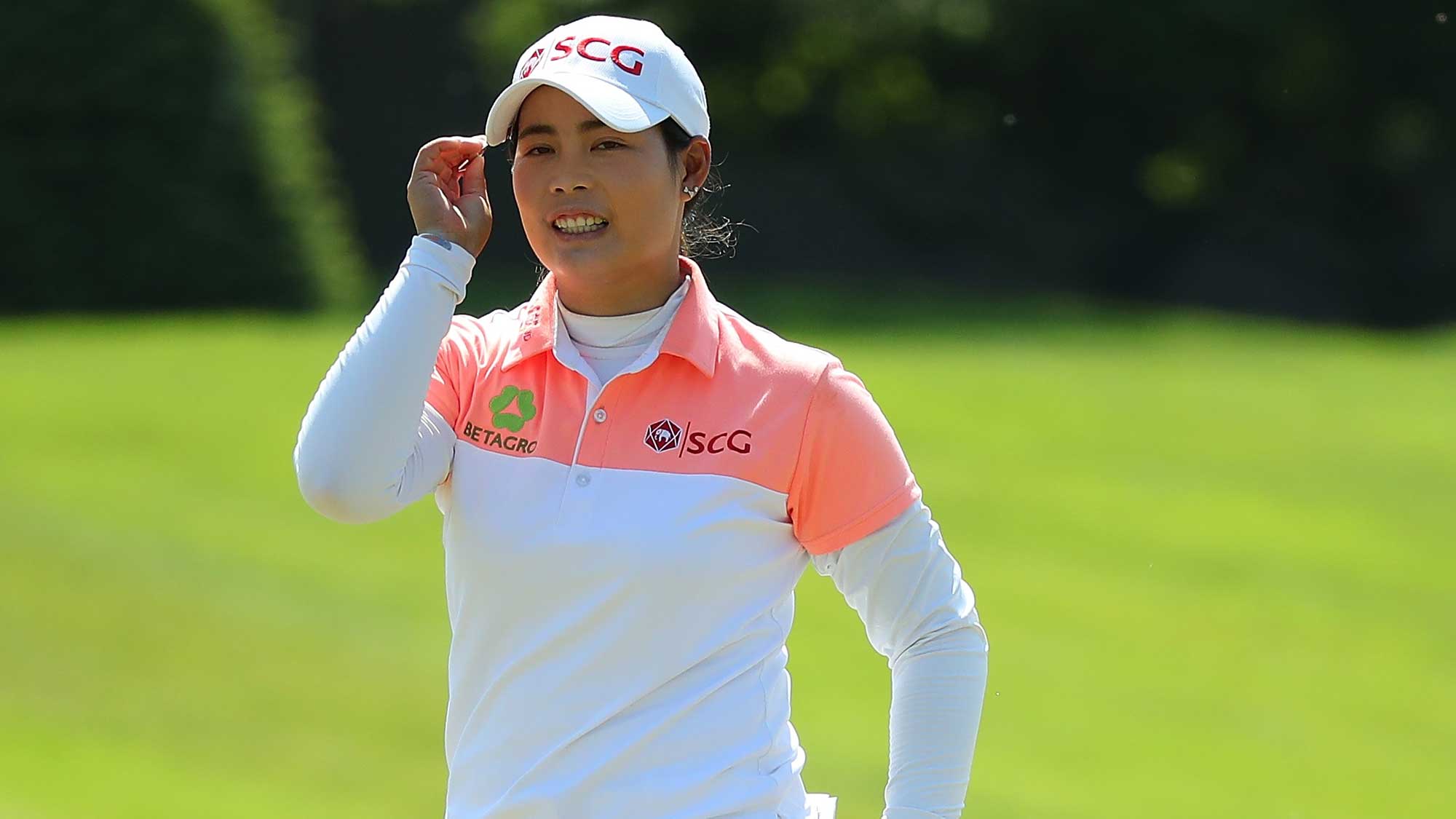 Jutanugarn falls just short
Although Moriya Jutanugarn fell just two shots shy of notching her second win in four weeks, she tied for the round of the day Sunday – a 7-under-par 65 – and heads into next week's U.S. Women's Open with a ton of confidence.
Jutanugarn notched her first LPGA Tour victory at the Hugel-JTBC Los Angeles Open in late April and solo third-place finish was her sixth top-10 finish of the season.
The 23-year-old made no bogeys on Sunday to climb 13 spots on the leaderboard. She said the key to her successful Sunday was to stay patient, and take things one shot at a time.
She said she didn't look at the leaderboard early Sunday, but instead just wanted to try to make as many birdies as she could.
"When I started, (I was) pretty far behind and I just want to have a good day today and I just, you know, promised to myself what I (was) going to do and I'm really happy with that, because I did it," she said.
Although it didn't turn out to be another Jutanugarn in the winner's circle a the LPGA Volvik Championship (sister Ariya won this event in 2016), Moriya said she is taking a lot of positives into next week's major.
"Every week is different, but of course when you hit the ball solid and get a good feeling when you walk off the golf course, it's always great," she said.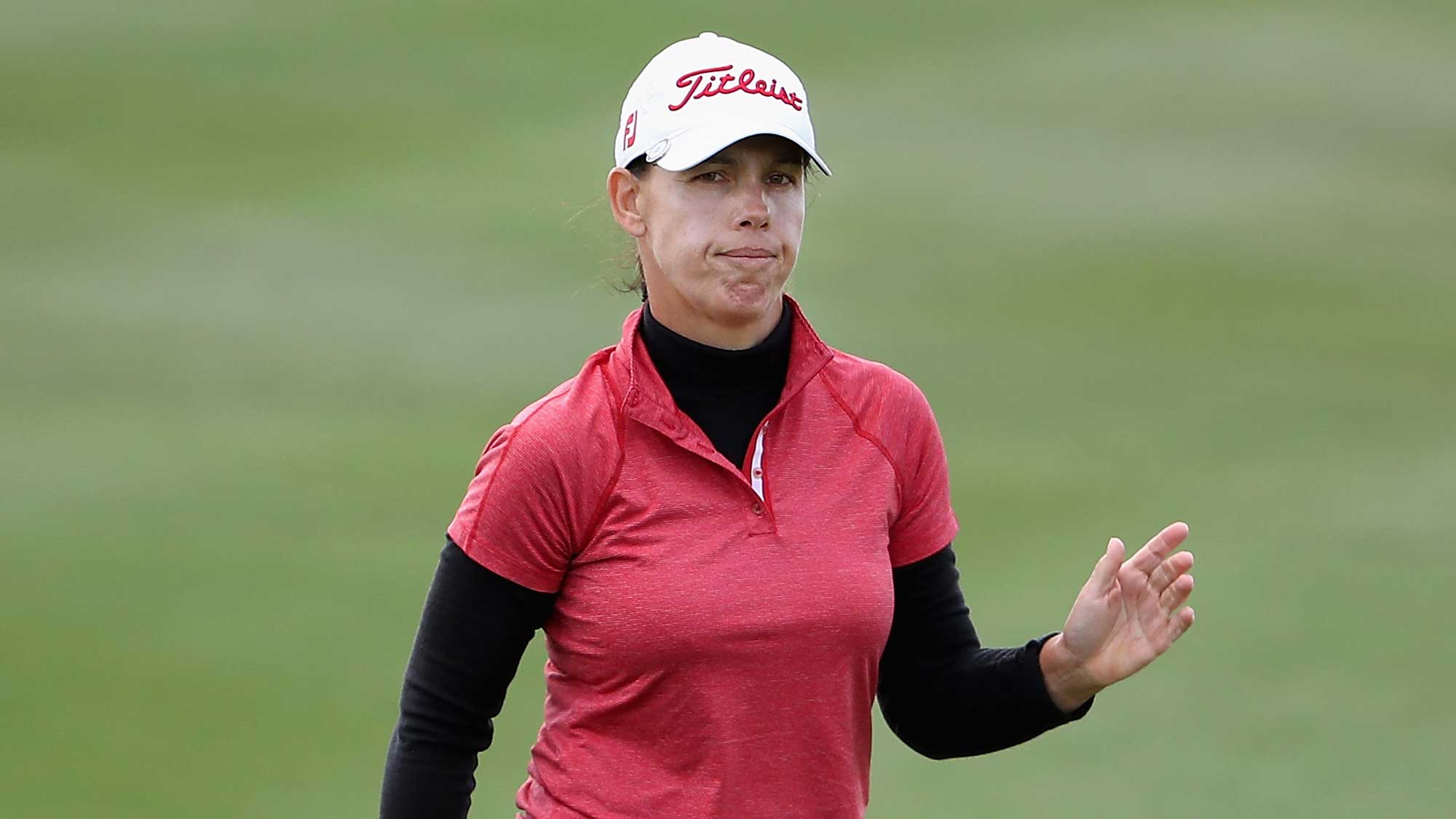 Icher goes low on Sunday
It had been a fairly consistent week for Karine Icher at the LPGA Volvik Championship prior to Sunday's finale, as she shot rounds of 71-72-71 before the final day.
But then everything clicked. Icher fired a 7-under-par 65 Sunday at Travis Pointe Golf Club, tied for the round of the week. It was her lowest round on the LPGA Tour since a 65 at the Bank of Hope Founders Cup in March 2017.
"It was nice, it was enjoyable, the greens are perfect… so it was cool," she said, calling Sunday's round a good warm-up for the U.S. Women's Open next week, with so many pins being tucked on the green.
Icher said the difference Sunday was on the greens, as the putts she had just-missed the last few days all started to fall during the final round.
Icher is four months pregnant with her second child (a second girl, she confirmed Sunday) but was clearly showing no ill effects Sunday.
"Once you pass the first trimester, it's much easier. The first three months are a nightmare. Your body just adapts to the new thing you have inside," she said. "As soon as you pass three months, and it was exactly the same for Lola (Icher's first daughter) your body changes, but less, and less fatigue, for sure."
Icher finished tied for 17th, her second-best result of the season.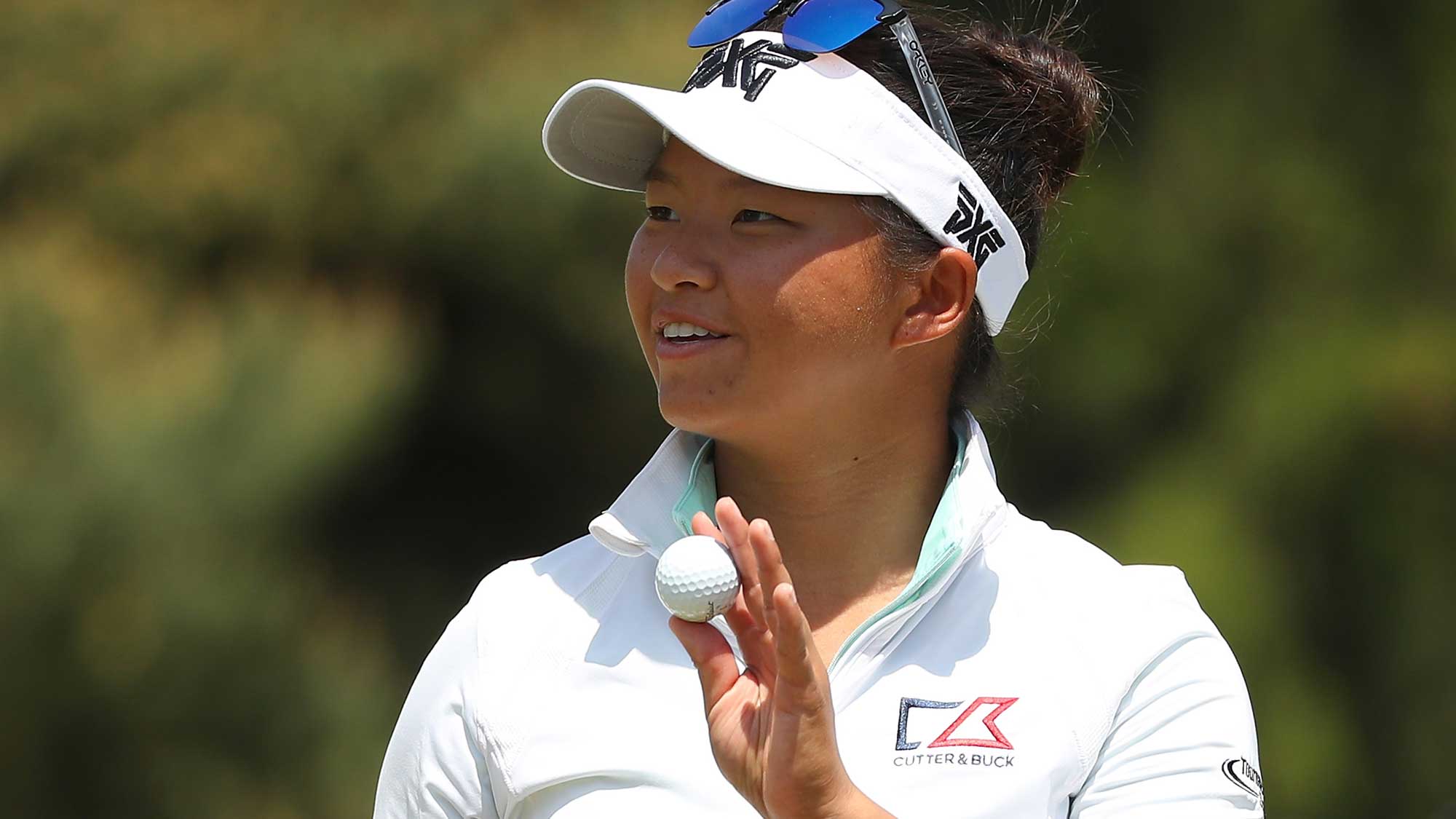 Khang keeps riding the wave
It's been quite a two-tournament stretch for Meghan Kang.
The Low Amateur at the 2015 U.S. Women's Open finished solo fifth at her last event, the Kingsmill Championship presented by GEICO, and thanks to a 5-under-par 67 in Ann Arbor, she finished solo sixth – her third top-10 result of the season.
She said although she was disappointed in some of her putts, she said she was happy to see that she still was able to go low.
Khang made four birdies on her front nine and two more on her back nine against just one bogey.
"Good to know I've still got some low rounds in me and this is pretty good momentum going from last week to this week and now to the (U.S. Women's) Open, so hopefully we can carry that on for one more week and the rest of the season," she said. "I had a little hiccup in the middle, but stayed patient again and tried to square it back up and gave myself more chances and just a lot of positives from today."