Jutanugarn, Smith, Lee Share Round One Lead
An early eagle from Ariya Jutanugarn gave her a two-stroke lead early on day one at the U.S. Women's Open conducted by the USGA. While that two-shot margin held up for much of the afternoon, Sarah Jane Smith and Jeongeun6 Lee caught Jutanugarn in the afternoon to share the first-round lead at 5-under par. The trio leads by two-strokes ahead of Michelle Wie, Danielle Kang and amateur Linn Grant.
"My game has been improving I feel like every week, because I work so hard with my short game," said Jutanugarn, who had just 28 putts on Thursday.
Smith's opening round of 67 is her lowest, in what is now her seventh appearance, at the U.S. Women's Open. But it's the fourth time over the last seven months that the Australian has played her way into contention on the LPGA Tour. The trouble for Smith in carrying that momentum into the weekend she says has been battling nerves.
"Just staying where I am not getting too far ahead of myself," Smith said when asked what the biggest challenge is for her this week. "I felt like I've had some good rounds coming but I've actually been playing pretty bad. I just got to make sure that I stay where I am and not get too far ahead of myself."
Lee is one of six players with the same name who play professional golf in Korea. To distinguish between the players, numbers have been assigned to each player. The unusual practice came to light last at the 2017 U.S. Women's Open when Lee climbed into contention with back to back rounds of 69 to start the week. She struggled to an over par around of 73 on moving day and finished T5 for the week. Lee put herself in contention for the second consecutive year with a bogey-free, 67 on Thursday.
The other major storyline was the condition of Shoal Creek. After Subtropical Storm Alberto rained down nearly five inches of rain over the last week, some players feared the course would be unplayable on Thursday. Instead, they found an immaculate course in perfect condition, which had many players raving about the overnight transformation.
"It's incredible that we played today and got a practice round in yesterday," said Wie. "The greens staff did an amazing job. I mean the greens were perfectly fine. The fairways are fine. You would not have known that it rained that much."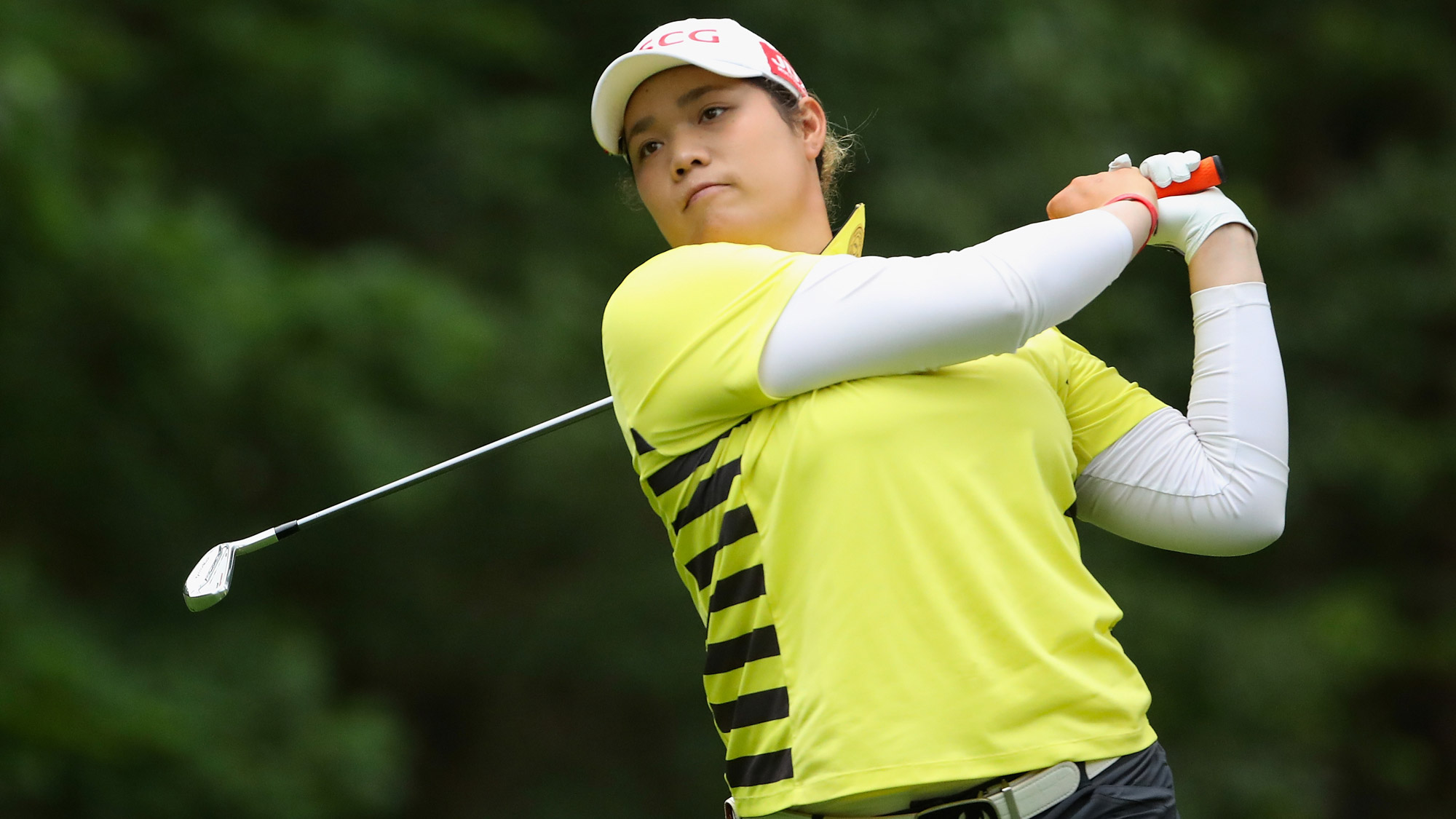 Ariya Shares Lead Despite Late Club Arrival and Little Practice
Thursday was the first time Ariya Jutanugarn played the front nine at Shoal Creek. It also happened to be the first round of the season's second major championship. The fifth ranked player in the world didn't see her clubs show up in Alabama until Monday evening, but with practice rounds cancelled that entire day and half of the day Wednesday, Jutanugarn didn't play a single shot on the front nine. She merely walked it. But the lack of practice didn't show on day one of America's national championship, where the eight-time LPGA Tour winner carded a 5-under par, 67 which included an eagle on the front nine at the par 5, 6th hole to lead the morning wave.
"So much fun today," Jutanugarn said about her round. "I would say the course is still pretty wet, so pretty tough because we're not going to get much distance and pretty tough to hit the second shot on the green."
Nearly five inches of rain fell on Shoal Creek over the last week, making the 6,653-yard test a tough one for even Jutanugarn, who ranks eighth in driving distance on Tour. The long-hitter kept driver out of her bag, opting instead to hit 3-wood or two-iron off the tee.
"I hit 3-wood almost every hole," said Jutanugarn. "I didn't hit that long because I hit only 3-wood. Some holes I have to hit it far to the green."
The 2016 Ricoh Women's British Open champion has worked hard on her game, both mental and physical. Commitment to each shot has been the focus of her work with Vision 54 as well as a change in mindset.
"I'm not going to think about the outcome. I'm not going to think about winning tournament. I'm just going to go out and make sure I have a good shot. After doing that, I think it's pretty good right now."
It's been a pretty good season for Jutanugarn, who won two weeks ago at the Kingsmill Championship and has eight more top 10s to start the year. And now, she's given herself a chance to win her second career major championship. Jutanugarn's season is looking pretty good, indeed.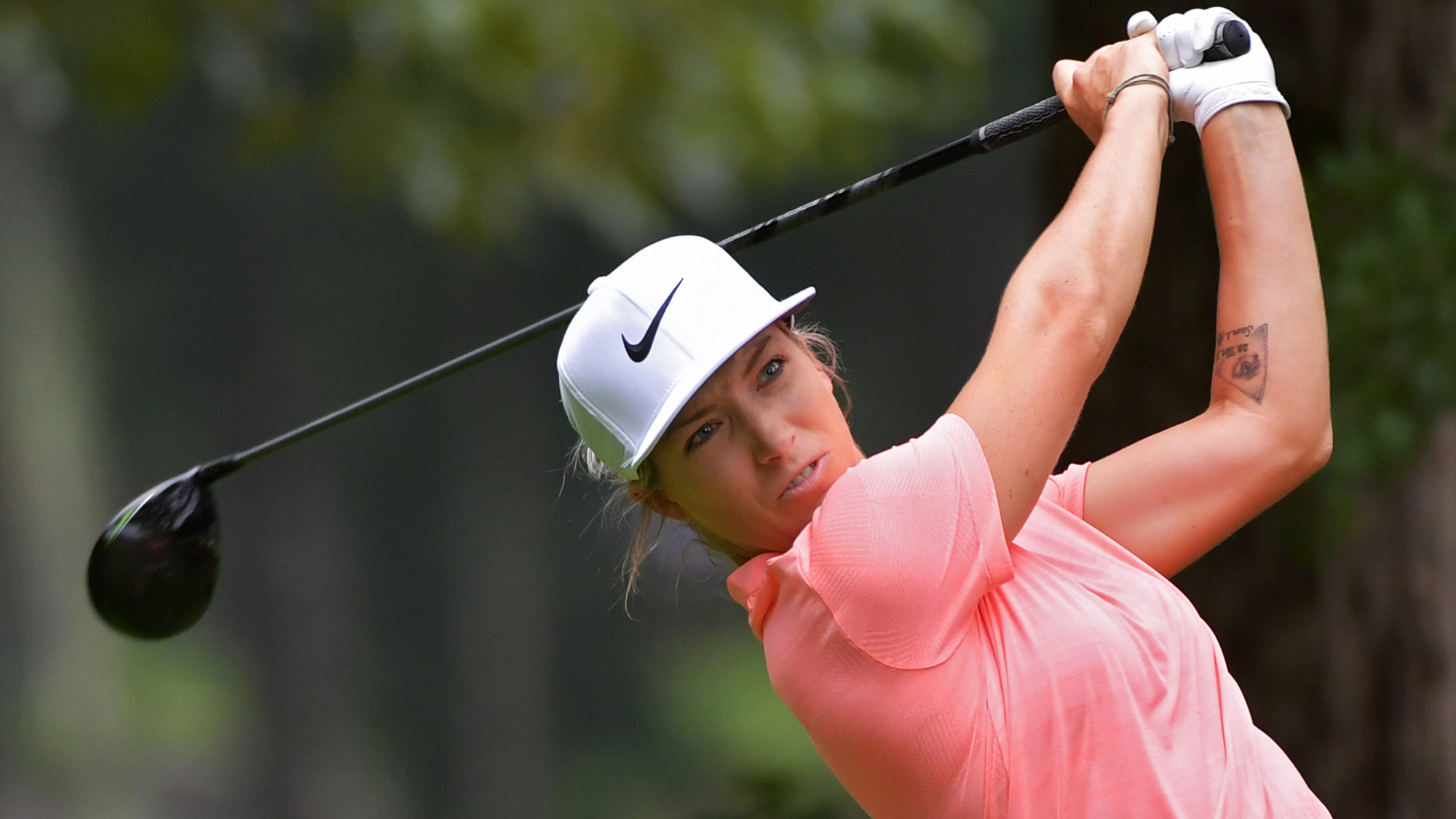 Change Looks Good on Mel Reid
After missing the cut in eight of her first nine events of the year, Mel Reid parted ways with coach Kevin Craggs and began working with Jorge Parada. The pair, who connected over the last month, found an instant connection and their work is already showing dividends. Reid went as low as 4-under par on day one of the U.S. Women's Open before dropping shots at the 17th and 18th holes to finish with a 2-under par, 70.
"I have changed a lot in the last three weeks," Reid said after her round. "I have busted my ass hitting balls. Never worked so hard. I don't know how he's managed to get me working so hard, but he's managed to tap into something."
Parada is based in the Jacksonville area and also works with the LPGA's Ryann O'Toole and Carlota Ciganda. He's found a way to motivate Reid in a way she hasn't experienced before in her 12 seasons as a professional. In the past, Reid would buckle down and put in some extra work during a given week, and then ease off the next week. But Parada has motivated Reid to keep working at a higher-level week after week.
"The work we have done and the hours that we have put in is making me confident, because now I feel that it's getting to a place where I have hit so any balls, it's becoming a habit than if I had only done a couple of hours a day."
Due to her rough start to the season, Reid was forced to take her chances at sectional qualifying in order get into the field at this week's U.S. Women's Open. She earned one of four spots at Buckinghamshire Golf Club back home in England. With it, she earned the opportunity to show she has the game to contend in a major championship.
"People talk about my ability or whatever they want to talk about, but if you don't put the work in it doesn't get shown," said Reid. "I'm kind of enjoying working hard."
Michelle Wie Posts Opening Round 3-under Par, 69
Trending on Social