Lindberg Takes Three-Stroke Lead Into Final Round at ANA
RANCHO MIRAGE, Calif. – Pernilla Lindberg is right on target. Her laser focus on shooting a specific number each round has kept the first, second and now third round leader on top at the ANA Inspiration. With a birdie on her final hole of the day, the Swede carded a 2-under par, 70 and broke the 54-hole Tournament scoring record at Mission Hills at 14-under par. While her target score each day remains a secret, she said she hit it again on Saturday. Lindberg takes a three-stroke lead into the final round ahead of Amy Olson, her playing partner on Sunday. A pack of players sit four-back of Lindberg, including major champions Inbee Park and Sung Hyun Park. Moriya Jutanugarn, Jennifer Song, Jodi Ewart Shadoff and Charley Hull also sit at 10-under par.
"I'm going to keep doing what I've been doing for three days when I go out there tomorrow," Lindberg said. "Obviously it's going to be different. I'll have, I don't know how many girls chasing me tomorrow, and that's going to be different. Someone's going to go out there and shoot a low round, so I just need to keep doing what I'm doing."
Lindberg, a rookie in 2010 on the LPGA Tour, is poised to win her first event on Sunday. She has never held the 54-hole lead in a Tour event, much less a major. And yet she's playing with the calm and confidence of a veteran who has played herself into the lead on golf's grandest stage.
"I've been on Tour long enough to still be in a lot of heated moments," Lindberg said. "I just keep collecting experience each and every year around here. I've played a lot of golf in my life, and I just feel like the pieces are kind of falling together. I'm just letting it happen."
Park, who started the day tied for the lead with Lindberg at 12-under par, struggled early. She left putts short throughout the round and required multiple shots to get out of a bunker at the par 4, 15th which resulted in a double bogey. A day after posting the low round of the day with a 64 on Friday, Park shot 10-strokes higher on Saturday with a 2-over par, 74 to tumble back into a share of third at 10-under par.
"Even though I didn't like my score today, I still had a lot of good shots and good saves so, I'm just thinking about going out there tomorrow and playing my game," Park said after her round.
Lindberg is paired with Olson in Sunday's final round. Olson was a rookie in 2014 and like Lindberg is in unfamiliar territory as she hopes to win for the first time on Tour.
"I've never been in this position before, but I'm excited about it," Olson said. "I definitely look at it as an awesome learning experience. You can't really learn until you've been there. So, I'm really excited about that."
Olson and Lindberg tee off Sunday at 2:01 p.m. PT.
Park's Putter Heats Up
When Inbee Park gets hot with the putter, she's nearly unstoppable. Saturday, her putter caught fire for the first time this week. The 2013 ANA Inspiration champion was draining putts from everywhere and recorded just 25 putts en route to a 5-under par, 68.
"Just a much better putting day than the last couple days," Park said after her round. "The putter just felt much better today. I made some good putts out there, especially good par putts on the back nine."
The Olympic gold medalist and 7-time major champion will be lurking on Sunday, just four-strokes back of Lindberg. She's the only player in the top-10 with multiple major titles and one of only two in the top-5, Sung Hyun Park being the other, to have won on Tour.
"If I can put a little bit of pressure [on the other players] that's great, if not, I've just got to play a little bit better."
Park came from behind to win her last major title. She overcame a three-stroke deficit on Sunday at the 2015 Ricoh Women's British Open with a 7-under par, 65 to win by three.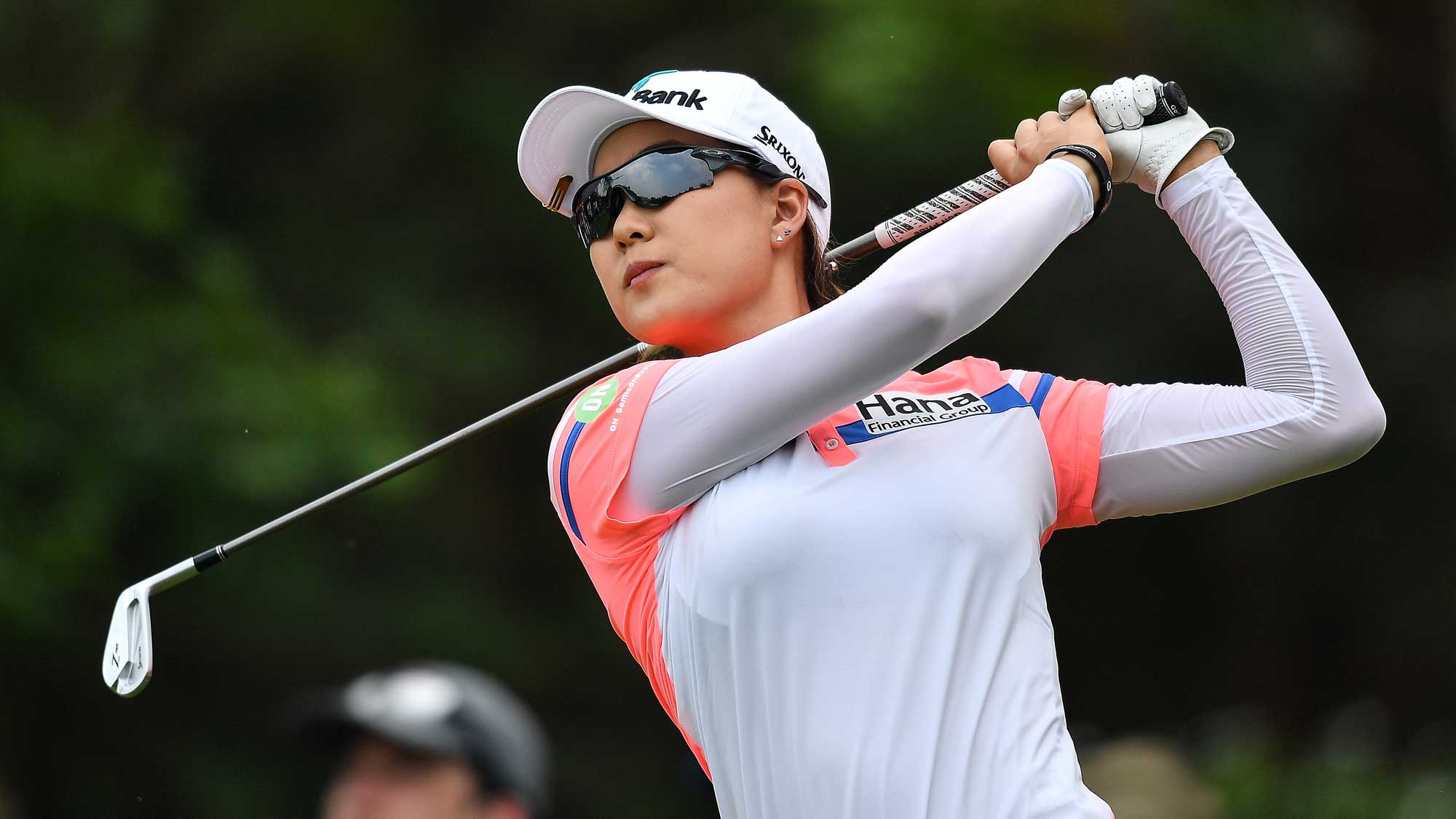 Lee Goes Low Early
Minjee Lee, who made the cut on the number at one-over par, took the idea of moving day quite literally. Saturday, she posted an 8-under par, 64 to match the low round of the week. She teed off five-hours ahead of the leaders but put her name next to them on the leaderboard. Lee jumped from T63 to T12 to climb to within five strokes of the lead before the leaders began their day.
The difference came on the greens. After struggling with 67 putts over the first two days, Lee needed just 25 on Saturday.
"The first two days I was hitting it really well, but I just didn't make any putts," Lee said after her round. "I've been striking it pretty well. I've been solid in my iron shots. I just holed a couple more putts today, and just pretty much kept it out of the rough."
Lee is a three-time winner on the LPGA Tour but has largely been absent on major leaderboards. She has just two top-10s in majors, her best coming in a tie for third at Mission Hills in 2017.
"I probably haven't quite performed as well as I wanted to over the past couple years in the majors. But, I'm always getting experience from all the tournaments that I've played. Everybody wants to perform well, so I'm definitely trying to peak."
Lindberg Third Round Highlights
Trending on Social