Ji, Salas, Kim Share 54-Hole Lead
CARLSBAD, Calif. – Cristie Kerr's five-stroke lead quickly evaporated on moving day as her playing partner Lizette Salas, Eun-Hee Ji and In-Kyung Kim chased down the 36-hole leader to take the lead at the Kia Classic. Kerr followed her second round, 64 with a three-over par, 75 on Saturday to trail by one. Salas, Ji and Kim lead at 11-under par.
"I just didn't have it," Kerr said after her round. "I've got to go work on my game a little bit."
Saturday, Kerr was the only player in the top-25 to finish over par for the day. Her struggles came early with a bogey at the second, but the five-stroke cushion with which she started the day provided enough of a buffer that she was able to hold on to the lead well into the back nine, even as her competitors closed in.
As Kerr made bogey from the wooded area off the green at the par 4, 12th hole, Salas rolled in a putt for birdie for a two-shot swing that put Salas within one of the leader. Kerr's struggles continued at the par 4, 15th when she pulled her tee shot left into the hazard. She took a drop on the cart path and hit a fairway wood off the path into the rough left of the green. The double bogey ate up the remainder of Kerr's lead.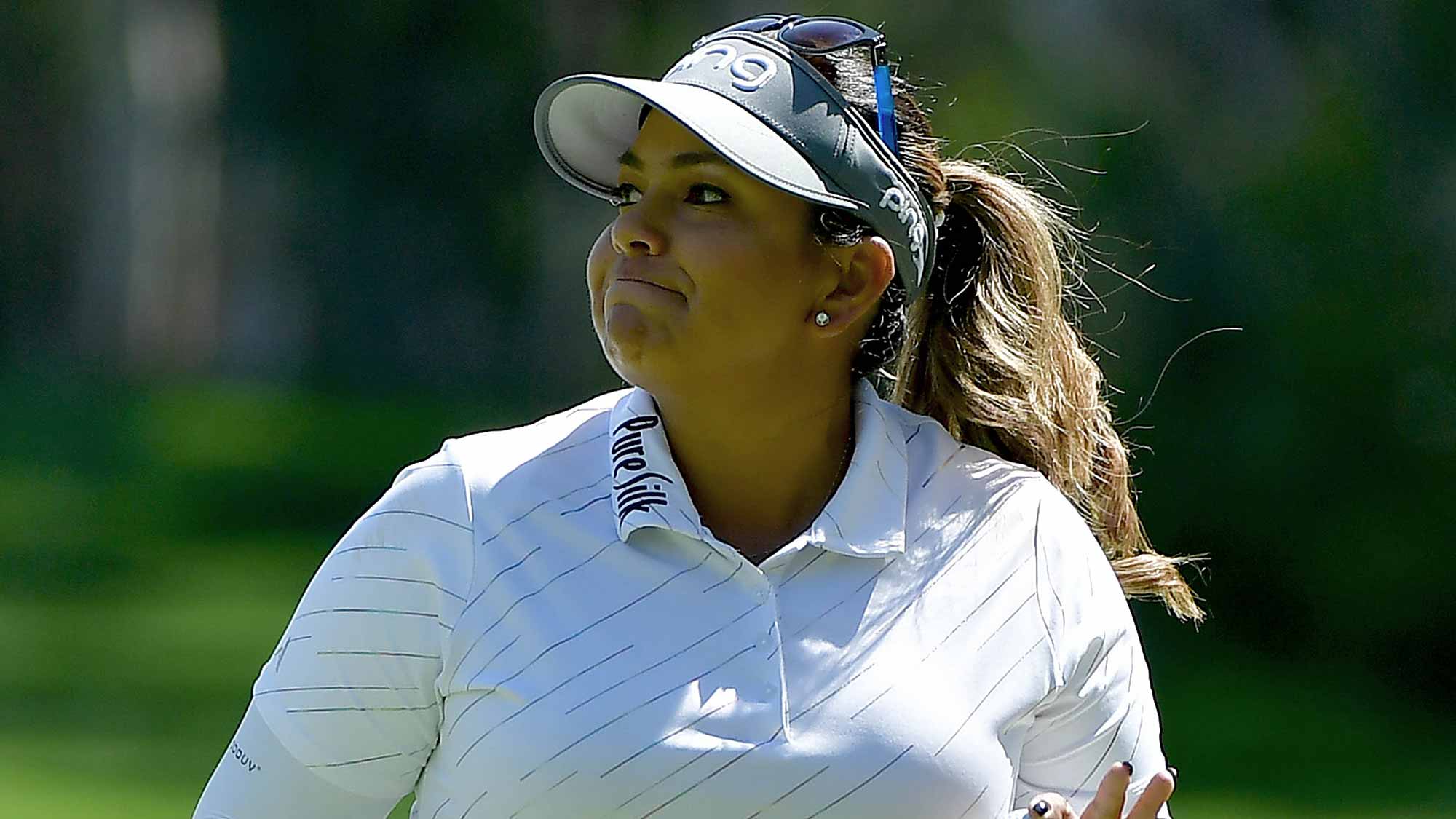 Family Affair
Five-year-old Mason donned a gray sweatshirt with large, red USC letters across the front. He may have been the smallest member of the gallery but he was clearly Lizette Salas' biggest fan. He's her godson and was one of more than two-dozen family members who made the drive down from Azusa, California to watch the USC graduate play this weekend.
"It was a great day for some family golf," Salas said after her round. "I'm just glad I was able to perform well for them."
In the final group, Salas played alongside 36-hole leader Cristie Kerr. She began the day five-strokes back of the lead, but as Kerr stumbled early, Salas soared. She made three birdies in her first seven holes, offset by a bogey at the fifth. The moment got the better of her at the par, 4 16th hole where she missed an eagle and subsequent birdie opportunity to take the outright lead. She settled for a third round, 69 to sleep on a share of the 54-hole lead.
"I will admit there were a little nerves in there. It's been a while since I've been in this position."
But Salas is ready to win, and with her family looking on Sunday will work to return to the winner's circle for the first time since 2014.
"I'm ready, and I've been saying I'm close, I'm close," Salas said about winning again. "I know I have it in me. I know my team knows I have it in me. My family is right behind me. I'm just going to run off their momentum and the confidence I've had for the past six months. So we'll just see what happens tomorrow."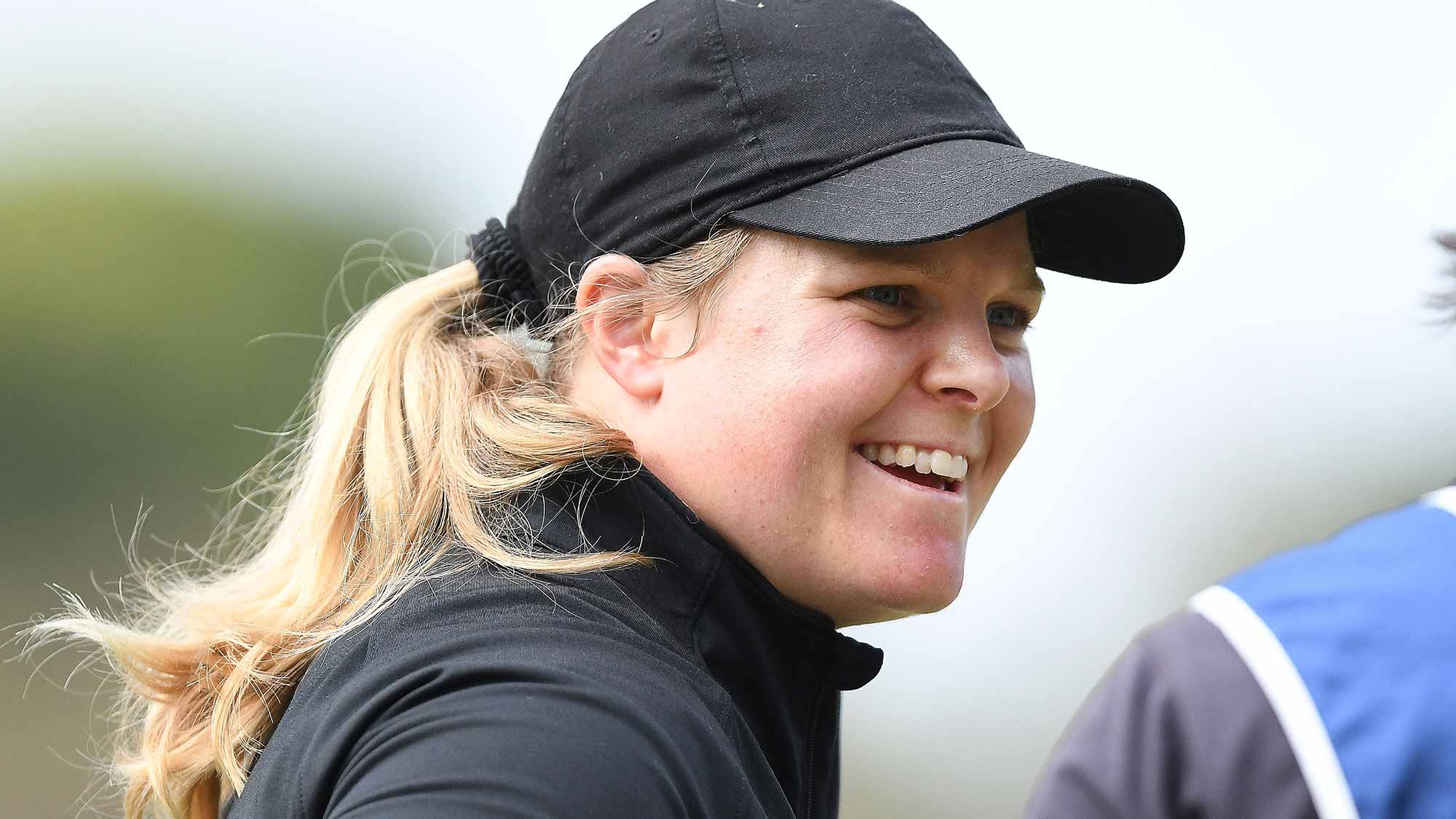 Hedwall Hoping to Make ANA
Caroline Hedwall is playing for a lot more than just a trophy this week.
The three-time European Solheim Cup team member has yet to qualify for next week's ANA Inspiration, the first major of the year. She bogeyed the final hole on Saturday to post a two-under par, 70. She's just one-back of the lead heading into Sunday.
"I love ANA and everything about that tournament," Hedwall said about qualifying for the major. "That's been a big goal for this week. I knew I needed a decent week, and now I'm in a good position."
Hedwall would need to win or earn enough money to move into the top-80 on this season's money list to qualify. Hedwall hasn't earned any money yet this season with two missed cuts to start the year. Catriona Matthew and Dani Holmqvist are currently tied for 79th on the money list with $15,979. Hedwall would have to finish in at least the top-25 on Sunday to earn enough money to pass Matthew and Holmqvist to have any sort of chance. The 26th place finisher at this week's Kia Classic earns $16,370.
Lizette Salas Highlights
Trending on Social