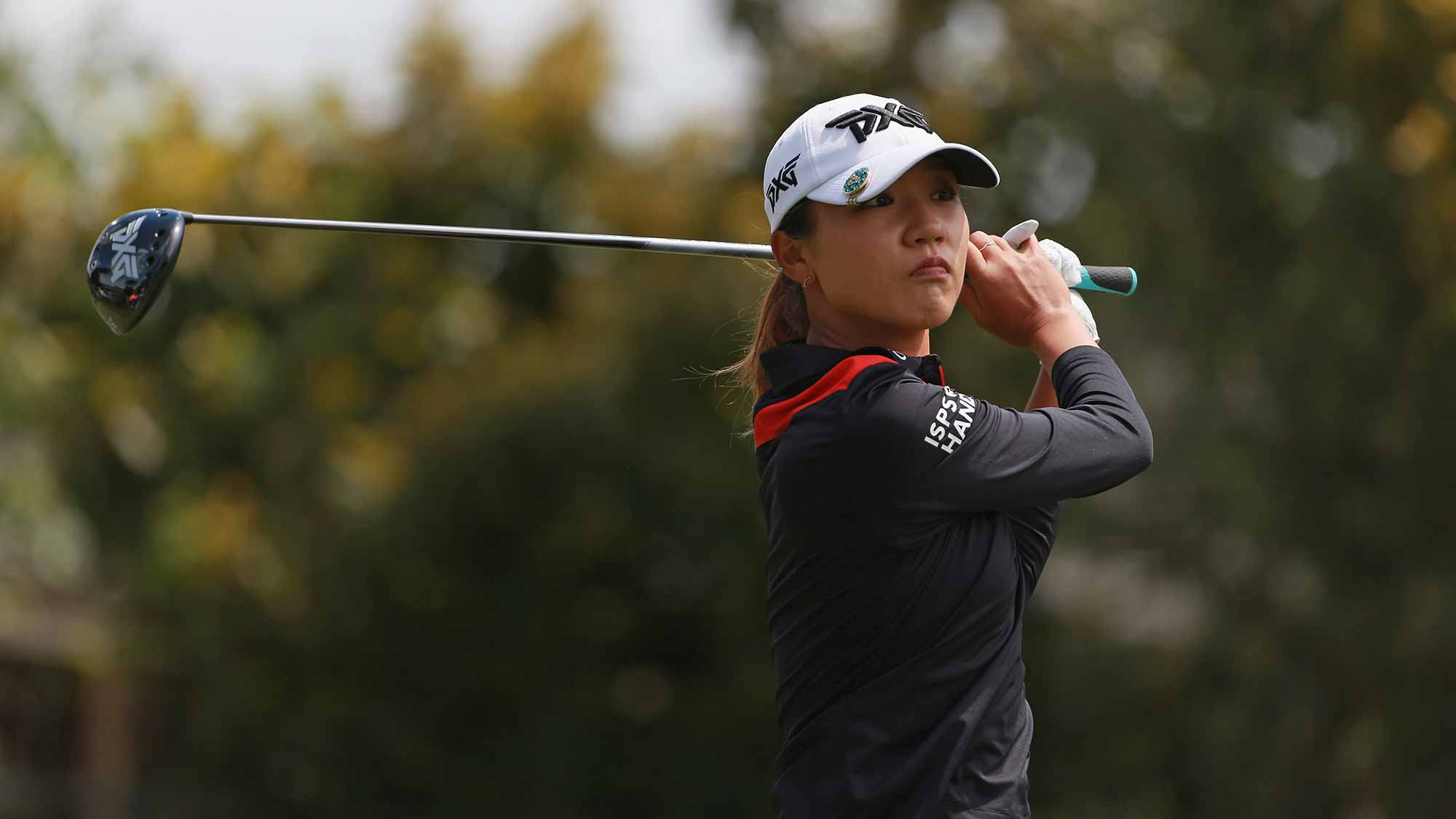 Ko Leads Once Again at Lake Merced
All the changes Lydia Ko made over the last 18 months led to this moment. Saturday, Ko will sleep on the 54-hole lead on the LPGA Tour for the first time in 658 days. Sunday, the two-time winner at Lake Merced Golf Club will awake with a chance to win the LPGA MEDIHEAL Championship for her first win on Tour since 2016.
Ko matched the low round of the day Saturday with a 5-under par, 67 to lead by two at 11-under par, one ahead of Jessica Korda. Minjee Lee sits solo third at 8-under par. Mariajo Uribe, Ryann O'Toole, Moriya Jutanugarn and Charley Hull are T4 at 6-under par.
"I'm happy with the way I played," said Ko. "I've just got to stay positive and confident out there and just continue playing my game and not worry about what everyone else is doing."
Saturday, Lake Merced brought out the Ko of old. She wasn't perfect, she missed four fairways and four greens, but luck was on her side. At the par 4, 11th hole, Ko pulled her drive well left into the rough and put her approach in the right, green side bunker. Up against the lip, Ko holed her bunker shot for birdie to jump into a tie at the top with Korda. She celebrated with a smile and fist pump. The good breaks kept coming, with back-to-back birdies at the par 5, 15th and par 4, 16th holes to take the outright lead into Sunday's final round.
"I love San Francisco. I'm a member here, so sometimes I get some friendly member bounces, too," Ko joked about the breaks she got on Saturday. "For it to have gone in, I know there was luck involved with that."
In 2016, while at No. 1 in the Rolex Rankings, Ko overhauled all aspects of her game. She split with her caddie, her instructor and changed equipment. Ko hoped the changes would improve the consistency in her ball striking and help her rediscover the excitement she felt as a rookie. When she didn't see the results she wanted in 2017, going without a win on Tour for the first time since 2012, she overhauled her team once again. Now, four months into the 2018 season, with a single top 10 to start the year, Ko has a chance to quiet the critics and affirm the decisions she's made over the last year and a half.
"I've just been with my family and friends this week, so it will be the same as any other day," Ko said about Sunday. "I just got to play the best I can, stay focused, have a lot of fun. If it happens, that's great, but I think the most important thing for me is to stay positive."
Bogey-Free Streak Comes to An End
Ryann O'Toole was the last player standing. She was the only player without a bogey through 36-holes. But all good things must come to an end. O'Toole recorded her first bogey of the week at her 40th hole, the par 4, 5th hole. But the consistency she displayed early in the week continued on Saturday as she missed only one fairway and two greens. She fired a 3-under par, 69 to sit just five-back of the lead heading into Sunday.
"Just staying patient, I think is what's been working all week," O'Toole said after her round. "I knew I hadn't attacked the par 5s as well as I wanted to Thursday and Friday. I mean, just didn't get good opportunities with the second shots in. Today, I was hoping I could get a couple and I did, so that was nice. I think that's just going to be the same goal tomorrow."
O'Toole, like so many in the field, has experience playing Lake Merced over the years. Many competed in the U.S. Girls' Junior at the course, and O'Toole won a U.S. Women's Open sectional qualifier at Lake Merced, which has given her a confidence boost this week.
"I've always liked it," O'Toole said about the course. "I think it just suits my game. I've just been hoping in the years that we've played that I could get a solid finish."
Patience has been a hallmark of O'Toole's career. She joined the Tour in 2011 and makes her 126th start this week where she looks to win for the first time.
"I know Lydia's hungry for a win, it's been a while," said O'Toole. "I've got to stay patient and play my game and expect that others are going to do the same, and I think at the end of the day if the putts can fall and I can make the shots and kind of stay out of my own way and not get ahead of myself."
Big Changes Leading to Big Results for Uribe
Mariajo Uribe had a tough time last week in Los Angeles at Wilshire Country Club, particularly on the course's Poa annua greens. Prepared to face a similar set up again this week at Lake Merced, Uribe put in some time with short game coach, Gareth Raflewski. The pair focused on the speed she's been rolling the ball. The changes immediately paid off. Last week, Uribe missed the cut. This week, she's five-back of the lead heading into Sunday.
"The toe of my putter was a little up, so placing the putt a little different on my alignment, that feels like it's made a big difference on the short putts," Uribe said after her third round, 68.
Like leader Lydia Ko, Uribe has struggled with her game since making changes with her caddie and swing over the last two seasons. But she bounced back in March in Phoenix at the Bank of Hope Founders Cup where she picked up her first top 10 since 2016.
"Big changes this year, but I feel good," said Uribe, who recently reunited with her former caddie. "I would rather have some really good weeks and then struggle others, than just okay weeks every now and then."
She's having more than an okay week this week in California where she's positioned to make a run at her first win on Sunday.
"I feel like I believe in myself, but the more you give yourself chances, it's eventually going to happen," Uribe said. "I've been doing that the last couple years, and especially this year with Phoenix I felt really good. It went away, but I felt like I managed myself really good. So I'm just going to go out there and play and see what happens."
Third Round Highlights
Trending on Social