PNC is proud to partner with the Ladies Professional Golf Association to celebrate family and recognize players for their achievements. The year-long campaigns featuring #PNCCelebrateFamily and #PNCAchiever will also include a series of events bringing female leaders and influencers together with LPGA leadership. PNC and the LPGA share common values that reflect a deep appreciation for family and a continuous pursuit of personal accomplishment.
When rookie Olafia Kristinsdottir arrived for her first year on the LPGA Tour in 2017, she wasn't sure what to expect.
What the 2014 Wake Forest University graduate did know was she had prepared to be there.
She had earned her spot by finishing second at the 2016 LPGA Final Qualifying Tournament. She had gained professional experience by playing on the Ladies European Tour and she had her secret weapon – fiancé Thomas Bojanowski – prodding her to focus on the right things at the right times.
By season's end in 2017, the player from Iceland had made 15 cuts in 26 starts, finished No. 74 on the LPGA's official money list, posted a season-best fourth-place finish at the Indy Women in Tech Championship, and tied for 13th at the Aberdeen Asset Management Ladies Scottish Open.
"I got to play in three major championships and at the tournament where I finished fourth, I chipped in for eagle on the last hole," said Kristinsdottir, 25, of Reykjavik, Iceland. "Everyone was crowded around the 18th green and when I chipped in, they went crazy."
But as is often the case during a rookie season, Kristinsdottir wrestled with the tour's demanding global travel schedule and how to assemble her own tournament schedule throughout the year.
"Mentally, it's very draining to play week after week and I didn't plan well enough last year," she said. "I had to learn the hard way to play maybe four to five weeks in a row and then take a rest."
What made the grind of tour travel easier was when Bojanowski would fly in to spend the week with her. While a novice golfer, he carried her bag before Kristinsdottir found a regular professional caddie. He also provided "little checklists" of things for her to do.
"He's really good support and he's one of the main reasons I've made it so far because he always pushes me and makes me work harder," she said. "He has the German discipline and I have the Icelandic, 'Oh, it will work out.' I'm the chill one and he's the disciplined one, so together, we're a good mix."
The couple met when both were student-athletes at Wake Forest. Bojanowski ran track for the Deacons and Kristinsdottir met him through friends on the track team.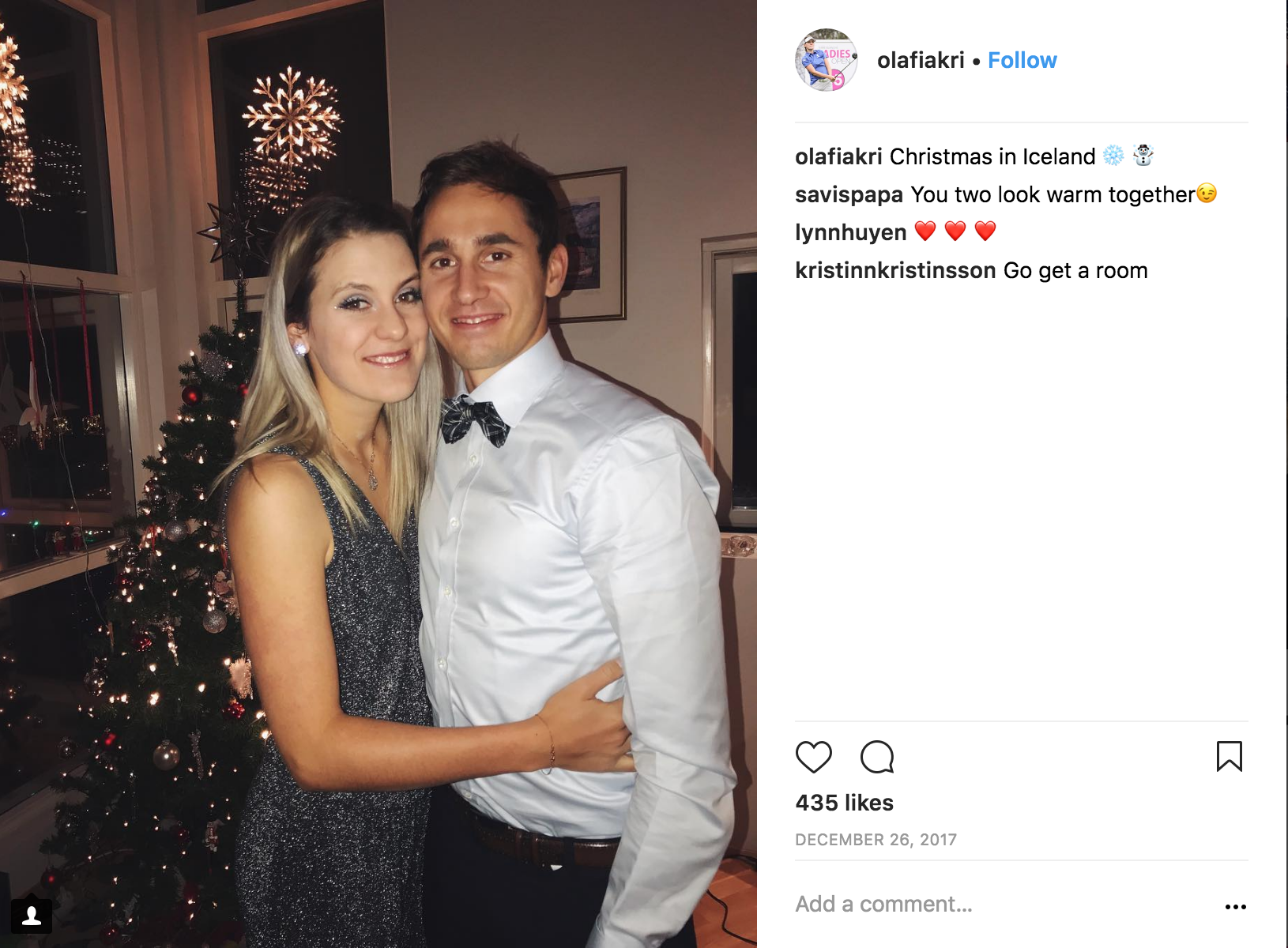 They actually got engaged on Christmas Eve in 2015. Kristinsdottir had just completed qualifying for the Ladies European Tour and flew to Germany to be with Bojanowski's family. Her family was also there from Iceland, so the two families were preparing to have a nice Christmas dinner together before opening gifts.
Bojanowski's brother, a musician, began playing Ed Sheeran's song, "Thinking Out Loud," which is the couple's favorite song.
"He and his wife started singing that song and I thought, 'Oh, that's really nice,'" said Kristinsdottir. "I was clueless."
When the song ended, Bojanowski turned to Kristinsdottir and asked, "Will you be engaged to me?"
"It was so cute because English isn't the first language for either of us and he asked me in English," she said. "Then we all celebrated."
Bojanowski made it to "about 70 percent" of Kristinsdottir's tournaments last year and they expect it to be similar this year. The German co-owns a company that helps European student-athletes find college scholarships in America, so he bounces back and forth from his home office in Germany to wherever the LPGA Tour is playing.
The two plan to get married this August in Iceland because her homeland is located between Germany and the United States, where they both have friends. Kristinsdottir plans to get married in a church, with the celebration moving into a local reception hall. She is considering adding golf and running into the weekend festivities to involve their friends and family.
And as is the custom in Iceland, only family members will play a role in her wedding.
"We don't have our best friends as bridesmaids," she added. "My niece will be my bridesmaid, holding my dress, and my dad will walk me down the aisle. Thomas will probably have his brother and his dad with him and my other nieces and nephews will be involved."
As is her nature, Kristinsdottir doesn't plan to stress over her wedding plans. She's more focused on taking what she learned in 2017 to play even better on the 2018 LPGA Tour. Prior to the season-opening event in the Bahamas, she, along with Bojanowski, her swing coach and her physical trainer, spent a few weeks in Florida, preparing for the new season.
Typically strong off the tee, Kristinsdottir spent more time on her short game during the off-season, focusing on chipping, putting and how to trim shots by improving her greens in regulation (GIR) statistics. She also fine-tuned her mental approach to the game.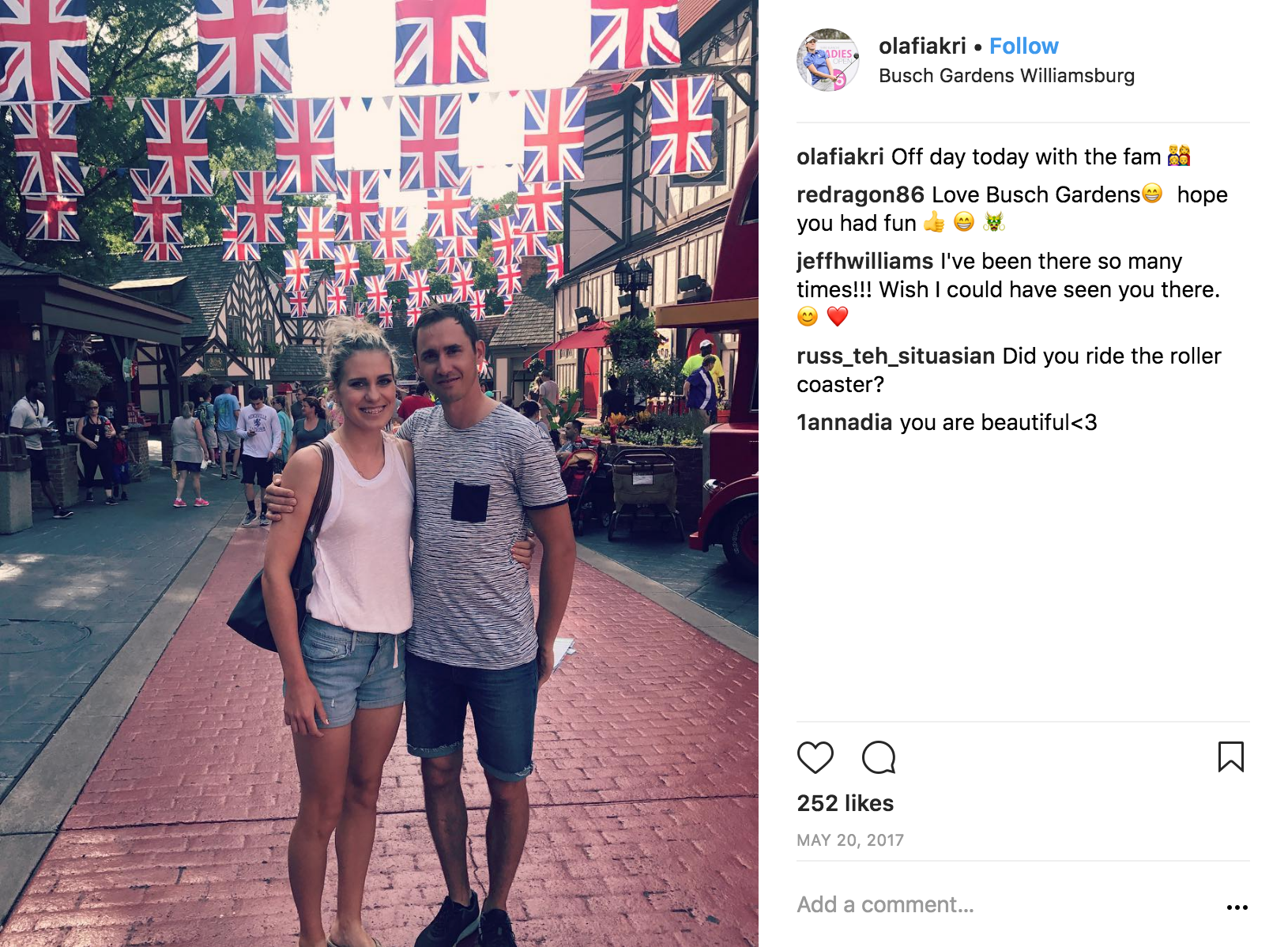 But while Kristinsdottir downplays her own intensity, the Icelandic golfer learned years ago to make the most of her time and efforts. The golf season in Iceland lasts roughly from May to September, so to play golf before or after those months requires a focus beyond comfort in harsh weather conditions.
She also learned to hit fairways back home in Iceland to avoid precarious second shots. Balls that bound out of fairways often come to rest on moss or in lava rocks.
And while her college coach Dianne Dailey reports seeing "a spike in inquiries from junior Icelandic girls" who now want to come to the United States to play college golf, golf still trails soccer, team handball and CrossFit on the sports radar in her homeland.
"It's good that golf is growing in Iceland and that we have some promising players in college now," said Kristinsdottir. "That makes me happy, but it's hard being the first. Now I have to lead the way and also learn from my mistakes."
Kristinsdottir can now better visualize winning a tournament following her top-five finish in 2017. She also is eager to post more top-10 finishes and to become "more comfortable" being in contention.
"When I played so well that week, it felt easy, but it's hard to play like that every week," she said. "That's what the best players do."
But no doubt, her highly organized fiancé will have a checklist of things to keep her busy this season as she continues to build on her experiences as a second-year LPGA pro. She makes him laugh and relax when he comes to visit on tour. He makes her pay attention to details and respond to emails in a timely fashion.
"We do make each other better," she added. "And I've learned that if you work hard and prepare well, anything can happen."