RANCHO MIRAGE, Calif. – Lorena Ochoa ended the 2008 ANA Inspiration the way she started it: celebrating her heritage. On Tuesday, she cooked breakfast for the mostly Mexican-American maintenance workers at Mission Hills Country Club. On Sunday, serenaded by a mariachi band, more than two-dozen family and friends joined her in the jump into Poppie's Pond, the wildest celebration in the history of a tradition started in 1988.
"There were actually more who wanted to jump in, but they stopped them because the pond was getting too crowded," Ochoa says a decade later with the endearing laugh that often punctuates her sentences. "So many came from Mexico to watch me and to win in front of them was really special. I always loved playing there."
Not in the pond but chanting, singing and waving the flag of Mexico were many of those maintenance workers and their families who had come on their off day to cheer on Ochoa in what, over the years, became a mutual admiration society. The workers were proud that a Mexican was the best player in the world and Ochoa was proud of their hard work. Moms pushed baby strollers around the course as many watched golf for the first time because of Lorena.
"It was important for me to spend time with them," Ochoa said in a phone call from Mexico City, the giggles of her three children dancing in the background. "I wanted to thank them for how they got the golf course in such great shape, and I wanted to thank them for being such great representatives of Mexico. They made me proud of my homeland."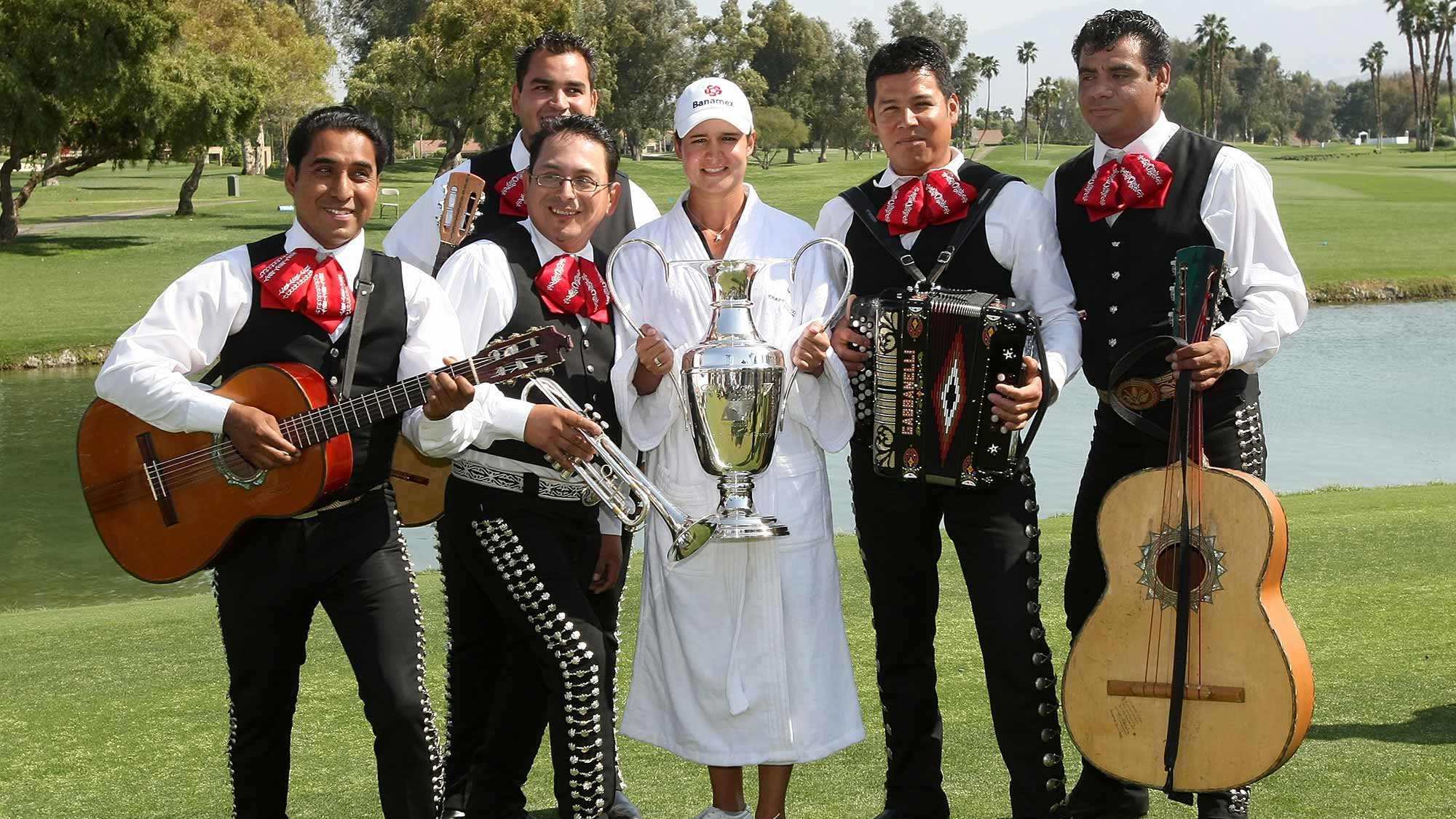 Ochoa closed with a bogey-free 67 that Sunday to finish at 11-under par 277, five strokes ahead of Annika Sorenstam and Suzann Pettersen. It was her second consecutive LPGA major, having won the 2007 Ricoh Women's British Open, and it was the 20th of her 27 career LPGA victories.
Lorena took a one-stroke lead over Hee-Won Han into that final round with Pettersen and Sorenstam four back, but she never gave them an opening, making birdies on the first two holes and then putting things away with a three-birdie outburst on Nos. 8, 9 and 10. Ochoa then closed with a rock-solid eight consecutive pars.
"I had won the Ricoh so that ended all those questions about when are you finally going to win a major," Ochoa said about her mindset going into the 2008 ANA. "I had always loved playing Mission Hills and I had a lot of fans there. I felt very comfortable."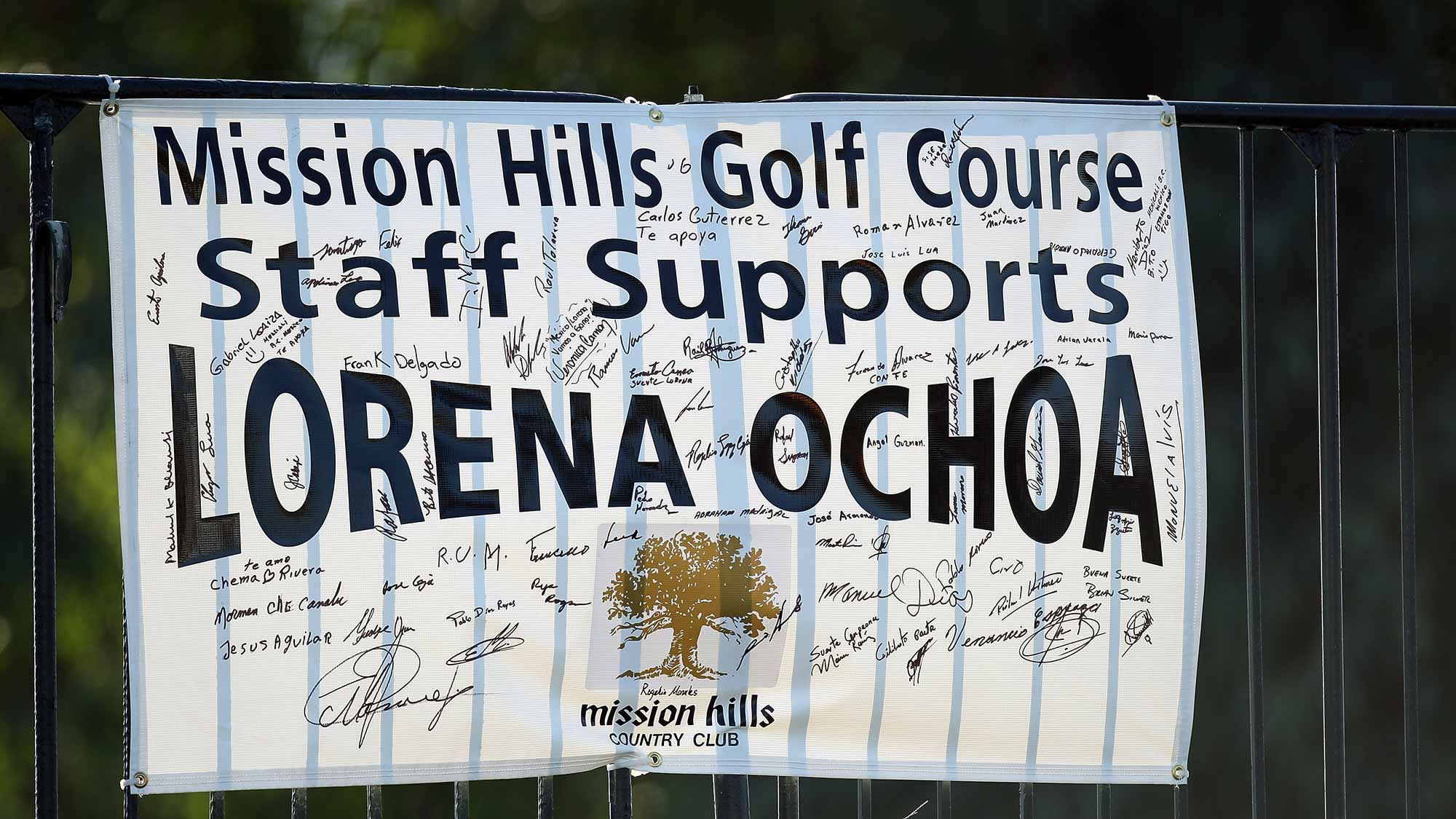 The adoration for Ochoa in the Coachella Valley grew over the years. She first played the ANA as an amateur in 2001, finishing T-21, and then was eighth the next year to be the low amateur. In 2003, the ANA was her first LPGA major as a professional and she was third. In 2010, it was her last LPGA major. She was fourth. Then, two weeks later on April 20, at the age of 28, she retired to focus on her foundation and her family.
On April 23, 2010, I was in Mexico City as Lorena explained why she was retiring. "I went to Asia [for the start of the season] and after two or three days of being in Thailand, it was really easy to see that I didn't want to be out there," she said. "I just was thinking of other things. I wanted to get home. I wanted to start working on the foundation. I wanted to be here close to my family."
Later that day, when I was alone with her, I asked what she would miss most about the tour. "I'll miss getting to the course on Monday and being out there late in the day with just my caddie as the sun goes down and the shadows come and everything is just so beautiful. I just love that."
That statement is a peek into the heart of Lorena. She loved the beauty of the game more than she loved the competition. She loved the people more than she loved beating them. In fact, it took a while for Ochoa to learn how to win, to transcend her innate goodness and become a tougher competitor.
There was a playoff loss to Sorenstam at the 2005 Safeway International after Lorena had a four-stroke lead with three holes to play. Later that year, she came to the last hole of the U.S. Women's Open with a chance to win and made an 8, driving into the water. Then, through tears, she answered every question from reporters. And at the 2006 ANA, Lorena lost to Karrie Webb in a playoff after opening with a 62.
But then it was as if someone flipped a switch and Lorena became unstoppable. She won the next tournament – the Takefuji Classic – and went on to win five more times in 2006. She followed that with eight wins in 2007 and picked up seven more trophies in 2008. She was No. 1 in the Rolex Ranking for a record 158 consecutive weeks, from April 23, 2007 until May 3, 2010, when Jiyai Shin passed the then-retired Ochoa.
The victory at St. Andrews was significant in several ways. It was not only Lorena's first major but it was also the first professional event played by women on the Old Course. And perhaps most important to Lorena, who is a devout Catholic, earlier that year she asked her caddie, Dave Brooker, who is not religious, "How many times do I have to win this year for you to get your two children baptized?" Brooker replied: "Just one – St. Andrews." Once again, Lorena played for a higher cause – and won.
Now Lorena, who married Andres Conesa Labastida, CEO of Aeromexico, in December 2009, is involved with the Ochoa Group and Ochoa Sports Management, run by her brother, Alejandro. And through the Ochoa Golf Academies, created by Lorena, Alejandro and Lorena's longtime coach, Rafael Alacorn, they hope to grow the game in Mexico. But most important to her is The Lorena Ochoa Foundation, which started in 2004 with La Barranca, a primary school in Guadalajara with 250 underprivileged students that has since added a high school.
"For me, the foundation is the most beautiful thing that my career as a golfer has given me," Ochoa says. "Hopefully, with this we will open eyes to realize how important education is for children in our country."
Ten years after Lorena Ochoa won the ANA Inspiration she is still having an impact. Eight years after she walked away from the game, while still the best player in the world, she still has her priorities in order – her family, her faith and her foundation. Clearly, she's still a winner.