AMATEUR ON TOP AFTER FIRST ROUND OF Q-SERIES
It's a marathon, not a sprint. That was the message on a cool day at Pinehurst Resort for the first of eight rounds at the inaugural LPGA Q-Series presented by Blue Cross and Blue Shield of North Carolina. Canadian amateur Jaclyn Lee was the only player to go bogey-free on Wednesday at Pinehurst No. 6 with an opening-round 68. Lee is alone at the top of the 102-player field, and holds a two-shot lead over Pajaree Anannarukarn, Laetitia Beck, Jeongeun Lee6 and Klara Spilková.
A lot is on the line these next two weeks as players will compete in a total of eight rounds over two, four-day tournaments with the top-45 finishers and ties receiving LPGA membership in Category 14 on the LPGA Priority List and remaining competitors earning Epson Tour status.
Spilková, a winner on the Ladies European Tour, is aiming to finish the next two weeks inside the top 45 and was pleased with the way she fought in an opening-round 70.
"For me that's the most important thing, to be able to let it go and just enjoy and that's what I did today on the golf course," Spilková said. "We had so much love, I just tried to hit fairways and greens and then two-putt. That's how I want to play for all eight rounds. If I play even par, I'm pretty happy with it. If I make a few putts that's pretty good. I'm not pushing myself too much."
LEE RIGHT AT HOME IN PINEHURST
21-year-old Canadian amateur Jaclyn Lee, who made it to Q-Series all the way from Stage I of the LPGA Qualifying Tournament, lit up Pinehurst No. 6 on Wednesday with a bogey-free 68. There was a small group of supporters standing off the green to meet Lee, and she attributes her solid opening-round play to feeling comfortable at Pinehurst.
"I'm comfortable in this environment, I'm back with my host family from the North & South, which I love," she said. "It's good to be back and to have made it all the way here."
Lee has played in the North & South Women's Amateur at Pinehurst No. 2 the past three years, and has stayed with the same host family, David and Tonya Brown, who she is also staying with this week. Lee also has her North & South Women's Amateur caddie, Eric Bennett, on the bag this week.
"It feels pretty good," the Ohio State senior said of her opening-round. "It's nice to start the tournament with a solid round. I have the same goals for the next seven rounds, just to play some solid golf and try to get myself in a good position."
New this year for the LPGA Q-Series, an amateur competitor earning LPGA status may defer her acceptance of LPGA membership until July 1 the following year allowing her to finish the college golf season if she wishes.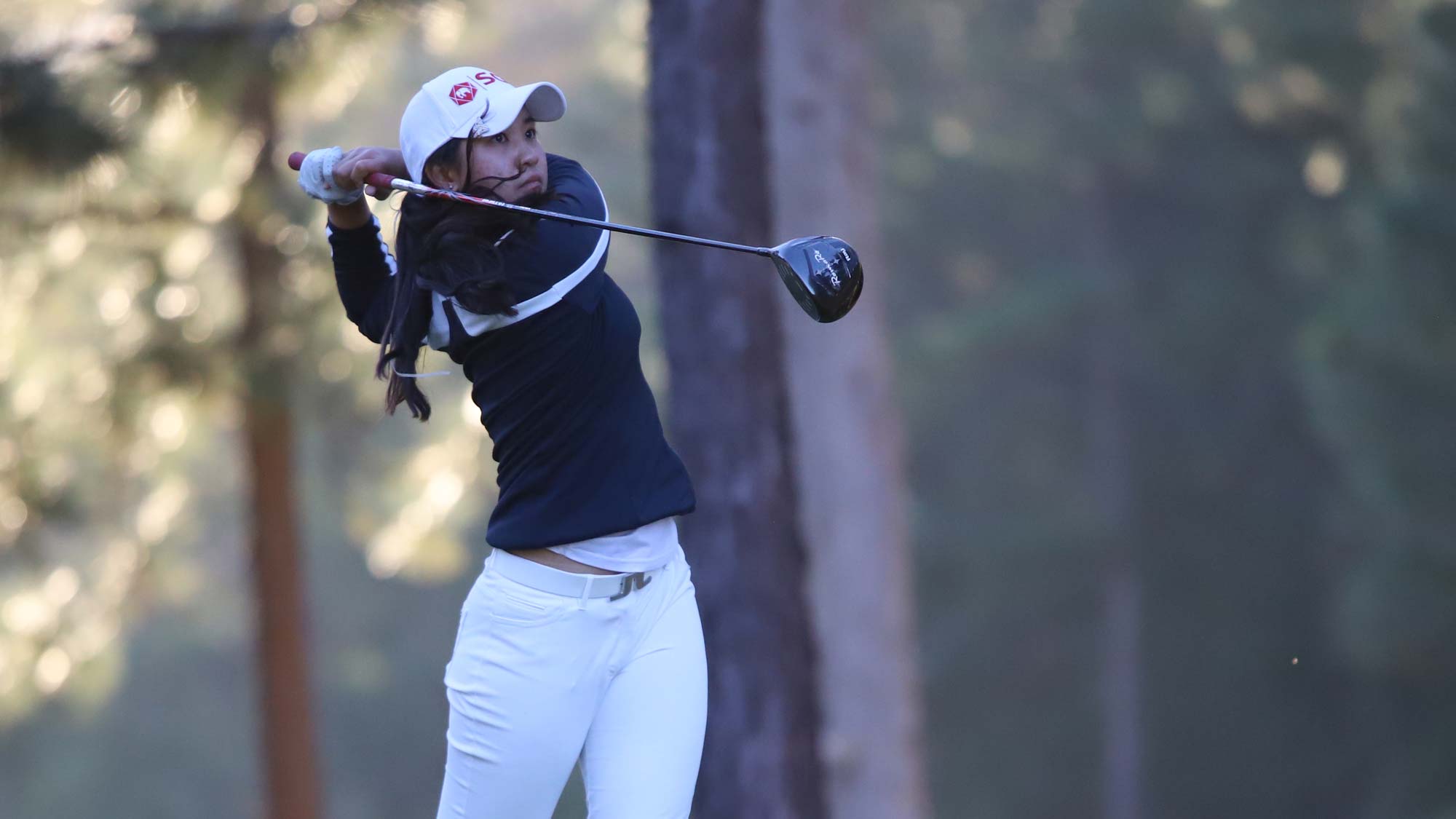 RISING THAI ANANNARUKARN USING ADVICE FROM JUTANUGARNS
After finding the bunker on her first hole, 19-year-old Thai player Pajaree Anannarukarn was able to save par and settle in for a great two-under par round on Wednesday. "It definitely helped boost my confidence knowing that I could save par on the first hole, the long par-4," Anannarukarn said. "I just tried to keep myself calm and do my best, accept the results and just follow my plan."
The teen who just wrapped up her rookie season on the Epson Tour is relying on advice from LPGA star sisters Ariya and Moriya Jutanugarn as she tries to make the next step to the LPGA.
"They're definitely my idols," Anannarukarn said of the Jutanugarns. "They've given me a lot of advice and suggestions about mental game. I really appreciate that because when you get here on Tour you definitely need to know a lot of things. They've really helped me a lot, especially with how to handle things in the tough times or situations."
PLAYER NOTES
Jaclyn Lee (1, -4)
Lee, 21, is from Calgary, Canada and is a senior at Ohio State majoring in finance
Lee is one of 11 amateurs in the LPGA Q-Series field
In 2018, Lee was named a WGCA Second Team All-American and represented the Buckeyes on the First-Team All-Big Ten team
As a junior, Lee collected three wins in collegiate competition and has already notched one win this season at the East & West Match Play Challenge in September
Lee has made four career starts on the LPGA, including a T35 finish at the 2018 Meijer LPGA Classic where she was a sponsor's invite
Lee is a member of the Canadian National Team
Pajaree Anannarukarn (T2, -2)
Anannarukarn, 19, is from Bangkok, Thailand
Anannarukarn was a rookie on the Epson Tour in 2018, where she had four top-10 finishes with a season-best runner-up finish at the IOA Invitational
She finished 18th on the Epson Tour money list in 2018 to earn entry into Q-Series
Anannarukarn has one career start on the LPGA Tour with a T64 finish at the 2017 Honda LPGA Thailand
Laetitia Beck (T2, -2)
Beck, 26, is from Caesarea, Israel and became the first Israeli player to compete on the LPGA Tour as a rookie in 2015
Represented Israel in the 2016 Rio Olympics, finishing T31
On the LPGA in 2018, Beck made 11 cuts in 22 starts with a season-best 10th place finish at the Pure Silk-Bahamas LPGA Classic
Graduated from Duke University in 2014 with a degree in Psychology
Jeongeun Lee6 (T2, -2)
Lee, 22, is from Yongin, Republic of Korea and has played on the KLPGA since 2015
Lee is ranked No. 19 in the Rolex Rankings, the highest ranked player in the Q-Series field
Lee has seven career victories on the KLPGA, including two wins in 2018 and is currently ranked No. 1 on the season money list
She has six career starts on the LPGA Tour with two top-10 finishes both coming in majors: T6 at the 2018 Evian Championship and T5 at the 2017 U.S. Women's Open
She's the sixth player on the KLPGA with the name Jeongeun Lee, hence the number 6 in her name
Her fan club in Korea is called 'Lucky 6'
Klara Spilková (T2, -2)
Spilková, 23, is from Prague, Czech Republic and has played on the LET since 2011
In 2017, Spilková became the first Czech winner on the LET with a win at the Lalla Meryem Cup
Spilková represented the Czech Republic at the 2016 Rio Olympics, finishing T48
She has made 16 career starts on the LPGA Tour with a career-best T50 finish at the 2018 Ricoh Women's British Open
NOTABLE QUOTES
Jaclyn Lee (1, -4) on her opening round 68:
"I just played some solid golf today, I really just focused on my targets and the numbers that I wanted to hit throughout the day. I gave myself lots of opportunities for birdies and I made a couple long birdie putts out there so that was nice to have."
Pajaree Anannarukarn (T2, -2) on what Ariya Jutanugarn told her before Q-Series:
"To be able to handle what's coming even if it's not comfortable to you, focus on yourself, limit distractions and try to stay within yourself."
Anannarukarn on what she learned in her rookie season on the Epson Tour:
"I've learned a lot, traveled a lot. Living in America it's been about seven months here so that's been pretty long. I had a lot of fun though and learned a lot, it's been a good year for me."
Klara Spilková (T2, -2) on Pinehurst No. 6:
"The fairways are wide and the greens are big so you can always hit it somewhere on the green and two-putt, so that's pretty good. I don't want to put myself in trouble on the golf course, but if you're comfortable and you know you can hit it good it's good."
Gemma Dryburgh (T6, -1), 2018 LPGA rookie, on pacing herself through eight rounds:
"I just wanted to get off to a steady start, which I did. It's definitely a marathon these two weeks, so I'm just taking each round as it comes…It's the first time I've ever done it, and probably for everyone here. It's a different mindset, but I think you've just got to keep imagining that it's just one tournament at a time and take it each round at a time."
Dryburgh on the scarcity of under-par scores:
"I'm surprised actually. I guess it's playing quite long, there's not much run around the fairways so that might be playing a factor and these greens are quick. It's definitely on the tough side."
QUICK HITS
Four amateurs — Jaclyn Lee (Ohio State), Lauren Stephenson (Alabama), Jennifer Kupcho (Wake Forest) and Dewi Weber (Miami) — are inside the top 20 following the first round.
Only nine players were under par on Wednesday.
TRENDING ON SOCIAL