Alena Sharp played hockey growing up. She's been on countless bus trips with teammates.
That's why the tragedy that happened to the Humboldt Broncos junior hockey league team really resonated with the Hamilton, Canada native.
Just last Friday, the Humboldt Broncos team bus was en route to the arena for game five of their semifinals matchup in Saskatchewan when the bus collided with a tractor trailer and 15 members of the travelling party were killed. A 16th person was pronounced dead on Wednesday.
"Yeah, it's such a tragic thing that happened," said Sharp after her 3-under, 69 on Wednesday in Hawaii. "I played hockey growing up and we were on a lot of bus trips. You just can't imagine what it's like. They're young men and it's just so sad. I just wanted to show our support any way we could. We're (LPGA) going to Saskatchewan this summer to the Canadian Open and we just wanted to show the community we're there and supporting them."
On Tuesday in Hawaii, Sharp joined many hockey players in Canada that put their sticks outside their homes to honor the victims. Since she didn't have her hockey sticks, she posted a picture on social media of her driver on the porch of her rental in Hawaii.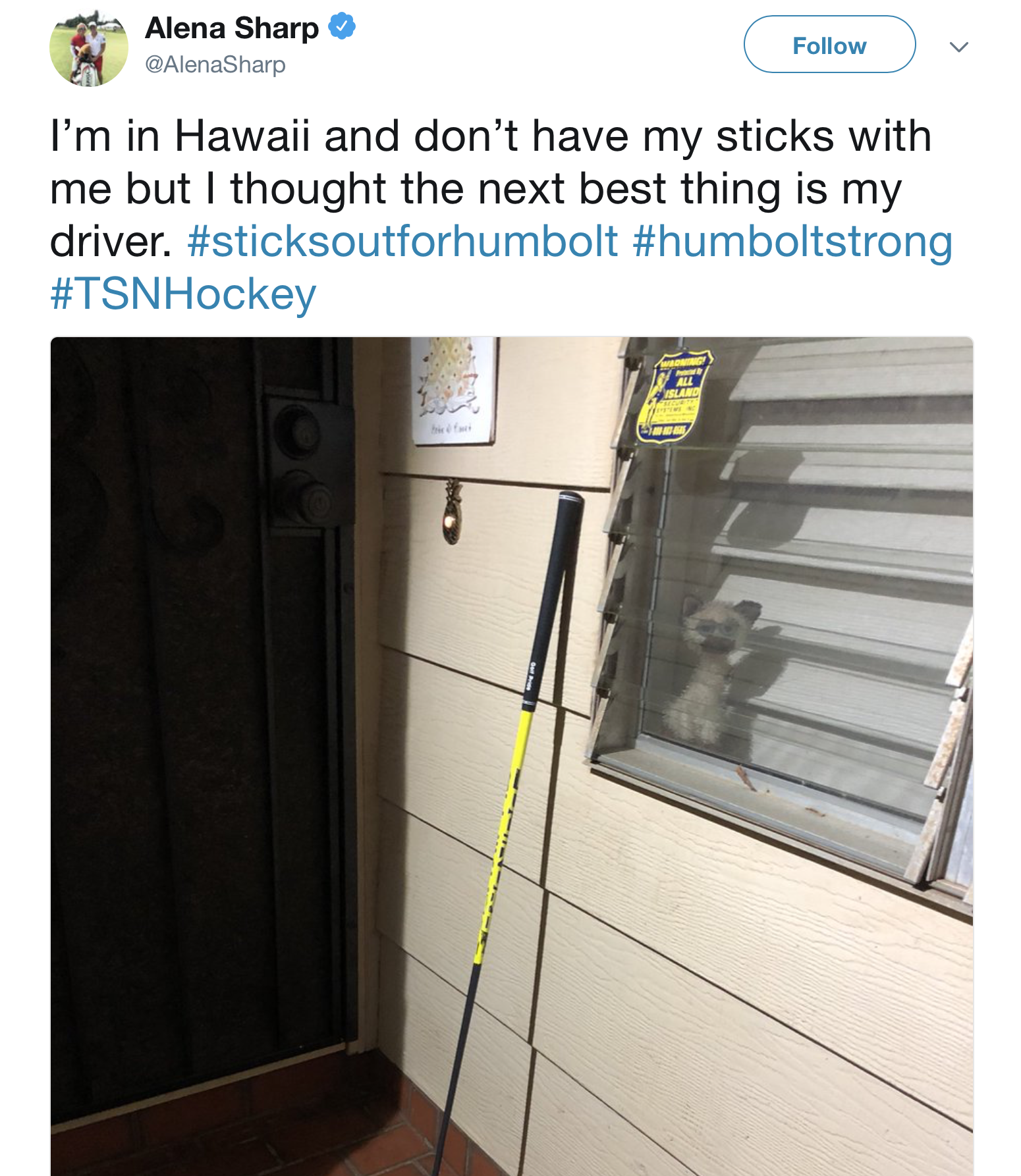 On Wednesday, Sharp tweeted a picture of the yellow and green ribbon she was wearing to honor the victims.
Sharp and her caddy, Sarah Bowman, went to get the ribbons this week and put them in the lockers of all the Canadians in the field. There are five Canadians competing in the LOTTE Championship.
Canadians and people from all around the world have come together to help the community in Saskatchewan and the families suffering. The GoFundMe page organized to help families affected with medical costs has generated over $9 million as of Wednesday night.