WORLD'S TOP PLAYERS RAVE ABOUT THAILAND AND SIAM C.C.
It was a sight to see on the press conference stage at Siam Country Club Pattaya. The top four players in the Rolex Women's World Golf Rankings – No. 1 Shanshan Feng, No. 2 Sung Hyun Park, No. 3 So Yeon Ryu and No. 4 Lexi Thompson – gathered for a rare opportunity to ask questions of the world's top female golfers all at once. And to a player, they all spoke highly of Siam C.C. and their time in Thailand.
"I just love coming here to Thailand," said Thompson, who won the 2016 Honda LPGA Thailand. "The course is in great shape. It always is every year for us here. I do feel comfortable on this golf course. I get to hit a lot of drivers, which I like. But the tournament is very well-run and we get a lot of fans out here supporting us."
"I don't understand why the weather is so hot here," added Feng with her signature smile and laugh. "I don't know how the grasskeepers can keep the golf course so green. I was talking to MJ (Hur) on the putting green today, and she was like, Isn't this like the best greens that we ever see? I mean, I do agree to what she said. I mean, I think this is a great golf course, great design. The course condition is great, so I'm expecting a very fun week."
THAI PLAYERS PROUD TO PLAY IN THEIR HOME COUNTRY
When all six Thai players in this week's Honda LPGA Thailand gathered for a pre-tournament press conference, the smile meter (if such a thing existed) was off the chart. Ariya Jutanugarn, Moriya Jutanugarn, Saranporn Langkulgasettrin, Benyapa Niphatsophon, Pornanong Phatlum and Supamas Sangchan put on a show for a room full of Thai media, telling the story of Thai golf and what it means to have the LPGA Tour visit their beloved home country.
"Playing in Thailand is always great, and playing in front of Thai people, Thai fan, is always like feeling like really – I
always feel like really warm welcome, just like home," said Moriya Jutanugarn. "I like, you know, to show people how good facility we have, like really good golf course, really good hotel, really nice town."
"It always feel great to play in Thailand, because I travel like in China and they also support me, but for Thai people, I always feel warm," added Langkulgasettrin, a sponsor invite who plays on the China and Thai LPGA Tours. "They always welcome me. They support us. I always love to be back in my country."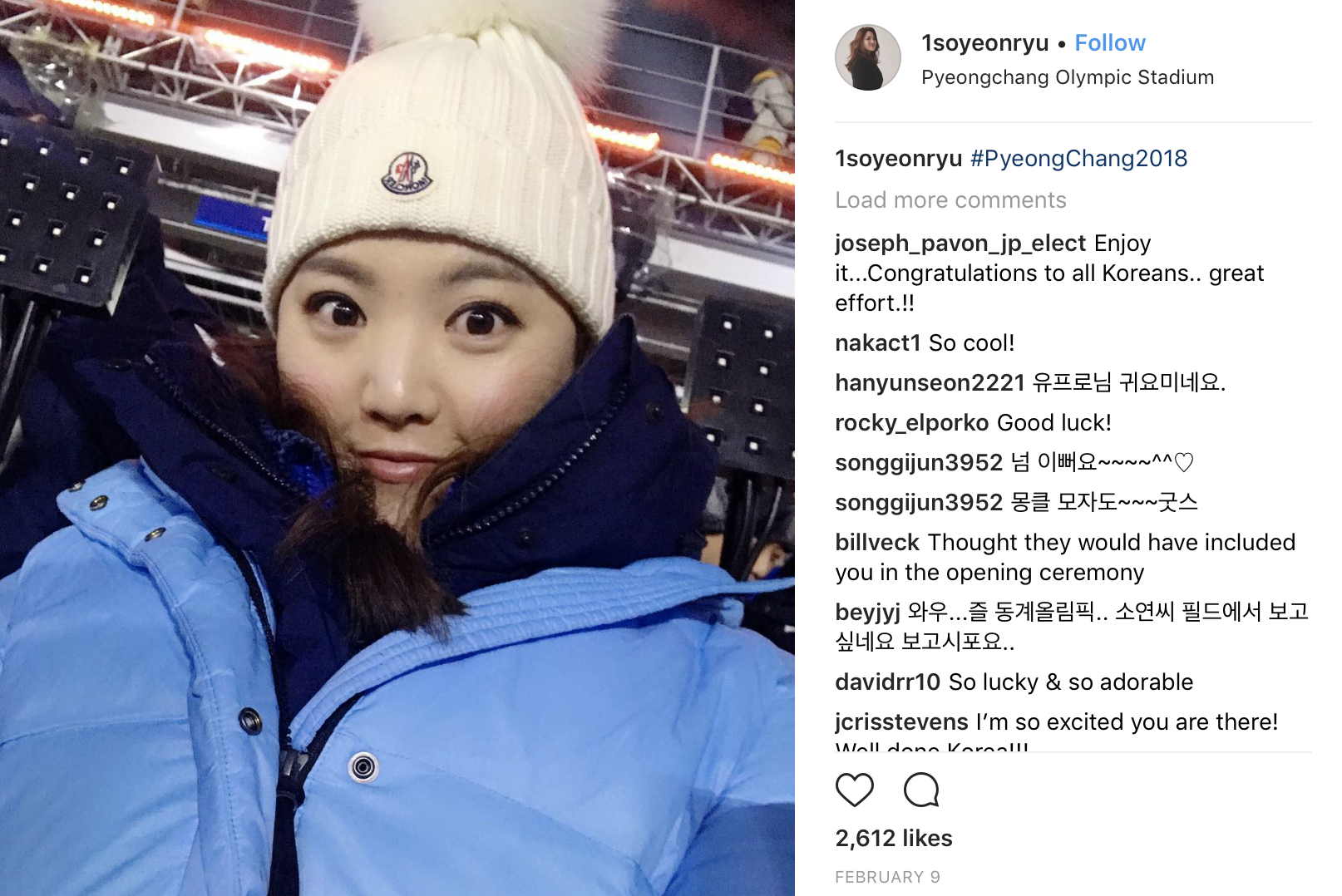 FENG AND RYU ENJOY AMAZING OLYMPIC EXPERIENCES
The eyes of the world are on Pyeongchang, South Korea, and the 2018 Winter Olympic Games. And for the second consecutive Games, golf has played a major part in the festivities. 2016 brought golf's return to Olympic competition for the first time since 1904, while 2018 featured Korean LPGA legends Se Ri Pak and Inbee Park as part of the Opening Ceremony festivities.
So Yeon Ryu had a front-row seat to Park and Pak's glory, as she was in the Pyeongchang Olympic Stadium to witness every moment of her home country's international spotlight.
"You never know when Korea is going to host another Summer or Winter Olympics, so I already committed to going to the Opening Ceremony, and then I found out Inbee going to be torch runner, but I really have to keep the secret because that was a really big secret. I was like, I really want say something, but I couldn't," said Ryu, who kept the secret for a month. "It was really cool to see my best friend there for such a big honor. And then same time, I was there motivated to someday be like Inbee. Someday I want be like one of the torch runners. I am really proud of my country to host a very nice Winter Olympics. I think the Opening Ceremony was really, really cool."
Shanshan Feng, who earned the bronze medal at the 2016 Summer Olympics in Brazil, traveled to her first Winter Olympics as a guest of the Alibaba Group and took in the men's short track 1500 meter final, as well as enjoying a gala dinner with fellow Chinese superstars Yao Ming (basketball) and Rachel Hui (volleyball).
"Even though I played the Summer Olympics two years ago, Winter Olympics was totally different," said Feng. "I really enjoyed everything, and I actually bought a lot of things at the merchandise. I was like a tourist."
SOCIAL-MEDIA MAVEN HE MAKING MOST OF EARLY LPGA EXPERIENCE
With more than 115,000 followers on Instagram, Muni He is not your typical newly professional golfer. Behind her model-worthy poses and snappy captions, the 18-year-old He, who goes by the nickname Lily, knows that she has fans around the world rooting for her success as she begins her career as a professional golfer.
"It's really amazing to have the support," said He, who spent one year at the University of Southern California before turning professional after receiving full Epson Tour status at the 2017 LPGA Qualifying School. "I never thought that my social media would grow to be what it is today. I really just started out for fun, just like everyone else's social media. But it's really motivating to know that I have people supporting me from all over the world."
He received a sponsor invite to compete in this week's Honda LPGA Thailand and is making her LPGA debut as a professional, having competed as an amateur in the 2015 U.S. Women's Open, 2015 Blue Bay LPGA and 2016 Reignwood LPGA Classic, the latter two taking place in her native People's Republic of China. After moving to the United States in her early teens, He's golf career flourished, and she now looks to spend the 2018 season on the Epson Tour in hopes of one day reaching the LPGA.
"Turning pro just hasn't really hit me yet," said He. "I still feel like a little girl who is just out here and trying to learn and grow, which is I think is what I am. So it's very unreal to able to practice and play next to these girls that I've always looked up to."
QUOTABLE – LPGA COMMISSIONER MIKE WHAN ON THE GROWTH OF WOMEN'S GOLF IN THAILAND
How much has the women's game developed in Thailand since you took over as LPGA Commissioner in 2010? "When the LPGA started going to Thailand over a decade ago, you didn't really see women playing golf – and certainly not at a high professional level. And probably 70 percent of our fans at our tournament in Thailand were men. You jump forward to today, not only do you see a lot of women playing golf but you have around 220 players on the LPGA Tour and I think Thailand was the number two country represented at last year's Q School. So not only are there players who have made it to the top of the mountain but the pipeline coming behind them is pretty deep. And if you went to our event in Thailand, you'd probably see 50-50, if not 60-40, women to men. And what's really cool is the number of girls under the age of 15 you'd see around those tee boxes watching the Jutanugarn sisters, and any other number of Thai players teeing off there. I remember watching the Jutanugarns when Ariya was probably 12 or 13 in Thailand and she was an interesting media story but there wasn't a huge gallery out there following her. Today, you can't get anywhere near her tee box when she's teeing off – there are so many young girls watching her tee off. You can talk about the rise of Thai golfers over the last 10 years and that's been amazing. What's probably more amazing is what the next 10 years is going to look like."
How big a part has the LPGA played in the growth and development of golf in Asia generally, and in Thailand?
"I wouldn't want to overstate our influence but what I will tell you is that there's no doubt that when we show up in a market place and young girls see female global athletes, I'm sure it changes their mind. Almost every player on tour will tell you about the time when they were young and they saw a female professional golfer and they said: 'I want to be that'. You kind of have to see it to be it, and we bring it to the market place. First we started coming to Thailand and now 10 years later, every LPGA event is televised in Thailand. So if you were a 10-year-old girl 15 years ago, you probably didn't see role models like this in women's golf. Today you'll grow up and see it on TV every week if you turn to that channel."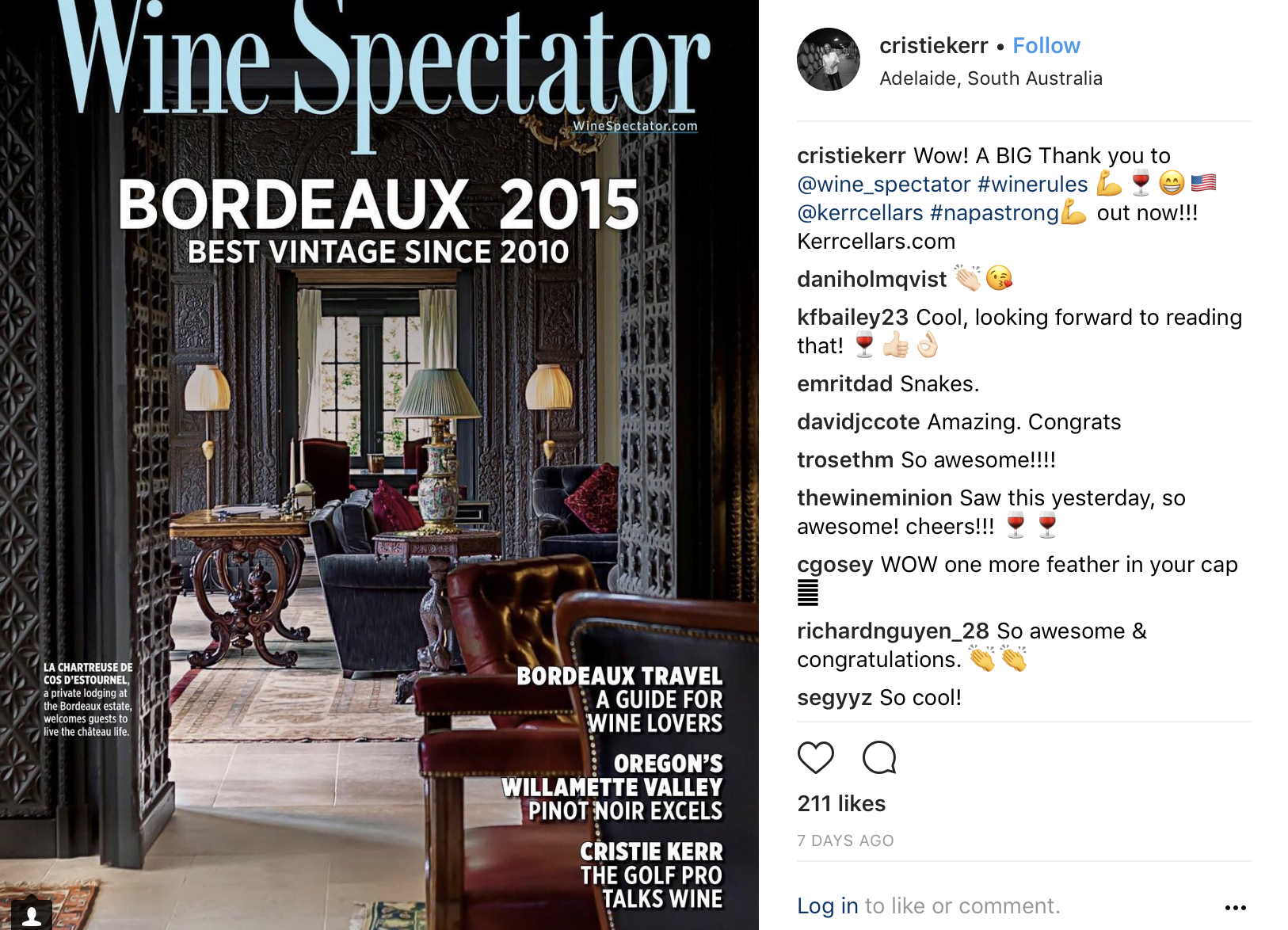 KERR FEATURED IN MARCH ISSUE OF WINE SPECTATOR MAGAZINE
Cristie Kerr is perhaps the very definition of a renaissance woman – wife, mother, athlete, philanthropist and vintner are all words that easily describe the 40-year-old from Scottsdale, Ariz. That final word, vintner, is earning Kerr much praise, as her Kerr Cellars and Curvature labels are growing in stature and acclaim across the wine industry. In fact, Kerr, who began her wine ventures in 2008, is featured on the cover of the March issue of Wine Spectator, one of the top wine publications in the United States.
"It's pretty awesome. I think I'm now being recognized as a vintner, not only as a golfer. Celebrities and golfers can make great wine too," said Kerr, who in January served her wine to LeBron James and members of the NBA's Cleveland Cavaliers when they made a Napa Valley tour, not to mention having her wine poured at a White House dinner in 2012.
Considering where Kerr started just 10 years ago, this marks a major milestone in her off-the-course career.
"We're still a very small production," she said, "so hopefully this will get us more visibility – people can join our wine club and experience our wines so that we can move forward and create more inventory. It's a snowball effect."
The March 2018 issue of Wine Spectator, featuring Cristie Kerr, is on newsstands now.
JUTA TINGSABHAT RECEIVES XL CATLIN VOLUNTEER SERVICE AWARD NOMINATION IN THAILAND
The XL Catlin Volunteer Service Award is a new program launched in 2018 to recognize exemplary volunteers at each LPGA tournament. Juta Tingsabaht, a 10-year volunteer at the Honda LPGA Thailand, was nominated by tournament representatives and will be presented with a service award plaque during tournament week. According to Tournament Director Becky Harding, Tingsabhat, who calls his countrywoman Ariya Jutanugarn his favorite LPGA player, makes the tournament "feel fresh all the time" and is always the first to offer help.
In addition to his weekly honor, Tingsabhat will join other tournament volunteers nominated throughout the year for a season-ending random drawing that will award a donation of $10,000 in the winning nominee's name to the charity of the tournament for which the volunteer serves.