The third LPGA Volvik Championship saw Australian Minjee Lee capture her fourth LPGA Tour title, and first since her two-win season in 2016.
With the victory, Lee became the 13th winner on the LPGA Tour this season, and her native Australia becomes the seventh country represented in the winner's circle.
The LPGA Tour heads to the storied Shoal Creek Country Club this week for the U.S. Women's Open, the second major of the year.
Here's what you missed Sunday from the LPGA Volvik Championship.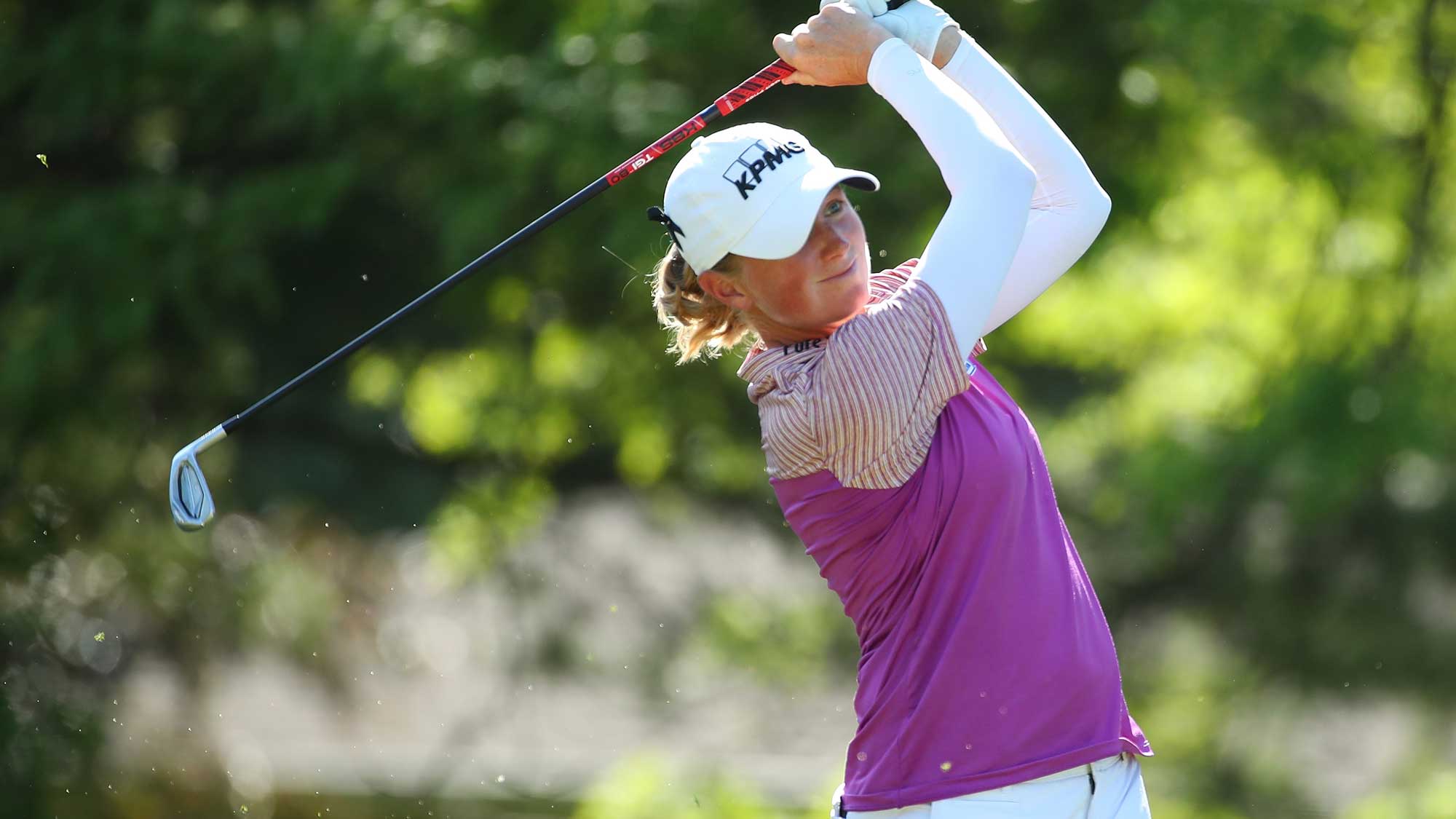 Baby Boom
Both Karine Icher and Stacy Lewis are four months pregnant – Icher with her second child, while Lewis is about to become a mom for the first time – but they were both showing no ill effects this week in Ann Arbor.
Icher tied for the round of the tournament on Sunday, a 7-under-par 65 and finished tied for 17th, while Lewis – despite a couple of late-round stumbles – still finished tied for seventh, her best result of the year.
Icher, who revealed to reporters she was expecting another girl (her first-born, Lola, is excited to have a sister, she said) said after the first three months of pregnancy things have gotten easier. She hopes to play up until she's seven months pregnant but will consult with a doctor before making any final decisions.
Meanwhile, Lewis has said she will play up until the Marathon Classic presented by Owens Corning and O-I in July – her hometown event.
She's struggled so far this season, but she hopes her best result of 2018 will be a sign of things to come heading into this week's U.S. Women's Open. She admitted her finish wasn't what she wanted (she made double bogey-bogey on the 71st and 72nd holes of the championship, a victim of some bad luck, however, as her approach on No. 17 careened off a greenside sprinkler) but will take some positives from the week.
"It was good," she said of the week. "It's always disappointing to finish like that when, you know, just seemed like every time I got close I kind of took a step backwards, so that part of it's a little bit frustrating. But, you know, really the last two days the golf swing wasn't there, and just to have a chance there coming up the last four, five holes, that's really all you could ask for."
Golfers on the LPGA Tour have won while pregnant twice recently.
Catriona Matthew won the unofficial 2009 LPGA Brazil Cup at five months pregnant (and then won the RICOH Women's British Open 10 weeks after giving birth).
At five-and-a-half months pregnant Nancy Lopez won the 1991 Sara Lee Classic.
And Patricia Meunier-Lebouc finished fifth at the 2003 Women's British Open while 10 weeks pregnant after winning the Kraft Nabisco earlier in the year (she was not yet pregnant then).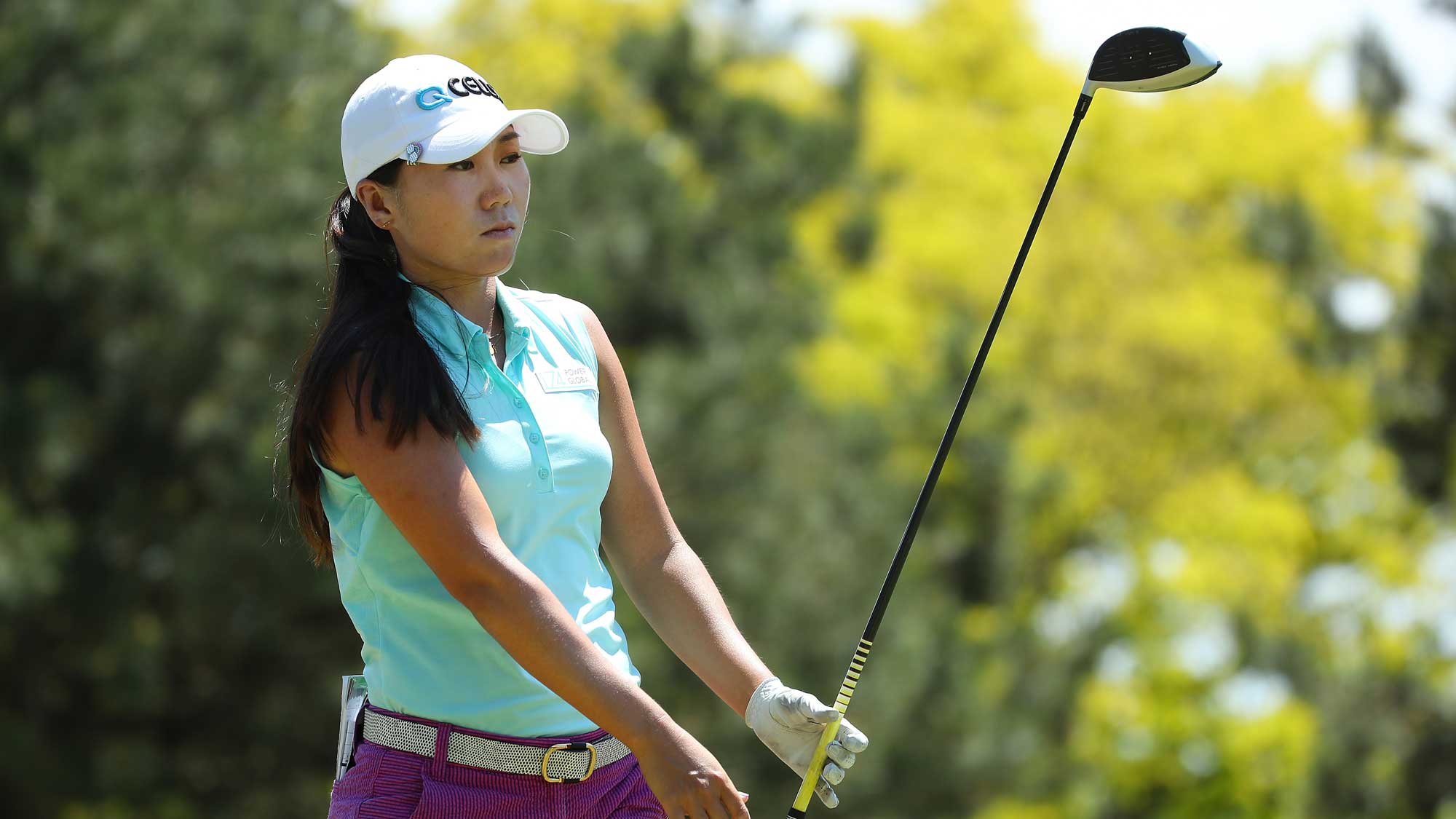 The first time's the charm for Kim
It was quite the debut at the LPGA Volvik Championship for In-Kyung Kim, who held a piece of the lead for most of Sunday before eventually falling back to runner-up.
However, her solo-second finish was her best of the year. She's a year removed from winning three times on the LPGA Tour and is anxious to get back to the winner's circle again.
Kim rocketed up the leaderboard over the weekend at Travis Pointe Country Club with matching 5-under par rounds of 67 on both Saturday and Sunday. She made two bogeys Sunday that eventually cost her the tournament, but she nearly chipped-in for eagle on the par-5 18th hole that would have forced a playoff.
"I felt I had to make it," she said. "I kind of knew that 16 (under) was the number and I mean, I give my best. I make some good shots and made some birdies."
With the second-place finish, Kim moves all the way up to 29th on the Race to the CME Globe from 65th.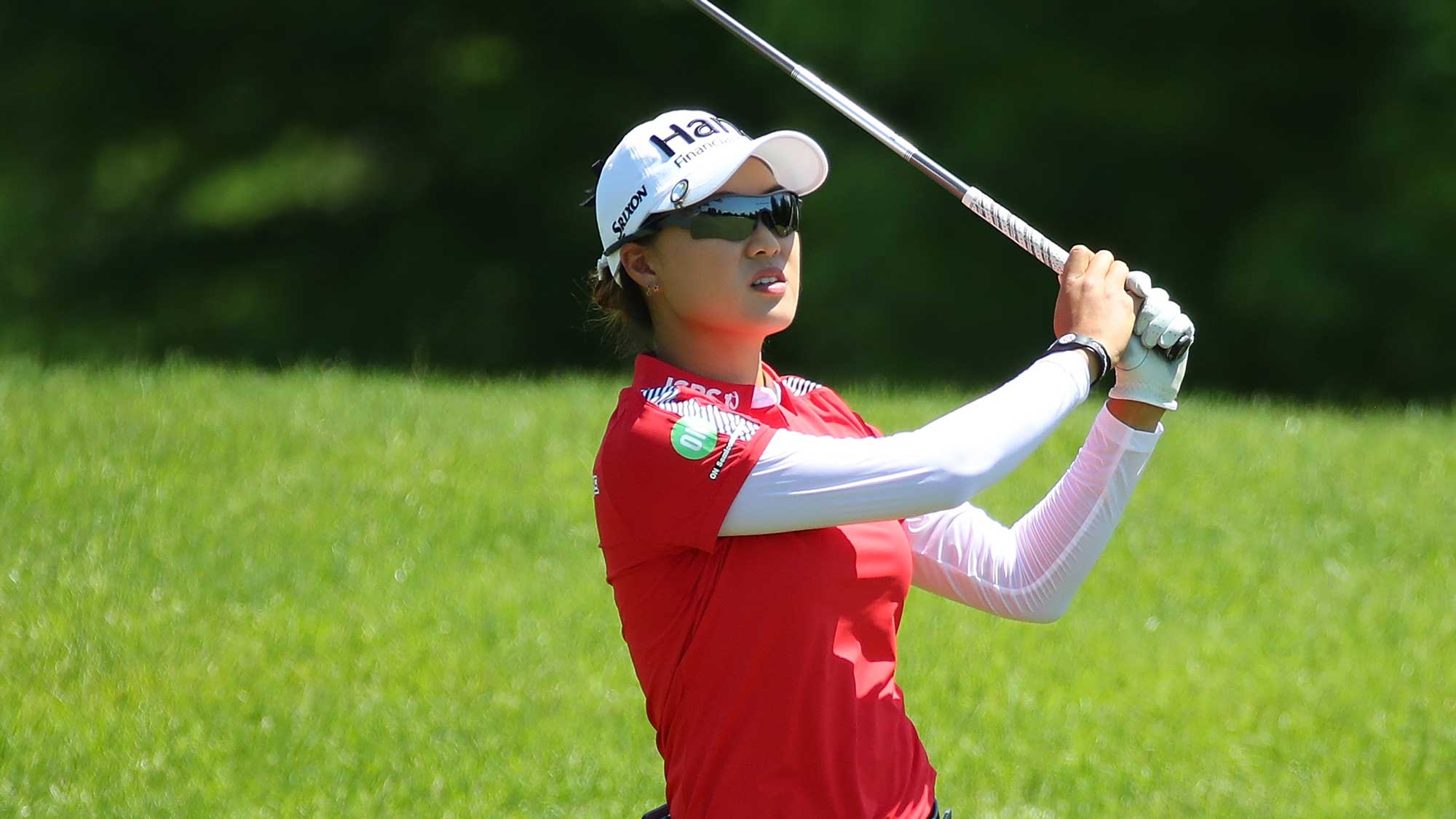 No. 4 for Lee
Minjee Lee's fourth LPGA Tour victory came Sunday, on her 22nd birthday.
She held off a furious weekend charge from In-Kyung Kim to notch her first win since 2016, and with the victory she moved to fourth on the Race to the CME Globe.
It was Lee's sixth top-10 finish of the year and it just seemed like she was knocking on the door for a win for most of the season. She started her year with three straight top-6 finishes, and finished second alone exactly a month ago at the LPGA MEDIHEAL Championship.
Lee shot four rounds in the 60's at Travis Pointe, including matching 4-under-par 68's on both Saturday and Sunday.
She made a bogey on the par-4 17th Sunday to briefly open the door for a playoff, but birdied the par-5 18th to put a bow on the victory.
"I haven't won since 2016 but I felt like I've been playing really well and I had a lot of top-10 finishes coming off last year and even the beginning of this year," she said. "It was due soon, so yeah, it's really nice to have a win."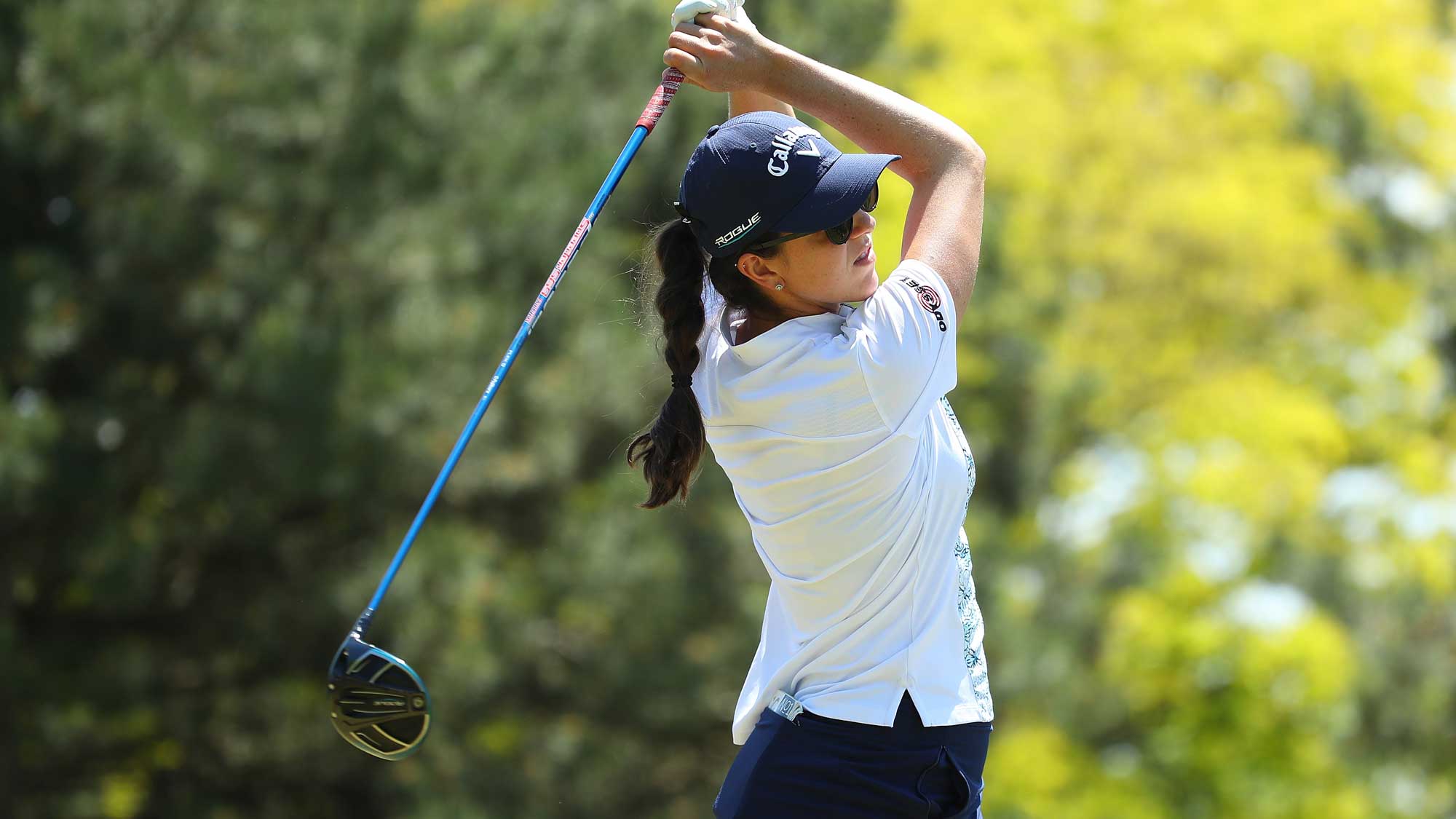 All eyes on Shoal Creek
While there was still a tournament to complete in Ann Arbor, most of the LPGA Tour had their sights set on this week's major championship in Alabama.
The second major of the year, the U.S. Women's Open, will be contested at Shoal Creek Golf Club near Birmingham, Alabama – a golf course called a "piece of heaven" by LPGA Tour rookie and Alabama native Emma Talley.
The weather is supposed to be wet and hot during the beginning of the week as a tropical storm is expected to blow through the area north from the Gulf of Mexico Monday through Wednesday. However, the golf course has hosted major championships in the past and the golfers are confident it will still be a stern test, as per usual with the U.S. Women's Open.
The LPGA Volvik Championship winner, Minjee Lee, said she is hopeful for a good week once again and will ride some of the momentum from her victory Sunday into the second major of the year.
"I take every week as it comes and try to prepare for that very first shot Ithat I have each week," she said.
Moriya Jutanugarn, who finished alone in third (her sixth top-10 finish of the season), says rest is going to be key next week with the assumed storms.
"I think next week's going to be a long week and just, you know, so I need to get enough rest and don't do anything crazy," she said.
Stacy Lewis, who just had her season-best finish last week in Michigan and is a two-time major champion said she hit the ball a lot better than she had the last month at the LPGA Volvik Championship and will be thinking about the positives from the week-that-was heading into the U.S. Women's Open.
"I'll just try to build off of it and know we're going to a golf course where par matters and I'm excited about that," she said.
The U.S. Women's Open starts Thursday from Shoal Creek.