Rolex Player of the Year and Louise Suggs Rolex Rookie of the Year among the awards presented on the night
NAPLES, Fla., Nov. 16, 2018 – Thursday was a night of celebration, emotion, a few tears and plenty of laughter for the LPGA Tour, which gathered for the annual Rolex LPGA Awards in Naples, Fla., in honor of several season-ending awards.
For the second year in a row, both the Green Carpet and the full Rolex LPGA Awards ceremony aired on Facebook Live. The Green Carpet broadcast is available for viewing here, while the Rolex LPGA Awards ceremony is available here.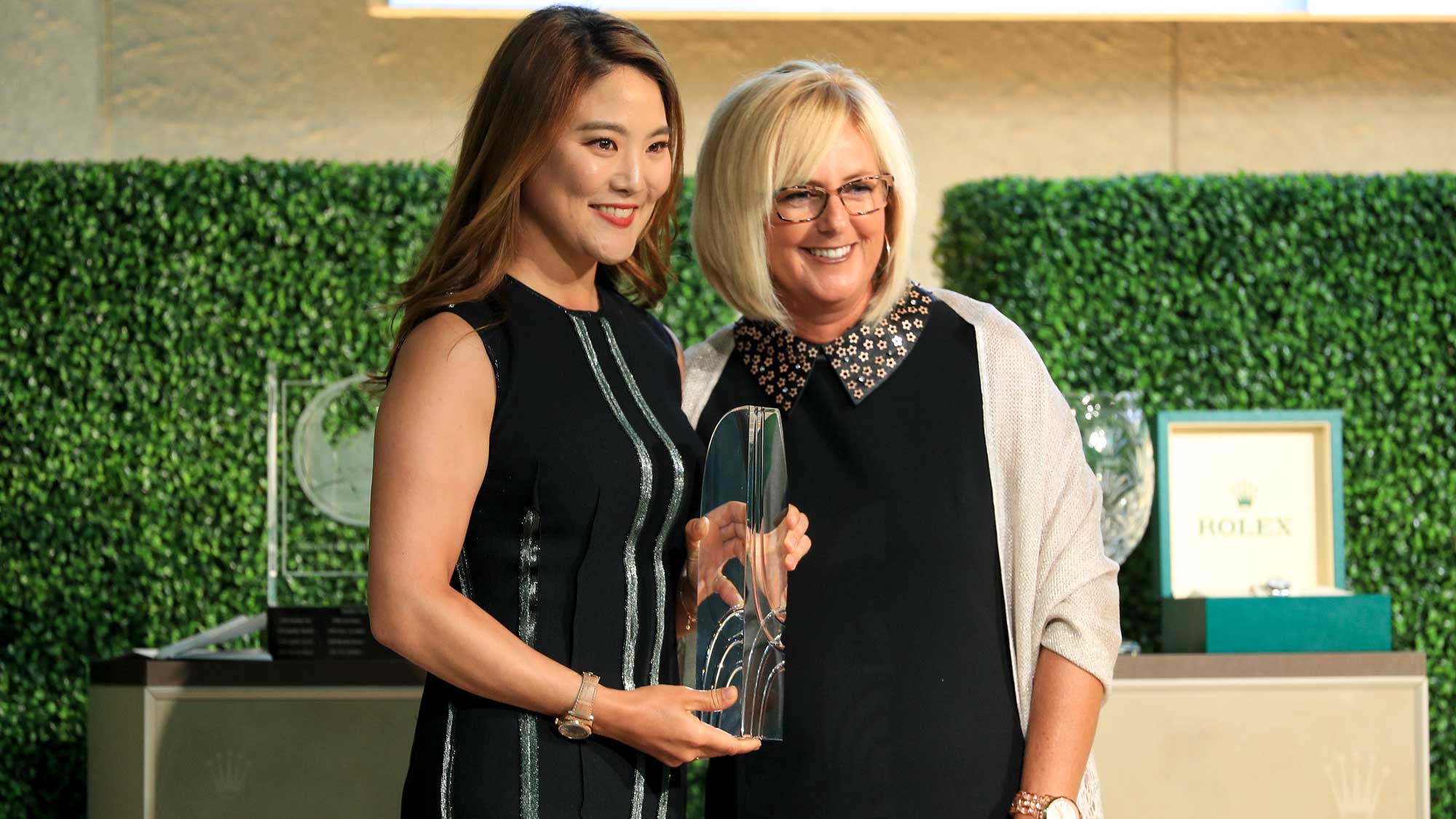 RYU AND JESSICA KORDA RECEIVE AWARDS FROM THEIR FELLOW TOUR MEMBERS
In awards voted on by LPGA Tour players, So Yeon Ryu is the recipient of the 2018 William and Mousie Powell Award and Jessica Korda is the recipient of the 2018 Heather Farr Perseverance Award.
Six-time LPGA Tour winner Ryu received the William and Mousie Powell Award, given annually to an LPGA member who, in the opinion of her playing peers, best exemplifies the spirit, ideals and values of the LPGA through her behavior and deeds.
Ryu, a native of the Republic of Korea who has established her U.S. home in Dallas, Texas, is one of the friendliest and most approachable players on the LPGA Tour.
In a video introduction by her close friend and LPGA Hall of Fame member Inbee Park, Ryu was described as a person who could always be depended upon in times of need and as someone "who will always give you a warm hug". The ever-smiling Ryu won her sixth career title on the LPGA Tour at the Meijer LPGA Classic in June.
"It's huge honor to receive this award, I am very overwhelmed," said Ryu in her acceptance speech. "My fellow players and our caddies have taught me what real sportsmanship is. We work so hard to be the best and we do our best to beat each other all the time and win tournaments. But we are always quick to give a thumbs-up or a high-five to each other when someone else is playing really well, even if we have had a dreadful day on the golf course. I am still learning and maturing as a person, and the LPGA has shaped much of who I am today. I hope I can be a player who represents the Tour, our values and our mission really well."
The late Mousie Powell, for whom this award was named, was a close supporter and friend of the LPGA from the 1950s until her death on Jan. 18, 1997. She was married to William Powell, a Hollywood legend and one of its leading male actors. Mousie, who was also featured in movies during that time, started the William and Mousie Powell Award in 1986. Previous recipients include Kathy Whitworth, Nancy Lopez, Pat Bradley, Betsy King, Juli Inkster, Lorena Ochoa, Chella Choi, Juli Inkster and Karrie Webb.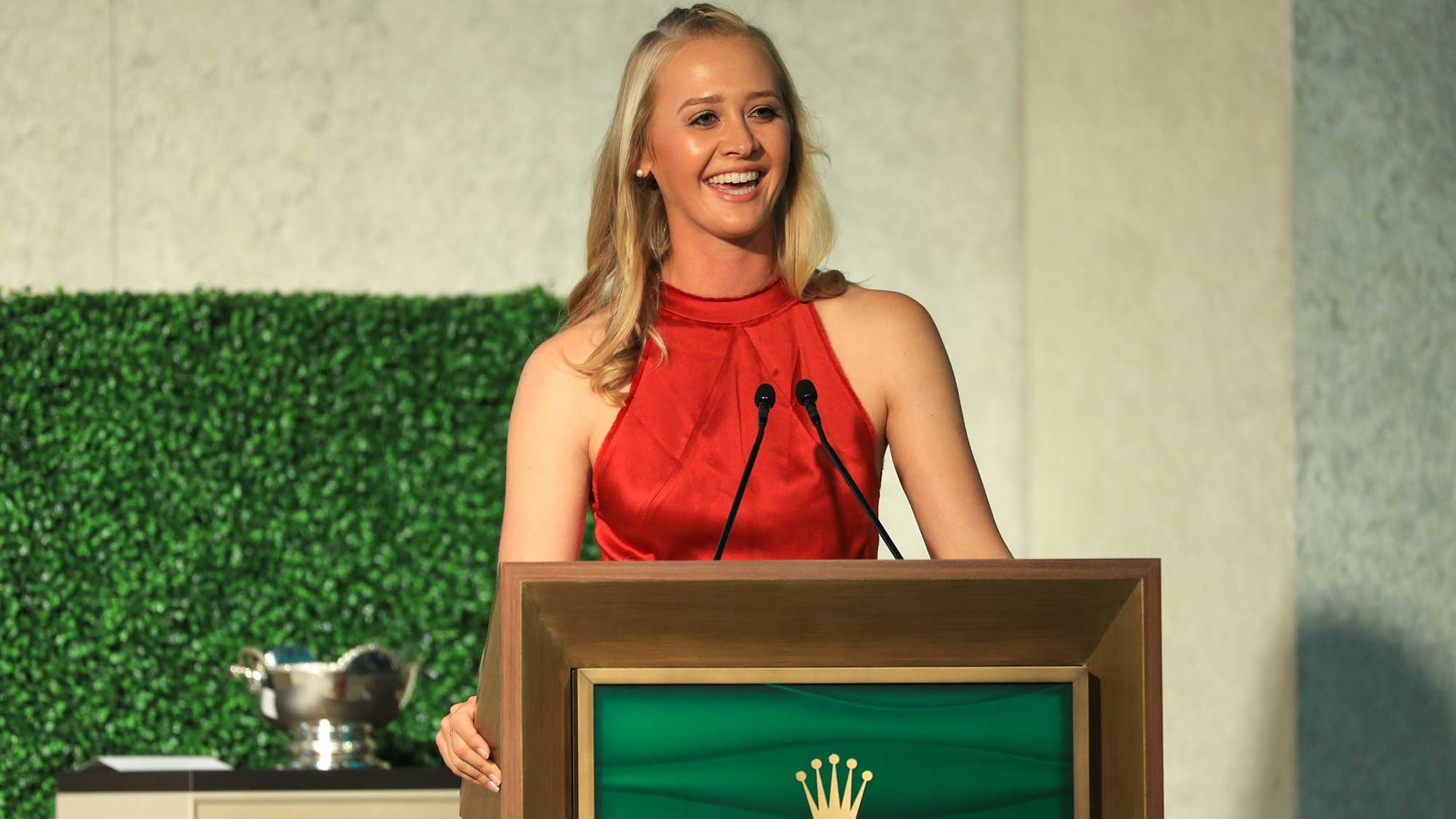 Korda received the Heather Farr Perseverance Award, which honors an LPGA player who, through her hard work, dedication and love of the game of golf, has demonstrated determination, perseverance and spirit in fulfilling her goals as a player.
In February, Korda clinched her fifth career victory on the LPGA Tour at the Honda LPGA Thailand by four strokes in her first tournament of the season, having barely played any golf for nearly three months after having major surgery that left 27 screws in her mouth. On Dec. 7, she endured a three-hour operation that required breaking her nose as well as breaking her top jaw in three places and her bottom jaw in two places. Doctors said the surgery was the only way to correct the severe overbite that caused Korda to use only 20 percent of her teeth when she chewed.
"I want to thank all the players that have voted for me ... it is incredible to feel the love from everyone in the room and everyone out on the Tour," Korda said in her acceptance speech. "This surgery has changed not only the way I look but obviously the way I feel and what an incredible way to kind of show my new face to win in Thailand. I am truly honored to be an LPGA Tour player."
The LPGA established the Heather Farr Perseverance Award in 1994 to celebrate the life of Farr, an LPGA Tour player who died on Nov. 20, 1993, following a four-and-a-half-year battle with breast cancer. Previous winners of this award include Heather Farr, Shelley Hamlin, Martha Nause, Terry-Jo Myers, Lorie Kane, Nancy Scranton, Brandi Burton, Kris Tschetter, Kim Williams, Beth Daniel, Colleen Walker, Amy Read, Se Ri Pak, Leta Lindley, Sophie Gustafson, Lisa Ferrero, Stephanie Meadow and Ariya Jutanugarn.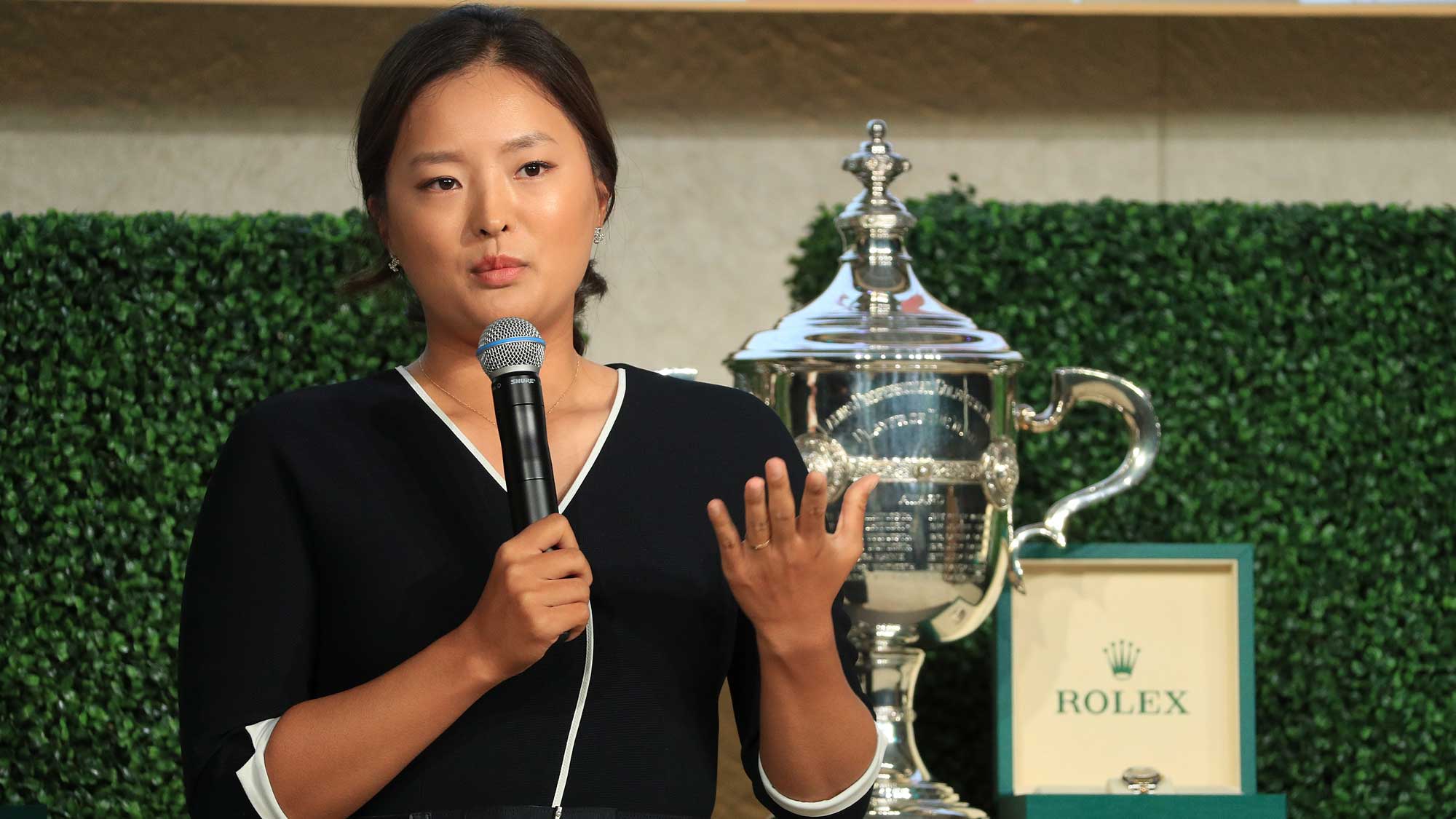 TEN PLAYERS RECOGNIZED AS ROLEX FIRST-TIME WINNERS; JIN YOUNG KO LANDS ROOKIE OF THE YEAR HONORS
Newly-minted major champions Pernilla Lindberg and Georgia Hall were among 10 players who became Rolex First-Time Winners during the 2018 season, a statistic that underlines the depth of global talent on the LPGA Tour.
Also in that elite group is Korean Jin Young Ko, who locked up the 2018 Louise Suggs Rolex Rookie of the Year award with four events remaining in the 2018 season. Ko secured her first LPGA Tour title at the 2017 LPGA KEB Hana Bank Championship as a non-member, a win that earned her LPGA Membership for this year. She then launched her LPGA career in champion style, winning the ISPS Handa Women's Australian Open in February and becoming just the second player in LPGA history to win in her debut event, joining Beverly Hanson (1951 Eastern Open).
"I am sincerely honored and happy to receive this award," said Ko, after being presented with the trophy by 10-time major winner and LPGA Hall of Fame member Annika Sorenstam. "This is a very special night, especially (getting the award) from you Annika. It is not only a great honor but also it is a great testament that my dreams have come true. Being a Rookie of the Year on the LPGA Tour has been a dream for me since I became a professional golfer."
Ko delivered one of the most moving acceptance speeches of the night in English, a language that she has worked extremely hard on in recent months.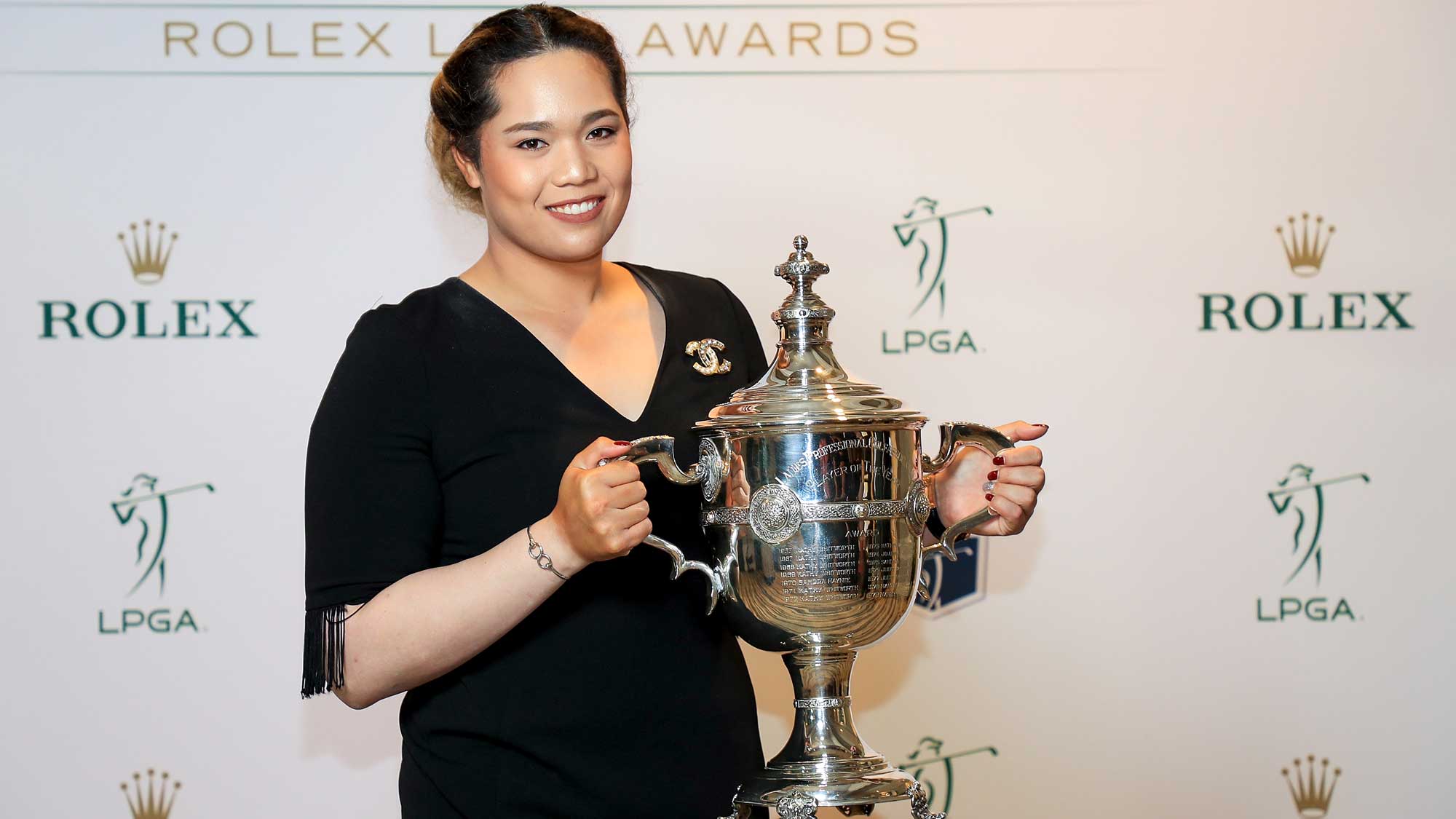 ARIYA JUTANUGARN ACCEPTS ROLEX PLAYER OF THE YEAR AWARD
Ariya Jutanugarn had already locked up the 2018 Rolex Player of the Year Award with three events remaining in the 2018 season, and she came up on stage for the final presentation of the night to receive her trophy from LPGA Commissioner Mike Whan. It is the second time in three years that Rolex Rankings No. 1 Jutanugarn has secured this prestigious accolade, and underscored that she is now capable of separating herself from her peers with a power game that is twinned with perhaps the best short game on the LPGA Tour.
Jutanugarn has produced electrifying form on the 2018 LPGA Tour, winning three times and recording 13 additional top-10 finishes in 27 starts. She claimed her first victory of the season in May at the Kingsmill Championship presented by GEICO, then added a second just two starts later at the U.S. Women's Open, where she edged out Hyo Joo Kim after four extra holes to secure the second major title of her career. Another win followed for Jutanugarn at the Aberdeen Standard Investments Ladies Scottish Open in July, when she fired a 5-under 66 in the final round to triumph by one shot over Minjee Lee.
"It feels great to win this award for a second time, and I'm really excited about that," said Jutanugarn, a 10-time winner on the LPGA Tour who returned to the No. 1 spot in the Rolex Women's World Golf Rankings last month. "I've played well this season and it's a huge honor for me to have my name on this trophy again. I am really proud to be from Thailand, and to win this prestigious award."
Jutanugarn leads the LPGA Tour in multiple statistical categories this season, and has already clinched the Rolex Annika Major Award and the inaugural LEADERS Top 10 competition, and a $100,000 bonus, after accumulating the most top-10 finishes. She is also the front-runner for the Vare Trophy, with a scoring average this season through the first round of the CME Group Tour Championship of 69.437.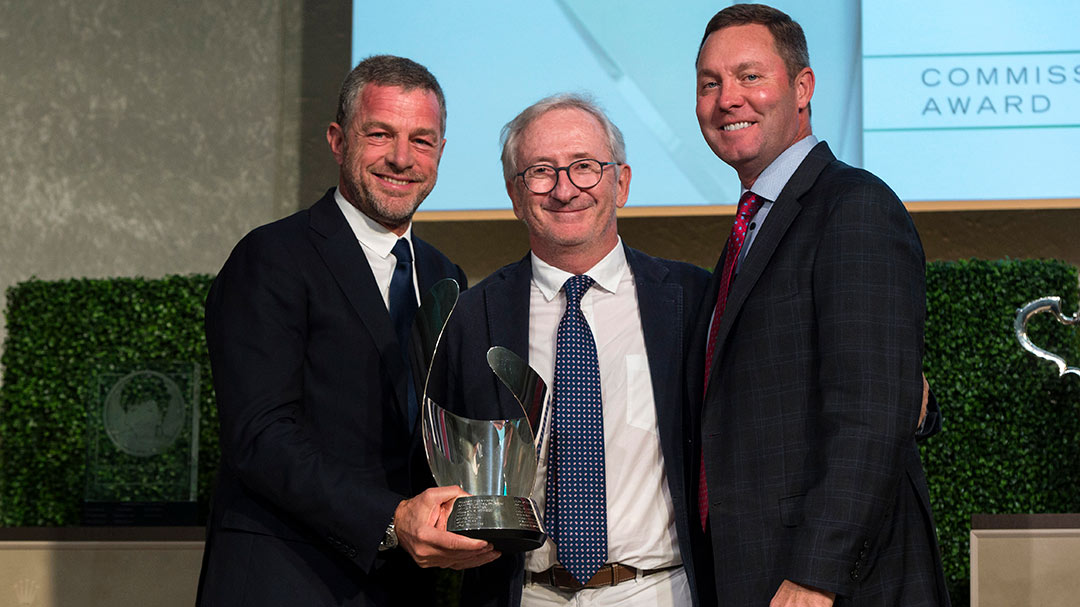 COMMISSIONER'S AWARD GOES TO THE EVIAN CHAMPIONSHIP
LPGA Commissioner Mike Whan presented the 2018 Commissioner's Award to The Evian Championship, one of the LPGA Tour's five major championships which is renowned for its pioneering and outside-the-box on and off the course activities at its spectacular venue in Evian on the shores of Lake Geneva. On hand to accept the award from Whan were Franck Riboud, honorary chairman of Danone, and Jacques Bungert, vice chairman of The Evian Championship.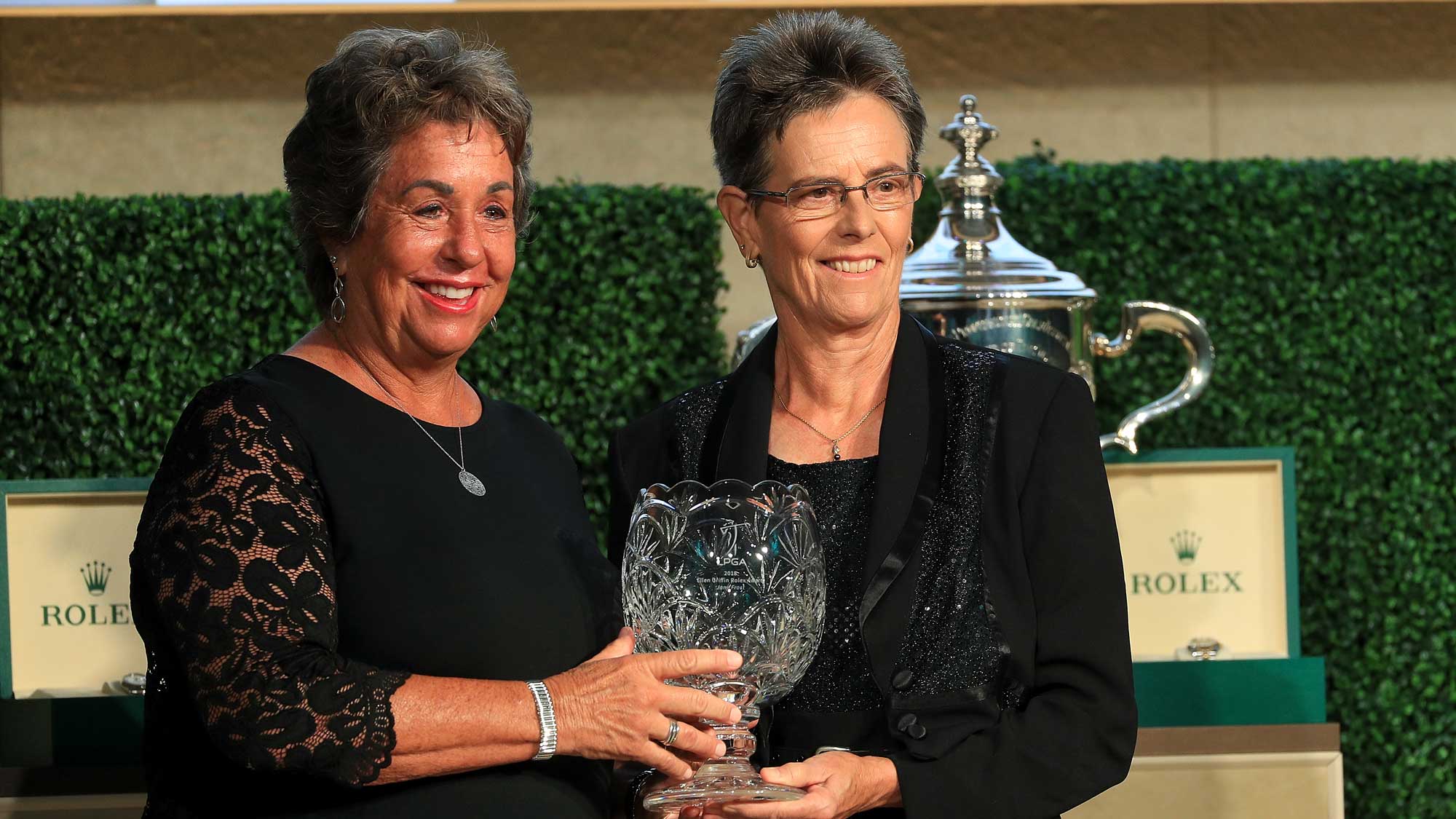 FROST HONORED WITH ELLEN GRIFFIN ROLEX AWARD
The Ellen Griffin Rolex Award, instituted by the LPGA Teaching and Club Professional membership in 1989, was created in honor of the late Ellen Griffin, the best-known woman golf teacher in U.S. history. The award recognizes an individual, male or female, who has made a major contribution to the teaching of golf and who has demonstrated, through teaching, Griffin's spirit, love and dedication to the golf student, teaching skills and game of golf.
Jane Frost, a member of the LPGA Teaching & Club Professionals (T&CP) who has coached LPGA Tour legends such as Jane Blalock, Nancy Lopez, Sandra Haynie and Pat Bradley, has donned several hats during a 36-year career as a golf teacher, including assistant professional, teaching professional, director of instruction, director of golf, general manager and head professional.
In 2002, she established the Jane Frost Golf School "to better provide a variety of programs for golfers of a wide range of abilities and economic levels" and in 2014 the school transitioned into The Jane Frost Golf Performance Center. One year later, the Center opened a state-of-the-art Golf Studio affectionately called 'The Barn' - a direct inspiration from Miss Griffin's 'The Farm'.
The Center's coaches provide club fitting, youth programs, adult new golfer programs and family programs, while the Center has also established a tradition of organizing charitable benefits for organizations such as The Sandwich Food Pantry, Breast Cancer Research, The American Heart Association, Alzheimer's and Lupus Foundation.