When Brittany Lincicome won her first Kraft Nabisco, now the ANA Inspiration, she did so with the help of Sudoku.
Wait, what?
Lincicome has a tendency to get nervous between shots and also bored, quite frankly. So, with the tournament on the line, she pulled out what looked like her yardage book and played Sudoku. It worked. She won her first major and took the leap into Poppie's Pond.
Lincicome remembers trying to complete the logic-based, number placement puzzle between holes six and 15.
"It's a great way to take your mind off focusing so hard and it's also something to do between holes and shots," explained Lincicome. "It definitely helped me win."
Lincicome got the idea from VISION54 instructors Lynn Marriott and Pia Nilsson, who opened shop in 1999 and have taught eight other major champions – Ariya Jutanugarn, Annika Sorenstam, IK Kim, Suzann Pettersen, Grace Park, Na Yeon Choi, Brittany Lang and Yani Tseng.
In 2012, IK Kim infamously lipped out a tap-in on the grounds of Dinah Shore, which would have supplanted her first major title. It's something she knew she'd have to face the rest of her golf life.
She consulted VISION54.
"IK came to us and wanted a way to deal with everyone talking to her about the putt," said Marriott, who was named to the "Top 50 Best Teachers in America" by Golf Digest in October. "She didn't understand why she missed the putt and we helped to unpack the science of how our brains need to be at a peak performance state over the ball."
It's working. Kim won three times in 2017.
Every player comes to VISION54 for different reasons. Lincicome needed ways to avoid negative thoughts between shots, Kim needed to understand how to best cope with a devastating moment and Moriya Jutanugarn needed more confidence.
Sisters Ariya and Moriya first started working with VISION54 in March of 2016. Ariya had her 5-win breakout season last year and Moriya had a career year in 2017 with ten top 10s and closed ninth on the money list. After the 2016 season, the VISION54 team asked Moriya to send them weekly emails of ten things she did well to reinforce the positive and to boost her confidence.
"She's building all these skills and setting the foundation for an awesome career," said Marriott, a member of the LPGA Teaching & Club Professionals Hall-of-Fame. "We look at confidence as a skill that can be trained. Some players are just waiting to get confident. For Mo, it was all about getting her to focus on things she was already doing very well."
The evolution of the company dates back to Pia's days as the Swedish National Team coach. It's in that role that she met then19-year-old Annika Sorenstam and Pia was on her team during one of the great careers of all-time.
One of the misconceptions about VISION54 is that they just coach the human skills of the game or more simply the mental side, but it really depends on the player. For example, with the Jutanugarns, they do some technical coaching that compliments Gary Gilchrist. In the case of Ai Miyazato, they coached the technical swing and the human skills.
"Some players come to us already having a technical teacher so we compliment that," said Marriott. "In the end, they come to us because they want to play better and they don't have the entire skill set for what it means to perform better on the golf course."
VISION54 breaks it down simply. In order for players to perform well, they need the technical skills and the human skills.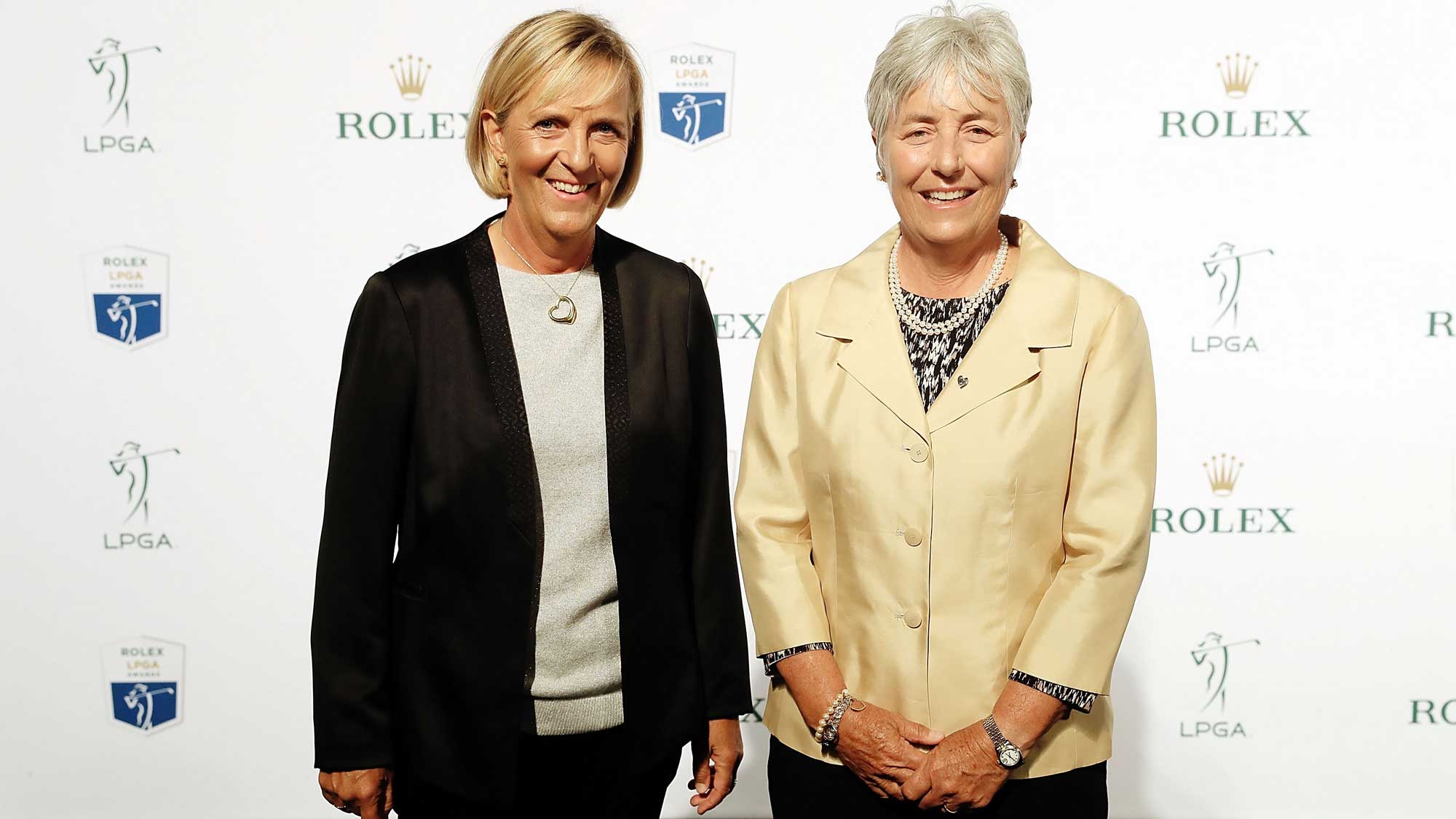 "When you look at the evolution of players wanting to get better, it used to be all about technique, and that's still important," explained Marriott. "Then fitness came along and then equipment, but then there is a fourth wheel to this car and it's the human skills that you need to compete on the course. I'm not a psychologist, I'm a golf teacher and I have been my whole life."
In addition to coaching, they've also written four books. Their first book entitled "Every Shot Must Have a Purpose" was a best seller and Marriott estimates that over 120,000 copies have been sold. Their latest book, "Be a Player", was released in June.
It's not just LPGA players flocking to VISION54 for help. Russell Knox, Kevin Streelman, Patrick Rogers and Maverick McNeely are some of the PGA TOUR players that have worked with Lynn and Pia.
But they don't just teach the best in the world.
"We take great pride and joy in coaching the best women's golfers in the world, but I also think that coaching the recreational golfer is a whole lot of fun too," said Marriott. "These skills that we use with the best in the world are also relevant and game-changing for the real golfers of the game."
The human skills are building champions on the LPGA, PGA and your local 18-hole public track thanks in part to VISION54.