In 2004, Christie Quinn was wrapping up a round at the home of the ANA Inspiration, the Dinah Shore course. The then Target employee went to the practice green right after with her playing partner, 27-time LPGA winner Jane Blalock.
Blalock gave her words that inspired her to change her life.
"You're pretty good at this kid. I wonder how good you could be if you practice and play golf as much as you work," Blalock directed at Quinn.
"At that time, I was putting in 60 plus hours a week, then on top of that traveling. That started the buzz in my head," Quinn explained.
She shortly after started working on finding the answer to Blalock's question.
Quinn's College Life Shaped her Drive
Quinn was introduced to the game of golf when her family moved close to TPC Sawgrass. The family closely followed Freddy Couples, and she enjoyed watching professional events.
Quinn left home in 1992 at the age of 17 to pursue a degree in Marketing at Auburn University. She had a professional scholarship, requiring her to work alongside pursuing a degree.
To juggle both, Quinn had to manage a demanding schedule. Over six months, she worked from 10:00 P.M. to 7:00 A.M., then had to manage attending class that started at 10:00 A.M.
Quinn would get five hours of sleep once class finished at noon, and workout before preparing to go back to work at 10:00 P.M. She did this for four or five days a week over that period.
"To this day, I don't know how I survived. It was no free time whatsoever."
After graduating in 1997, Quinn started her retail career with Winn Dixie. In 2000, she joined Target. She'd play golf when she could, but the long working hours in retail limited her opportunities.
Acting on Blalock's Words
Four years after joining Target, Blalock provided a spark for Quinn to act on. It took a moment in a spa treatment to provide the kindling.
"I was thinking about it and felt that I can do this. I can give it a shot and see what happens."
She approached Target, asking for a break. The company gave her a three-month break with benefits to pursue her dreams.
The sparks of a dream had turned into a full on blaze.
The decision to pursue golf gave Quinn a new vision and her realization that it was the right decision crystalized in 2006 when she won a country club championship in Boston two years after her break.
Quinn founded her golf school, Discover Your Swing!, that same year in Southern California, along with becoming an LPGA teaching professional.
Since founding her school, Quinn has taken off in the teaching world. She has taught Robin Thicke, former NFL players, and some Olympic athletes.
Quinn became La Jolla High School's boys and girls golf head coach in 2015. She was recognized in 2017 by the LPGA as the Coach of the Year.
All of her accolades were recognized with Quinn representing the United States in the 2018 Gay Games in Paris.
We'll Always Have Paris
Quinn, upon learning she was representing the United States, began playing a lot to prepare.
"I love just to go out and play, throw extra balls down, pick up a game with whoever joins on the tee. I make it as much fun and as competitive as possible."
In addition, Quinn walked five miles for three or four days a week to prepare for the hills at La Boulie, the Racing Club of France, where the tournament was to be played.
Quinn faced off against many European amateur and professional players. The 2017 LPGA Coach of the year was playing great golf, finding herself in contention down the stretch of the 36-hole tournament.
When she was on the 15th, after thinking she had a five-shot lead, Quinn hooked an approach shot left, giving a stroke back. The realization hit her like a full Winn Dixie Cup.
"I get to the next tee, my caddy turns to me and goes, 'Hey, we gave one back there, but you can't afford to lose anymore.'
"That was like cold water just thrown in my face."
She responded with a razor-sharp focus that she had developed from being self-reliant from the age of 17. She proceeded to stick it to three feet from 153 yards out on the 16th to give herself some breathing room.
The anxiety of finishing off the victory crept back into Quinn's mind on the 18th. "Walking up the fairway of 18, having the flag on your back, it fell on me like a ton of bricks. However small the Gay Games are, this event really just hit home for me at that moment."
The 12-year teaching professional had set herself up with an approach shot that she needed to put on the green and two-putt for the victory. She coached herself up like one of her many students in that moment, "I remember telling myself, just feel the club, feel the swing, you've prepared the swing that needs to come out.
"No need to force anything, let's allow all of this to happen."
She then stuck it to five feet.
While lipping out the birdie putt, she tapped in for par.
Teary-eyed, she stepped up to the podium. Her wife Karen alongside her as the national anthem blared, told Quinn that she was really proud and honored to be part of the experience.
The Gay Games and hoisting up a gold medal, while memorable and enjoyable, is not the one Quinn reflects on with the most pride. She looks to two years prior, at a high school golf tournament.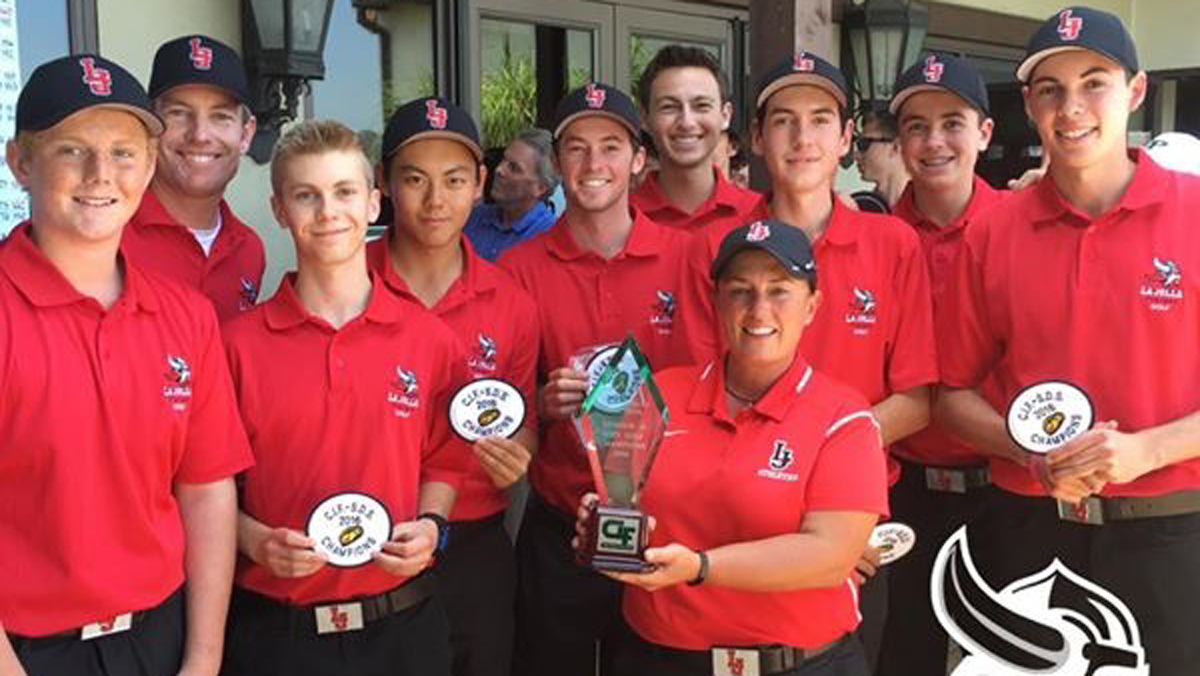 The Pressure of the California Interscholastic Federation Championship
In her second year at the helm of the boy's La Jolla High School golf team, her team had accomplished what hadn't been done since 1989: winning the regionals tournament.
The 2016 California Interscholastic Federation Regional tournament was in Pasadena, and twelve teams were crammed together on the driving range before the round. Each team had one slot to share between five players.
The players on the La Jolla High School team had been ruthless to each other throughout the year. They'd get on each other's backs for mishits to drive each other to play better.
One of her players, whom Quinn described as having a professional relationship with at the time, was in his time in the slot, and could not strike the ball well.
"He just looked over at me, just having a cry for help on his face. I told him, 'Hey, is everything alright?'
"He said, 'Help me find the center of the clubface. I really need to do that right now.'"
Quinn pulled him quietly off to the side and got him back in sync by assisting with his tempo. It got him back in rhythm to strike the ball.
"It forever changed our relationship. It was a very touching moment for me, knowing that I had the knowledge, I had the power to empower him to get back on track."
It was not only a testament to her ability as a coach, but a moment that helped her realize the potential that the 27-time LPGA winner saw in her twelve years prior.
Quinn has found the answer to Blalock's question at the Dinah Shore course, continuing to inspire and teach those around her in the game of golf.
---
The LPGA has built its brand around diversity and inclusion and the LGBTQ community is an important part of our membership, staff, sponsorship and fan base. Throughout the month of June the LPGA will celebrate Pride month with stories that feature members with amazing stories and accomplishments. Follow LPGA.com and the official LPGA social channels to get the latest updates.