She beat the sun to its feet, getting on with her day while the July air in Orlando was still temperate and the mist on the central Florida lakes had yet to rise like steam from a English kettle. The roses in Karen Stupples' garden needed pruning, a job she would tackle tomorrow before driving to the airport to begin her overnight travel to Evian. For now, she had golf to watch: Shane Lowry making history, an Irishman winning the first Open Championship played on the Emerald Isle in a lifetime. She could enjoy the moment at home because Cydney Clanton and Jasmine Suwanapura had won the Dow Great Lakes Invitational on a Saturday instead of Sunday, a bit of scheduling genius that not only helped players get to France early but also afforded Stupples and her Golf Channel colleagues a couple of days at home before heading across the Atlantic for golf's final two majors of the year.
After Lowry hit his second shot to the 18th green and walked up the final fairway to raucous cheers, joy transforming his face as he realized what he'd done, Stupples realized that, for a moment, she couldn't see her own television. Warm wells had formed in her eyes and were now running shamelessly down her high-boned cheeks. Not that she knew Lowry particularly well. He was 14 years her junior. There had never been a reason for their paths to cross. Yet, they had a connection, one that was amplified after the win when Lowry said, "My family, my mum and dad. You sacrificed so much when I was younger and I'm so happy I can hand them this trophy tonight…And the fans, this one is for you."
Not the words of a poet. Not particularly profound in their alliteration or unique in form. All major winners thank families, friends and fans. It's part of the standard script. But not all major champions come from a hardscrabble life, a place where reaching the rarified air of a game like golf seems like a pipe dream. Not all of them are able to win near home in front of the very people who helped them navigate the headwinds of an often cruel and always unyielding career. Not all of them were blessed to know what Stupples and now Lowry knew, even if neither of them could put it into adequate words. The best they could say, as Stupples did, was, "Winning for your people, all the people who were there for you along the way, that is really something special."
It has been 15 years since Stupples walked up the 18th at Sunningdale Golf Club after hitting her second shot into the green. Not until that moment, once she knew she had avoided all the possible calamities that haunt golfers' dreams; once she was convinced that there was no possible way she could putt poorly enough to lose the AIG Women's British Open, did Stupples allow herself to let go and enjoy the moment. Finally, she looked into the gallery and saw people she knew, people from county junior days when she played for Kent on the south shores of England; people she recognized from Prince's Golf Club on Sandwich Bay, walking distance from her home in Deal. The Stupples' home was only 100 miles south of Sunningdale along the M25 but in many ways it might as well have been on another planet. So, seeing so many familiar faces halted her breath and filled her with a warm wave of emotion. There was Chris Lohan, the Kent County Junior Organizer, walking with her. And just over there, brimming with pride, was Lady Jenny Benn, the woman who had taught a rough-hewn girl with a lot of raw talent how to write a proper thank you note and what to say and do in and around a golf club. Just there, in the gallery, were the girls, women now, mothers many of them, who had been in those first junior clinics on Saturday mornings at Prince's Golf Club where, for £1, a kid with a cut-off club could hit some balls, get a few tips and, afterward, a soda and a candy bar. And standing and cheering – she could barely look given the putts she still had left to play – were Keith and Sue Rawlings, the couple who had made it all possible, along with her sister, both aunts, both uncles, and, of course, her mom and dad.
All those memories flooded back as Stupples heard Lowry's voice crack. As the new Open Champion held the Claret Jug and spoke of those who were there with him and for him, she knew that his life, like hers, would never be the same.
****
Golf had once been big in the Stupples clan. Karen had nine great uncles who were single digit handicaps and artisan members at Royal Cinque Ports in Deal. The artisans worked at the course to earn playing privileges as the Stupples were dock workers and fishermen, coal men and factory hands. Then came the war where all men served in some way or another. After World War II, they all quit the game, never picking up another club. But Karen's father, who maintained roughly a 16 handicap, carried golf into the next generation. A shift worker at the Port of Dover, the elder Stupples retained an artisan membership at Prince's, adjacent to Royal St. George's. Karen's mother pressed blouses at a factory in Deal.
"I was about 11 or so and started asking for pocket money," Stupples said. "Dad said, 'Karen, you will never get anything in life without working for it. So you can either help your mother every night with the washing up or you can come caddie for me.' Well, that was easy. I caddied for my dad. He had a little push cart and I was always swishing away with a golf club."
It helped that Karen was the sporty one of the family, always kicking a soccer ball or playing catch in the yard with a tennis or cricket ball. "Dad would throw the ball at me so hard and I would throw it hard back," Karen said. "That was fun. I was the boy he never had. Here I come all tomboy and he was thrilled."
On Sunday morning Karen would accompany her father to the local soccer field to watch one of his friends play. Then the two would come home for her mom's cooking. But with Saturdays free, Karen decided to attend the junior clinic at Prince's, using the pound she'd earned caddying to learn golf, or at least the grip, set up and a few other basics. The kids would hit a few balls and run onto the practice ground to pick them up. It was both athletic and social, the two things that came to Karen naturally.
From then on, the practice ground at Prince's became her home away from home. She started with only one club and would rummage through the tall grass around Prince's looking for golf balls. Her hunts would produce a dozen or more balls at times, which she would segment into the practice pile and the pile that would eventually go into her golf bag, when she got one. The differentiator was how yellowed and dingy the balls had become.
One afternoon there was a lady named Joan Piper on the range who was involved with the county junior golf program. She asked Mr. Stupples if his daughter would like to join the Kent County Junior Golf Association. He was hesitant but Joan insisted that Karen had a natural gift. With that, she got coaching and an avenue in which to apply herself.
"It took me quite a long time to get on the golf course proper," Karen said. "Because we didn't have much, it was out of our reach to buy a set of clubs. So, every birthday and Christmas I would ask a golf club. And when I'd get money I'd put it into getting more clubs. Soon I had half a set and went out.
"I played my first full round of golf when I was 13 having started when I was 11. But I didn't mind at all. The practice ground was fun for me because I would make up my own little games. I'd hit around dunes, over dunes, around the lone tree. I made up my own little course in my own little mind. Golfers use their imagination to refine what they're doing. I just did it from the beginning."
Karen progressed in the county system, getting better quickly and playing matches against girls in other counties: Sussex, Middlesex, Surry, all southeast of London. Once she got good enough, which wasn't long, Karen was invited to the county senior team and then competed in the English Junior Championships.
"I represented England Girls when I was 16," she said. "They also have 36-hole tournaments around the country. That worked well for me because my course was a very tough links course. My handicap was higher than it otherwise would have been because my course was a lot harder.
"It also worked because my dad did shift work – four days on, four days off, four nights on, four nights off. He could drive me to these events when he was off. If he couldn't take me, the county organizer offered to take me. I had a lot of help getting to tournaments to do what I did."
Some of that help came from Lady Jenny Benn, who recognized Stupples' talent and potential while realizing that she was a working-class girl who could easily get chewed up in the hierarchical world of English golf. Lady Benn taught Karen how to interact in environments that were less than comfortable. She taught her etiquette and the art of the handwritten note – lessons that would carry Karen further than she ever could have dreamed.
The crossroads came when Karen turned 19. If she hoped to progress in the game, she needed to make a move. She could no longer ask her parents to fund her golf. They had done so much, living on sausages and mash for months to scrape every coin together to send her to the next tournament. Her golf wardrobe consisted of items she had purchased with shop vouchers that she had won playing amateur events around the country. And the golf balls still consisted of whatever she could scrounge. She'd never owned a golf glove.
A big day at the Stupples home was when Karen's father came home with lost property. Like any port, luggage was lost at Dover. After a certain period of time, if it remained unclaimed workers could take it home. "That was like Christmas," Karen said. "We'd go through a bag and hopefully find jeans that fit or a top that wasn't too big or small."
She couldn't fund an amateur golf career without another support network.
"That's when I decided I was coming to America to play in college," Karen said. "Even though I hadn't studied hard I thought I could make it. I went through an agency called College Prospects of America. They said, 'You have a couple of days to get to London to take your SAT and you have to hope someone doesn't show up (for the exam.)' So, I got there and lo and behold someone didn't show up.
"I took the SAT, not knowing what a hellish exam it was. Miracle of miracles, I passed. I had a lot of colleges offer me scholarships for the following year but I was already 19 and an impatient little bugger. I wanted to get out immediately. So I went to Arkansas State. It was a startup program. The coach had never seen me hit a shot. I'd never been to America. So, off I went, boarding a transatlantic flight for the first time with no idea what I was getting into."
****
The uniforms and equipment were the biggest and most pleasant surprises. When Stupples joined the Red Wolves, she was given a bag, clothes, even a golf glove. "I said, 'You mean you're just giving me this golf glove?'" she said. "They were like, 'Of course, you need it.' I was like, 'Oh, thank you.'"
But she realized quickly that winning tournaments in an upstart program by shooting a pair of 76s was not going to make her better. She needed stronger competition. So, she started looking. One of her fellow competitors and sometimes rivals from county golf was Kate Burton (now a communications and PR specialist out of Singapore who occasionally calls LPGA golf during the tour's Asian swings). Burton had played for Surrey before heading to America to play golf for Florida State. Stupples reached out, the FSU coach responded, Arkansas State, realizing that Karen was too good to remain in a small program, released her and Stupples became a Seminole.
"Best thing I ever did," she said. "I learned how to play the courses over here. I learned how to be self-reliant and realized how much I had taken for granted. I realized all the things my parents had done when I was home, all the countless sacrifices I had made. I became less fearful about travel and what's around the next corner. In those days we didn't have internet and I didn't have a cell phone. Everything was a collect call home. Mom and Dad were not there to pick up the pieces."
What she didn't understand was why she had so much trouble in the classroom. Diagnoses of ADD and dyslexia are often missed, especially among girls. The fact that Stupples suffered from both but managed to get through high school in England while playing a rigorous amateur golf schedule and holding down various jobs seemed nothing short of extraordinary. But Florida State exposed the problem.
"It became very clear to me after two years at Florida State that I wasn't going to graduate and stay eligible to play golf," Karen said. "With the ADD and dyslexia, it was just so difficult for me to pass exams. I would work so hard trying to make an A and I'd get the paper back and it was a D. I'd be like 'How did that happen?' And it was stressful for my golf coach as well. She was always trying to find ways to keep me eligible. Every semester we'd have the conversation – 'I see trig is on your schedule. Don't you want to take basketball, instead?' It was reaching a point where there was no more basketball that I could take. I'd run out of fluff. But I'd had a good run and realized that it was time to call it a day.
"I knew that it was time to go back to England, focus on trying to play the Curtis Cup, maybe turn professional if I was good enough, which I wasn't sure was the case. While at Florida State I went down and watched several LPGA tournaments. They had an event in Tallahassee; they had an event in Daytona. I was like, there is a whole world of professional golf here in America. I have to work on my game and get back here. This is where I belong."
She made two Curtis Cup teams and continued to play amateur golf, winning some prestigious events while working as a bartender at a pub in Sheldon and as a waitress at Etchinghill Golf Club in Folkestone. She lived above the dining room in the clubhouse at Etchinghill so she could play whenever she wasn't working. There was a nice range and she had half an hour for lunch when she could go out and hit some balls.
One evening a pair of regulars came in, a couple named Keith and Sue Rawlings who were particular about their dining habits. Keith was in insurance and the two played tennis together. But he was also an avid golfer and loved talking about the game with Karen. On this night, Keith said, "Karen, I keep seeing your name in the paper. You're playing in these amateur tournaments and I'm wondering why you haven't turned professional."
She said, "Well, that's why I'm working here. I'm saving money to do just that. It's hard but I'm slowly gaining on it."
Karen took away the appetizer plates. When she came out with the next course, Keith said, "Karen, my wife and I have been very successful and very fortunate in our lives. We really think that you deserve an opportunity. I want you to write out a budget of what you need, come to my office tomorrow and we'll see what we can do."
"His wife could see by the look on my face that I didn't believe them," Stupples said. "So, she nodded and said, 'No, Karen, we are really serious. Please come to our office tomorrow. We'll sort this out.' So, about midnight that night, I scribbled out a budget having no idea what I needed. I knew I needed a flight to America, a rental car, an entry fee, a hotel and some food."
If she sold all her furniture and emptied her back account, she figured she would only need to borrow $10,000 (£8,000) from the Rawlings. But she thought there was no way they would agree to such an outrageous sum.
When she arrived at Keith's office, she had already run through all the possible ways he could say "no." Karen gave him her hand-written numbers. Keith nodded and said, "Okay, we can do this. But we're not going to do it as a one-time thing. We're going to (fund you) for three years. That way you don't have to feel pressure that you have to do this on your first try."
"Later that year, I played the Curtis Cup and the U.S. Women's Amateur at Barton Hills (Country Club in Ann Arbor, Michigan)," Karen said. "I went straight from there to Q School and made it on my first try."
****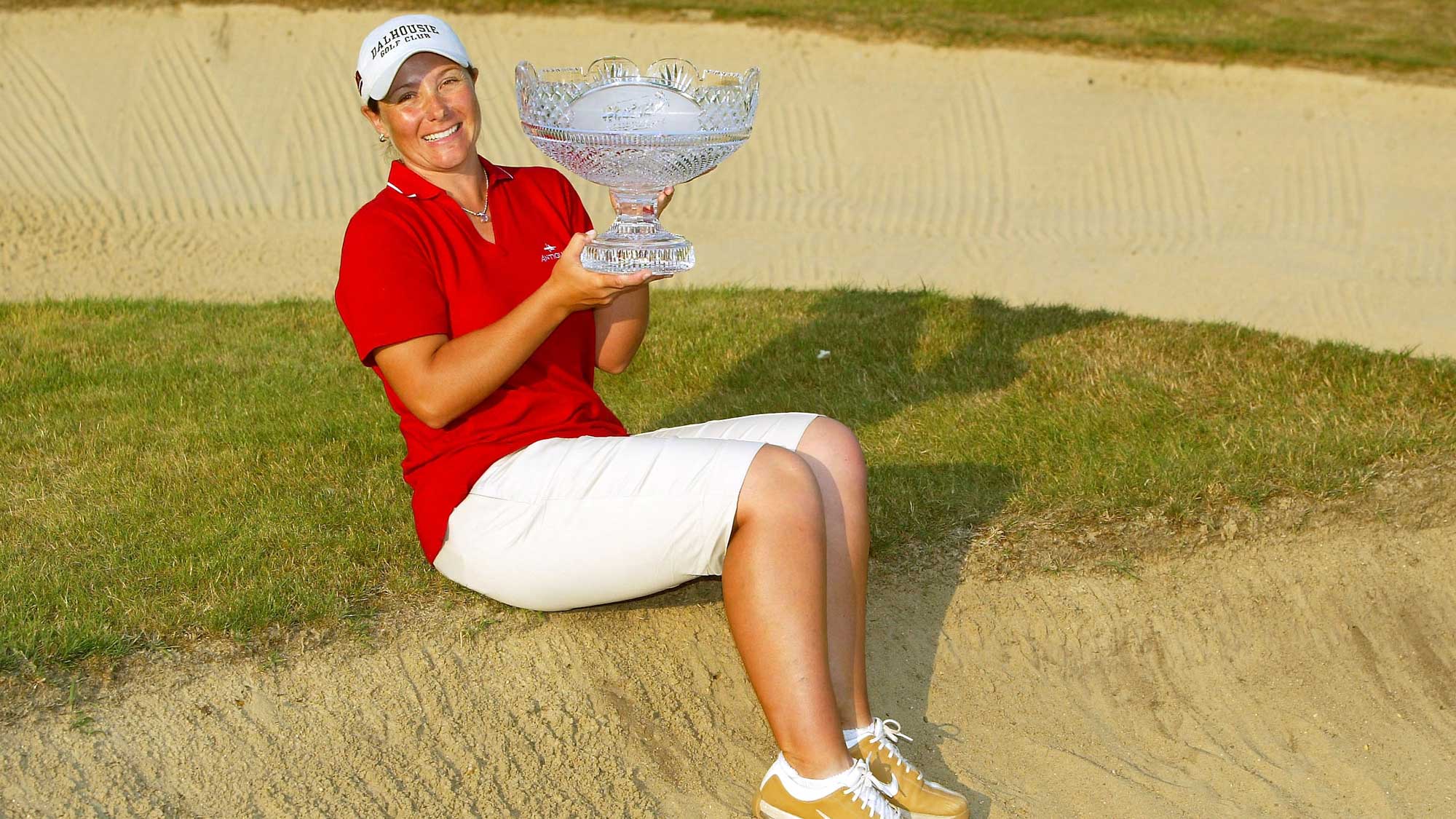 Professional life wasn't what she'd expected. She'd only played in one professional event prior to arriving on the LPGA Tour, an LET event at Woburn where she qualified as an amateur. "All of a sudden, I'm in the locker room with Laura Davies and Alison Nicholas and Michelle McGann," Stupples said. "I was like, 'What am I doing here?' It was such a big shock to my system that I completely forgot how to play golf."

She stumbled along until she ran out of money. That prompted a call to Keith Rawlings she didn't think she would have to make. Keith quickly sent more cash, which also ran out quicker than Karen could have imagined.

"I was down to the last $300 in my bank account," she said. "All the credit cards were maxed out. I was toast. I thought, 'I have to do this for myself. I have to do something.'

"So, that week, I was at Onion Creek in Austin, (Tex.) and had found myself being invited to play in a Monday pro-am. That was a dream come true because I made a check just for playing in the pro-am. I thought it was tremendous because I could afford to play in the next tournament."

That same week, she got a call from the marketing director at Blue Diamond Almonds whose wife had gone to school with Karen's mother in England. He asked if the company could sponsor her hat and bag. "So, I was flat broke. And in the course of one week, I played in a pro-am where I got paid and I found a sponsor. The next week I made my first cut."

She had a top-10 later that summer and earned $22,000. "I thought I was the richest person in the world," she said. "I couldn't have imagined making that kind of money anywhere else. A year before, I'd been earning £3 an hour bartending and waitressing. I'd work for five hours on a Sunday night and make £15. So to make $22,000 in a week, I said, 'I've made it.'"

Every moment of that life flashed before her as she walked onto the 18th green at Sunningdale, seconds away from being only the third English woman to win a major championship and the first to win the AIG Women's British Open as a major. It would be 14 years before another Englishwoman did it when Georgia Hall won last year at Royal Lytham & St. Annes.

Keith Rawlings never asked for anything for his contributions. He invites Karen out for the odd round of golf when she's visiting her family in Deal. No one ever asked her for anything, then or now. That moment at Sunningdale 15 years ago, their major, was all the reward they needed.

One and a half decades later, those memories came up again as Karen watched Shane Lowry at Royal Portrush.

"If you've been very lucky in your life and you've come from means and haven't had to struggle, it might be different," Karen said. "But for people like Shane and me, it's been different. I came from a raw place, from a place where you didn't know what it was like to be in a golf clubhouse. Those people (who were there that day) taught me how to live in that world. It's very easy to feel like you're not good enough in that environment. But they gave me the confidence that I was good enough.

"I'm getting emotional just thinking about it again now," she said. And then she paused, longer than normal.

"It's unbelievable what people did for me," Karen said. "It really is."